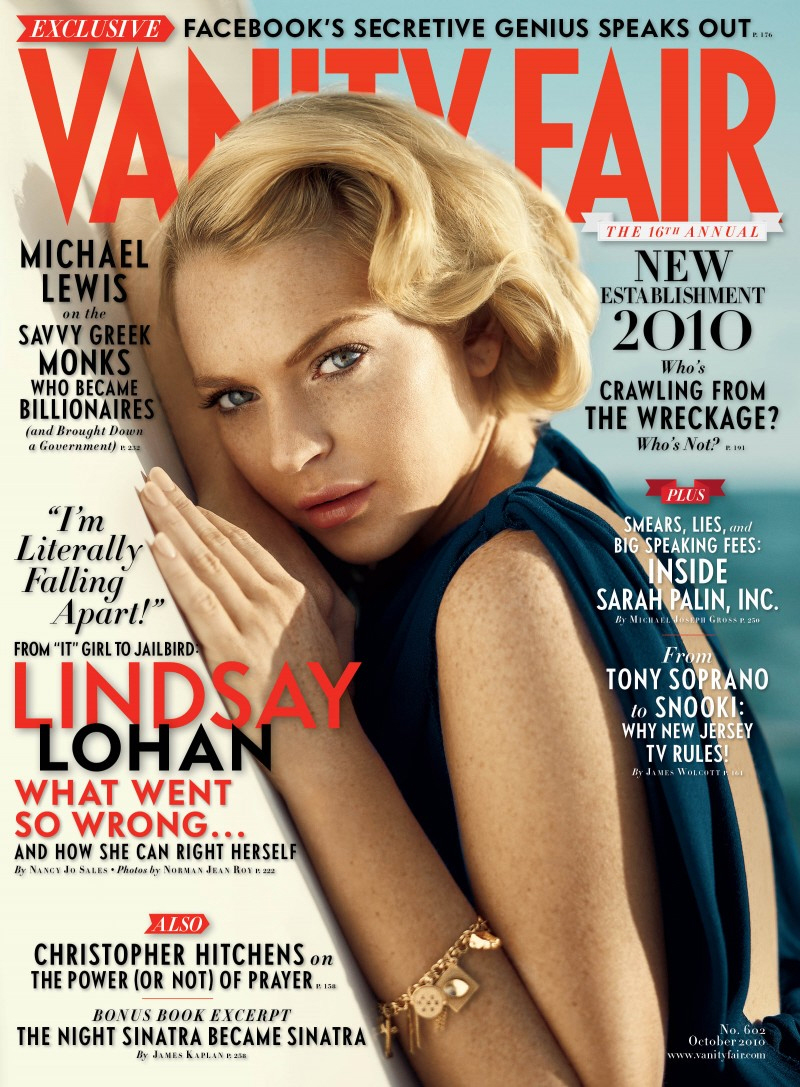 If this piece of gossip is true, I just might have to cancel my subscription to Vanity Fair. And Vogue, for that matter. According to Page Six's insiders, Vanity Fair has chosen LINNOCENT as their September cover girl. Linnocent. September cover. VANITY FAIR. It's ridiculous. She was just the cover girl last October, and they're going to give her crack-face and crack-delusions the SEPTEMBER cover?!? The September issue is the most important issue of the year for nearly every fashion-entertainment magazine! Surely, that cover could go to someone with real talent, or a compelling story, or something other than the same-old/same-old crack lies? Um, how about Michael Fassbender? I'm just throwing a name out there – but how does he not deserve a cover?!?
Vogue and Vanity Fair are both picking beloved bad girls to grace their September issues. Sources say Anna Wintour's fashion bible has booked Mario Testino to shoot Kate Moss' July wedding as its cover story, while Graydon Carter's Vanity Fair has shot under-house-arrest Lindsay Lohan to be its cover siren.

Details of Moss' much-anticipated wild wedding this coming weekend in England are being kept strictly under wraps. "They're being psycho about keeping the details secret," said one fashion source.

But word has leaked to us that Testino — who recently provided Vanity Fair with a previously unseen cover shot of Prince William and Kate Middleton after the royal wedding — will be shooting the nuptials between Moss and rocker Jamie Hince. (Alison Mosshart, Hince's partner in the Kills, is expected to serve as his best "man," our source added.)

Wintour should have a great selection of shots, provided Testino's camera doesn't get soaked in Champagne. The supermodel's wedding at her Cotswolds estate is being dubbed "Mosstock" by locals since it's expected to be a three-day bacchanal of music, A-list guests and unparalleled celebrations.

A more sober Lohan, meantime, was said to be shooting VF's cover last weekend while under house arrest. "She just bleached her hair blond in preparation," said a source close to the shoot at LiLo's Los Angeles home.

The article is expected to focus on "the new Lindsay," according to sources — although it remains to be seen if the actress will be up to her old tricks once she's legally allowed outside again at the end of June.

Vanity Fair put Lohan on its October cover last year with a line that read, " 'It' Girl to Jailbird: Lindsay Lohan/What Went Wrong and How She Can Right Herself," with the pull quote, "I'm literally falling apart!" Now we'll see if she's keeping it together.

Reps for both Vanity Fair and Vogue declined to comment.
[From Page Six]
Yeah, I'm not happy about Kate Moss on Vogue either, but I probably won't cancel my subscription over that. But this VF Linnocent thing. Maybe it's just a myth. Maybe they're doing a story about her, but not a cover. After all, the story is less impressive now that Linnocent has been given permission to drink again, even after she gave a half-hearted explanation ("It was the tea!") for her failed piss test.
By the way, you should totally go back to the post I did last year and read those crazy excerpts from her previous VF interview. I can't believe the VF editors would let her use their platform for her lies again.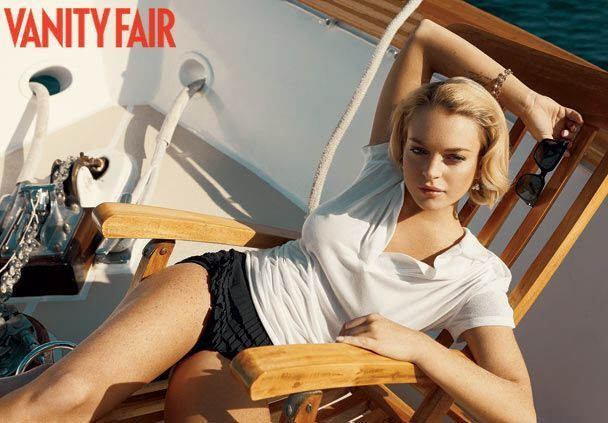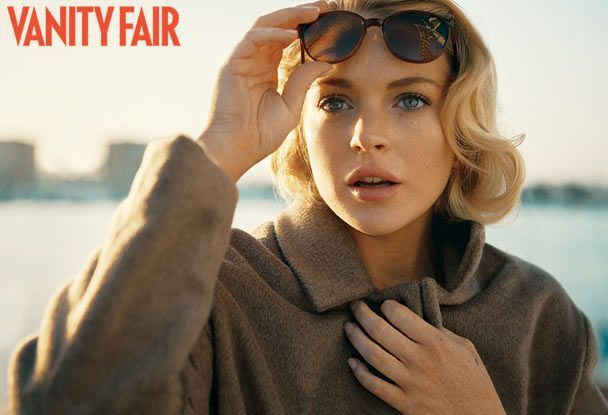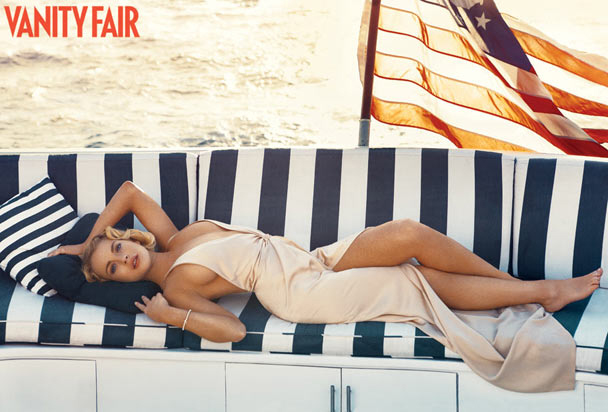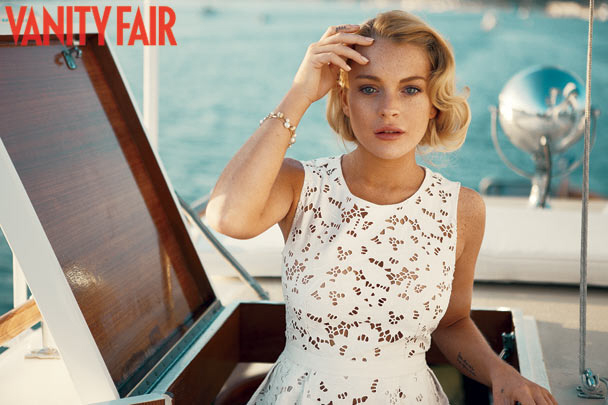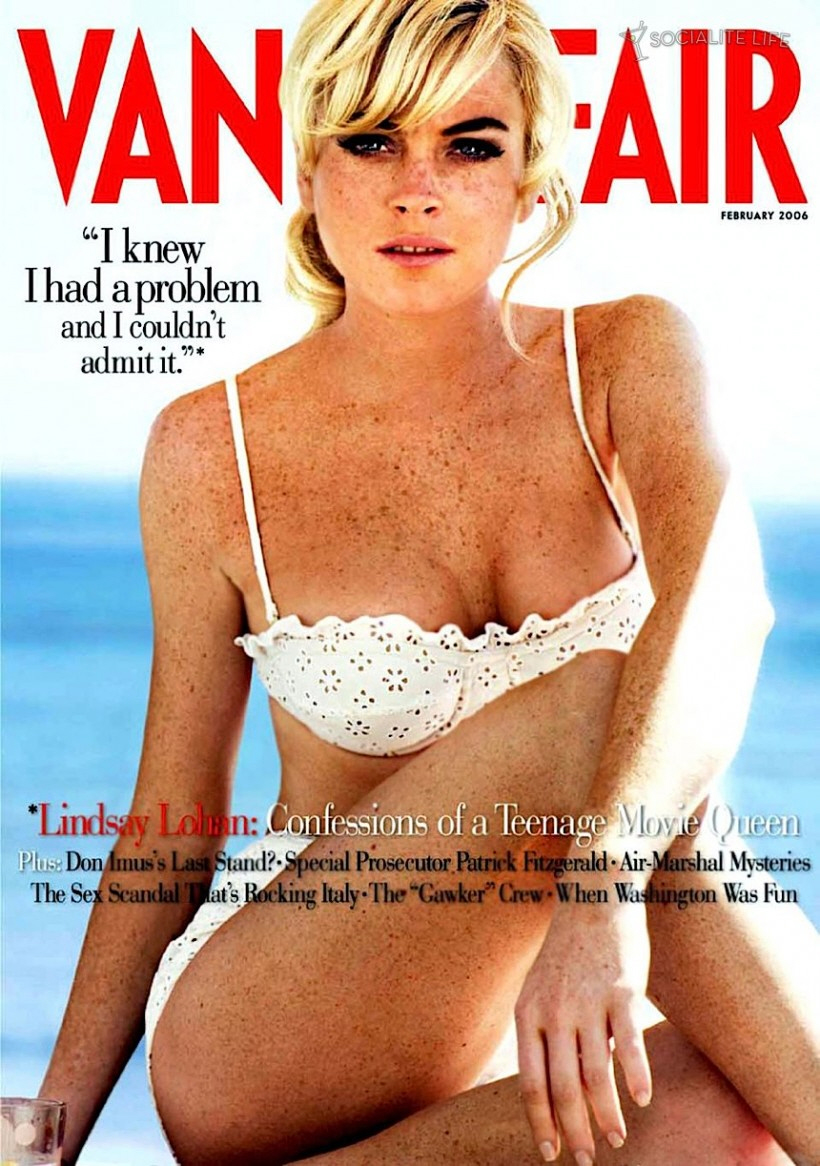 Photos courtesy of Vanity Fair.