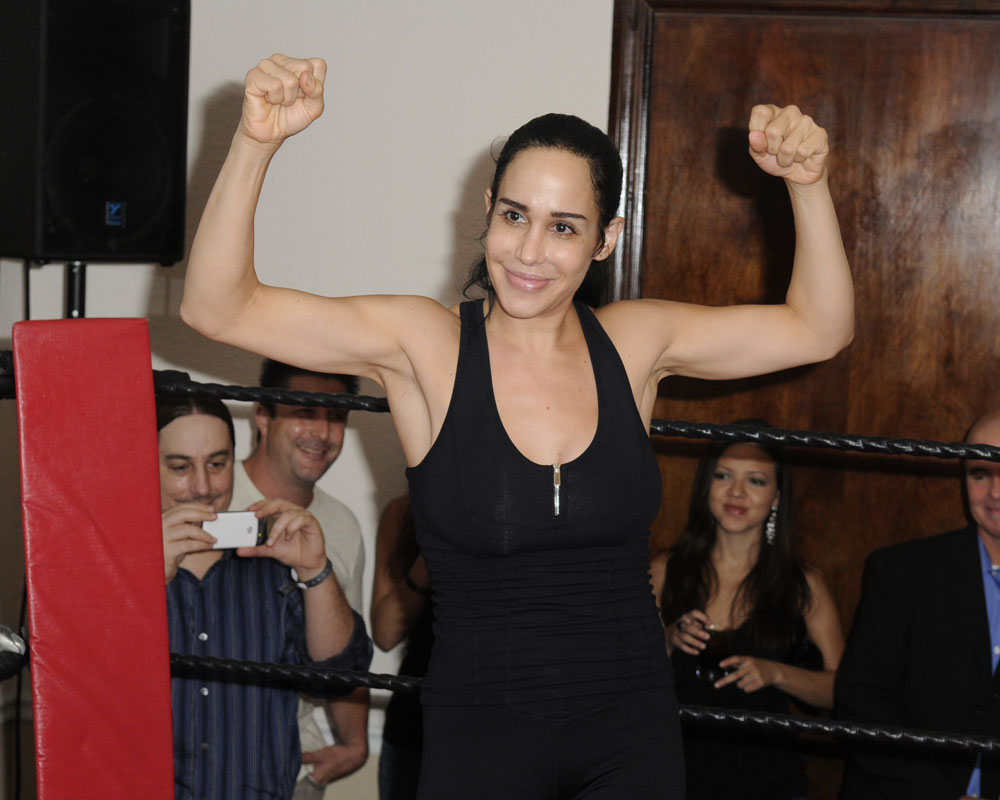 This was certainly predictable. Despite reinventing her career slightly by going on the celebrity boxing circuit, Octomom Nadya Suleman is so broke (or has spent so much of her money on plastic surgery and personal care) that she hasn't been able to pay her mortgage for three months and is now facing foreclosure. She's trying to offload the home she barely owns. Since the bitch has 14 kids, the house is of course trashed and cluttered, just like the last home she lived in. And, just like the last home she lived in with her parents, this house is going to go into foreclosure if she can't sell it soon enough to pay off the mortgage. It's not Octo's fault, though. She's of course blaming the landlord, the neighbors and everyone else for the fact that she and her kids wrecked the place.
Octomom has had it up to here dealing with her beleaguered Orange County home — vindictive neighbors, endless mortgage troubles — so she's decided to cut her losses … and put it up for sale.

A rep for Nadya Suleman tells TMZ, she hasn't paid her mortgage in three months because she doesn't want to live there anymore — and the place is scheduled for foreclosure next week.

According to the rep, Octo's going to try to sell the home before the bank takes it — but if she fails, c'est la vie … Nadya just wants to get the hell out of there. Credit score be damned.

The rep says Octo had the place appraised recently for $500,000 — pretty good in this economy … but the bad news is she still owes $450,000.

Nadya's list of grievances is endless — but the rep tells us, Octo simply can't justify the $3,500-a-month mortgage payments … especially when the place is in utter disrepair (video above).

We're told Octo's already got her eye on a few (more affordable) places nearby.
[From TMZ]
Check out this video below. How is it the landlord's fault that her kids drew on the walls and kicked in the baseboards? This is all damage they obviously caused. What a lying grifter this woman is, and has proven herself to be, since she came on the scene. I bet she has plenty of money to pay the mortgage and that she's saving it up for a down payment on the next place. That's exactly what happened the last time – she let her parents' house, where she was living with her kids, go into foreclosure and then she bought another place, this one she's trying to offload now after trashing it.