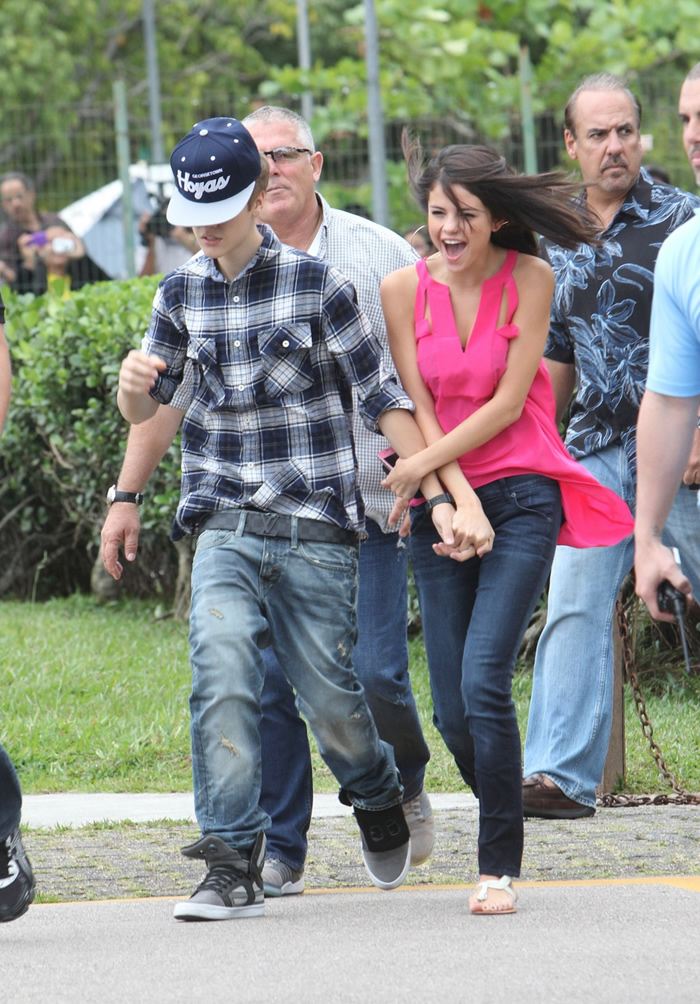 These photos show Justin Bieber and Selena Gomez in Rio de Janeiro while they were flanked by security and en route to a helicopter flight, which whisked them away to a romantic, private dinner. Fame Pictures alleges that, while consuming whatever it is that 17-year-old Bieber eats (chicken nuggets, fries, and Jell-O?), he also "sipped a questionable substance," yet they provide no photographic proof of this liquid that they are suggesting was in fact wine.
However, you may notice that Justin happens to be walking slightly ahead of Selena in these photos. This seems like no big deal to me — he's taller and has longer legs than she does — but Hollywood Life has consulted with a "Beverly Hills based body language expert" who forecasts massive trouble ahead for this couple. Apparently, walking ahead of one's girlfriend is a huge sign of being a "controlling boyfriend." Really: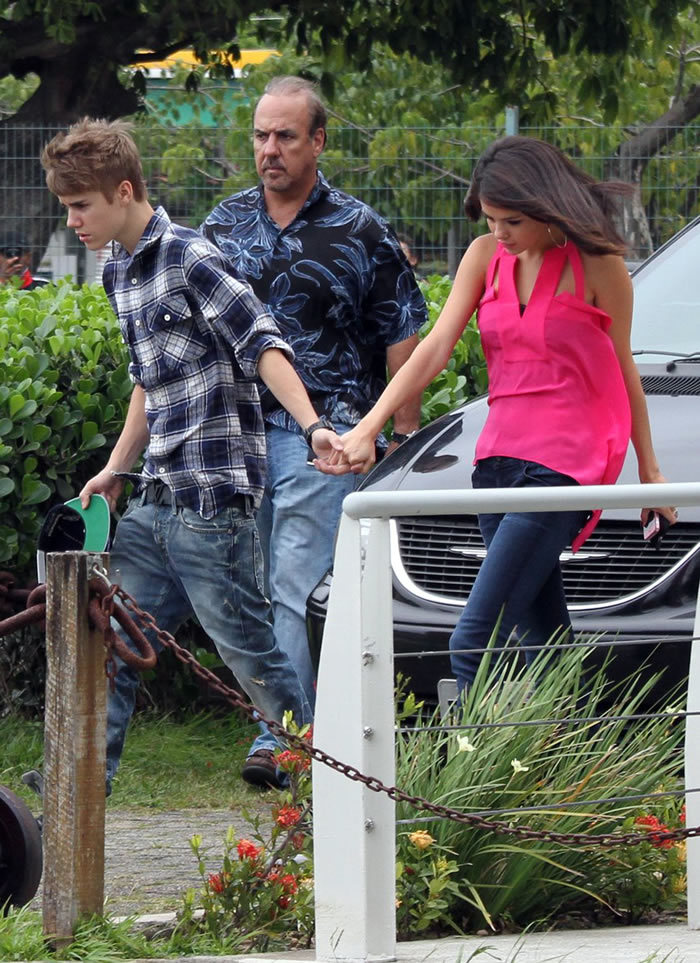 Selena Gomez has never looked happier with her boyfriend Justin Bieber. But our body language expert says we need to look a bit more closely at their relationship. Dr. Lilian Glass tells HollywoodLife.com that the pictures of Justin and Selena holding hands in Brazil doesn't indicate a healthy relationship – we are shocked with this news! Dr. Glass tells us that the reason Justin is usually walking in front of Selena is because he's "insecure" about their relationship and trying to assert his power.

"Walking ahead of her says 'power' and that he has to be in charge," she tells us. "Selena is happily taking a subservient role in the relationship and it says she's insecure about the relationship too."

Maybe Justin's alleged insecurity is because Selena is absolutely gorgeous and a bit older? She is 19-years-old while Justin is only 17. But Justin is a huge superstar and girls would do anything to be in Selena's position.

Luckily, Dr. Glass does reveal one good thing about their relationship — there's tons of passion!

"It's good that they walk in step," she says. "It shows they are like-minded and both on the same page. There's also a lot of passion between them, but she just needs to step up and take charge in the relationship."
[From Hollywood Life]
Ugh. Did we really need to hear the notion that Selena and Justin have a passionate relationship? They're already shoving it in our faces with the foot rubbing & butt grabbing, not to mention the skeevy notion that Justin really wants to be a young dad. Yes, we realize that they're shagging, but nobody wants to actually think about it.
As to the laughable notion that walking slightly behind one's boyfriend provides reason to sound an alarm, well, someone should inform Jennifer Aniston that she is also committing such a grevious error.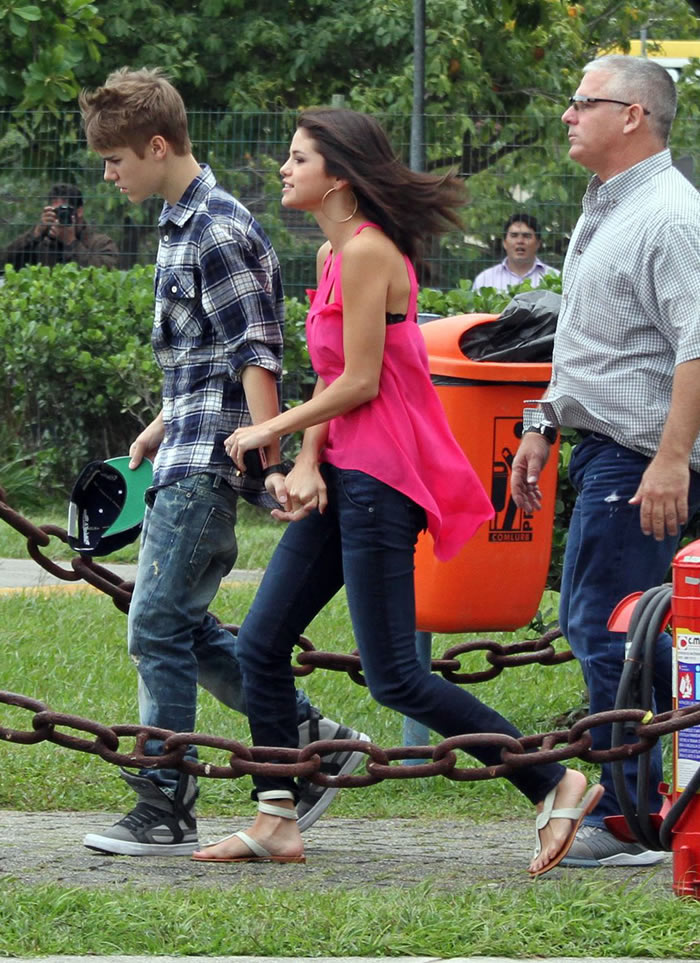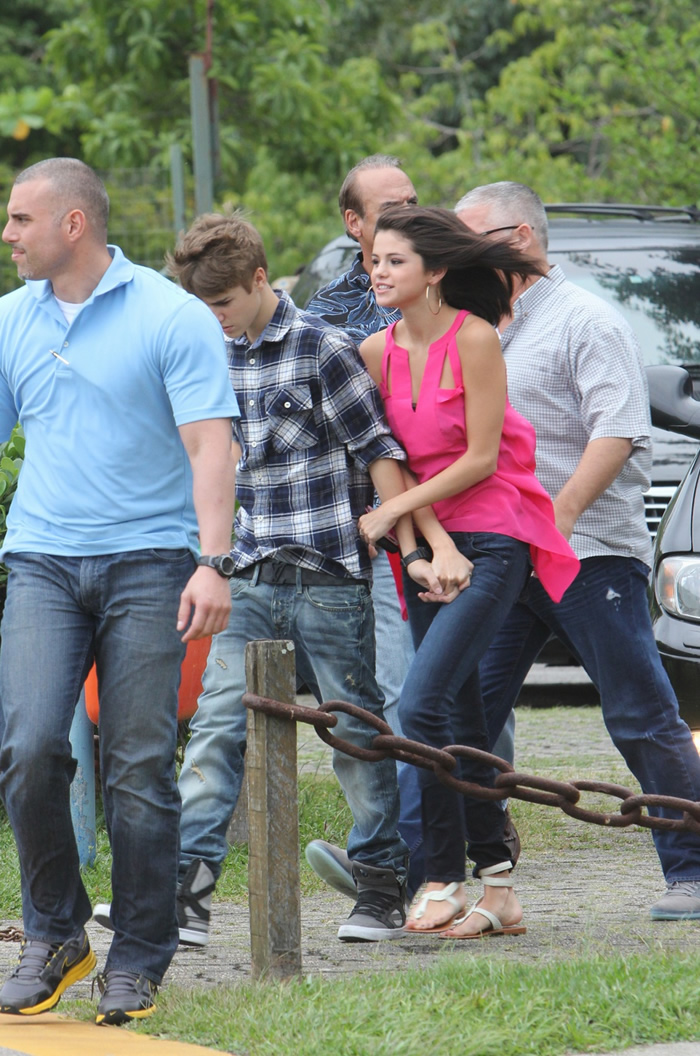 Here's Bieber serenading his Brazilian fans from the balcony of Copacabana Palace before running inside to be "passionate" with Selena.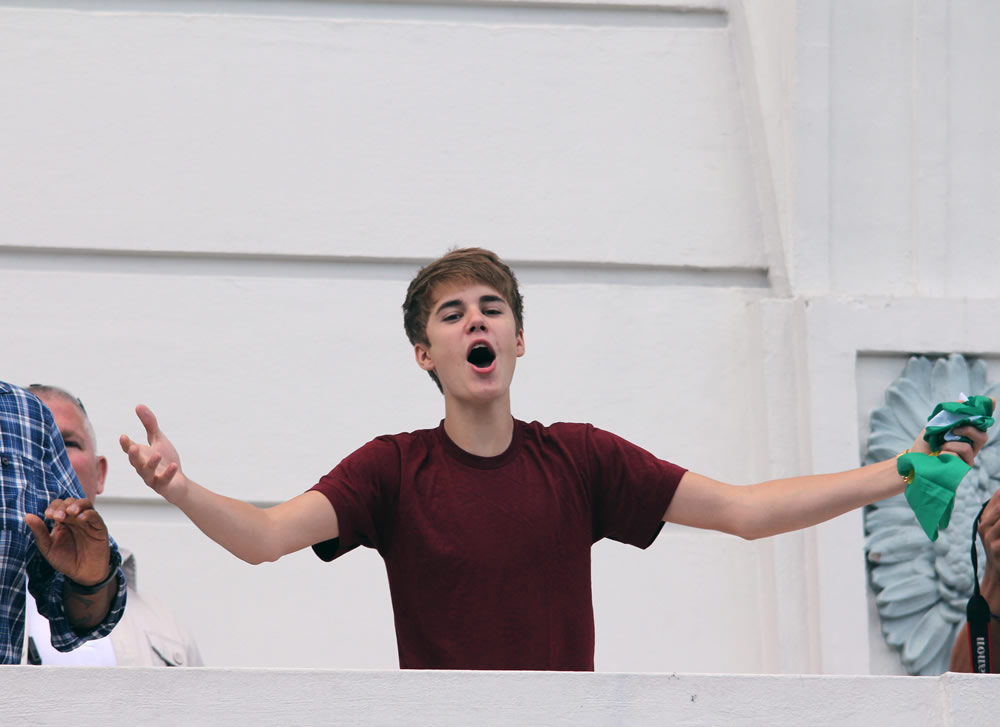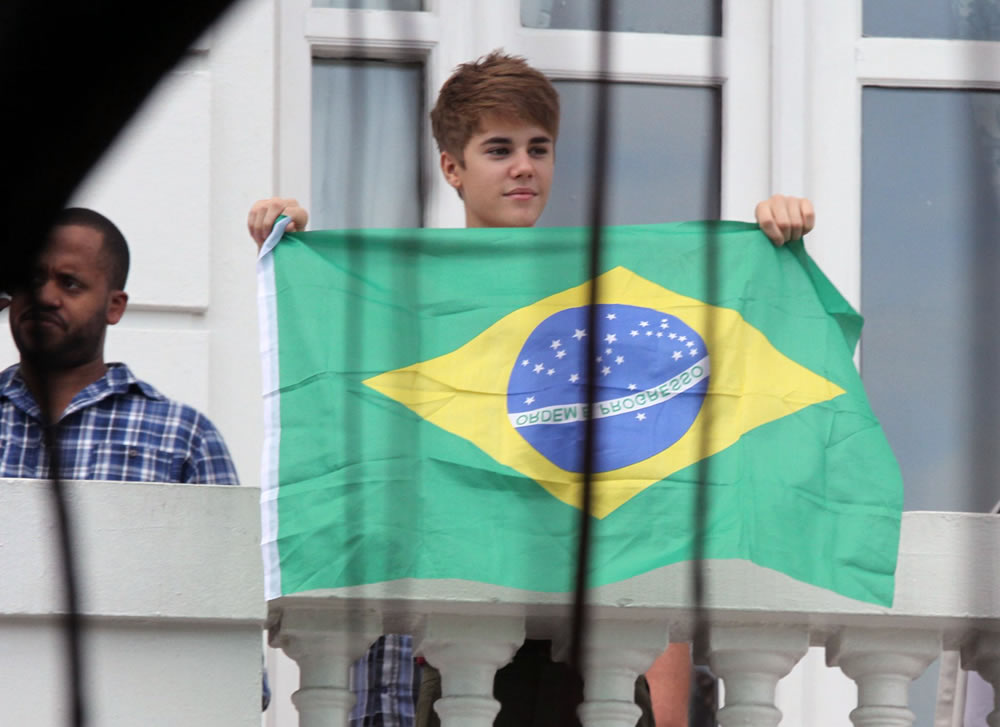 Photos courtesy of PCN and Fame