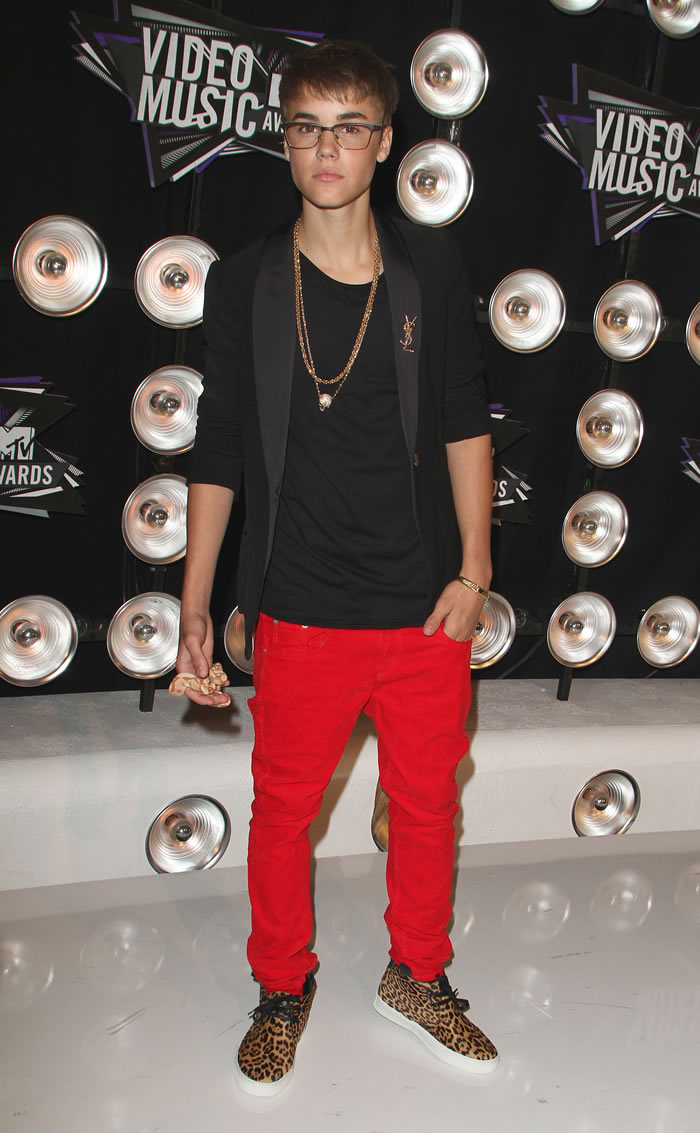 A few months ago, we discussed the frantic worry streaming from both Selena Gomez and Justin Bieber's camps over the possibility of an accidental pregnancy. The fretting is quite understandable, for Justin is 17-years-old while his "cougar" girlfriend is still only 19-years-old, and both Justin's mother and Selena's mom spawned their respective little pop nightmares at the age of 16. Almost everyone who has been exposed to this story has crossed their fingers that Selena is smart enough to take the pill. However, the rumors keeps rearing their disturbing little heads, for this week's edition of Star floated the idea that Bieber was actively seeking to make a little Bieber. Now, Bieber sits down with Women's Wear Daily to discuss fashion and baby making. Really.
On His Future In Fashion: Definitely, I want to eventually start a clothing line or a shoe line, something like that. But nothing is in the works right now. I'm just focusing on my music now.

On His Style Icons: Kanye West. Usher's real cool. He knows way more about fashion than I do. I'm learning from him. He helps me put stuff together and find different designers who I've never heard of. I just got a pair of Fendi sunglasses. I'd never heard of them before. I like Louis [as in Vuitton]. I started wearing their belts and stuff, which I really like [lifting his jacket to reveal an "LV" belt buckle].

On His Style: I try not to do too much. I try to keep it, I'm not sure what the word is – I don't get too dressy. I don't like to dress up. I really like to keep it casual.

On His Career: I never really thought I was going to be like this. I did it for fun at first. Now that it's gotten so crazy, sometimes I look back and think, "Wow! This is crazy." I performed for the President of the United States. That was a wild moment. Winning a VMA, that was a big moment.

On Charitable Causes: I love what I do but I think it's important to give back, especially for me. I was less fortunate. I didn't have a lot. I grew up in geared-to-income housing. It was always rough for me. We went to the food drive all the time. I always thought, "If I ever get rich or famous, I will help people who are less fortunate than me." This year I'm helping with the food drive in my hometown. I'm just trying to do as much as I can with everything I do. With Pencil of Power, we gave $1 for every ticket sold on my tour, which was amazing.

On Where He'll Be In Five Years: [Visibly counting] Well, by 25 or 26, I want to see myself, like, married or start looking for a family. I want to be a young dad. I want to be able to have done what I wanted to do — to be successful, to do a movie or whatever. But if the time is right, I definitely want to be married by 25. One thing — I'm not looking to get married now.
[From WWD]
Well, as insufferable as a Bieber fashion line sounds, it would undoubtedly sell very well just like his already existing perfume and nail polish lines and keep him afloat a little longer before Justin becomes the next MC Hammer. A Bieber clothing line would be especially feasible alongside Selena's line at K-Mart if not necessarily aesthetically pleasing, much like the way that the Bieb chooses to wear his pants already:
Now onto the baby stuff. Apparently, the Bieber can't count terribly well, which is evident by the fact that WWD grilled him about "five years out," and he jumped ahead eight years or so. While it's not exactly controversial for him to express the desire to be a father at age 25, these are definitely unusual words to hear come out of a teenager's mouth. To put it simply, he's got babies on the brain, which is something that we usually come to expect from, you know, the mouths of females. I guess Justin's not only thinking with his Johnson but also desiring the potential after effects? Let's just hope that Bieber's intention to keep "focusing on my music" is genuine. Yes, I'm imagining that a "baby Bieber" sounds just about as annoying as the Bieber himself. Perish the thought.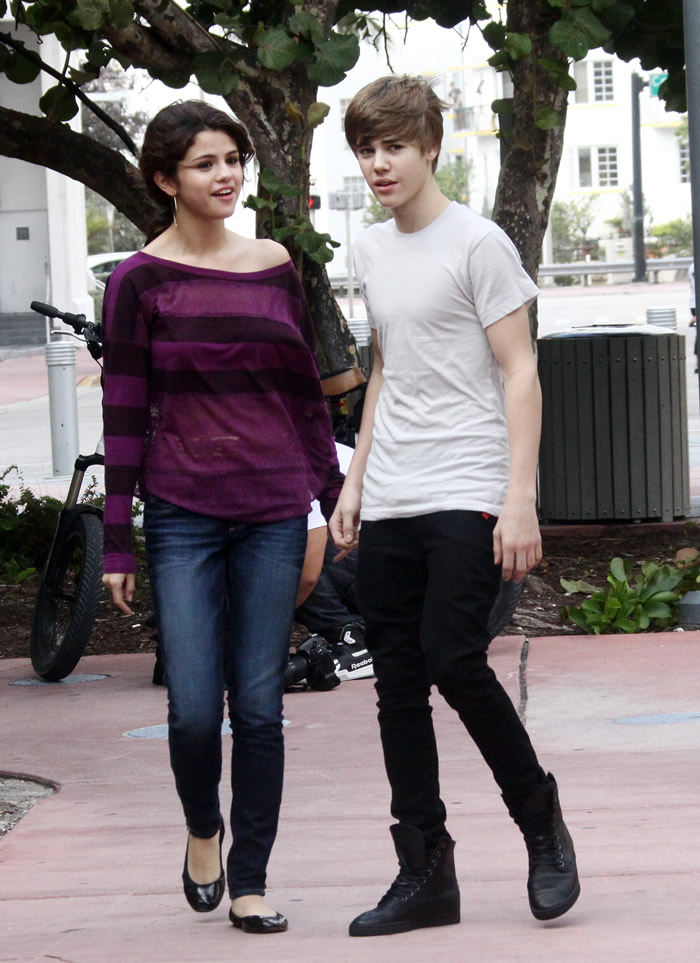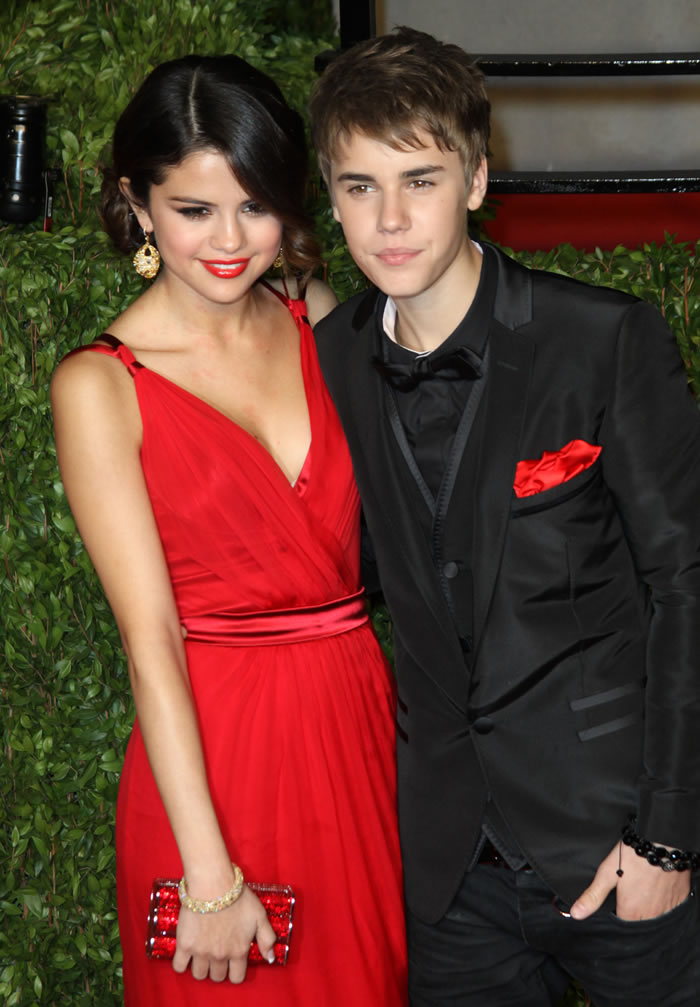 Photos courtesy of Fame Pictures