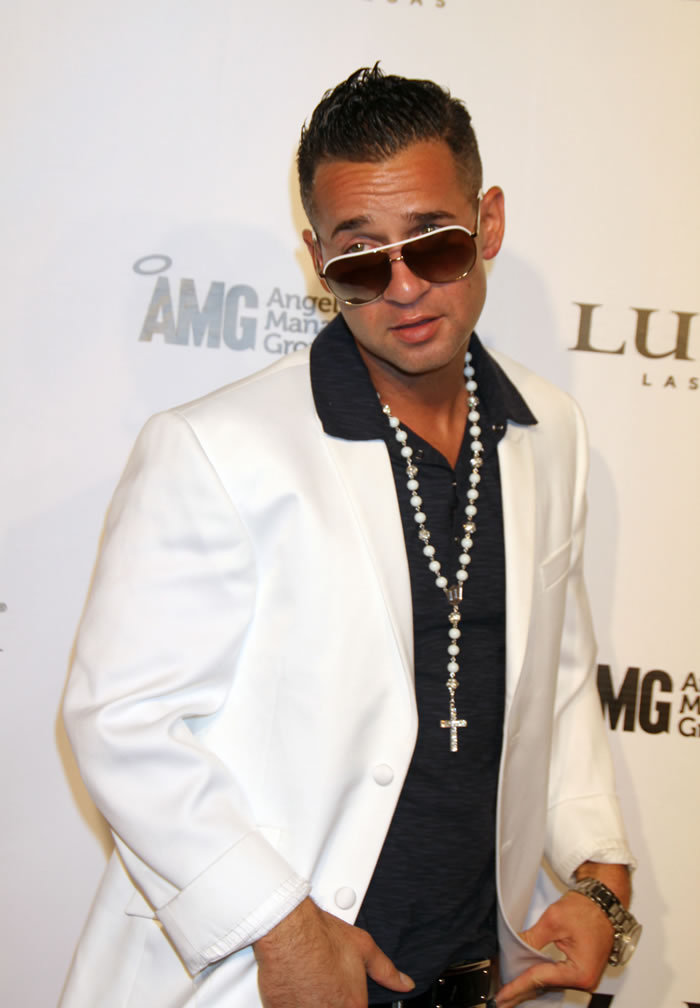 A few weeks ago, Nicole "Snooki" Polizzi did a GQ interview in which she claimed to save her money but also revealed that Mike "The Situation" Sorrentino is already broke. At that point, I overindulged myself by making mass predictions about all of the "Jersey Shore" cast members including the fact that The Situation will soon be the next Spencer Pratt (meaning that not even his agent will take his calls). A few of you speculated in the comments that this blind item could indicate that Sitch has been blowing his money on coke, which is a distinct possibility (and yet has nothing at all to do with the size of the dude's nose).
However, In Touch has received word from one of Sitch's (many) estranged friends, who counters that Sitch has splashed out on countless diamond chains and rolex watches along with two Bentleys, two Ferraris, a Lamborghini, and a Range Rover. Even more pathetic is that the guy pays his friends, including his brother Marc, to act as a personal entourage and follow him wherever he goes. So maybe there's never been any money left over for coke in the first place?
After the Jersey Shore's fourth season, onetime cast favorite Mike "The Situation" Sorrentino's big head and cruel lies have left him without a friend in the world. And now, according to his nemesis Nicole "Snooki" Polizzi, not even the Benjamins have his back. "He's already broke!" she recently revealed.

For someone who's made millions since his MTV debut, the allegation may seem shocking. But according to insiders, it's all too true. "He has nothing left," a former pal says. So what went wrong for the reality star, who sources say earned nearly $100,000 per episode last season plus millions in endorsements? He won't stop spending money," an insider explains. In addition to his fleet of high-end cars and designer jewelry, Mike hired an entourage to follow him 24/7. "He's so cocky, he thinks he can spend like an A-lister."

But the 29-year-old's popularity is plummeting — and the Jersey Shore well is drying up fast. "No one is paying him for appearances anymore," the former pal says. And unlike co-stars Paul "DJ Pauly D" DelVecchio and Snooki, Mike's spin-off show isn't taking off. As the former pal sums up, "Forget his Ferrari, he'll be back in a crappy car before he knows it!"
[From In Touch, print edition, November 28, 2011]
In other words, "Jersey Shore" will be winding down (at least for the founding members) after its fifth season, which means that even The Situation's formal wear and lollipop endorsements will soon fall by the wayside as well. But wait — he has a plan!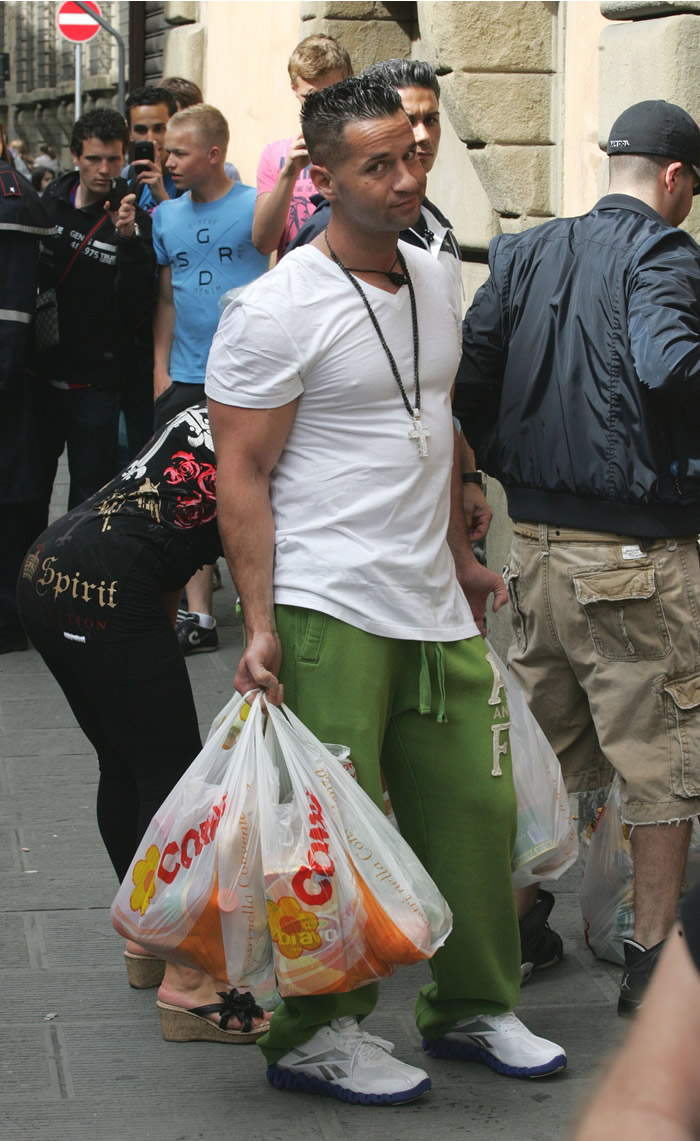 Remember a few months ago when Abercrombie & Fitch made an unnecessary display of asking The Situation to stop wearing their clothes? Oddly enough, the company's stock quickly dropped 9 percent (go figure?), and guess who celebrated in grandiose fashion? Yep. And now The Situation has figured out a way to rustle up some more cash; that is, he's now suing A&F for $4 million in federal court:
According to documents filed in the United States District Court, Southern District of Florida, the lawsuit essentially boils down to two main points: That Abercrombie's offer of a payout was actually a double-reverse PR move intended to capitalize on The Situation's fame; and that Abercrombie has violated Sitch's trademarks on "The Situation" and "GTL" by marketing T-shirts with the slogans "The Fitchuation" and "GTL… You Know the Deal." It's an interesting argument: The August announcement was clearly intended as a PR move, albeit a complicated one, intended to capitalize on a celebrity's infamy by getting what essentially amounted to an anti-endorsement. According to the legalese: "Defendant's advertising campaign was immensely successful; as it resulted in hundreds of newspapers and thousands of internet bloggers, publishing stories about Defendant's products and brand."
[From Popwatch]
Who knows whether or not this lawsuit will be successful, but at least The Situation hired lawyers that were wise enough to go for federal jurisdiction (unlike Lohan with her Pitbull suit), which should easily be satisfied in several respects. However, I expect that A&F will make a decent offer to Sitch before trial, and he'll quickly snap up the settlement before completely blowing it on either blow, hookers, or the ultimate bachelor pad. And then he'll be broke once again.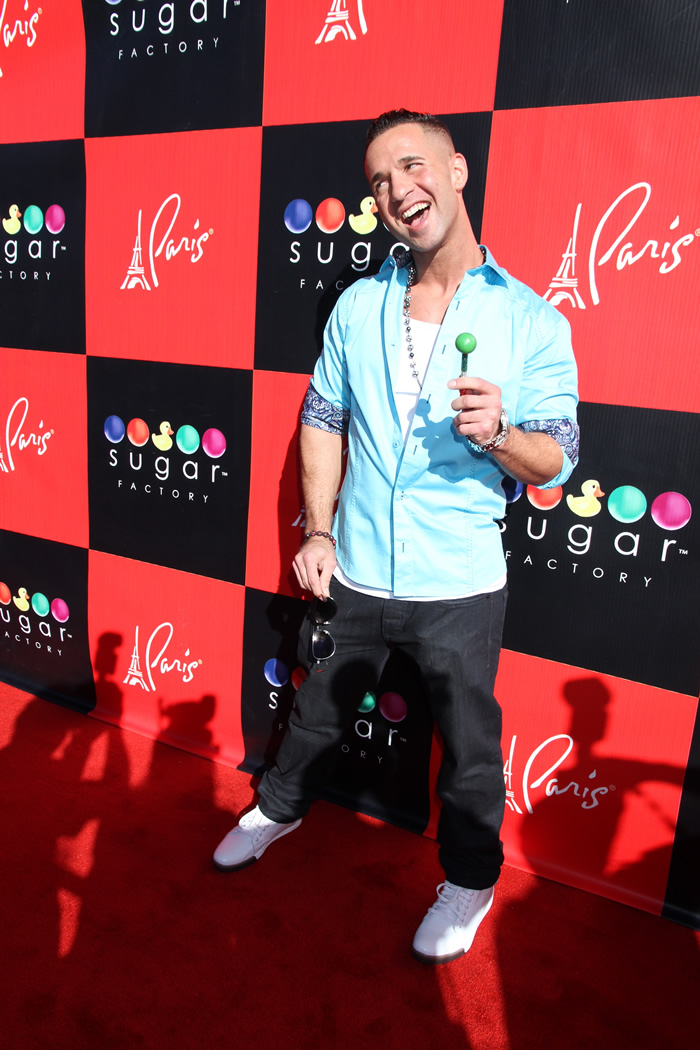 Photos courtesy of Fame and WENN