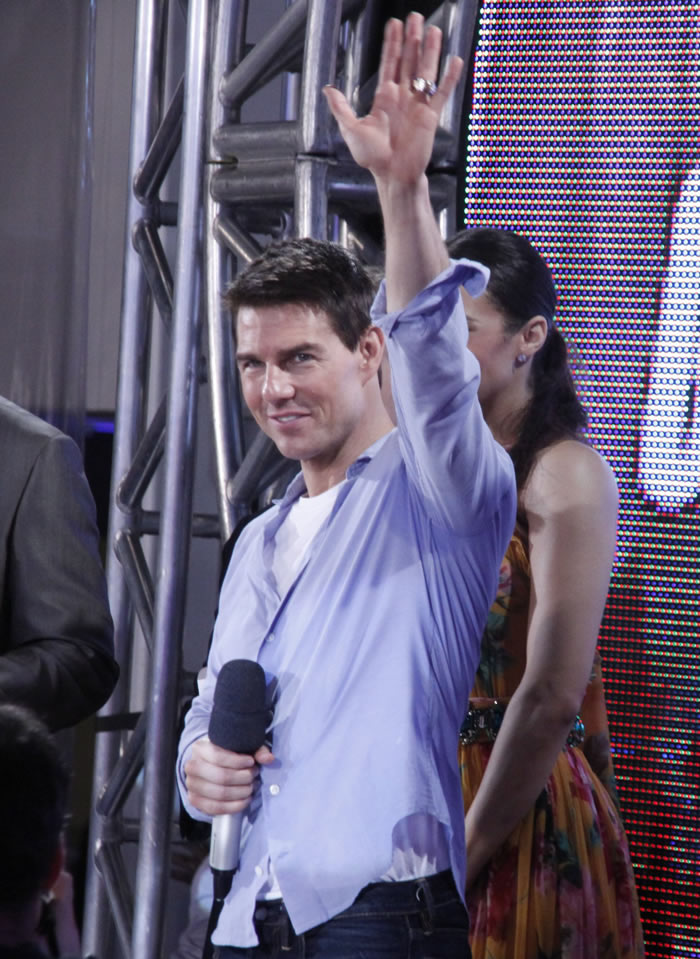 This morning, Kaiser asked a very relevant question: Why has Katie Holmes disappeared for the past month only to surface immediately before the NYC premiere of Mission: Impossible — Ghost Protocol? It's like she's been stuffed in a closet somewhere.
Meanwhile, Tom Cruise has literally travelled around the world in the past week and a half to promote his latest jaunt as (the possibly washed-up) super-spy Ethan Hunt. He's walked red carpets solo in Dubai, Moscow, Munich, Madrid, London (not to mention those fake fans in Mumbai). Now we have these photos from the Rio premiere on Wednesday, which took place immediately before Tom 'coptered out of there and flew back to New York where he and Suri were snapped ogling a baby.
And there's the rub. It seems that In Touch has received word that Tom's gunning for another mini-Cruise (that is, besides himself), and Kaiser's half-joking theory about Tom sending Katie back to the assembly shop for some "reprogramming" might be more correct than we'd like to seriously believe. It's a scary possibility, really. However, in that vein of thought, Tom has been keeping tabs on Katie's whereabouts while he's away by "lovebombing" (a term of art where cults are concerned) her in their own home. Of course, Tom's so hardwired to the Scientology mindset that he probably believes he's only truly expressing his unconditional love to his amazing, remarkable, utterly devoted wife. In reality, what he's telling her is to stay put, enjoy the pampering, and get prepared to pop out another one:
Tom Cruise's real "mission" is to get Katie Holmes to agree to baby number two.

Tom Cruise may have been 5,000 miles away from his wife Katie Holmes, but he wasn't going to let that stop him from serving her a super-romantic dinner in their Beverly Hills mansion. According to an insider, Tom recently hired the sushi chef from famed restaurant Nobu to prepare all of Katie's favorites — and even got an assistant to make sure the table was bedecked with candles and fresh flowers. "She spent more than $3,000 on the sushi chef alone," the insider marvels. "But he'll do anything to keep Katie happy."

You can say that again! On an all-out campaign to convince Katie, 33, to have a second child, Tom has returned to the over-the-top romance of their courtship — and has been showering her with pricey gifts on a daily basis. Even though he's been traveling the globe promoting Mission: Impossible — Ghost Protocol, he's been working overtime to make sure Katie keeps him — and baby number two — in her thoughts. "Instead of pressuring her to get pregnant, Tom is trying to show her how committed her is to her," a friend explains. And in Tom's mind, nothing says committment like flowers. The friend reveals that Tom's been having Katie's favorites, orchids and hydrangeas, delivered to the house every day, along with her favorite foods. "He's spoiling her," the friend laughs. And it seems to be working. Even though getting pregnant again isn't Katie's top priority, the friend says she just might give in — for Tom.

Tom isn't the only one lobbying Katie to get pregnant again. A friend of the couple shares that their daughter, Suri, 5, has been asking for a baby brother or sister for more than a year. "It's Suri who really might be the one to persuade Katie to have another child," the friend notes. After all, Katie lives to please her little girl!
[From In Touch, print edition, December 26, 2011]
So will another over-the-top courtship convince Katie to get out the turkey baster? It worked the first time, and Katie's not exactly gaining a will while being married to Tom. If anything, she's regressed further with the passage of time. Tom will probably get what he wants, but it might be because of Suri's desire for a sibling also. She's about the same age as when my daughter started asking for a baby sister; and although I haven't given in yet, I'd like to think that I'm a bit more stubborn than Katie.
Just think — another pregnancy would do wonders to promote One Shot next year. In other words, Katie might very soon be doing more than merely wearing flats to promote another movie for Tom.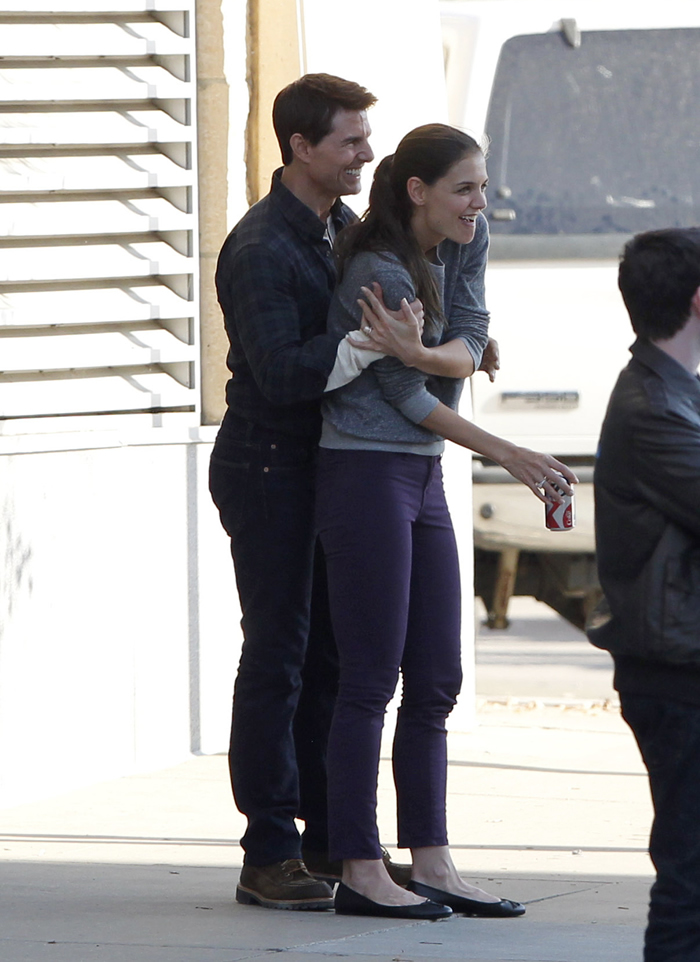 Here are a few more photos from the MI4 Rio premiere. Nice tent, Paula Patton.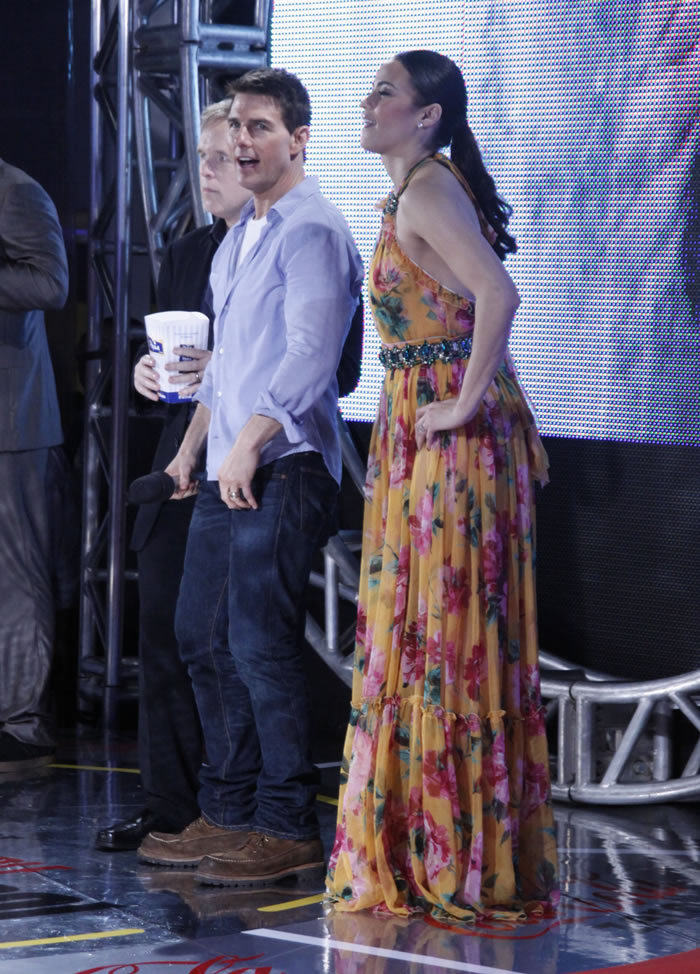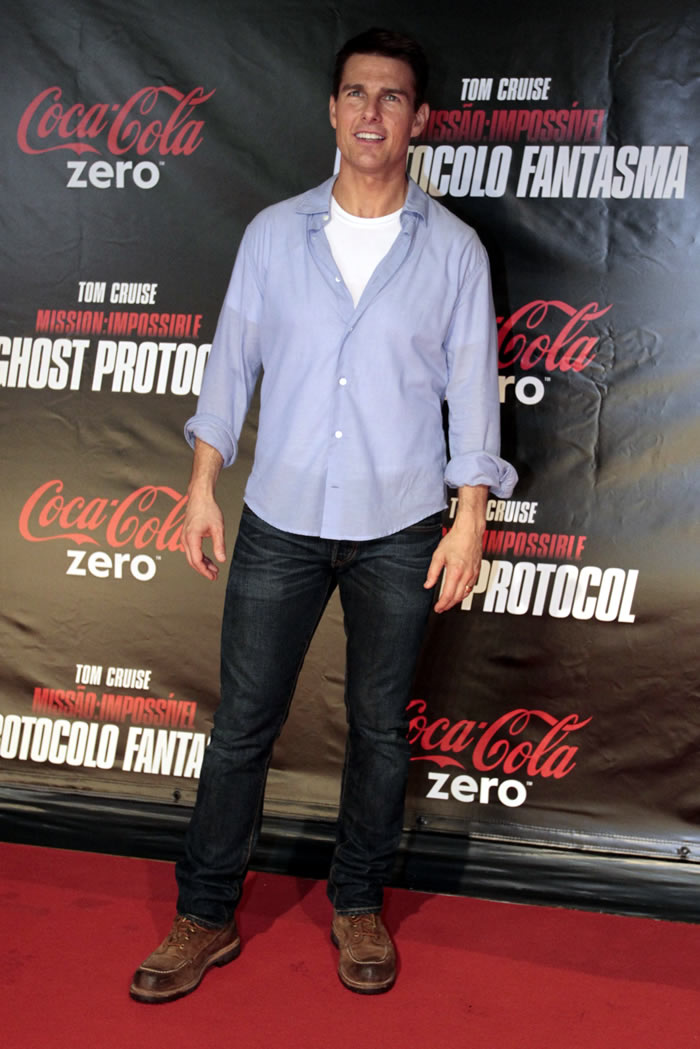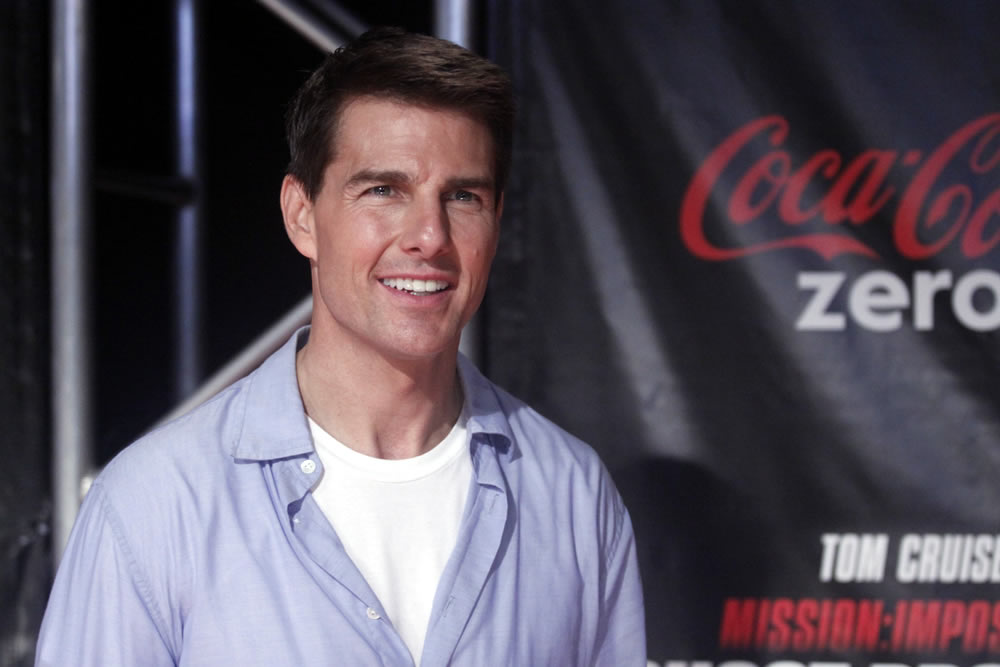 Photos courtesy of WENN