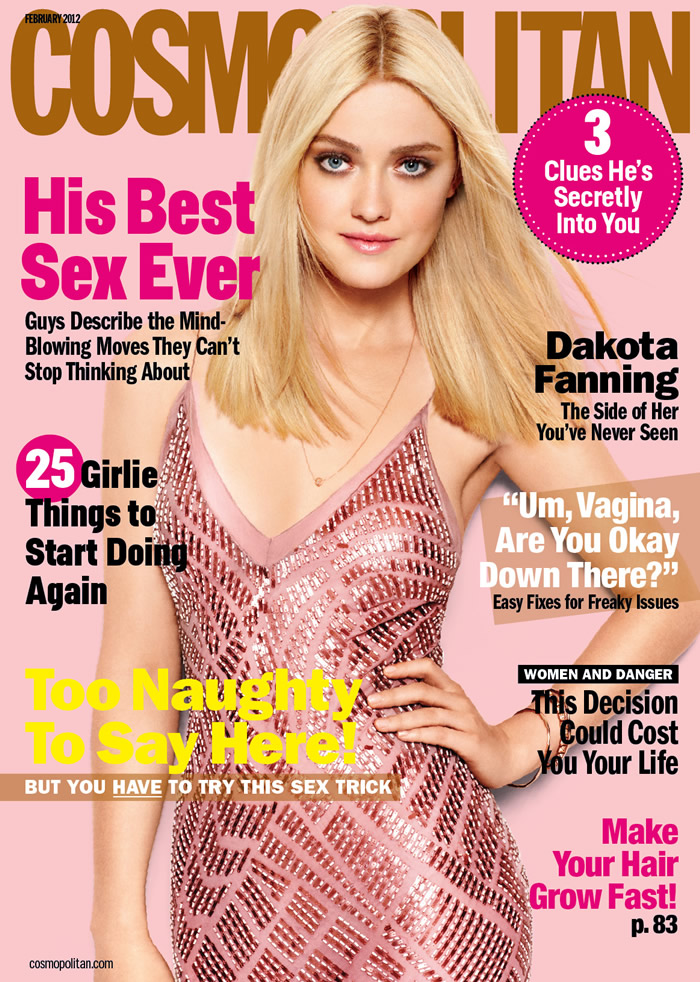 Dakota Fanning covers two prominent fashion magazines for February, and I couldn't figure out exactly what she'd be promoting because none of her upcoming projects are due out for at least a few more months. Not that I'm complaining because I adore Dakota, who largely seems unaffected by her lengthy resumé (with 45 acting credits to date on IMDb) and who has still managed to have the full high school experience. She's even quietly gone onto NYU as well.
But alas, Cosmopolitan has made Dakota its cover girl along with naming her "Fun Fearless Female of the Year." For certain, this is a dubious honor because it requires that Dakota pose alongside headlines such as "His Best Sex Ever" and "Um, Vagina, Are You Okay Down There?" even though she's still just seventeen years old. Here are a few obligatory interview excerpts:
Dakota on her superhuman aura: "Since I was young, I've always known who I was. I never really had to go through finding who I am. I've always felt really secure."

Kristen Stewart on Dakota's determination while filming The Runaways: "We had a few scenes that were crazy intimidating, and maybe once or twice, she was like 'Okay, I have a butterfly in my stomach.' Meanwhile, I'm hyperventilating! Sometimes I give her sh-t for being so on the ball."
[From Cosmopolitan]
Surely, there's much more to the interview than those few scant excerpts, but the quality of Cosmo means that we won't be learning anything new from the experience. While I understand Dakota accepting the "Fun Fearless" honor, I wonder how appropriate it is for her to appear on the cover before she's even 18. Certainly, photographers like Terry Richardson have had far too much fun with Dakota in the past, and a certain perfume ad featuring Dakota was also banned in the UK. These incidents are at odds with what we've come to expect from Dakota in terms of her actual behavior. Luckily, this Elle UK cover and photoshoot will set things straight, the interview within is much more gratifying from a Dakota-centered standpoint: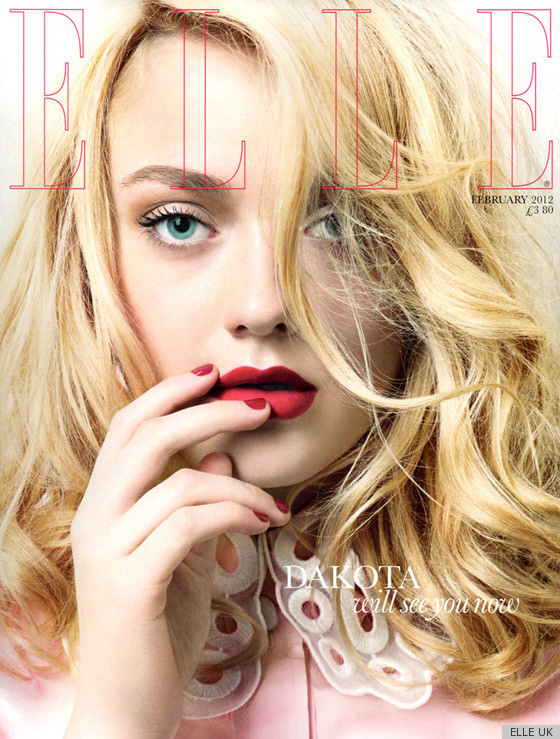 On Normalcy: Dakota herself is at pains to insist that she is the most normal, balanced, regular girl with a regular life you could ever hope to meet. She went to a "competely normal high school," her friends are "still the core group I met when I was 14," there is absolutely no power imbalance, even though she is a globe-trotting superstar and they are not. "My friends are like, 'Oh wow, I just forget that you do movies'," she instists. When I ask her if, from film sets around the world, she feels any sense of longing, looking at the regular teenage lives led by her peers, Dakota looks me in the eye and says firmly: "But I'm definitely part of that, too. I just want to be an actress. I don't really do anything attention-grabbing," she says. She avoids anything that might grab the headlines for the "wrong" reason.

"It's inevitable," she says, levelly, when I ask if everyone was staring at her. "But it's only as weird as you make it. You can kind of walk in and be like, "God this is weird," Or, you know, you just walk in like, "I'm going to school like everyone else and it's going to be great."

Her Mom Is Not On The Payroll: "Does not happen, has never happened, will never happen," insists Dakota, "I would never … She would never want that, so that's never even entered into any kind of plan." She likes the fact that she can pop out to a premiere then come home and get "fussed at" for not cleaning her room and says, with almost heartbreaking earnestness, that "at the end of the day, my mom' opinion is the only opinion that matters to me in the word. In the whole world."

On Manners: "I've always been taught that the greatest trait ina person is to put other people before yourself," says Dakota solemnly. And it's true — she is courteous, kind and incredibly eager to please throughout the 10 hours I spend with her. She is never late, she says, because, "I feel absolutely terrible. I have a real anxiety about people waiting for me." If anyone gets her name wrong, she won't correct them because she has a fear of embarrassing them. "I will never send food back at a restaurant, even if it's not right."

On Fame: If [Dakota's mother] notices busloads of tourists looking at her daughter, she makes Dakota wave and smile because to ignore them would be rude. Dakota finds it mortifying — but she does it. Indeed, she seems truly terrified of fame, hence her refusal to enjoy its rewards. In fact, she refuses to even use the word "famous"; at any time my line of questioning forces her there, she simply refers to herself as a "well-known person." When I try, meanly, to make her say: "My name is Dakota and I am famous," she visibly cringes and says, "Famous just sounds so pretentious. Who am I to call myself that word?"

She admits to being aware of the growing interest in her looks and her body shape — she is an actress after all — but claims it doesn't upset her. "You can't worry about what other people think, especially if you're a known person or sometimes you won't be able to get out of bed." Come on, I push her, you're young, you're beautiful, you're now a woman, you have to feel it coming for you …. "I'm not stupid," she says, almost kindly. "People are always talking about tis person and that person who has an amazing body and this person who looks great and that person who doesn't. It's there, if you let it in. And I let it in to an extent. I just don't let it affect the choices I make."

She Doesn't Do Casual Relationships: "I feel like peole, a lot of girls, take things with guys very loosely, and I'm not like that. I mean, my parents have known each other since second grade and they've been married 22 years. I don't need to be courted, but sometimes it's nice, a little bit of that." Nonetheless, when Dakota completed a scene recently, Emma Thompson tells me she was moved to "grasp her tiny little wrist and say, 'You know, you're the real thing and it's very rare.'" I tend to agree. Both on- and off-screen, Dakota Fanning, actress, is the real thing.
[From Elle UK]
The Elle article also claims that Dakota really is all BFF with Kristen Stewart, which seems entirely odd since the two young actresses appear so different from each other. Kristen is sullen, pouty, and certainly doesn't place value upon education. In contrast, Dakota is sunny, humble, and really does seem committed to getting through college. In other words, she's not deferring after one semester like Emma Roberts just did. Maybe an actress who's as levelheaded like Dakota doesn't give us as much to talk about, but I can at least appreciate knowing that she'd rather be studying than OD'ing at a party.
Now what of this Elle UK shoot? Beyond the sketchy cover, the editorial photos are absolutely gorgeous. Mature but still covered up. Very appropriate.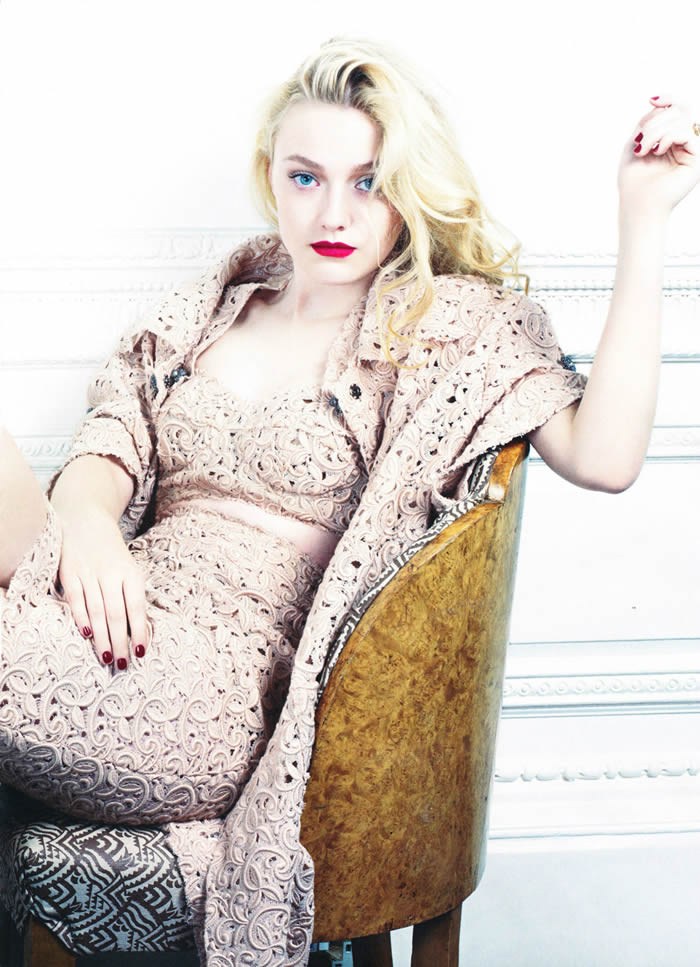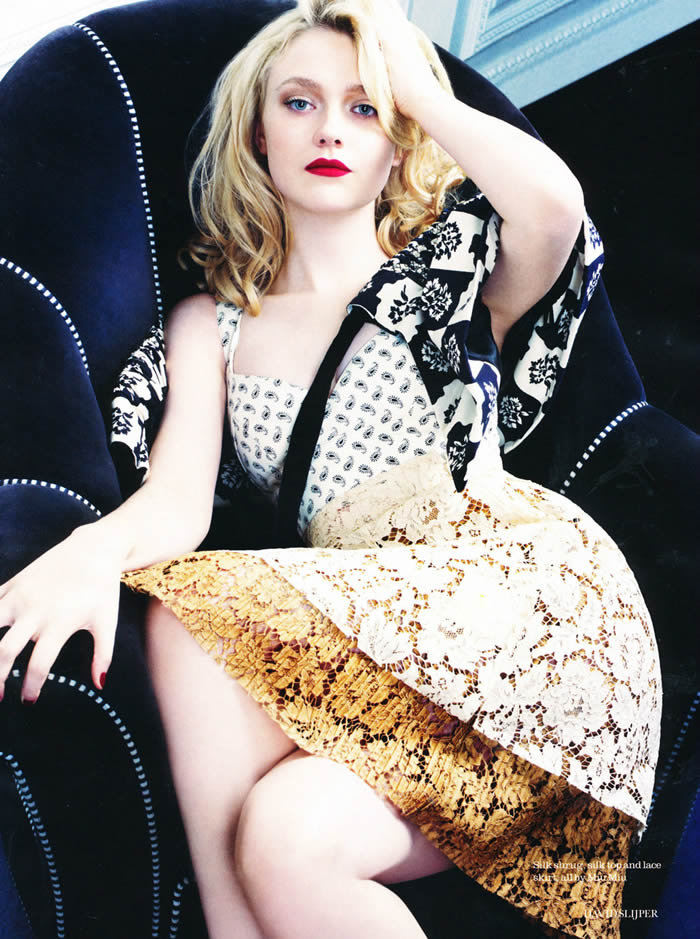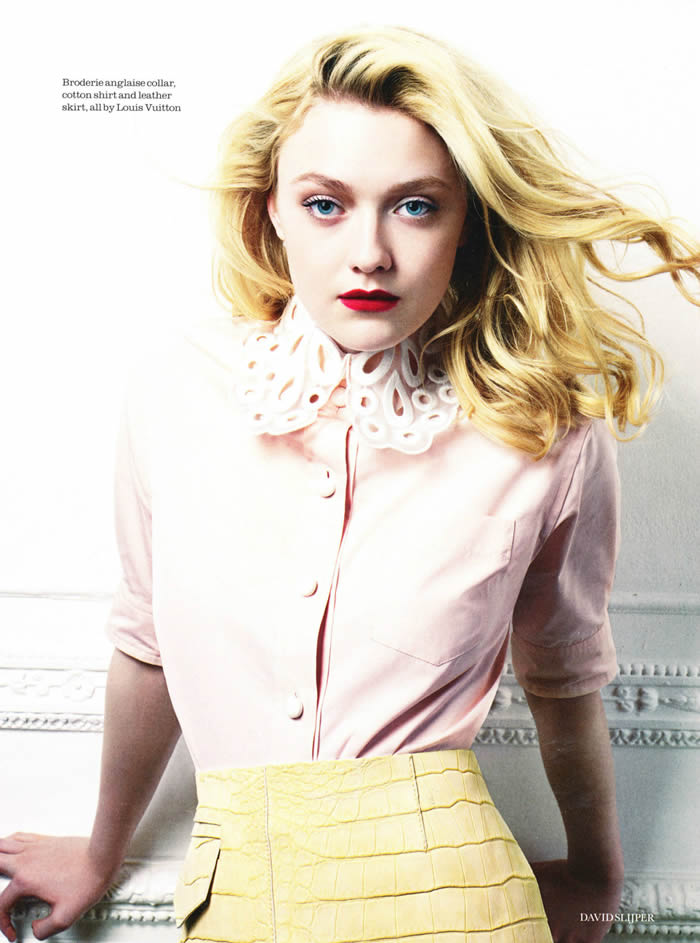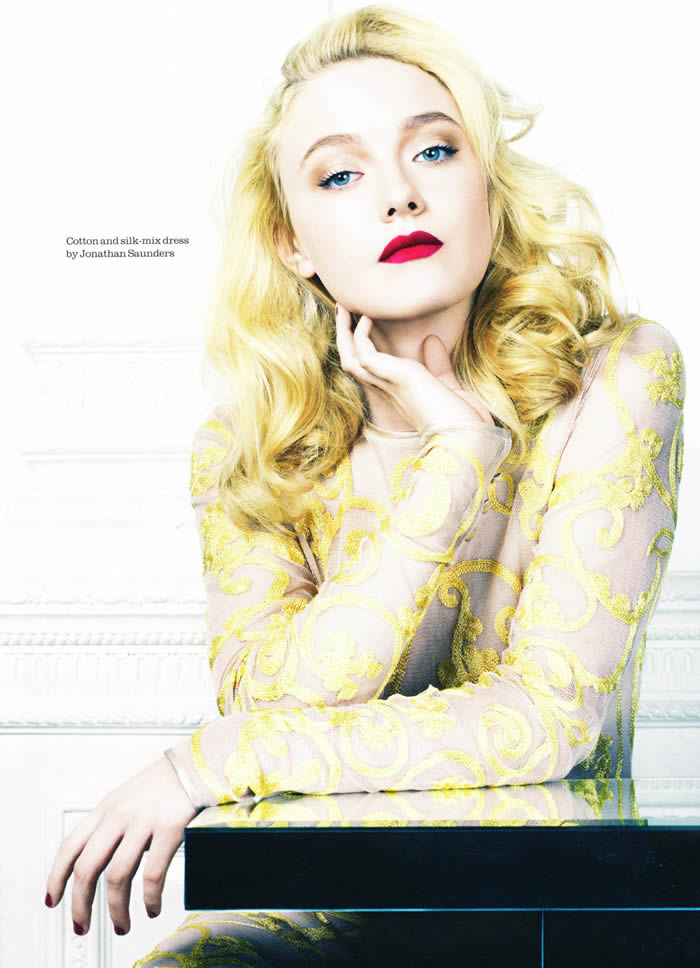 Photos courtesy of Cosmo, Elle UK, and The Fashion Spot