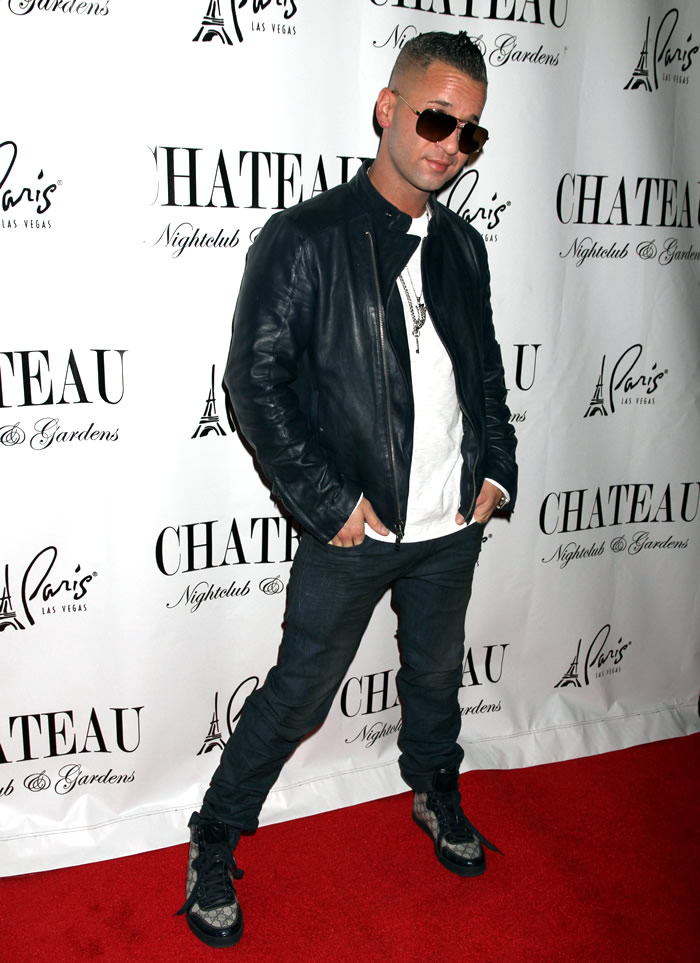 The final season of "Jersey Shore" rages on, and it looks like a good chunk of the castmates are lining up future MTV spinoffs. "The Pauly D Project" is reportedly a go and the untitled J-Woww & Snooki show finally got the okay to shoot in Jersey City after Hoboken denied them a permit. No word on what Mike "The Situation" Sorrentino has in his immediate future unless "obnoxious, misogynistic, and extremely orange" qualifies him for some profession of which I'm not aware.
The misogyny bit is interesting though, for The Situation's endless stream of post-club hookups have done nothing to quell the persistent rumors that he might be in the closet. In fact, one of my gay boyfriends has always insisted that Sitch is "a closet case," which I didn't see at first, but it's becoming more obvious as time wears forth. At the moment, The Situation is extremely pissed off at Snooki and J-Woww for statements that the girls made about his sexuality in a recent HuffPo interview. When asked about whether The Situation is gay, Snooki responded, "It wouldn't shock me. Whenever he brings a girl home something always seems to go awry and they don't end up hooking up. And he gives them men's clothing to wear." J-Woww added, "And his posture and the way he holds his cigarettes… everything." Needless to say, The Situation is extremely offended and worried about the effect upon his marketability:
Mike "The Situation" Sorrentino is furious with his "Jersey Shore" castmates Nicole "Snooki" Polizzi and Jenni "JWoww" Farley for giving interviews to the Huffington Post and Reality Weekly hinting that he may be gay.

"Mike really ripped both Snooki and JWoww a new one," a show insider told me Wednesday.

"He's extremely upset," added the source, saying Sorrentino is concerned those comments could hurt his brand marketing efforts, which are very much focused on straight male customers.

The reality TV star's publicist issued a statement denying the gay gab, calling Snooki and JWoww's speculation "the most ridiculous statement I've ever heard."

The "Jersey Shore" staffer acknowledged the rumors about "The Situation's" sexual orientation have been around since the show's first season, "but Mike thought he finally had put a kibosh on that."
[From Chicago Sun-Times]
Those gay rumors aren't going away anytime soon. In the first episode of Season 5, Sammi Sweetheart entered the confessional room and talked about Mike's "gay tendencies" after she saw him changing clothes in the same room with one of his buddies. Honestly, even if Sitch really isn't in the closet, he could embrace these rumors and come out ahead with a new fanbase, since everyone (castmates and fans of the show) pretty much dislikes him intensely at this point. Instead, he's acting like being gay is a bad thing, which is a total douche move.
The really funny thing about Mike being so worried about his "brand" losing steam due to gay rumors is that he's apparently not at all worried about how his "brand" was affected by last week's episode, in which he walked around (either drunk or high on cocaine) with his (mercifully blurred-out) wang hanging out for an entire five minutes while he delivered a nonsensical speech about how he's such a nice guy and doesn't know why his roommates can't stand him. EW's recap hiliariously refers to The Situation's downfall from a scheming creeper to a paranoid old man as his "own private late-period Caligula phase," which is just a fancy way of saying that The Situation is completely losing his mind. These days, Sitch makes roid-ragey Ronnie look like a perfectly prim pussycat.
Closeted or not, The Situation is always looking out for Numero Uno, so he's choosing to insult the gay community in favor of protecting his silly formal wear endorsements because he's blown his money and is basically broke at this point. In these photos, he's still shilling his damn Couture Pop. I'll bet he gets a buck or two every time someone buys one of those overpriced hunks of sugar.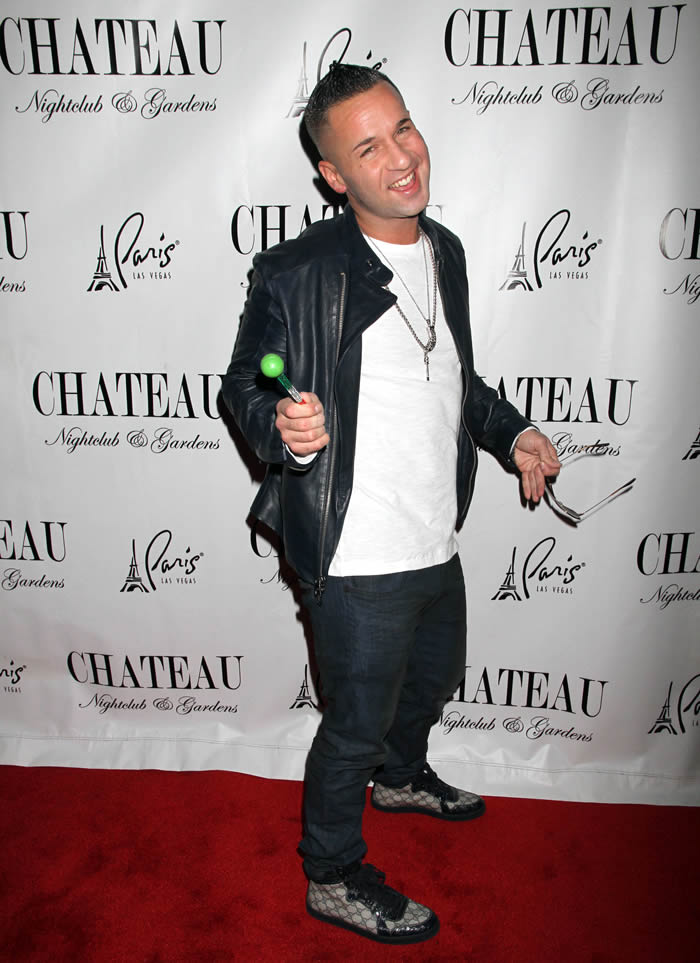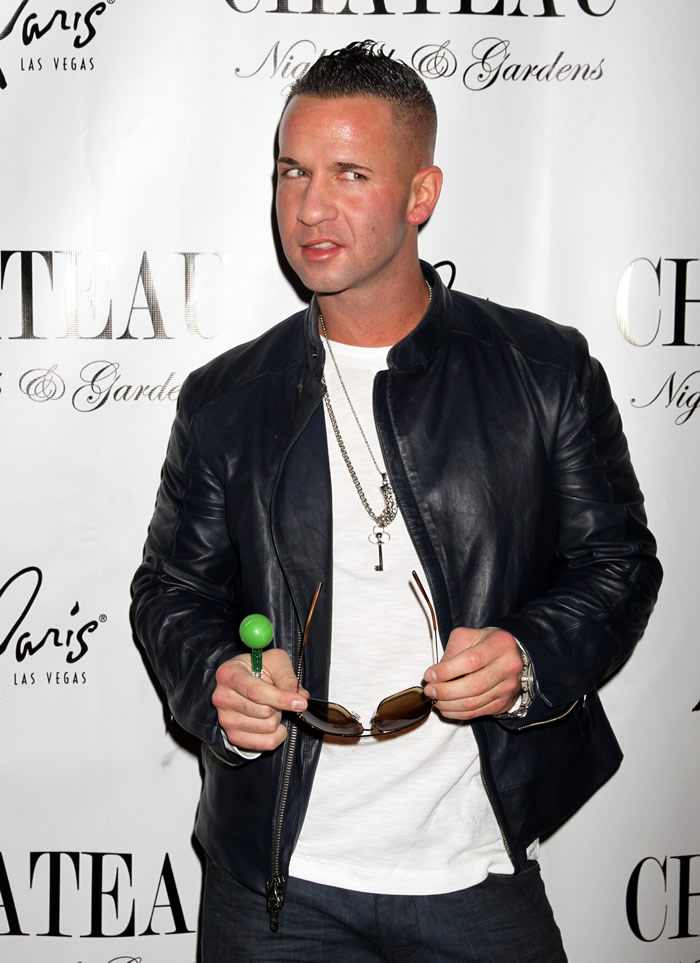 Photos of The Situation hosting at Chateau Nightclub in Las Vegas on 12/31/11 courtesy of Fame/Flynet