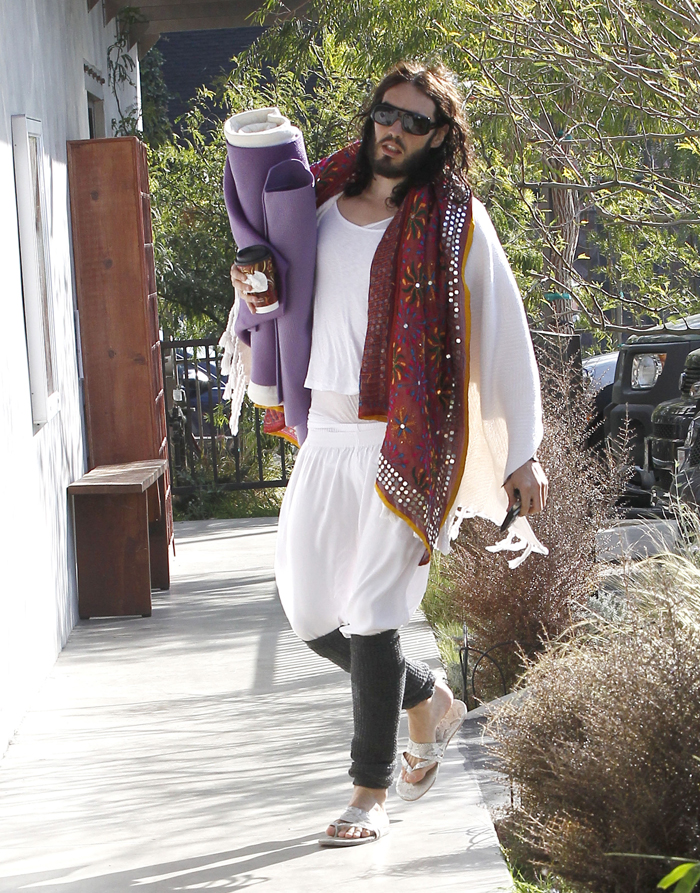 There's some part of me that realizes that Russell Brand is a womanizing cad at heart. Yet I've read his books, so I still feel for the guy after he's successfully fought his demons of addiction and continues to struggle with them on an at-least daily basis. Yoga seems like a very good fit for Russell in theory, and I sort of speak from experience minus the addictions. Before I was a mother, I used to squeeze in at least an hour (sometimes two) of practice before heading off to work every morning. I wasn't an expert by any means, but I was proud to have mastered the first few series of Ashtanga and had progressed to the third. There was nothing quite like accomplishing 100 sun salutations before the sun even rose, and it made me feel great inside and out. I really miss it but can't manage that kind of practice any more and have swapped out yoga for gym runs.
Anyway, I can see why Russell has quickly become a yoga aficionado. He's practiced for years, but ever since he left the Lonely in London scene and returned to California, Russell has fully immersed himself in the quasi-lifestyle and made twice daily trips to the studio where he practices. This week's In Touch runs with Russell's apparent yoga obsession and has spoken to a source that says Russell is under the spell of his yoga teacher, Guru Singh. If I had to judge by Russell's increasingly flamboyent studio-bound attire (the Mail has compared the new look to Mike Myer's Love Guru), this theory is not beyond the realm of possibility: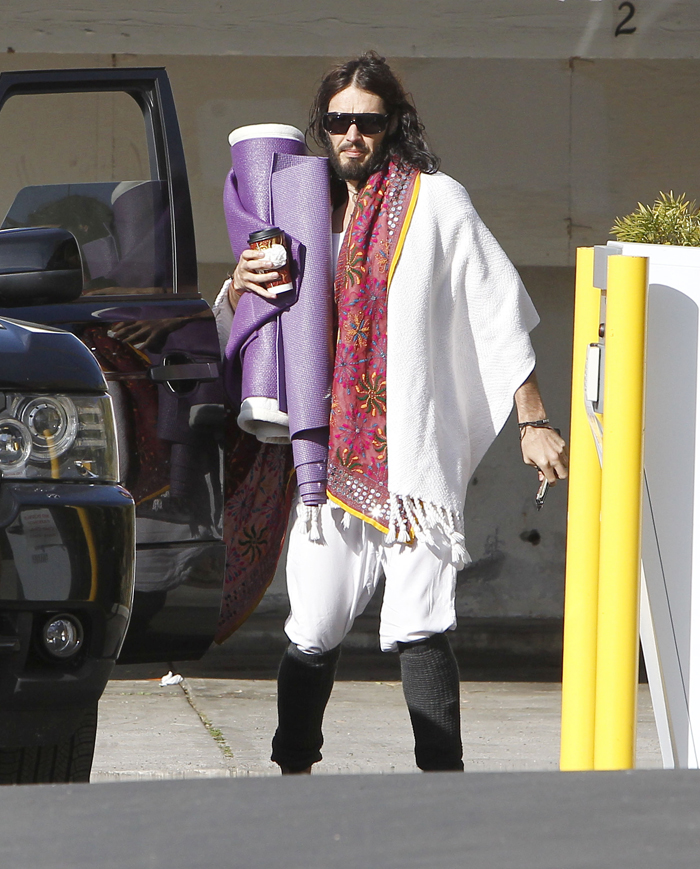 Uh-oh! Friends fear yoga devotee Russell Brand has become "addicted" to his mentor, Guru Singh. "Russell seems to be completely under his influence," one friend tells In Touch. "From where to live, what to buy, even who to marry." Or divorce?
[From In Touch, print edition, March 12, 2012]
So who is this Guru Singh? Outwardly, he's a third-generation yogi and master of Kundalini Yoga who has been described as a "yogi, teacher, writer, composer-musician, shaman, ordained minister, healer and family man." He's based in Los Angeles and sometimes teaches in India and London as well, and he has a YouTube channel that includes a video where he'll teach you to be a flower. It is understood that he's very into pomp and circumstance, and followers who flock to his classes are known to wear turbans while they move through their asanas. It seems a bit excessive, right?
Quite possibly, Guru Singh is completely harmless if slightly overbearing. However, there might be a more sinister side to him according to a former student who says that he doesn't personally speak to any of his students unless they also "happen to attend private sound therapy sessions at his house for $100 per session." This particular student began to grow worried when her own devotion to his classes made her feel that she'd "even drink poison coolaide [sic]" to please Singh even though she admits that his White Tantric Yoga classes are a scam and only designed to sell videos and merchandise. Here are a few photos of Singh in his various Guru capacities.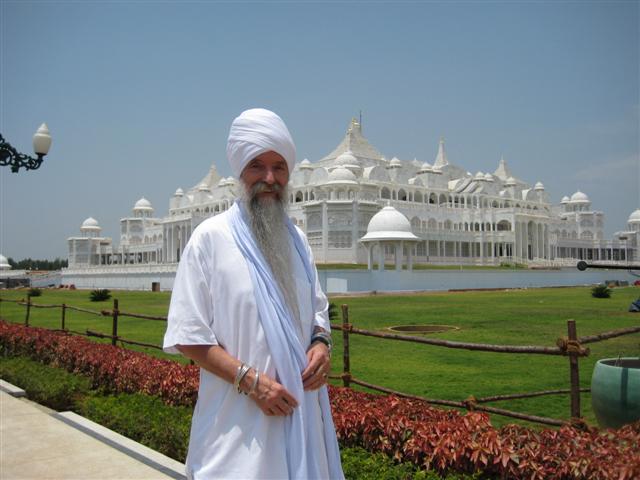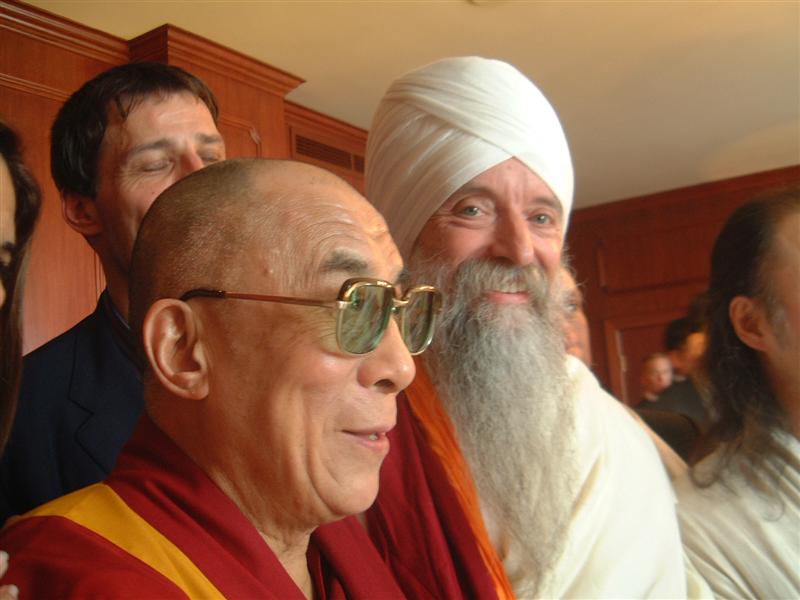 Look at this dude posing next to the Dalai Lama like he's the Gwyneth Paltrow of West Hollywood yoga instructors. Yogi famewhore or just an enlightened shaman?
Whatever the case, I'm sure that Russell's devotion to Guru Singh is nowhere near as dangerous as falling into the Scientology trap would be (and you know they've probably tried to recruit him by now). So Russell's probably spending a ton of money on "enlightenment," but at least it doesn't seem harmful unless he pulls a groin muscle or something. Quite simply, he's the pervert yogi who drives a black Range Rover.
Meanwhile, Russell is still hooking up with fellow yogi Oriela, whose mom has spoken to Star magazine (thanks, mom!) about how much she adores Russell even though it sounds like they've never met: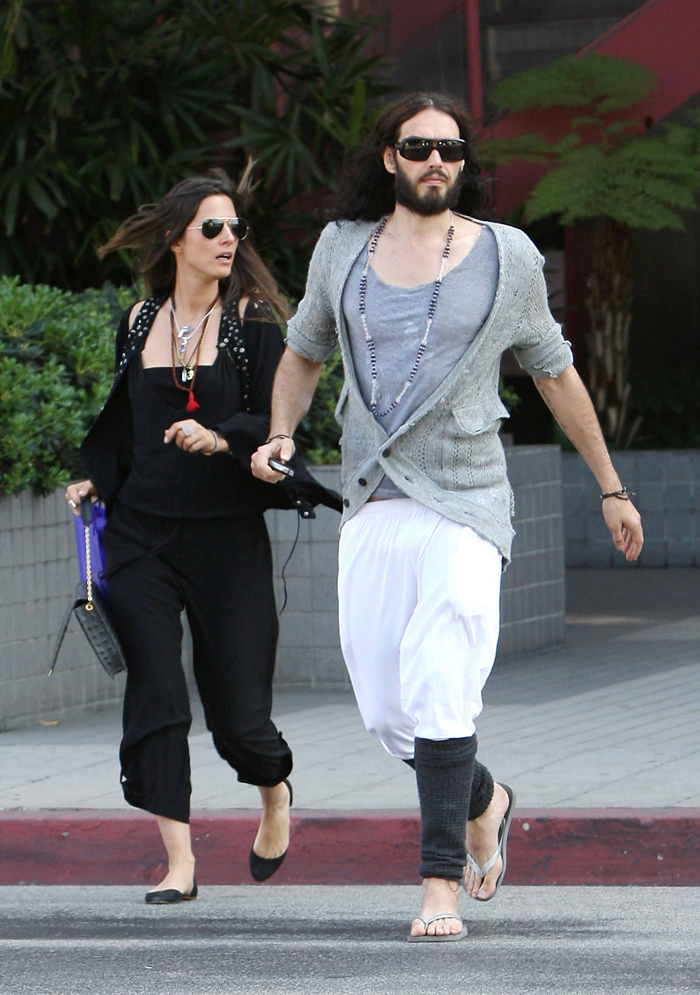 Russell Brand is A-OK with his new flame's mom! Katy Perry's ex, 36, and artist Oriela Medellin Amieiro, 25, have yet to confirm that they're dating. But her mother gives the romance a thumbs-up. "He looks like a nice guy," Wanda Amieiro tells Star. The pair's passion for yoga — they met in a Kundalini class — is promising. Wanda adds, "It's a 'feeling' type of yoga. If he's doing that, he's a good person." But he's also playing the field. On Feb 22, Russell arrived at yoga class with another babe!
[From Star, print edition, March 12, 2012]
Again, another media outlet gets it wrong about Russell stepping out with "another babe." Just like Fame Pictures misidentified Russell's companion as well when it was merely Oriela without makeup. He seems semi-serious with this woman, but I doubt they'll be walking down the aisle together. And of course her mother likes him, for Oriela is an aspiring (dreadful) actress and could really use Russell's Hollywood connections.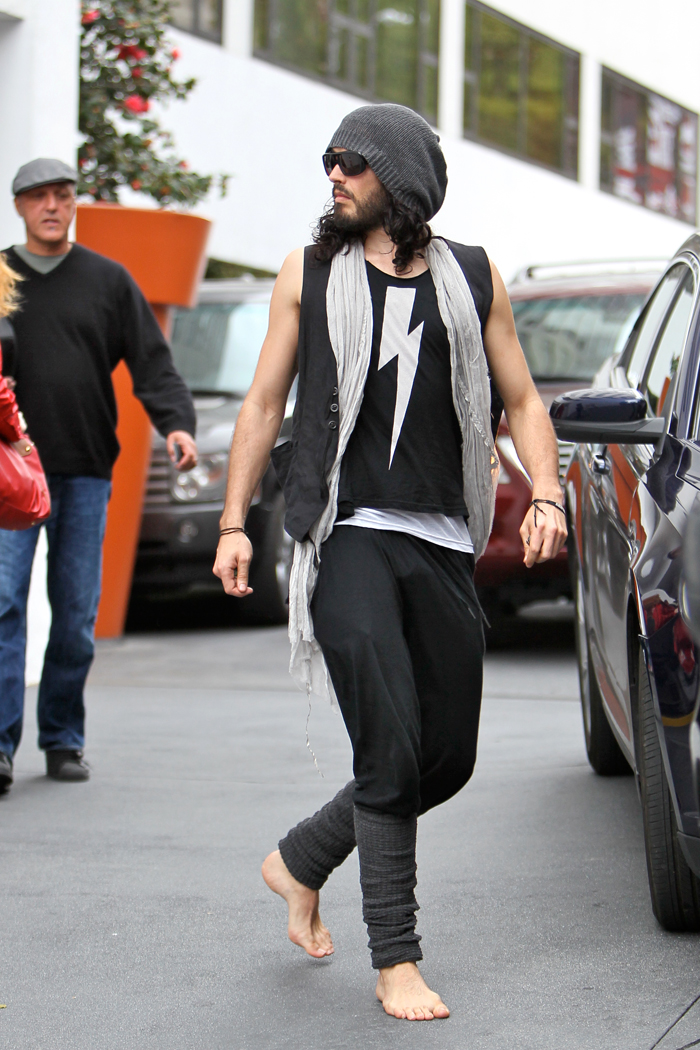 Photos courtesy of Fame/Flynet, WENN, and GuruSingh.com