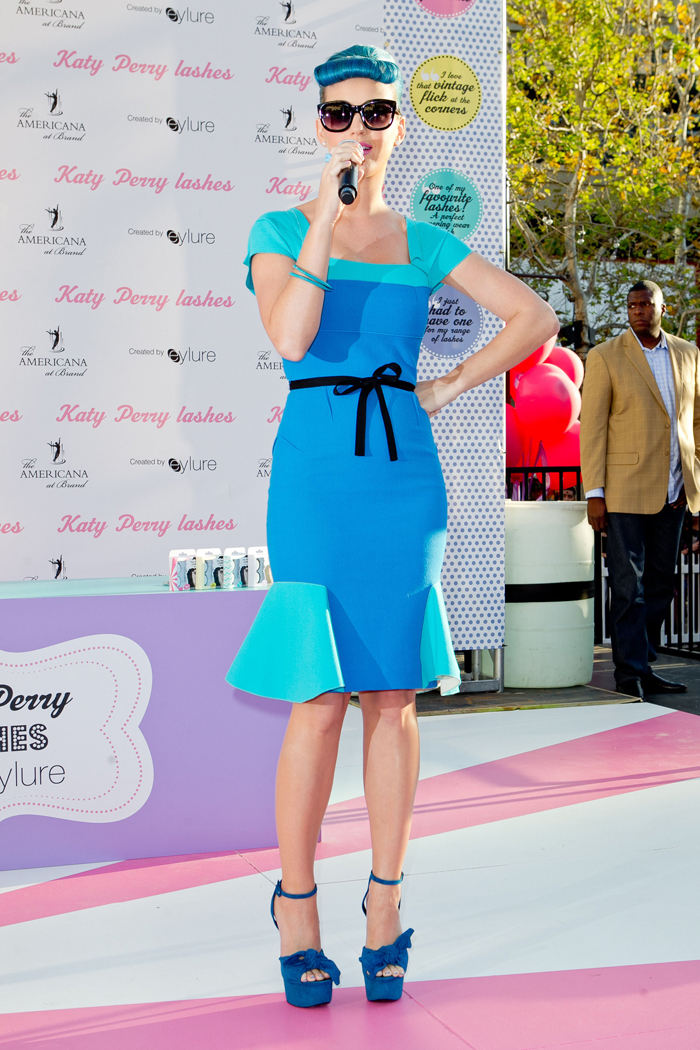 Another day and another update on Katy Perry and Russell Brand and their diverging paths. To make a long story short, Russell's immersing himself within the eightfold path of yoga while Katy continues making a ton of money. Yesterday, Katy launched her own custom brand of eyelashes called "Katy Perry Eyelashes by Eylure." Naturally, she continued her current trend of matching her blue hair with a blue dress and added blue shoes as well. She's basically transformed herself into the recent take on her Smurfette character, which is fitting in a strange way. Oddly enough here, Katy did a large portion of her eyelash promotional duties while wearing sunglasses: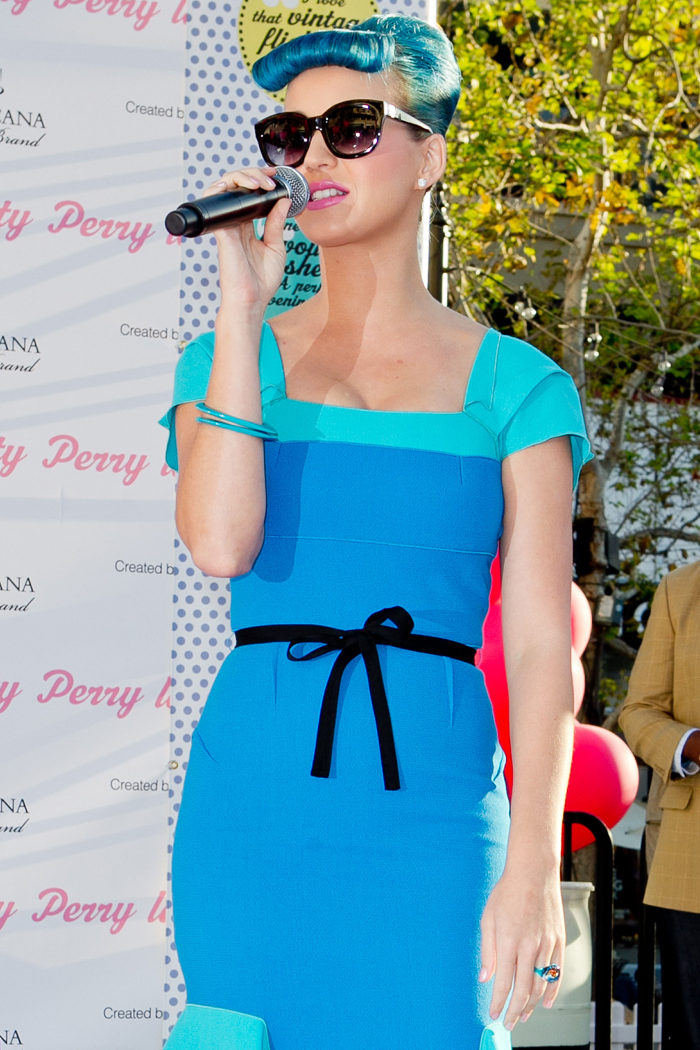 Meanwhile, Russell has continued to fall into the deepest circle of fashion hell. The Mail has photos of him traipsing about while wearing a sheer and black lace top that completely exposes his nips to the half of the world who hasn't yet fallen into his bed. He's also exchanged the terminally present scarves for a long beaded necklace but completed the ensemble with his usual leather pants. Whenever I see those pants, I'm reminded of those rumors about how badly Jim Morrison smelled, so it's almost a relief to see Russell wearing his loose white Hammer-yoga pants: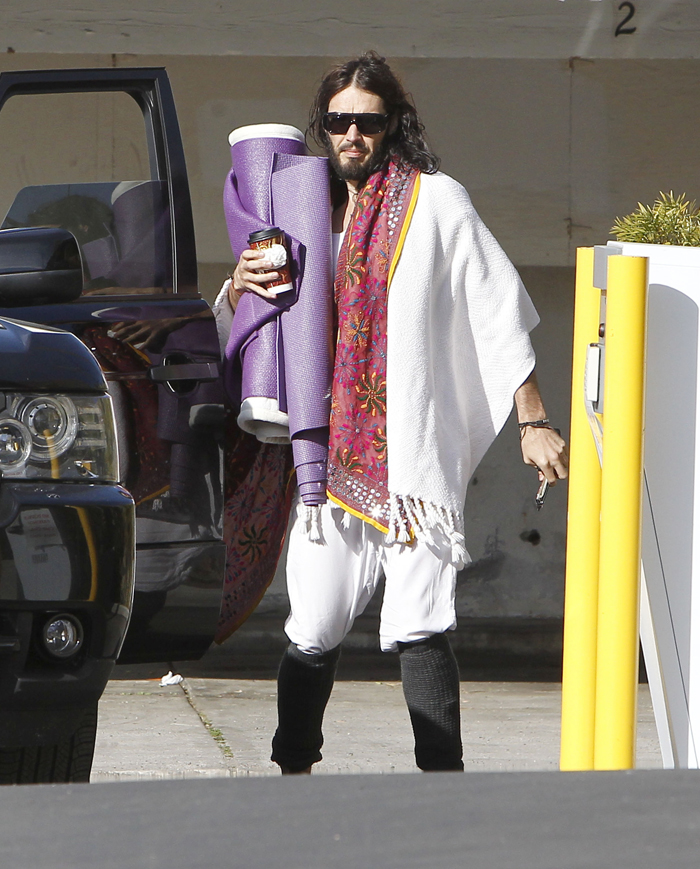 Yoga seems like the ideal pasttime for Russell (lots of bendy chicks), and CB reminded me that in Get Him To The Greek, Russell's character (Aldous Snow) did yoga five hours per day during his sober phases. Since Aldous was not-so-loosely based upon Russell himself — Forgetting Sarah Marshall writer and star Jason Segel had originally conceived the character as a floppy-haired, Hugh Grant type but rewrote the part after Russell's audition — it's possible that this detail might have come from Russell's life as well. Of course, five hours a day is rather extreme, but I'd wager that two hours a day would be a more realistic rate of practice for someone aiming to stay focused on sobriety. This week's issue of Us Weekly also talks about Russell's yoga habit:
Om-azing! Since splitting with Katy Perry, Russell, Brand, 36 — who once fought sex and drug addictions — has kept himself on track with twice-daily meditation and kundalini yoga. He also just invested in some spiritual ink. Says a source, "He got a tattoo that reminds him to be truthful at all times." Adds another insider, "He's determined to not let his past demons take over again." He's far from celibate, however. Adds the second source, "He's definitely playing the field. And he never mentions Katy."
[From Us Weekly, print edition, March 5, 2012]
Indeed, Russell has no interest in celibacy and has stepped out with his mystery woman, Oriela Medellin, formerly of walk of shame fame. She certainly won't be the last.
And now our sequence of events turns back to Katy with an update on our story from yesterday about how Katy was making eyes at Chris Martin and risking sudden death by way of Goop. This week's edition of In Touch notes that Chris was not at all interested in Katy's attempts to grab his attention during a recent Paul McCartney tribute on February 10, but that Katy is "on the prowl" in a very nondiscriminatory manner and has been seen partying with B.J. Novak from "The Office." Now that would be one strange pairing, but it sounds doubtful. After all, B.J. (I love his name) seems like a rather quiet, unassuming fellow, and Katy is all about partying all the time. Life & Style has a supplemental story this week that's a continuation of Katy's shock at seeing Russell dating other women, which goes on to talk about Katy partying until 3 A.M.:
Now Katy Perry is leaning on her friends for support — and even enjoyed a late night out with pals (including a bevy of men) in the early morning hours of Feb. 23.

"Katy was partying with a bunch of pals at the Spare Room at the Roosevelt Hotel in LA," an eyewitness tells Life & Style. "She came in around 1:30 a.m. She was wearing a gray sweatshirt and sweatpants with blue high pumps." Though the place normally closes by 2 a.m., it stayed open later for Katy and her crew.

"She was also with a bunch of male friends, and they played numerous games of bowling," the eyewitness reveals to Life & Style. "They were drinking mixed vodka drinks and having a blast!"

And the 27-year-old singer seemed to enjoy getting away from all the chaos that's been surrounding her lately. "It was obvious that she liked being out and having a fun, carefree time, without crowds of people around her," the eyewitness tells Life & Style.

"She was all laughs and smiles with her friends," the eyewitness adds. "Security left at 2:15 a.m., but Katy stayed behind with her pals and continued the party."
[From Life & Style]
Yes, Katy's party monster ways shall continue to rage on undisturbed. Here's more photos of Katy pulling faces while launching her faux eyelash collection. I've got no idea why she insists upon these strange, zany expressions.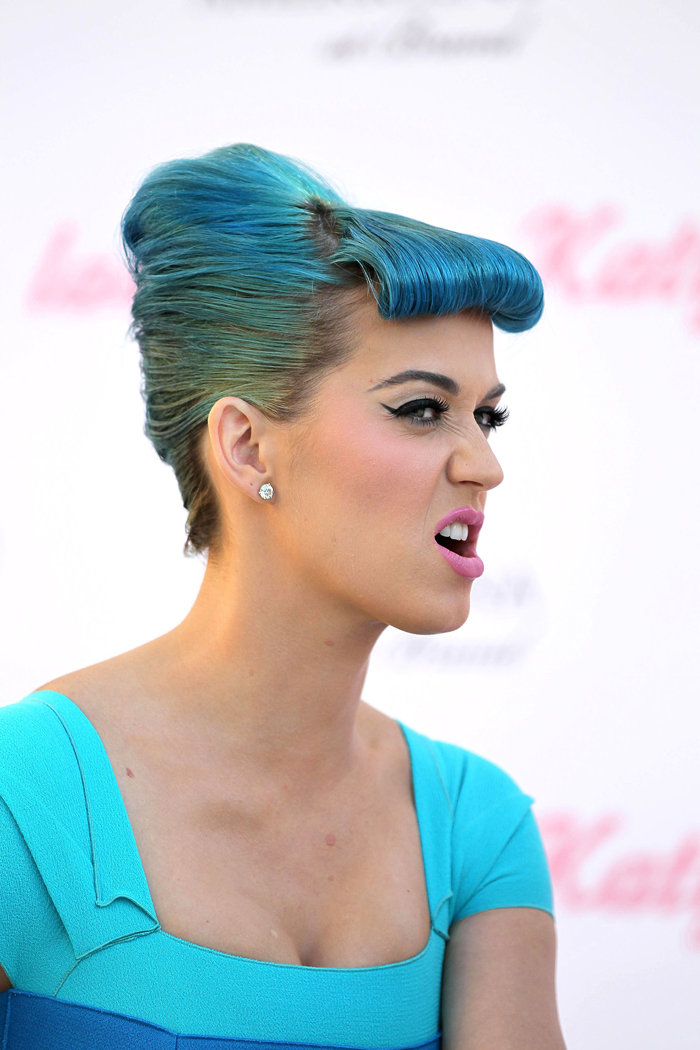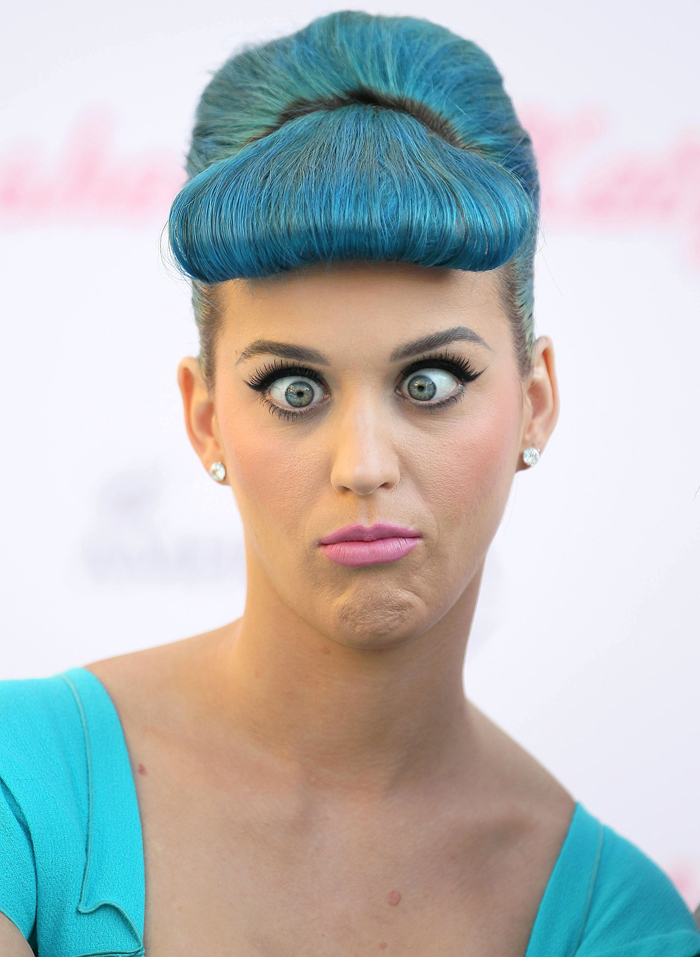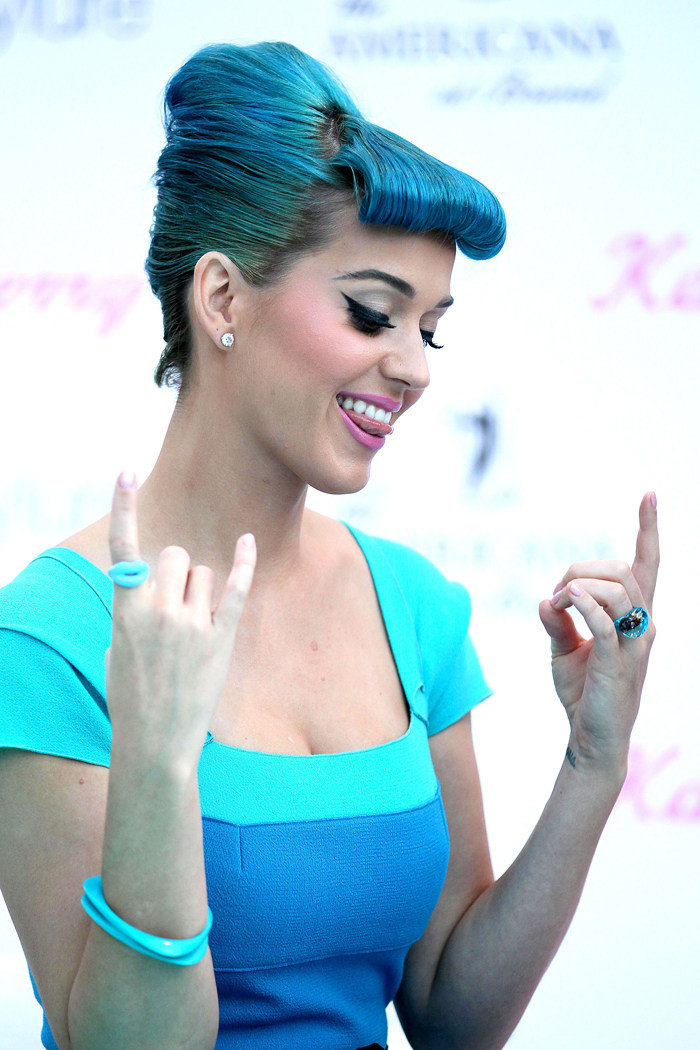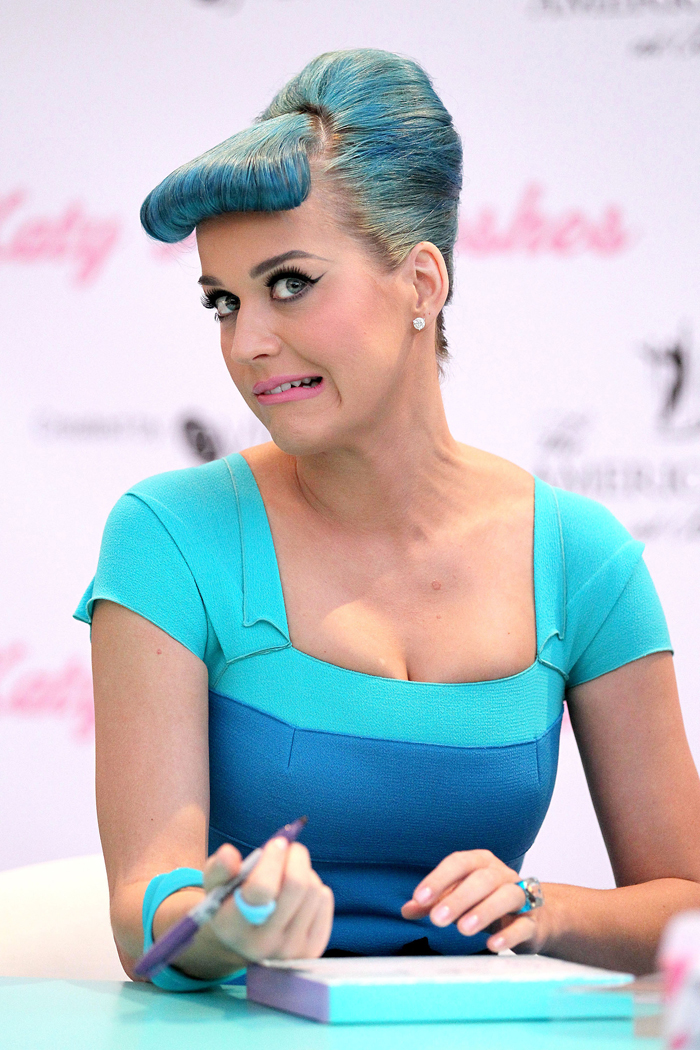 Photos courtesy of Fame/Flynet and WENN