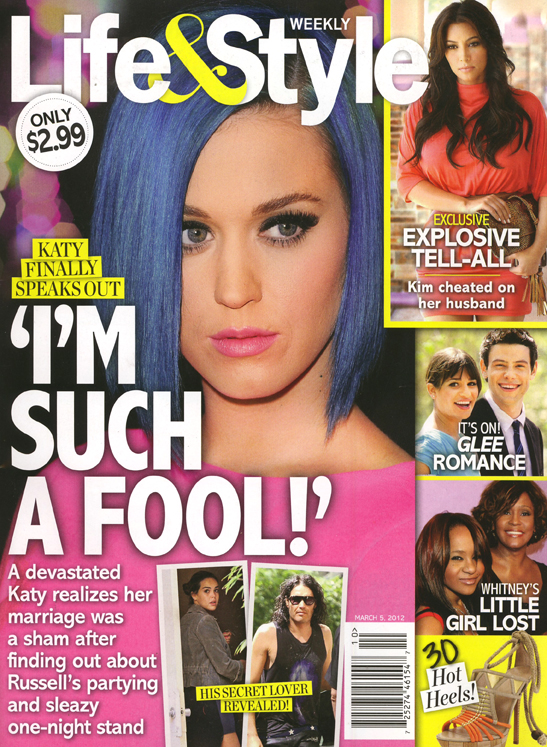 This week's issue of Life & Style features a cover image of a somber-looking Katy Perry with the headline, "I'm Such a Fool!" If the story within the tabloid is to be believed, Katy is terribly distraught that her soon-to-be ex-husband, Russell Brand, has moved onto publicly shagging other girls without so much as a backward glance. Well I hate to point out the obvious, but when a man refuses to accept the $20+ million that he was entitled to as part of the divorce, and then his estranged wife signs divorce papers with a happy face and then trashes her ex-husband onstage at the Grammys, all illusions of an "amicable divorce" head straight out the door. And just to make it hurt even more, Russell's choosing to do it with someone with a severely substandard acting reel.
While I do emphathize with Katy for the painful experience of going through a divorce (because it always sucks), she really shouldn't be shocked when her tactics are not met with a candy-coated illusion (much like her music videos). Ultimately, Katy is said to be openly upset that Russell has decided to openly date other women. Hence the mystery woman who did the walk of shame outside his home and was further revealed as Oriela Medellin in a bizarre People profile. Can one really blame Russell for not respecting the sanctity of (a collapsed) marriage when his ex-wife failed to do the same? If Life & Style's story is to be believed, then Katy pretty much expects the impossible:
It's been just two months since Katy Perry and Russell Brand split — but Russell has clearly moved on already! Life & Style can reveal that the pretty brunette spotted leaving Russell's new LA pad in the early morning on Feb. 12 is 25-year-old model and artist Oriela Medellin Amieiro.

"It was about 9:30 in the morning, and I saw them getting into a Range Rover," an eyewitness tells Life & Style. "She'd obviously stayed over at his house because she was in evening clothes and high heels. She threw her head back and laughed — it looked like she was having a good time."

A longtime friend of the former couple tells Life & Style that Katy now wonders whether Russell really was the "changed man" he claimed to be when they married in October 2010. "I'm such a fool," Katy recently confessed to the pal. "I believed in him."

Sources say the Arthur star has been on a tear recently, clubbing and coming on to women all over LA. In fact, less than an hour after he dropped Mexican-born Oriela home on Feb. 12, the Brit headed over to Earth Bar in LA, where he often tries to pick up women. "Russell is very flirty with the ladies," a frequent customer tells Life & Style. "He gets a lot of phone numbers — the women just hand over their numbers and he takes them."

And just a week later, on Feb. 20, Russell was again surrounded by groups of women during his stand-up show at Largo in LA.

"There were girls everywhere," an eyewitness tells Life & Style. At one point during the show, he invited a sexy blonde on the stage to talk about her bondage fetishes and was "very flirty with her." But his mood quickly changed when he found out that another women he invited to the show was turned away. "Russell was pointing in the bouncer's face and shouting, 'What the f— is your problem? How could you let this happen?'" the eyewitness says. As he stormed off into the alley to his Range Rover, a woman jumped into his car! "She waited for over five minutes while Russell was on his phone before they pulled away," the eyewitness adds.

"It's very disturbing to Katy that he's moved on so quickly," the friend says. "She was shocked to hear that he was out partying again and trying to pick up girls. It sickens her — she feels humiliated and burned."
[From Life & Style]
According to further details from Jezebel's weekly tabloid roundup, Katy is flummoxed that Russell is pretending that "their 14-month marriage never happened." Again, I will refer to Katy's smiley face and heart signature on the divorce papers. Her alleged sadness is also conveniently countered with a report from this week's In Touch (again via Jezebel) that claims Katy is "on the prowl" and was spotted having dinner at the same table as Chris Martin while telling friends how "yummy" he looked. Really? This could actually be an occasion where I'd side with Goop.
Meanwhile, Fame has some new photos of Russell with his new semi-girlfriend and yoga buddy, Oriela Medellin. Unfortunately, Fame has described the photos as yet another mystery chick, but it really just looks like Oriela while she's not wearing any makeup. Russell probably digs the no-makeup thing merely because it's different than what he's grown accustomed to witnessing. Kaiser thinks it's even possible that he doesn't really know Oriela's name. It goes without saying that Russell's scarves have eclipsed most commonly accepted standards of ridiculousness. Also … her pants.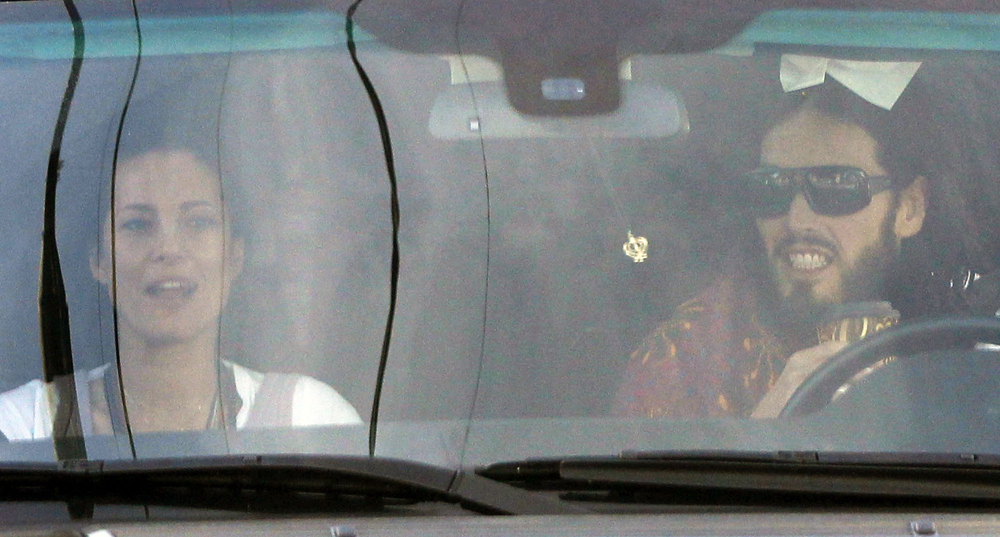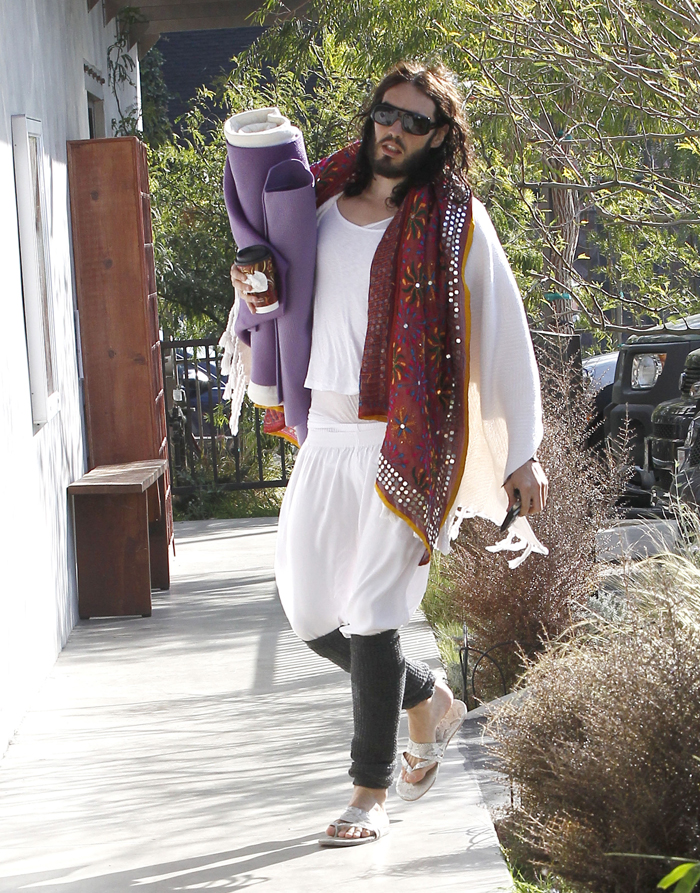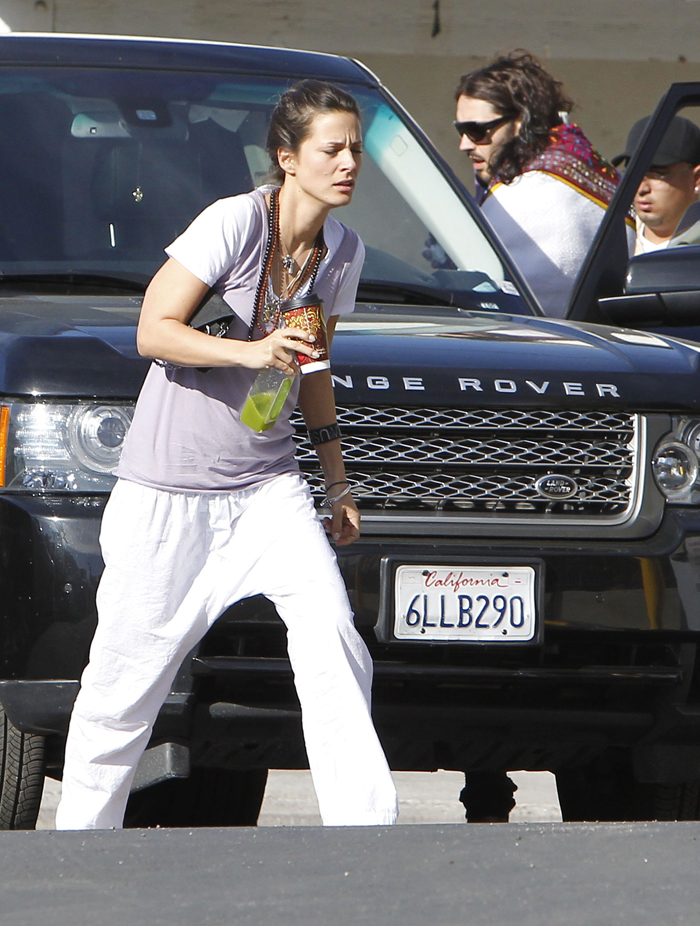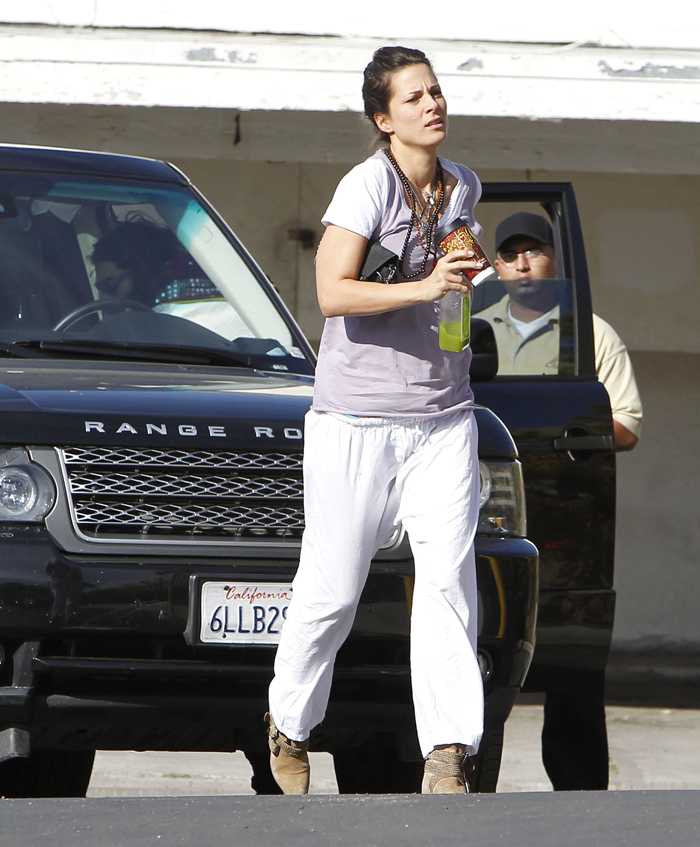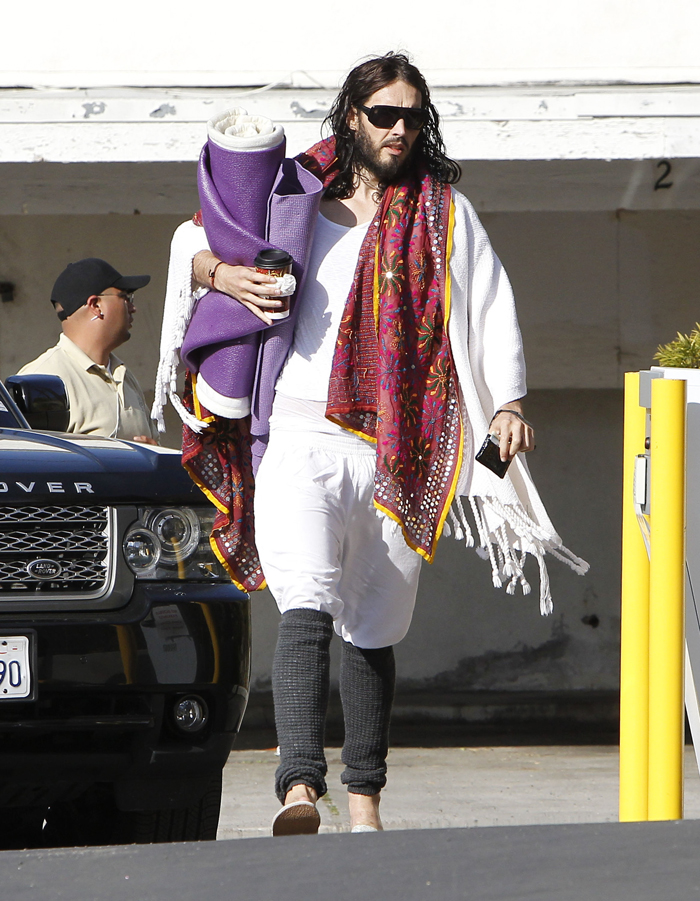 Photos courtesy of Life & Style and Fame/Flynet