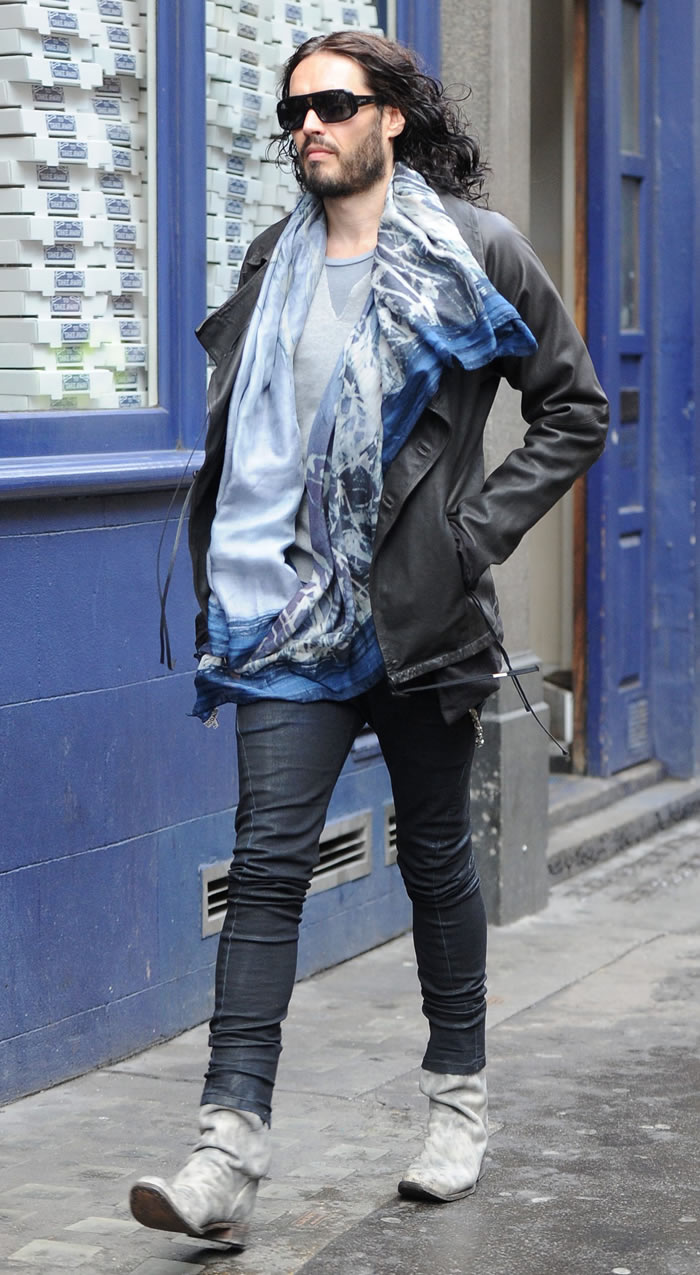 Here are some new photos of a "lonely" (according to Fame Pictures) Russell Brand popping around London all by himself earlier today. Of course, I don't necessarily buy that he's lonesome in the conventional sense because all he'd have to do is snap his fingers, and (at least) a couple of girls would instantly flank his sides. He's probably just enjoying (or enduring) some requisite solitude as much as possible in the wake of a major, traumatic split. Like anyone else in a divorce, Russell's just trying to get his bearings back after filing for divorce after fourteen months of being married to Katy Perry. Yes, he's probably a bit shell-shocked after a massive fight that ruined Christmas after things already were going terribly. No doubt, Russell will bounce back in due time after a suitable (or maybe in his case, not-so-suitable) waiting period.
Naturally, the rumors are still swirling over which party is most to blame for the split. Certainly, both bear some responsibility, but I don't buy that Russell only filed because Katy didn't want to offend her parents for religious reasons. C'mon, this is a girl whose parents already told her that she's going to hell after her breakout single about kissing a girl volleyed her to stardom. If she wasn't that worried about upsetting them then, a divorce certainly wouldn't change matters from a logical standpoint. Not that logic has anything to do with this at all.
Russell Brand's marriage to Katy Perry collapsed as he became exasperated over her refusal to put her career on hold to start a family, it was revealed yesterday.

Last night sources close to Brand, who has carved out a successful Hollywood career starring in films such as the 2011 remake of Arthur, blamed the marriage breakdown on the fact his 27-year-old wife was not prepared to put motherhood ahead of fame.

One said: "I don't think Katy really understood what marriage was about. I don't think she was prepared to give up her career. This wasn't one of those occasions when Russell was mucking about, he wanted to settle down and have a family.

"I don't think that's what Katy wants. I think she's very confused. They've been speaking a lot. There have been a lot of phone calls this week. Katy is 27. That's not too young to get married. But professionally she is in a very powerful position.

She's just done a year-long tour, she's incredibly successful and she wasn't ready to give up her career. I don't think she was prepared to give that up and give time to the marriage.

"It was reported she was taking a year off, but I don't think she's doing that. It's very sad. Russell is very cut up about it all. It's not great news. It is very raw and very recent. I don't know what will come from this."

So far Miss Perry, who is understood to be in Hawaii, has not commented on the end of the marriage.

Yesterday, Brand was seen leaving the Savoy Hotel in Central London where he is believed to be staying.

On Friday, Katy's father, Keith Hudson, 64, a born-again evangelical Christian who tours American churches with his wife Mary, was visibly upset as he spoke outside his home in Irvine, California.

He said: "I can't talk, I'm sorry about that. I've had 1,500 people calling me today. I'm really sorry."
[From Daily Mail]
Surely, both Katy and Russell were both at least partially to blame for their failed marriage. However, I do honestly get the picture that Russell has matured quite a bit in recent years, and he probably thought that he and Katy were on the same page for starting a family. Turns out he was wrong, and that doesn't make him any more "correct" than she, but it does forecast serious incompatibility. Meanwhile, Hollywood Life seems to believe that Katy is absolutely torn up over Russell's decision to file:
Katy Perry can't believe that her marriage to Russell Brand is over! A source close to the singer tells HollywoodLife.com that Katy, 27, is "absolutely devastated" that her marriage didn't work out and she still loves Russell.

"Katy still can't believe that it's over," a source tells us. "She knew things were bad but she figured they'd work through it. Katy has been going through a bunch of emotions and she's really leaning on her friends right now. She's not herself. Katy never thought in a million years that she would get divorced, she really planned to spend her life with Russell," our source continues. "She is grieving her marriage and is at a point in her life where she doesn't know what's next."
[From Hollywood Life]
There are also reports that Katy is leaning on Rihanna for support and might soon jump on a plane for an impromptu girls' vacation in Barbados. These rumors arrive after Rihanna didn't even bother to attend her supposed BFF's wedding, which resulted in tabloid talk that Russell and Katy were alternately fighting over the friendship and urging Rihanna to get some therapy. So who knows? I wouldn't be surprised if Katy decided to actually catch up with her old friend by way of some beach time and a hundred bottles of beer though.
On the opposite end of the alcohol spectrum, Russell was also spotted "alone" on 12/31 as he departed an AA meeting in London. At least we know he's very committed to his sobriety, but I find it rather bizarre that paps realize that an AA meeting is taking place. While Russell's made no secret about attending such gatherings, it still creeps me out a bit that the press will analyze meeting times and locations in order to place a celebrity. So much for the anonymity of other members, right?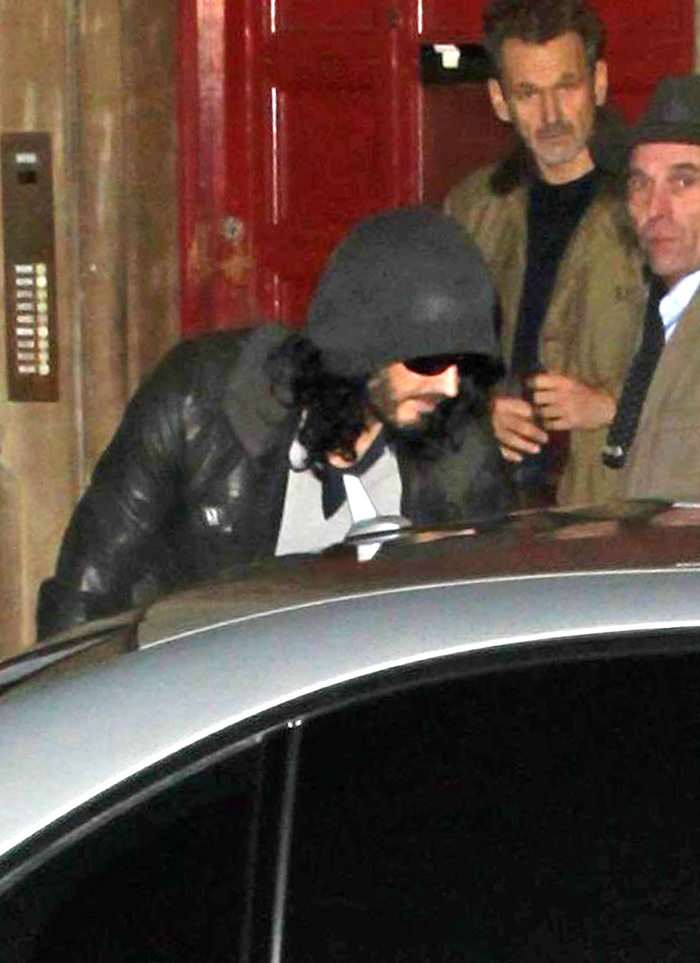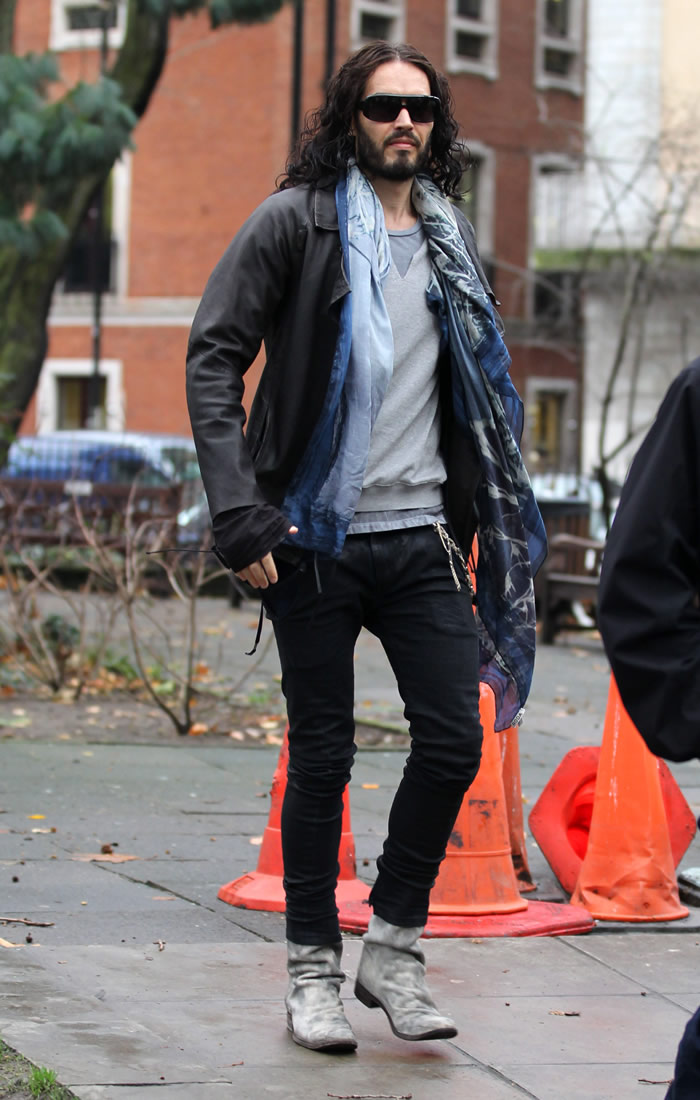 Photos courtesy of Fame