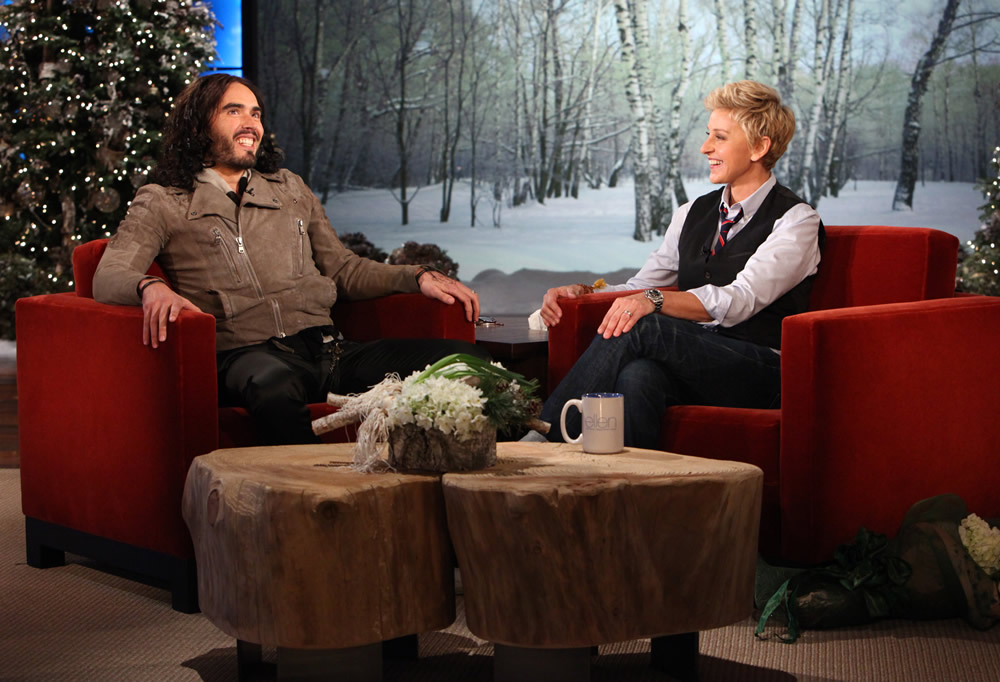 Before we get to the main part of this story, I wanted to quickly cover Russell Brand's appearance on "The Ellen DeGeneres Show." His spot hasn't been televised yet (and should air at some point today, depending on your time zone), but we got a heads up on his interview. Again, the timing here is suspect because Russell doesn't have any films coming out until next June (Rock of Ages), nor is he promoting another Booky Wook or whatever he calls his tomes. The only thing that he could possibly be pushing on "Ellen" would be his marriage, and from the excerpts that we've been given, that's exactly what's happening:
Ellen: There is a rumor that you and Katy split up.

Russell: What? She should've told me. Yeah, there are always rumors aren't there. In the end you have to just not engage with Internet technology, which is difficult because a lot of the nude women websites I quite enjoy (laughing.) But they've had to go. I've treated the whole Internet now like it's a wicked little liar. Yeah. I am really happily married.

Ellen: Did you hear that rumor?

Russell: Yeah, I heard that rumor because you know if your job is to be on Telly and show off somebody will go there's a rumor. Like someone that works with you. It's called publicity or PR.There is a rumor. What is it? You've split up. Oh, no. Am I enjoying? Yes. Where am I now? You're here. Good, good. Well, just keep me informed. Being famous is like a little bit of you is taken away and goes off and lives on it's own and does what it wants. I wish it would do more interesting things….

Ellen: So, it's not true?

Russell: Well, I don't know what he's doing. The other me but I'm married to Katy. Perpetually, until death do us part was the pledge. I'm still alive.
[From The Ellen DeGeneres Show]
Honestly, is this talk show appearance necessary? Russell seems to think himself clever by remarking on PR when he himself (in his terms, both Russells) are a very willing part of the recent publicity blitz aimed at convincing everyone that he and Katy are so happy. Do they really need tattoos, tweets, and a People article to convince themselves that they are in love? That's what it feels like.
Now onto a story in this week's issue of Star, which professes that Katy Perry is very worried about her BFF, Rihanna, who has reportedly been drowning her Chris Brown-related sorrows in 100 bottles of beer. Naturally, Star uses a few photos from Rihanna's liquor-soaked vacation to Barbados in August, during which time she starred as the drunken stripper queen for Kadooment Day:
I agree with Kaiser's previous assessment that RiRi was probably just kicking back and enjoying herself like a typical single twentysomething on vacation, who just happened to be letting loose before an international tour. Then in October, Rihanna was hospitalized with the flu in October and forced to cancel a show, and Star makes it sound like the illness was entirely alcohol-related:
Following Rihanna's recent hospital visit, "Katy told her she has to slow down," a source says, adding that Katy even suggested her BFF come stay at her home.

Katy Perry's desperate to get gal pal Rihanna into treatment following the "We Found Love" singer's dramatic hospitalization in Malmo, Sweden on Oct. 31. "Katy begged Rihanna to take some time off and get therapy," a source says. "Rihanna's been running on empty. And rather than resting, she's drinking and clubbing until the early hours of the morning."

While the Bajan-born pop star may seem like she's flying high, Katy knows all too well how down her BFF really is — and worries that Rihanna's still struggling with her failed raltionship with Chris Brown.

"Rihanna's been self-medicating with booze ever since their split, and it's not getting better," the source says. "She calls Katy in tears, saying how down she is and that her life's controlled by her label. She just wants a loving boyfriend. "

Katy, 27, can certainly understand the pressure RiRi is under — constant jet-lag, strenuous shows and nonstop photo ops. But Rihanna seems to be sinking under the stress, and even Katy's husband Russell Brand, a recovering addict himself, has expressed concern. "He told Katy that she had to step in because Rihanna is on a very slippery slope," continues the source. So far, Rihann, 23, seems receptive to her friends' intervention. "She's touched that they want to help, and she agrees that she must stop," says the source. "She doesn't want to be the next Amy Winehouse."
[From Star, print edition, December 12, 2011]
This story seems like a real stretch based upon the cancellation of one concert. I am inclined to believe that, at times, Rihanna might feel too controlled by her label and feel the pressures therein, but the Esquire journalist who attended backstage at several of RiRi's shows stated that Rihanna was very well adjusted and entirely gung-ho about her tour. And by her own admission, Rihanna gets off on playing her role as a sexed-up tart who angers Northern Irish farmers while stripping in their fields. However, the part about Katy (who loves her own liquor) fretting over Rihanna's boozing sounds ridiculous, and I certainly don't understand why Russell (who reportedly doesn't like RiRi hanging with his wife) has suddenly become involved as a concerned party too. Unless this is just more PR (a.k.a., "a united front") for the happy marriage blitz.
As for Rihanna, she's still on tour as scheduled and showed off a new hairdo/wig in London last night. I'm calling this photo "RiRi does Anna Wintour with a robot gimp":
Photos courtesy of Fame and Ellen