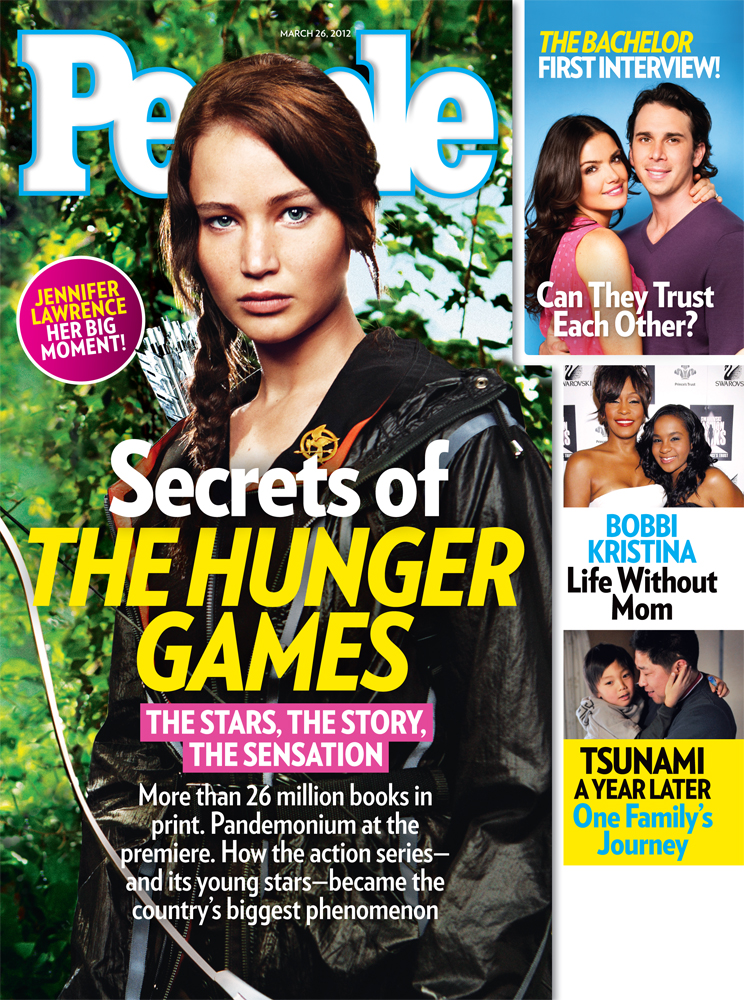 The promotion for Hunger Games has officially shifted into high gear, and it seems like you guys are interested in this stuff just by judging the responses to the red carpet fashion and the latest clips to filter out onto the internet. Now People has gotten into the spirit as well with a special area on their website and a cover feature to match. While this cover reminds me a lot of the Entertainment Weekly cover from several months ago, I'm not complaining. At this point, it's all about brand recognition, and Katniss and her arrows are where the focus should rightfully be. Here's a teaser for People's cover story:
It's Game time!

After months of anticipation, endless fan discussion and a pandemonium-producing premiere, the first Hunger Games film is finally arriving in theaters on March 23. The fans are ready — but are the stars?

"It still hasn't sunk in," Jennifer Lawrence, who plays series' heroine Katniss Everdeen, tells PEOPLE in this week's cover story.

The 21-year-old actress also shares how she bonded off-set in North Carolina with leading men Josh Hutcherson, 19, and Liam Hemsworth, 22.

"One day we went down to a creek to catch a crawdad, 'cause Liam didn't know what it was," recalls Lawrence. "I saw one and was like, 'Catch it!' Josh did and it got stuck to his hand. It was a leech! Then we went to Walmart and bought slingshots."

Adds Lawrence, who also spent time with her cast mates listening to costar Lenny Kravitz play music back at their hotel: "It was like some weird summer camp."
[From People]
I know that some of you aren't buying Jennifer Lawrence's humble act, but I do. She seems to sense what's on the horizon in terms of fame, but she's still in denial, and it's sort of refreshing. Just compare that to Kristen Stewart (really, it's hard not to compare the two actresses), who barely tolerated the Twilight fandom from the very beginning, which was apparent when she stated, "You guys are celebrating something that has not come true yet. So, you are really [redacted]." While I don't begrudge KStew the right to be a little punchy, some humility would've served her image well. In contrast, I think Jennifer Lawrence will handle the fame a bit better, but that might be wishful thinking.
Meanwhile, People also has a few words from Liam Hemsworth, who admits that all of this promotion and resulting fan mania is "like a good punch to the head." Liam also thinks that if The Hunger Games ever happened in real life, that girlfriend Miley Cyrus could totally kick his ass. Sure, he's got the brute strength to defeat a girl, but I guess he's saying that she's more clever and resourceful than he is. Liam sounds like quite the diplomatic boyfriend to me, but if OK! magazine (via Hollywood Life) is correct, those two might be on their way to an engagement. I hope that's not true because Liam and Miley are just too young for marriage.
Back to the real topic here — Liam has also told Us Weekly that he doesn't consider himself a heartthrob at all and feels very fortunate to be part of this franchise. He also adds, "Haymitch is probably my favorite character from the book and I'm very excited for the fans to see him. Woody Harrelson is an amazing actor and the character is amazing." Surely, Woody will deliver with Haymitch, and I (obviously) can't wait to see Lenny Kravitz as Cinna.
People has also published a special Collector's Edition issue that contains all sorts of goodies and is currently on sale and will be available until May 20.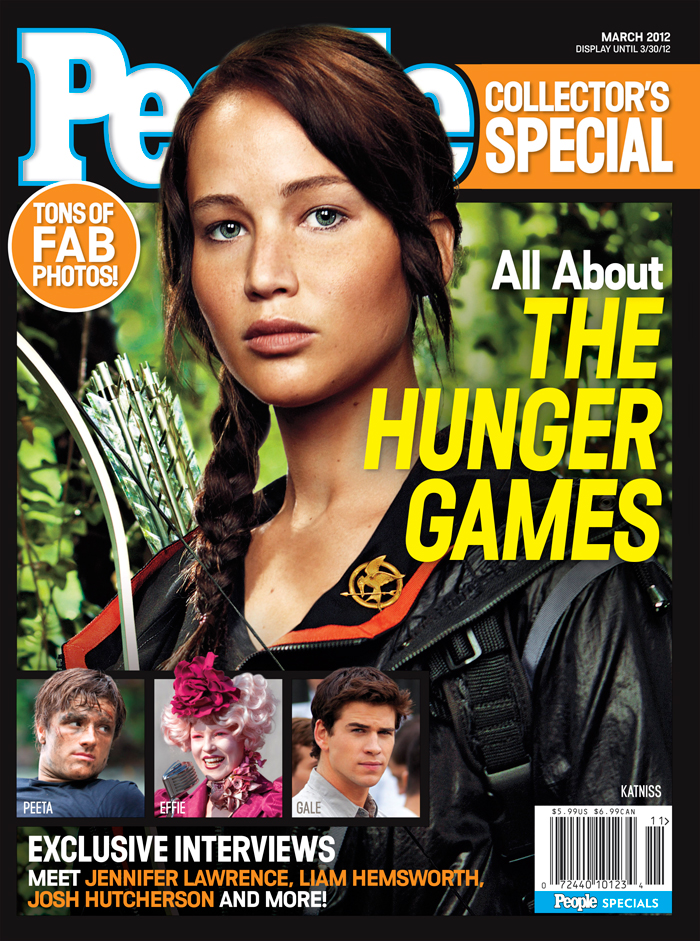 Incidentally, I have been meaning to briefly mention the new "Capitol Colours" nail polish line from China Glaze, which has made Dustin from Pajiba want to have fancy pink fingernails too. Sadly, there is no pink shade to be found in the collection, but some of the shades (especially Agro and Riveting) are really gorgeous. Here's Elizabeth Banks as Effie Trinket in the print advertisement: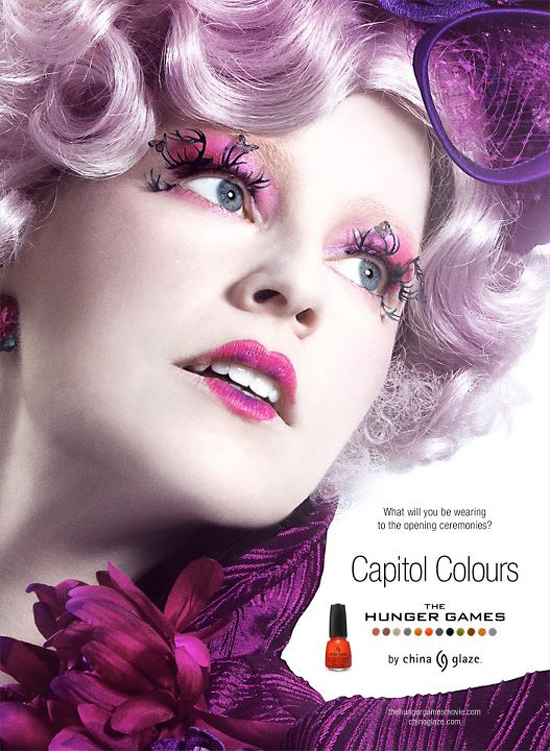 Photos courtey of People and China Glaze