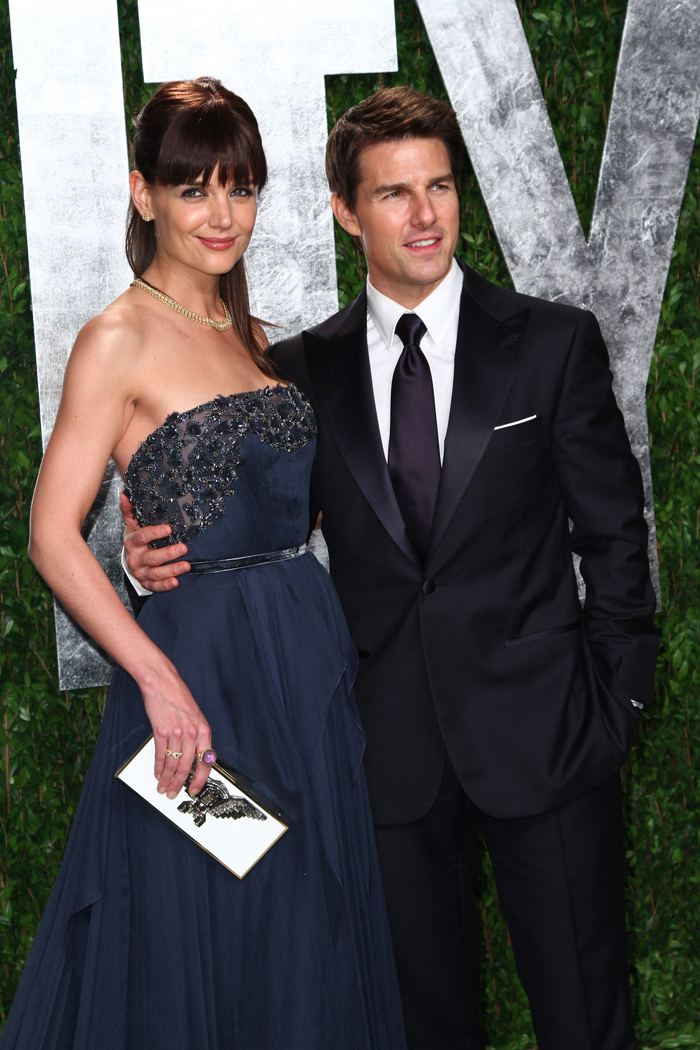 Katie Holmes' love for fug booties knows no boundaries, and she's wearing them in every one of these photos except for the one above, which was taken at the Vanity Fair Oscar party and was the last time that she and husband Tom Cruise were photographed together. These days, Tom's been very busy shooting Oblivion in New Orleans, and In Touch reports that Katie is "happy on her own" in New York City while hanging out with Suri. This comes in sharp contrast to last summer when Katie and Suri were in Miami almost the entire time while Tom was filming Rock of Ages. They swam and ate ice cream and watched Tom rock out on a balcony at their hotel. Now? After five years of marriage, Katie is allegedly much happier when overbearing Tom is not underfoot. Did someone have a contract renegotiation?
Katie Holmes used to be a near-constant presence on the sets of Tom Cruise's films. But while Tom has been in New Orleans for weeks shooting Oblivion, Katie has barely visited her husband.

Holed up in NYC with their daughter, Suri, Katie has been putting distance between herself and her husband, according to the insider. And Tom, 49, will have to get used to it. The insider says that after half a decade as his wife, Katie, 33, is no longer intimidated by him. "Reaching her fifth anniversary gave Katie the confidence to walk away when Tom acts up," the insider says.

And he's been acting up a lot lately, putting pressure on Katie to have another baby. Though he's desperate for them to conceive again before his 50th birthday in July, she has mixed feelings and refuses to give into Tom's pressure to have another baby. "They've been fighting about it for a month now," the insider reveals. And while Tom has been clearly unhappy, Katie is no longer rushing to his side. "It's easier for her just to avoid him."
[From In Touch, print edition, April 16, 2012]
Meanwhile, In Touch also reports that Tom is feeling very dejected that his wife is no longer doing everything he wants precisely when he wants it, so he's taking it out on the Oblivion cast and crew:
Tom is not his usual self. Normally friendly Tom has seemed "very, very serious," says a set insider.

Tom's acting like a diva. He's taking out his anger on staffers by making them stay mum while an insider says his co-star Morgan Freeman has no such set rule.

Tom's Ridiculous Rider:

No talking to Mr. Cruise unless he addresses the cast/crew first.

No cell phones or portable electronic devices with photo capabilities allowed on set (no iPads!)

On-set eating or drinking is only allowed during specified break times.

Tardiness can result in immediate dismissal.
[From In Touch, print edition, April 16, 2012]
Eh. This sort of on-set behavior isn't exactly new for Tom. Sure, people tend to describe him as a very friendly guy when he's "on," but he's also known to be something of a Nazi at times. And of course, I'm not drawing an overwrought metaphor but actually talking about Tom's role as a pseudo-Nazi in Valkyrie, where he was said to have raised a huge stink on set when someone farted during an obligatory moment of silence. Also, banning cell phones and iPads is typical on movie sets these days because studios are very paranoid about internet leakage (as they should be). Is Tom dejected that Katie no longer spends her entire life on his movie sets? Probably, but I doubt he's taking it out on anyone in a public manner. He's gotta protect that "nice guy" image.
Still, I tend to think there's some degree of truth to this story at least as far as Katie relishing her relative independence. Instead of spending months in hotels just to be near Tom for the entire duration that he films a movie, she's been spending a lot of time alone in New York with Suri. Then she and Suri jetted down to New Orleans (where Oblivion is shooting) for a few days this past weekend. Katie wore her fug boots everywhere, and she looks a bit strained in this photo. Given that Tom is rather manic, he's probably exhausting to be around on a long-term basis.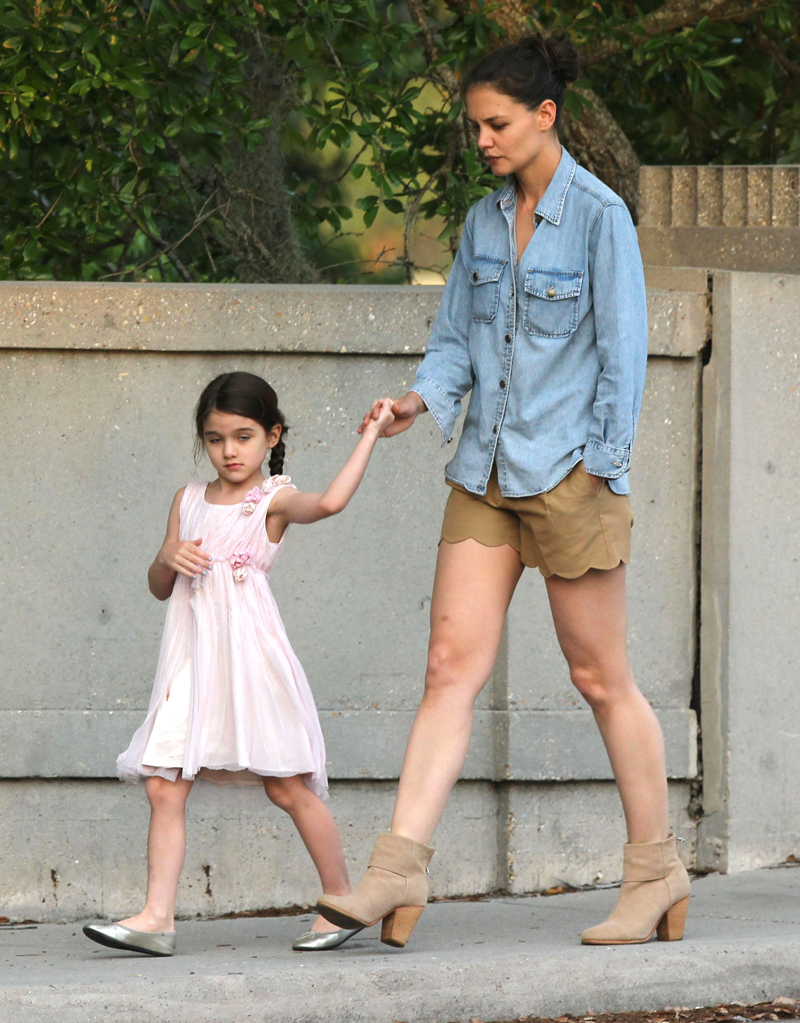 In addition, it bears mentioning that Katie and Suri did not travel to New Orleans alone. They made a mini-vacation of it by bringing Katie's parents along too. In this photo, there's a real baby in that stroller, and it freaked me out a bit because I was expecting one of Suri's dollies. Maybe it's a Scientobot — their models are looking more lifelike every day.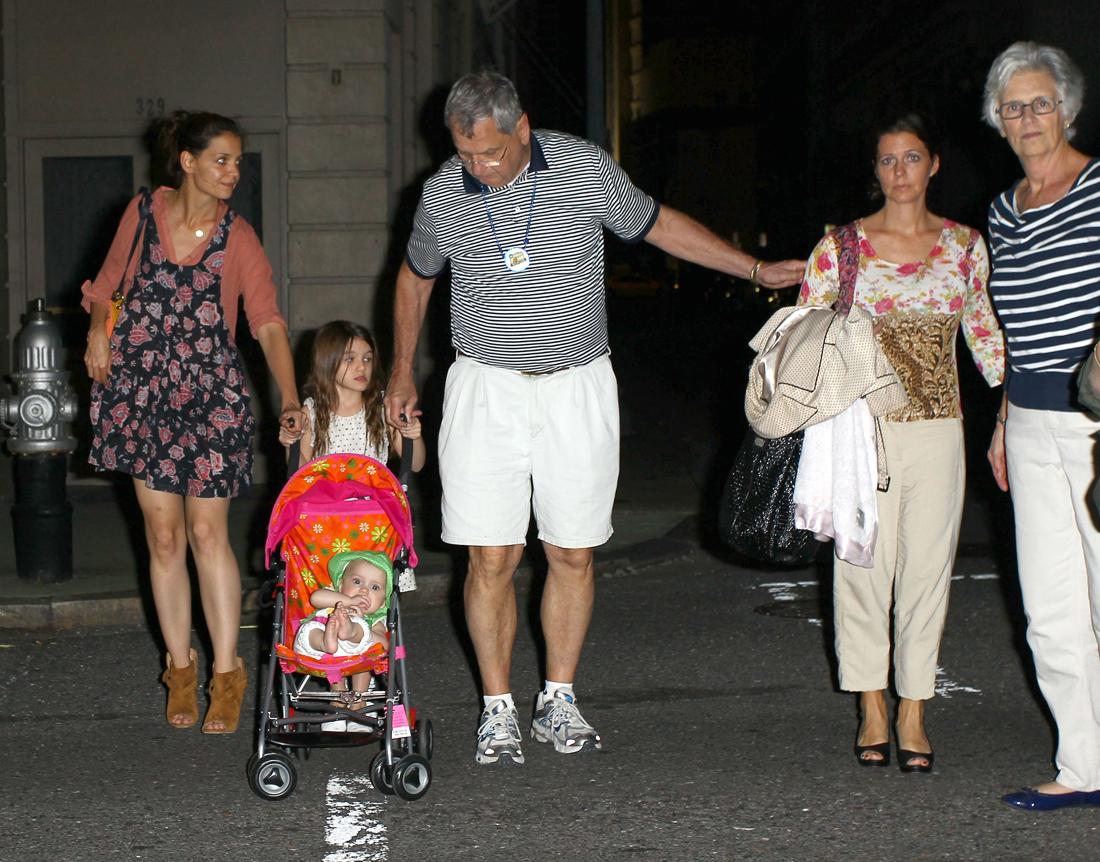 Just a few days ago (Wednesday), Katie was spotted back in Los Angeles wearing white pants and her fug booties. Those shoes will haunt my nightmares tonight.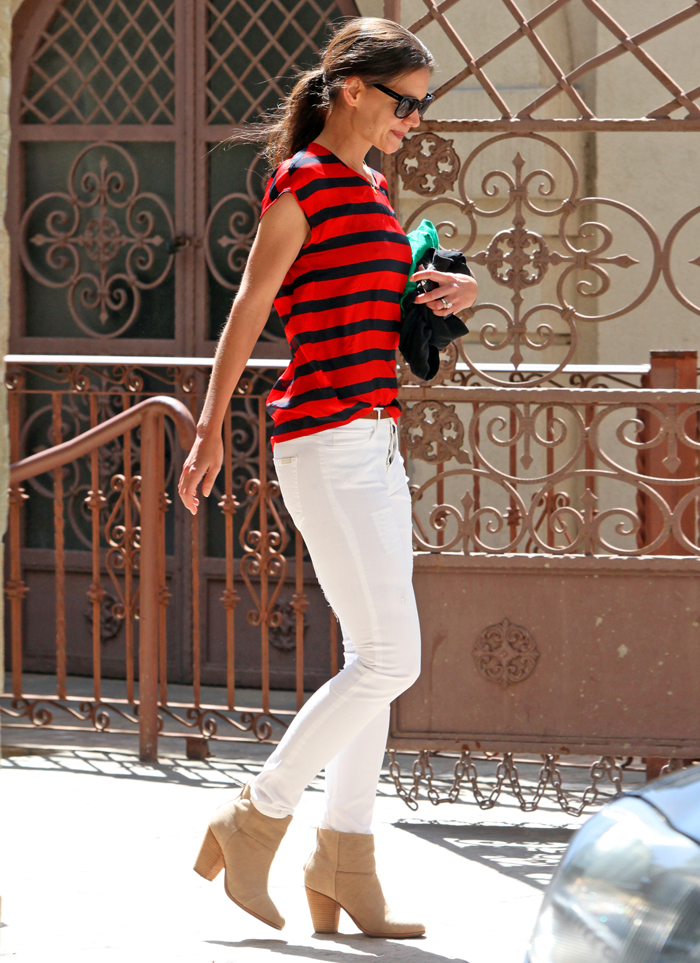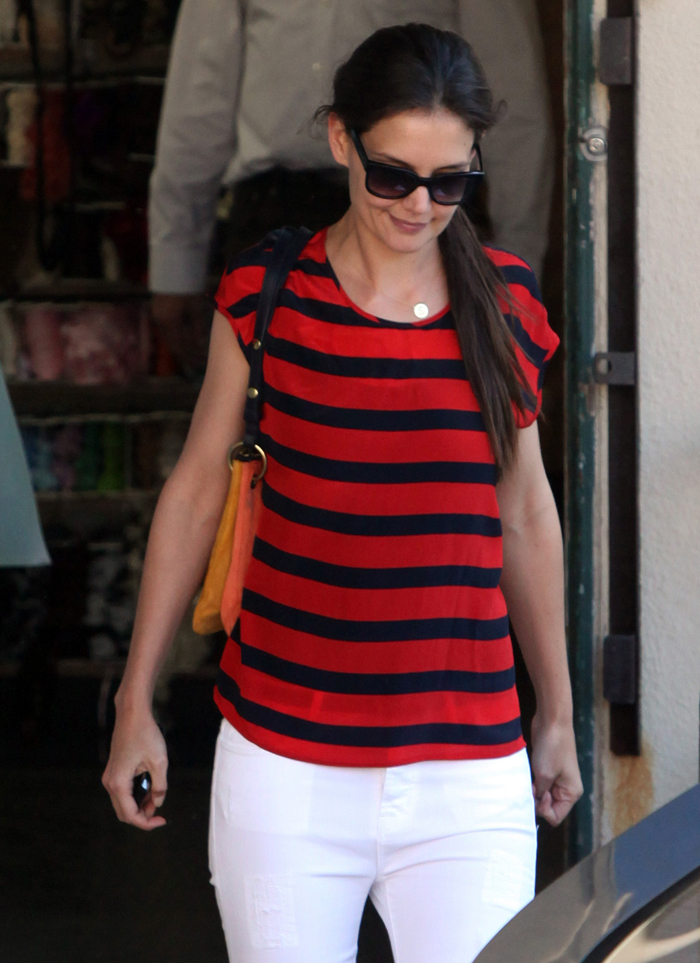 Photos courtesy of Fame/Flynet and WENN