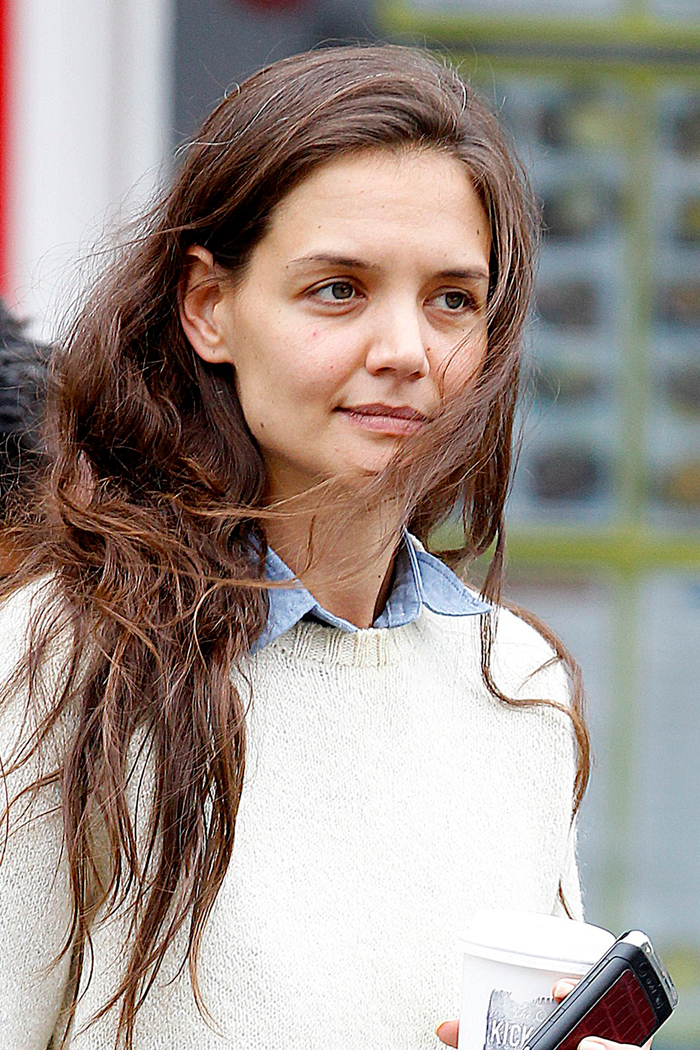 A story in this week's issue of In Touch revolves around this new batch of photos taken of Katie Holmes on 4/26. These pictures show the formerly perky actress looking weathered and truly exhausted with dead eyes, greying hair, and a generally unkempt appearance. While a make-up free Katie certainly isn't a rare thing, she truly has seen better days than these photos would reveal. According to the story, Katie is feeling the strain of her marriage and is "devastated" that she's not "living the charmed life Tom Cruise vowed to give her." So I'm guessing that a $125,000 monthly shopping budget no longer fills the void caused by Xenu, his minions, and her tiny, lift-wearing husband?
In Touch has spoken to an insider who claims that Katie is frustrated over a flagging career (her IMDb page confirms this), and that she's really upset that Tom won't do a film with her like he supposedly promised when they married. She also is allegedly upset that Tom leaves her alone so much to film all his movies (and pretend to be a serious rock star). Well I've always assumed that Katie enjoyed her Tom-free time because it seems like it would be more exhausting to be with him than without him. Who knew?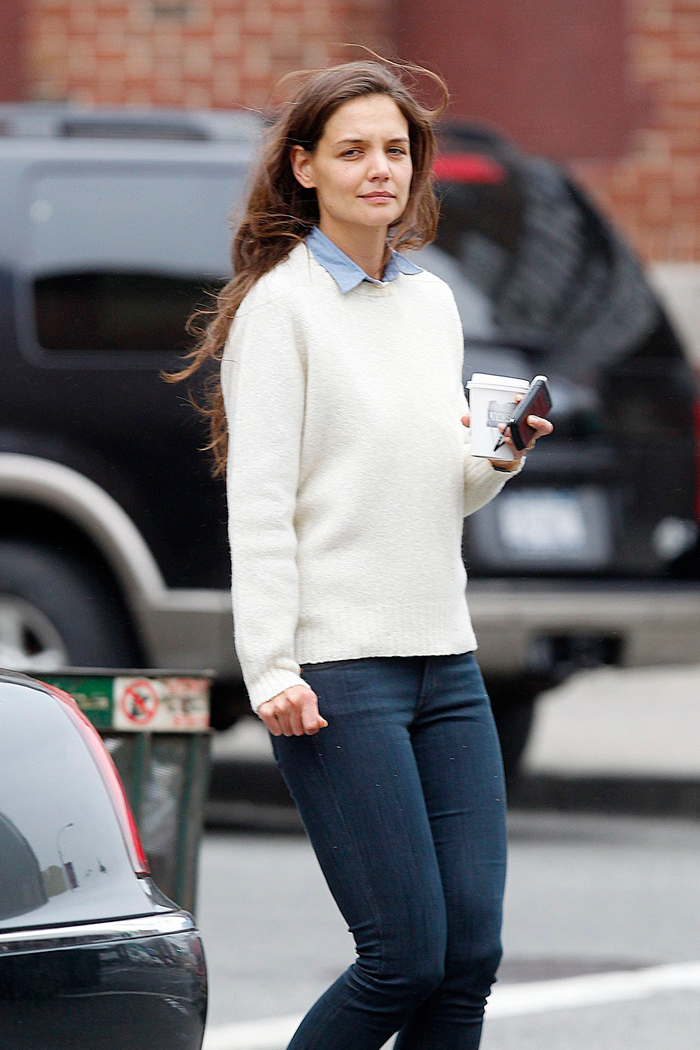 As Katie Holmes walked around a bustling New York City on April 26, she hardly looked like the beaming starlet who accepted Tom Cruise's romantic marriage proposal just a few years ago. "She looked really tired," an onlooker tells In Touch of the gray-speckled 33-year-old. "She seemed sad."

Indeed, katie doesn't have much to smile about these days, as her husband, Tom Cruise, reignites his career — and fogets the promise he made to help make his wife a big star. While Tom works nonstop — he just finished filming Oblivion in New Orleans and is promoting Rock of Ages — dedicated mom Katie looks after their 6-year-old daughter, Suri. "Katie thought that being married to a huge star like Tom would open doors for her," says a source, although both stars' reps obviously deny the story. "But she's not being offered the roles Tom vowed to get her." Now she feels neglected. "This isn't the life she signed up for, and she feels depressed."
[From In Touch, print edition, May 28, 2012]
If this story is true, I can sort of understand Tom's perspective in not acting alongside Katie in films. Not only is she kind of a tone-deaf actress, but he probably chose Katie (for his infamous round of wife auditions) specifically because there would be no danger of her eclipsing him in talent like Nicole Kidman threatened to do. The more successful that Nicole became as an actress, the less she faded into the shadows behind Tom, and Tom really seems like he needs to be the focal point of his relationships — probably because of his adorable little Napoleon complex. I'd like to feel sorry for Katie if she truly feels unfulfilled in this contract marriage, but she's the one who signed up for this mess. Most of us would have been out the door at the first sign of couch-jumping madness.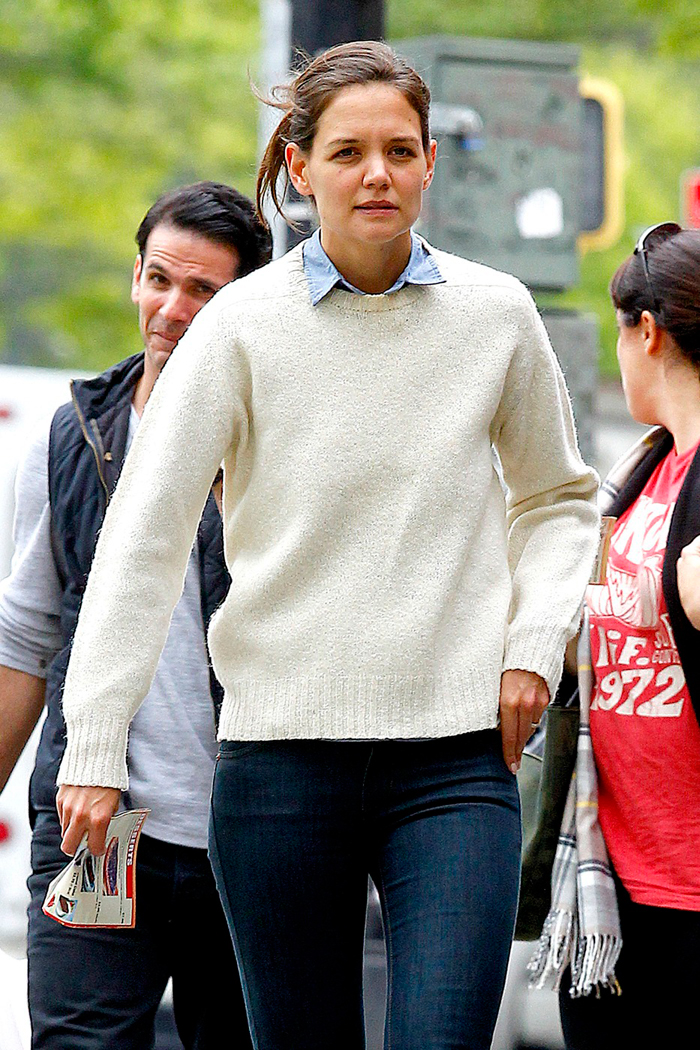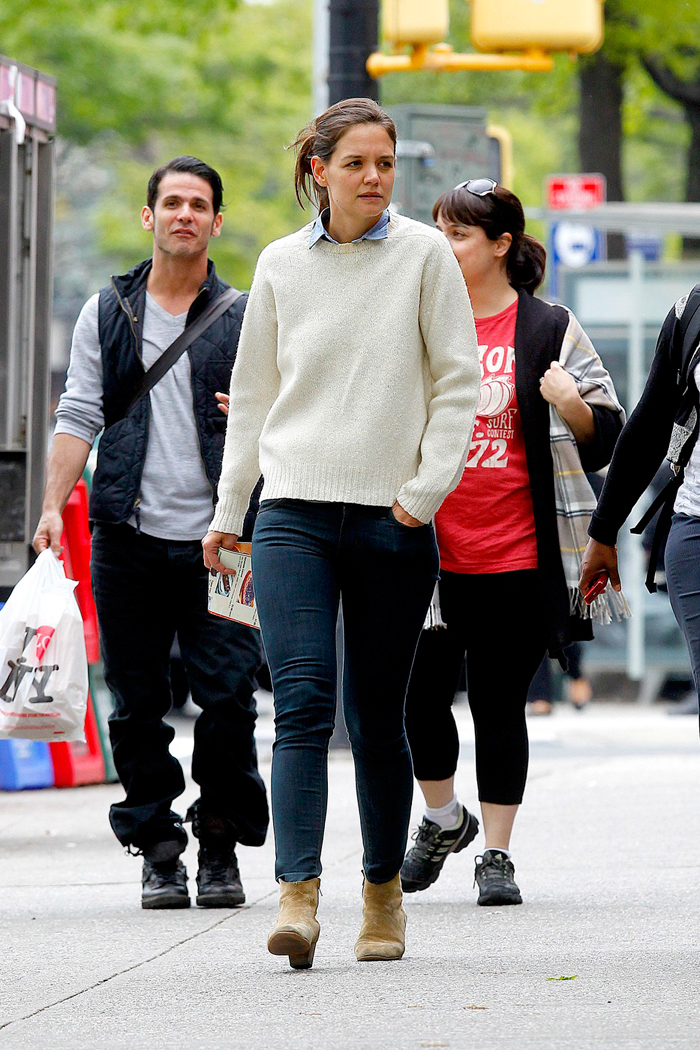 Photos courtesy of Pacific Coast News