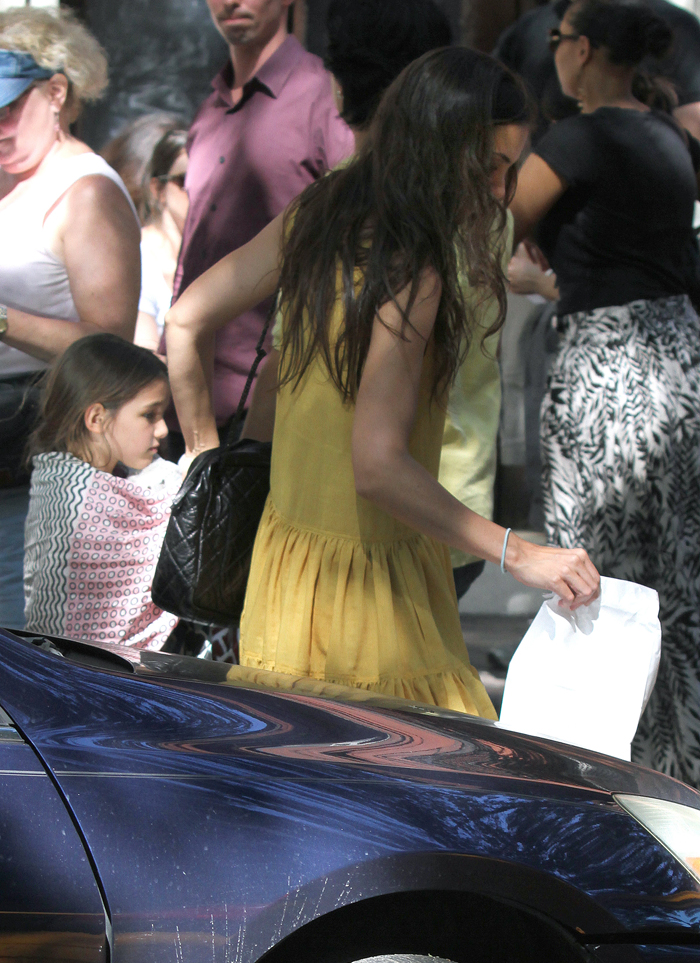 Here's some photos of Katie Holmes and Suri Cruise on an ice cream voyage in New York City yesterday after their recent trip to Katie's hometown of Toledo, Ohio. I would be willing to bet that Katie hasn't been back home since she met Tom, which means that this is probably Suri's first trip there too. According to the Mail, the two girls flew commercial (also a first for Suri) as opposed to flying in a private jet and actually went through the entire security screening process as well. Reportedly, Suri loved the hell out of the trip once they got there and asked "Can I stay in Toledo?" Nice.
However, Katie's quest to give her little girl normalacy and undo the damage of a spoiled, CO$ upbringing can only go so far before Tom will knock the progress down a few notches, and you know that's been his plan ever since Katie filed for divorce. He agreed to giving Katie full custody of Suri with an eye towards the future, which would be filled with so many material advantages on his side that (in his mind) Suri would choose one day to live with him (and never ask for a paternity test, natch). I hope to hell that never happens, but it might if Tom keeps spoiling the hell out of Suri like he did during their latest mini-vacation in the Hamptons: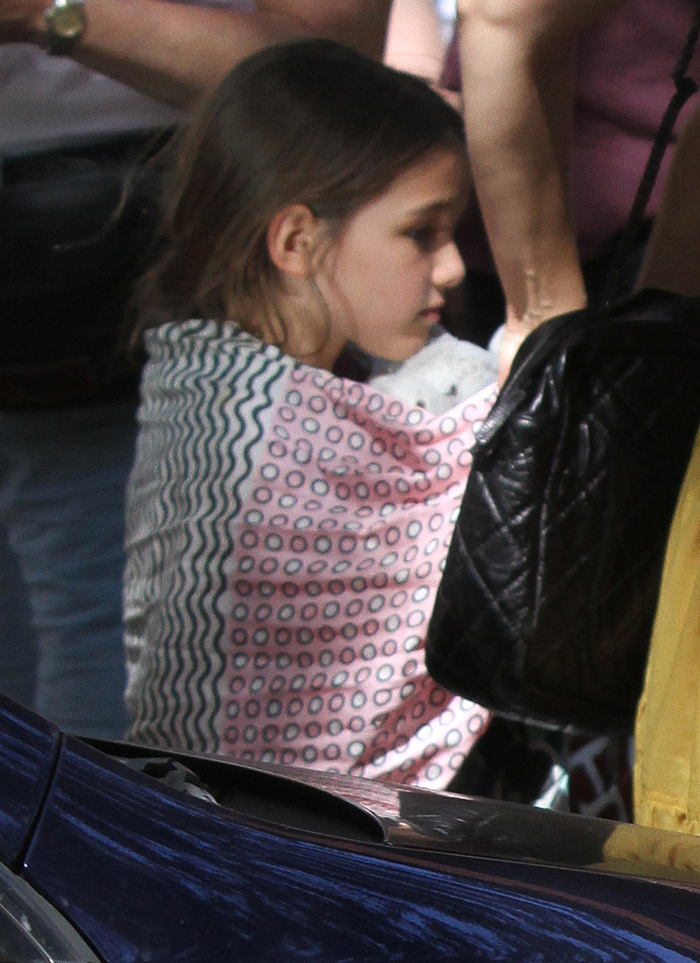 Tom Cruise launched a full-court press to win over his daughter, spoiling her rotten so daddy's little girl remembers the lavish lifestyle he offers, according to published reports today.

From the moment Cruise reunited with Suri on July 17, in their first play date since Katie Holmes dropped her divorce bombshell, the 6-year-old reportedly got everything she could want and more.

–The Top Gun star addressed Suri only as "Precious" during a 90-minute pool party at the swanky Greenwich Hotel on July 17, according to Star magazine, claiming to have had a reporter at the dad-daughter playdate.

In one small example of Cruise's doting nature, he reportedly asked Suri if she was thirsty and wanted a Pellegrino. Suri instead wanted a lemonade — no ice — but when the beverage arrived, she changed her mind and wanted a ginger ale. Cruise obliged.

–That Greenwich Hotel stay touched off a $170,000 spending spree of gifts that Cruise showered on Suri that week, Star reported

–Cruise whisked Suri by helicopter to Steven Spielberg's sprawling Hampton's mansion later on July 17, taking full advantage of the movie maker's pool and private beach, In Touch magazine reported. The helicopter ride itself cost $6,200, the mag said.

"They had so much fun together," a friend of Cruise said. "That child has Tom wrapped around her finger." And the free-spending Cruise might be getting his way.

As Holmes and Suri were on a plane Monday — from Detroit to New York following a visit with the grandparents in Toledo — the little girl complained about cabin pressure. In Touch reported that screaming Suri told Holmes: "Mommy – never take me on a plane like this again. I want to go on daddy's plane."

With Cruise in free-spending mode, he might have more influence over Suri than Holmes would want, her pals said,

"Daddy won't make you wait at an airport terminal," a friend of Holmes said. "He doesn't say 'no' but mom does. Who would you rather be with if you were 6?"
[From Page Six]
Did Suri really complain about "cabin pressure"? That seems like an odd statement from a 6-year-old, even a precocious one. I honestly think that In Touch's version of events (with a screaming Suri protesting about the commercial plane ride) is a bit extreme, and in actuality, Suri probably enjoyed the new experience. She and Katie probably did the first-class thing anyway. Also, I think it's very outrageous that Tom spent a couple hundred thousand dollars on what was essentially a two-day getaway, but it's not like he's going to stop doing that anytime soon.
Also, Tom calls Suri nothing but "Precious" now? So he's like Gollum now. Gollum with Lifts. Now I have a new nickname for the unhinged, lift wearing midget. Win!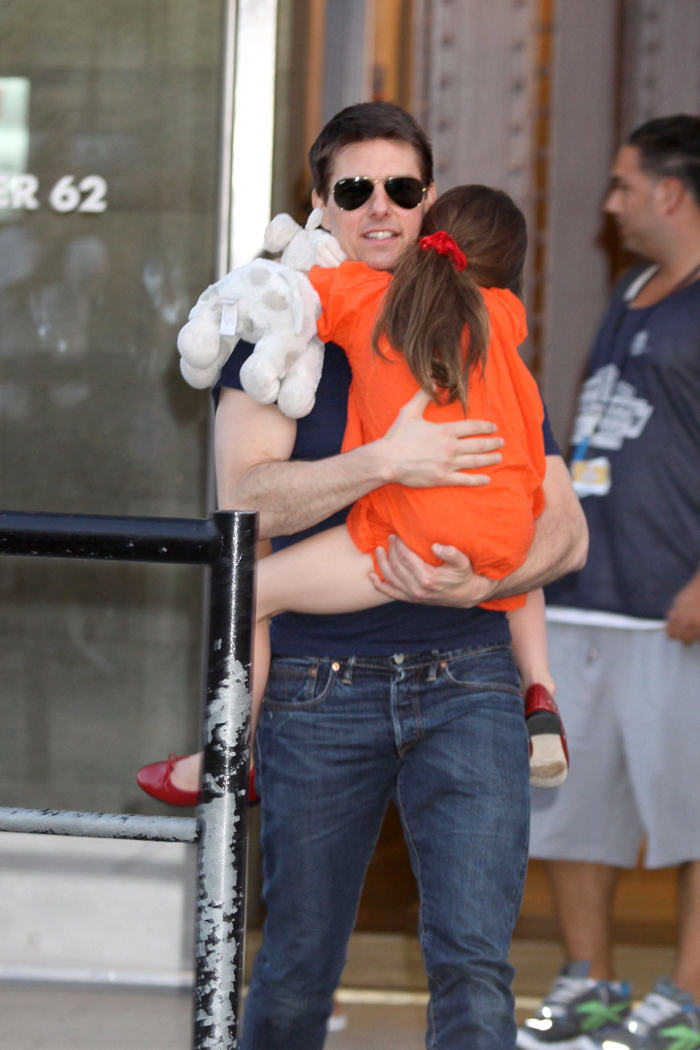 Nice guns, Gollum. Rowrr.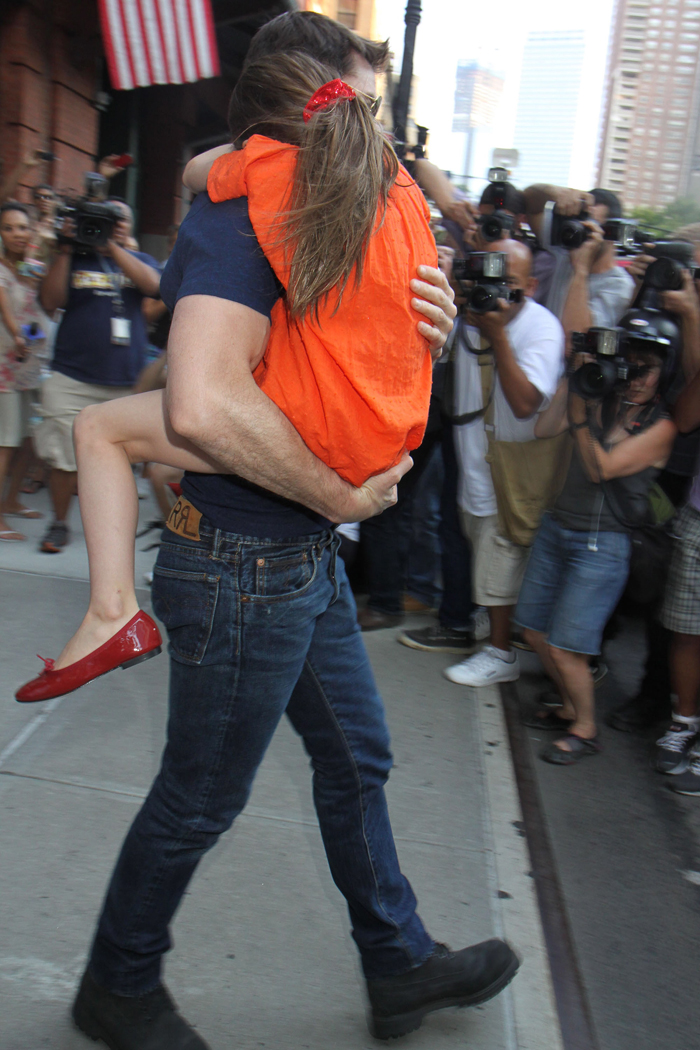 Photos courtesy of Fame/Flynet and WENN