Visit NBCNews.com for breaking news, world news, and news about the economy
I've never been a fan of Ann Curry. She comes across as humorless and dull, and I don't think she was suited as a co-anchor for a morning talk show. That said, NBC did her wrong, and they did it very publicly by canning her unceremoniously, not even airing a nice clip reel featuring her best moments on The Today Show, and then making the announcement that she wasn't suited for the job, basically. Matt Lauer is said to have been behind it, and to have made it a part of his contract negotiations that Ann would be let go. The very obvious body language between Ann and Matt on her sad last day seemed to confirm this.
Well NBC claimed that they weren't really firing Ann and that they were giving her a hard news role that was more suited to her talents. She did contribute to the coverage of the Aurora tragedy, but it's clear from how little we've seen her that her on-air duties have been massively scaled back. She was supposed to be covering the Olympics, and so far we've only seen her once. (I think she should have interviewed Lolo Jones, who clearly needed a shoulder to cry on, but of course Ann's replacement Savannah Guthrie was given that gig.)
Ann was on The Today Show yesterday in a special segment in which she interviewed the chief photographer for Getty images, a 35 year-old Australian guy aptly named Adam Pretty. (That video is above.) This is the only Olympic assignment Ann has been given so far, and there are rumors that she's been kept off the air. Ann's one segment was actually really fascinating, in that the photographer for Getty shared his techniques and mindset in capturing some truly amazing moments at The Games. (Some of his photos are at this link.) People were more interested in what happened outside the interview, when Ann got introduced by Matt Lauer, seemed to take pains not to look at him, and kept her legs crossed the other way. Sources tell Radar that Ann wouldn't look at Matt off stage either, which I believe.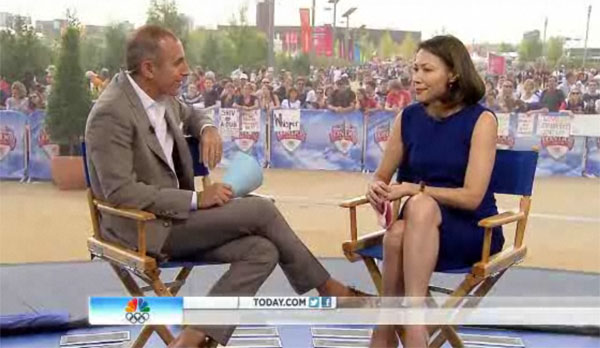 Meanwhile we're hearing more about what happened behind the scenes at Today. The print version of Ann's interview with Ladies Home Journal, given before she was ousted at The Today Show, has come out. (We covered earlier excerpts, but these are new.) Ann told the magazine that she was basically instructed by Today producers to sex up her image (she didn't use those words, but it's implied) and she refused. She stuck to her guns when it came to her fashion and not dyeing her gray hair, and her bosses were not pleased. Here's more:
Curry said Peacock Network officials didn't like that she had grey hair, thought her wardrobe was frumpy and wanted her to wear "ridiculously high heels" during her time as an anchor with the TODAY show.

Curry said when she wore clogs and flats into the studio, it didn't "go over very well with my bosses," and in one instance, she was compared to breakfast cereal mascot Toucan Sam when wearing a colorful dress on the air.

As for the greying, Curry, 55, said, "I've got gray hair because I won't dye it: I want to be about to honor my family by looking exactly as they did as they got older … I think showing some grey is authentic … true beauty is a face you have lived in.

"Of course I want to look my best: I eat right, exercise and use skin cream. I try to wear nice clothes. But I don't want to change the fundamental parts of me, because it means changing who I am."
I still can't believe she's 55! Ann just wasn't a good fit with The Today Show, but she got made into a scapegoat and fired when NBC should have worked on fixing the show instead of thinking replacing Ann would solve all their problems. Since Ann left, the ratings for The Today Show have remained low, something a source tells Radar makes Ann feel "completely vindicated." They add that "She feels she was fired completely unfairly and wasn't given a fair shot at the gig." Ann wasn't all of the problem by any means, but she wasn't right for the job either.
Also, if NBC wasn't going to give Ann enough work to do, why didn't they just sever ties with her instead of making a bunch of promises about how her job would change and then giving her basically nothing to do? It's probably because they didn't want to give her a huge severance package, but it just makes them look shadier than they already do. NBC is definitely on my sh*t list, which sucks because I still love some of their shows. (Namely "Community" and "Parenthood," which will both probably get thrown under the bus in the upcoming season.)