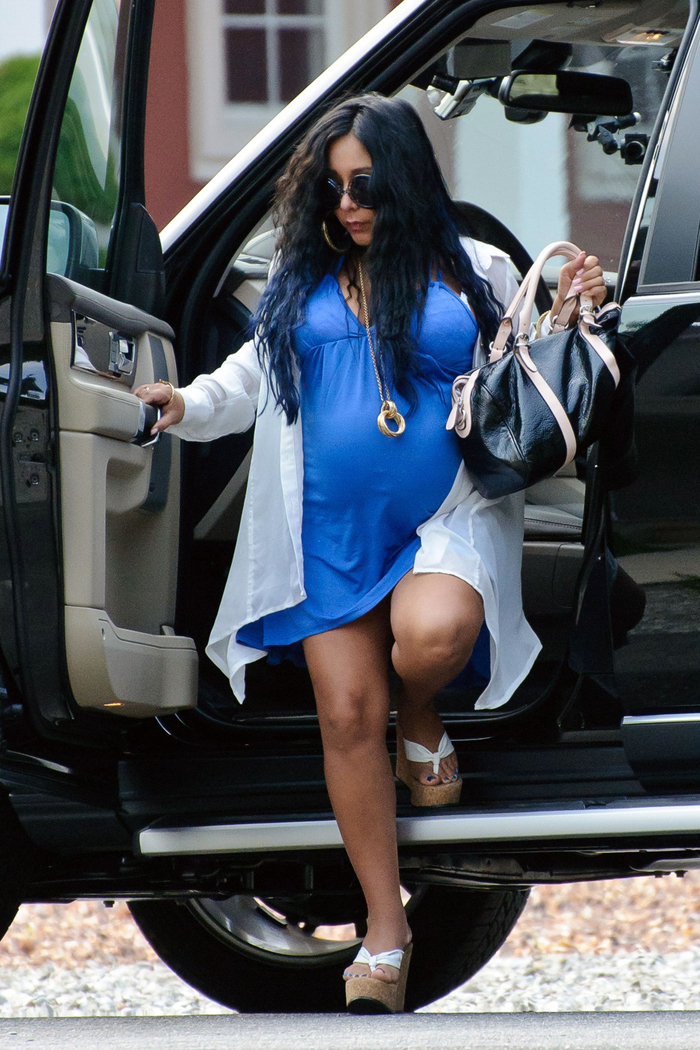 Here are some photos of a heavily pregnant Nicole "Snooki" Polizzi last Thursday in Manchester, New Jersey. Little did Snooks realize that in just a few short days, she'd already have given birth to little Lorenzo Dominic LaValle, her first child with fiancé Jionni LaValle. Snooki's rep has already revealed that the baby has been bestowed with the nickname "Enzo" and has weighed in at 6 lb, 5 oz, which is small but not a surprise since both Snooki and Jionni are on the tiny side themselves. Jenni "J-Woww" Farley has already revealed that "Lorenzo is the cutest baby I've ever seen." So far, there's no word on whether the baby came out orange or not. We'll just have to wait and see on that detail.
Back when the Snooki's pregnancy news broke, she and J-Woww were shooting their MTV spinoff show. Sadly, I've been watching the episodes, which are so dull compared to the antics of the full "Jersey Shore" crew with much less stupidity on display. Mostly, the show is about how exhausted Snooki is because she's preggers, and how bummed she is that she can't go boozing. Also, J-Woww and her boyfriend, Roger, fight — a lot. I will say that the girls' spinoff is at least slightly better than "The Pauly D. Project," for which I couldn't even finish watching the first episode.
Still, it's a relief that Snooki never picked up the bottle once she learned of her pregnancy (even though J-Woww was smoking in their shared flat on Episode 10 last week). Over the past few months, Snickers has also expressed her fear at becoming a first-time mom, telling In Touch that "I'm nervous that I'm not going to be a good mom," but that she looks forward to "being a MILF, for sure." She also told Us Weekly that "Everyone will be surprised to see a different side of me. I'm loving, caring, sensitive, protective and very maternal, no matter what people might think." Snooki already surprised the "Shore" audience by opting to live in a separate house while pregnant and shooting Season 6 of the show, so maybe she'll be just fine as a mom. Stranger things have happened, right? Here's the birth announcement:
No need to formally congratulate them: an enthusiastic fist pump should do the trick.

Nicole "Snooki" Polizzi and her love of two years, Jionni LaValle, welcomed their first child together Sunday in Livingston, NJ, a son named Lorenzo, a rep for the pint-size star tells Us Weekly.

"The world just got another G***o!!! Lorenzo Dominic LaValle has entered the world weighing 6lbs, 5oz. Nicole, Jionni & Enzo are doing great!" her rep shares.

An ecstatic Polizzi shared her big news on Twitter early Sunday morning. "I am SO IN LOVE with my son Lorenzo Dominic!" she wrote. "I had my little man last night, healthy at 6 lbs! HE'S MY WORLD."

The well wishes are already rolling in for the happy couple; Polizzi's castmate Pauly D sent her a sweet tweet Sunday morning. "Congrats @snooki And @JLaValle !!!! I'm Officially Uncle Pauly !!! #MyMeatballHadAMeatball," he wrote.

Snooki, 24, and LaValle, whom she met at Seaside Heights hotspot Karma in 2010, first shared their happy news — that they are engaged and set to become parents — with Us earlier this year.

The reformed party girl admitted she knew their announcement would cause a bit of a stir among her critics. "I have different priorities now," the reality star assured Us. "I don't care what anybody else thinks. As long as I know I'm ready and he's ready." Added LaValle, "We are not going to screw this up."
[From Us Weekly]
Us Weekly will probably get the exclusive baby photos (since they also got the exclusive baby announcement) in a few weeks or months, and I imagine that while the "Snooki" persona may at least partially be an act, little Lorenzo has his work cut out for him in life. Also a challenge? Snooki will need to keep her "Shore" antics a secret from this poor kid. As in, nobody had better let him watch any of the episodes, especially the Season 3 moments when Snickers walked around a club at closing time and randomly chose a dude (Jionni) to take home. Then she immediately climbed into bed and started banging the guy while he insisted (correctly) that she didn't even know his name. Of course, that didn't stop him either. Then there was the Season 4 episode when Daddy visited Mommy in Italy, and she flashed her kooka in a nightclub. Then since Mommy and Daddy were fighting, Daddy left and Mommy slept with Vinny. At a certain point, however, Uncle Situation will probably end up babysitting, and he'll be sure to pop a few key DVDs into the player. Oh, this poor child.
Congrats to Snooki and Jionni!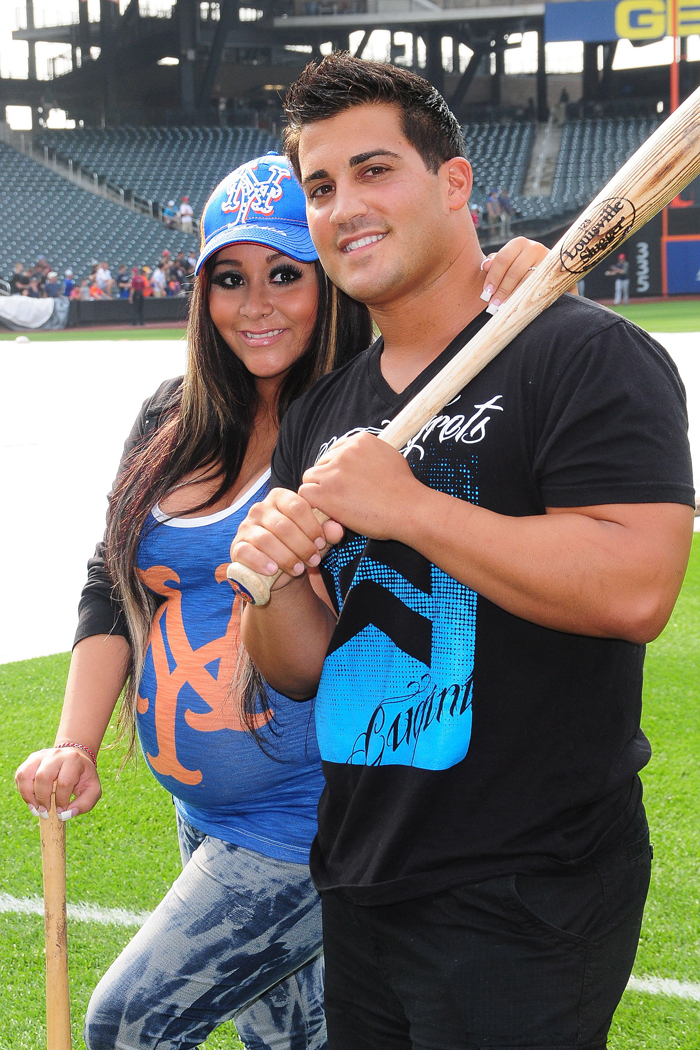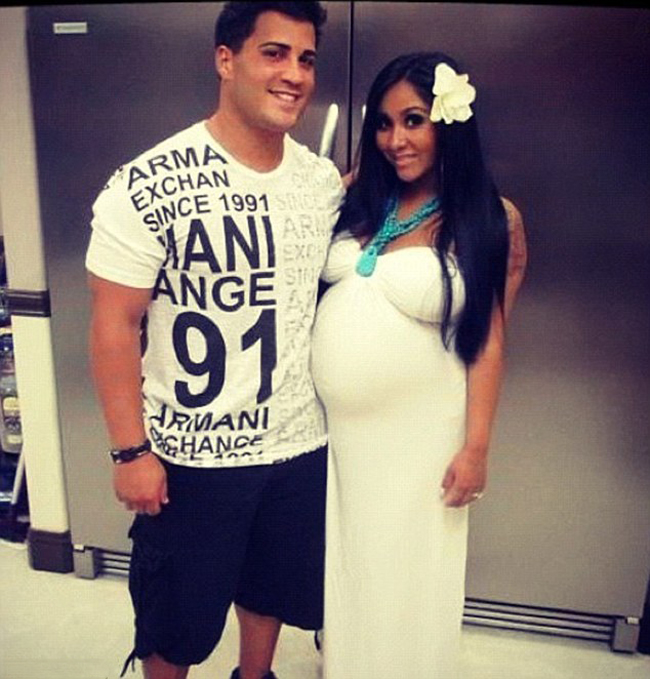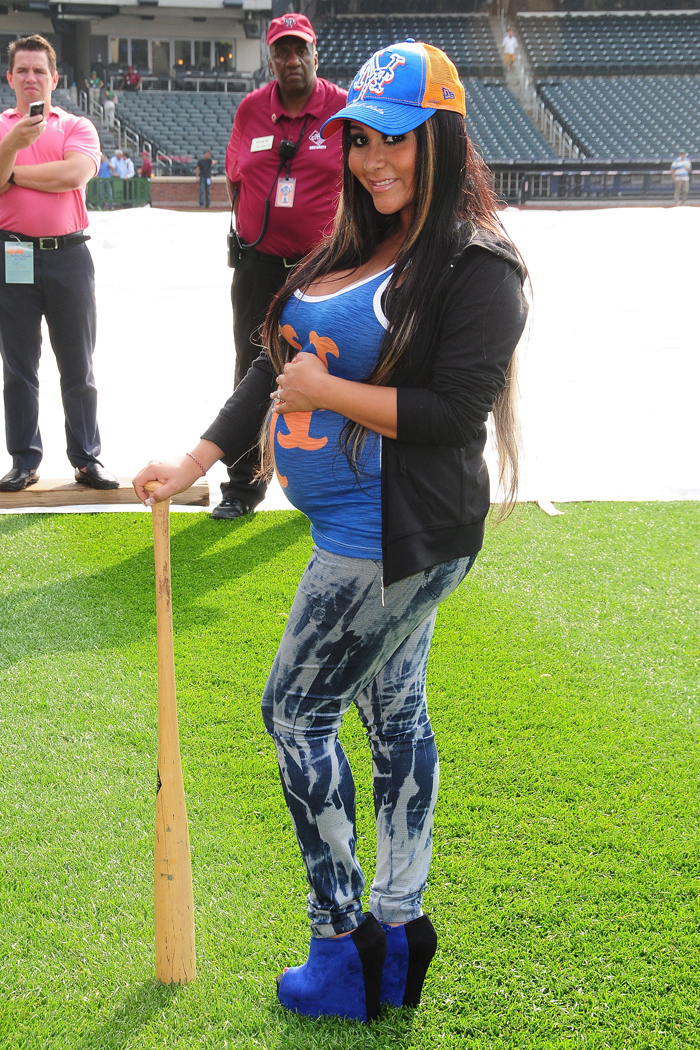 Photos courtesy of Pacific Coast News, Snooki's Twitter, and WENN