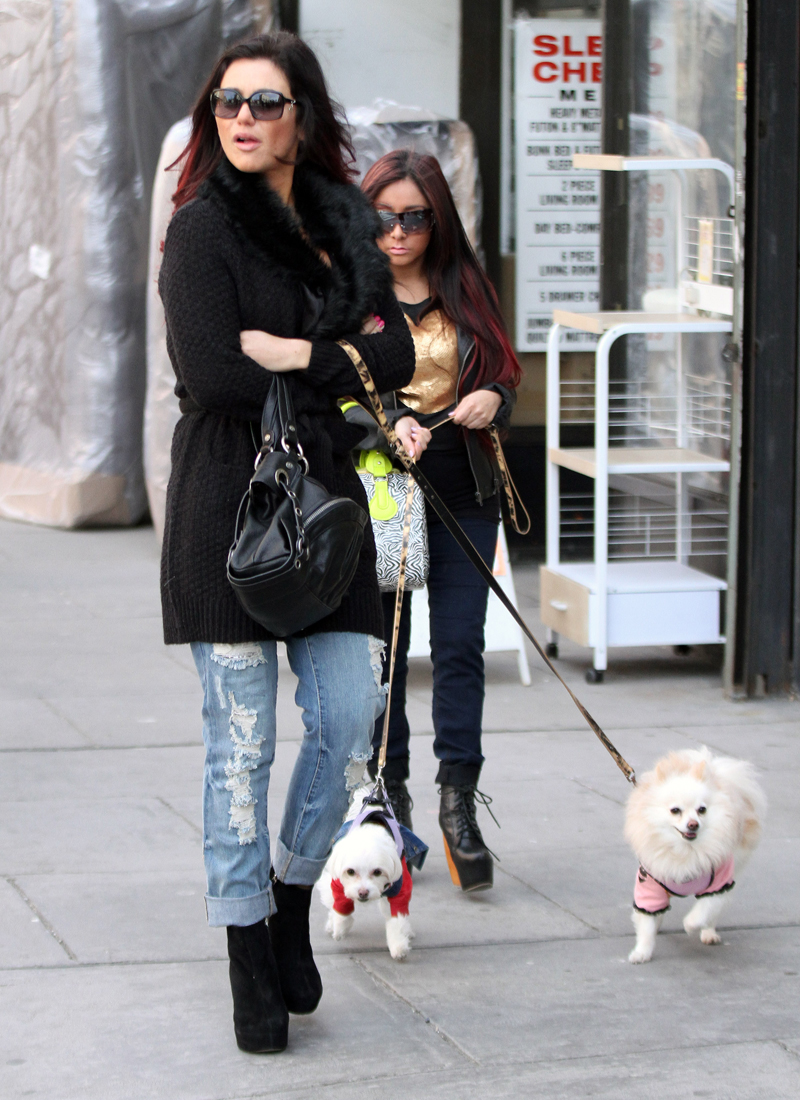 This week's tabloids are full of Snooki news, mostly in relation to the finally confirmed pregnancy of doom. However, In Touch diverts momentarily from the plan by talking about J-Woww's recent health scare involving a ruptured ovarian cyst in February. Apparently, this happened while J-Woww was working out at the gym, and she "nearly pass[ed] out on the treadmill from extreme pain." Yikes.
However, the serious vibe doesn't last for long when it comes to "Jersey Shore" spinoff gossip, and Star has heard from some insiders on the "Snooki and J-Woww vs. The World" set who say that J-Woww isn't happy at all with the direction that the show is taking now that her co-star is knocked up. Somehow, I doubt that J-Woww is really going to throw down over this, but let's run with it:
Gym, tan, catfight! As Nicole "Snooki" Polizzi and Jenni "J-Woww" Farley begin filming their "Jersey Shore" spin-off, Star has learned the former BFFs are feuding furiously over Snooki's surprise pregnancy.

Despite her denials, Snooki, 24, is pregnant by her boyfriend, Jionni LaValle, as Star reported more than a month ago. And it has thrown a wrench into the plans for her upcoming MTV series with her former bestie.

"They are having to redo the creative direction of the spin-off because of the pregnancy," an insider explains. Instead of following the girls as they party their way through New Jersey, sources say, the show will focus on Snooki as she prepares to welcome her own little meatball — and J-Woww, 26, isn't happy about it.

"Jenni thought the show was supposed to be about their friendship, and now Snooki is causing so much drama because of the baby," an insider tells Star. "She's fed up with Snooki getting all the attention."

And sources say she's making her feelings known on set. "They're just fighting all the time," one source tells Star. "When they're on camera, they act like nothing is wrong — but there's so much animosity between them when the camera's down. It's uncomfortable for everyone."
[From Star, print edition, March 19, 2012]
This doesn't sound like J-Woww, who is easily the most civilized "Shore" cast member, at all. In fact, she's quite boring these days and hasn't been in a fistfight with anyone since Season 3 (NSFW video clip here) when Sammi pulled out one of J-Woww's hair extensions. Ever since J-Woww started dating Roger a few seasons ago, she's really settled down, and I'd bet anything that she's sort of relieved that now Snooki won't want to go out partying all the time. Still, a calm J-Woww and a pregnant Snooki won't exactly make for riveting television, right?
Meanwhile, the print edition of Us Weekly provides updates from their pregnancy pseudo-exclusive that we already covered, but Us now has several new details. Among them, Us Weekly has done an "appraisal" of Snooki's engagement ring (the one that looks like it came out of a Cracker Jack box) and values it at $55,000 while also stating that it contains 5 carats of diamonds. Really?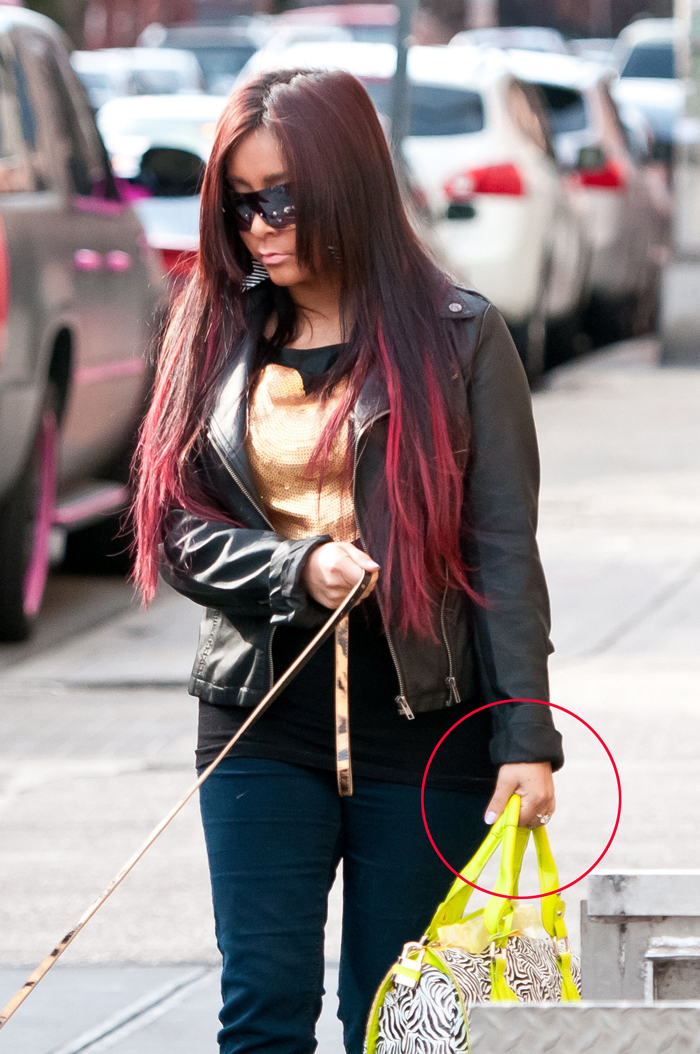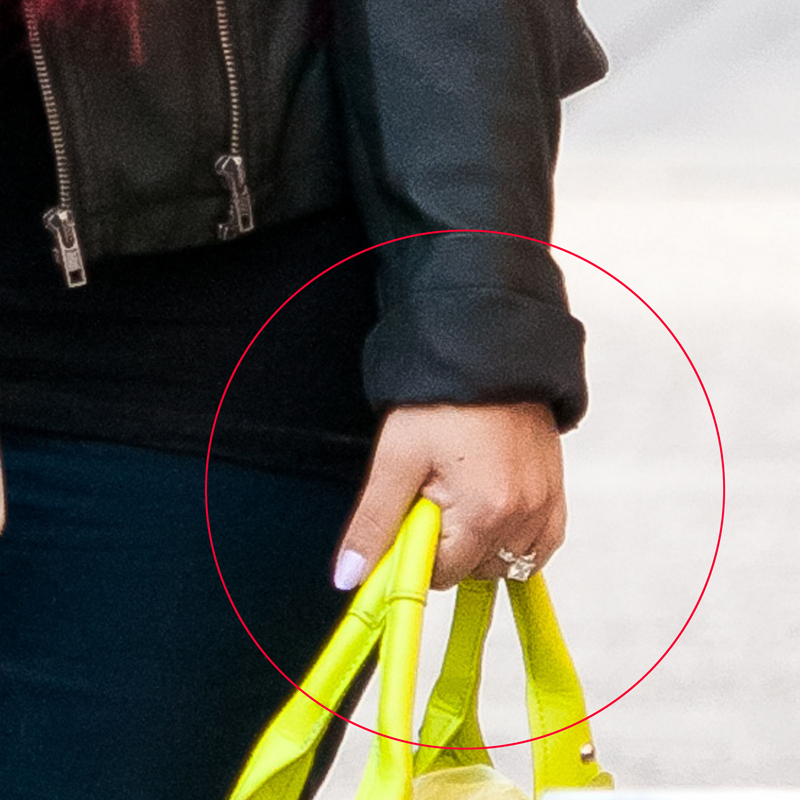 Us also confirms that Snooki and Jionni are currently living with his mother, so perhaps that's how he was able to save up enough money for a ring while he's still in college. Snooki also says that she first denied being preggers because she wanted to reach the 3-month mark and get through the greatest risk period for miscarriage before announcing. That may be so, but she'd also agreed to an exclusive with Us, and mama wanted to get paid. Jionni popped into the interview to say that he wants to get married at Disney World, but Snooki wants to get married at her church and throw a huge Jersey reception afterwards with "bombs going off." Jionni conceded that a fair compromise would to be get married at WrestleMania. As for the child's name, Snooki says they have settled upon "Jionni Jr. for a boy. We haven't thought of girl names yet. I want something italian and normal. Not like Blanket. Or Lamp." Oh, such wit.
Meanwhile, Sammi "Sweetheart" Giancola has told Mark Malkin that she can't wait for Snooki's baby to arrive. Furthermore, Sammi says that people shouldn't pick on Snickers because "It's not like she's 16 and pregnant." Well, at least there's one positive to this whole mess, right?
Here's some more "pissed off" J-Woww for you. I think she's just not photographing very well in these photos, and she's probably thrilled to pieces for Snooki.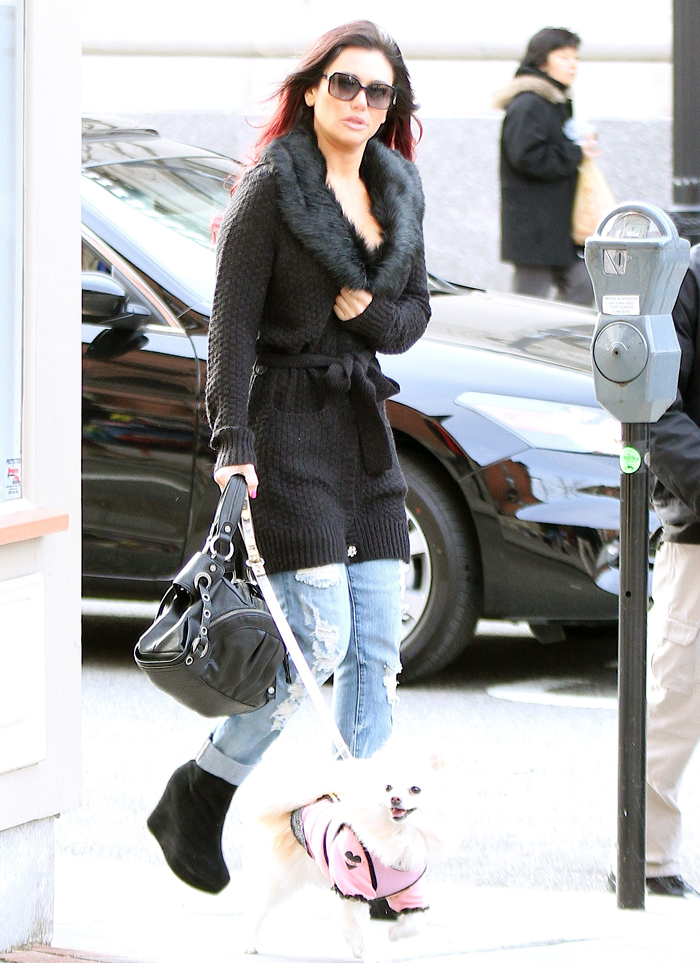 Photos courtesy of Fame/Flynet and WENN