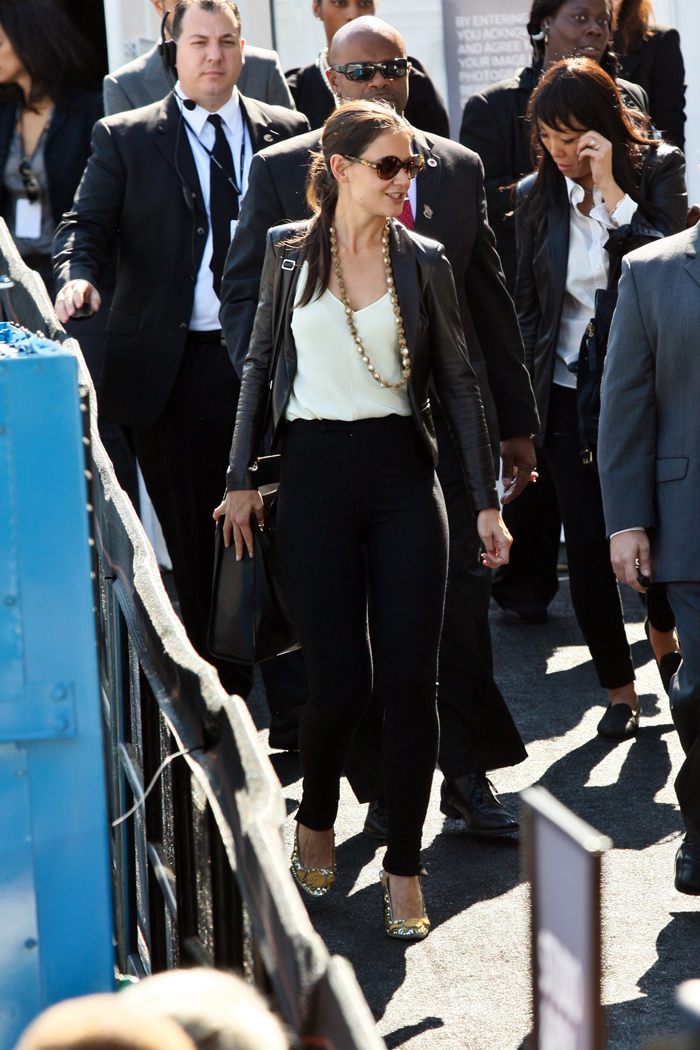 Katie Holmes has had a pretty big week. On Monday, Suri Cruise began first grade at the new Avenues school in NYC's Chelsea neighborhood. According to People, a nervous Suri was spotted "biting her nails through the tinted window of her SUV," but Holmes (mostly) avoided photographers by backing into the school's (very convenient and ultimately strategic) parking garage. Suri was also reportedly wearing a pink bow atop her head and carrying a matching cheetah-print backpack, and contrary to previous reports, Tom Cruise was nowhere in sight on Suri's first day of school. What a tool.
In other Katie-related news, this week's issue of Us Weekly claims that Katie is thoroughly enjoying her newfound freedom, and she particularly enjoys the fact that her new apartment has roof access where she and Suri can enjoy a bit of sunshine without encountering the photogs. Naturally, I am assuming (perhaps wrongfully) that Tom never allowed Katie to have roof access in their old NYC place because, you know, she was so miserable that drastic measures could have taken place. That wasn't even a joke. Honestly, I'd consider such an action if I were married to Tom, but luckily, Katie was able to get out with the help of burner phones and her awesome dad.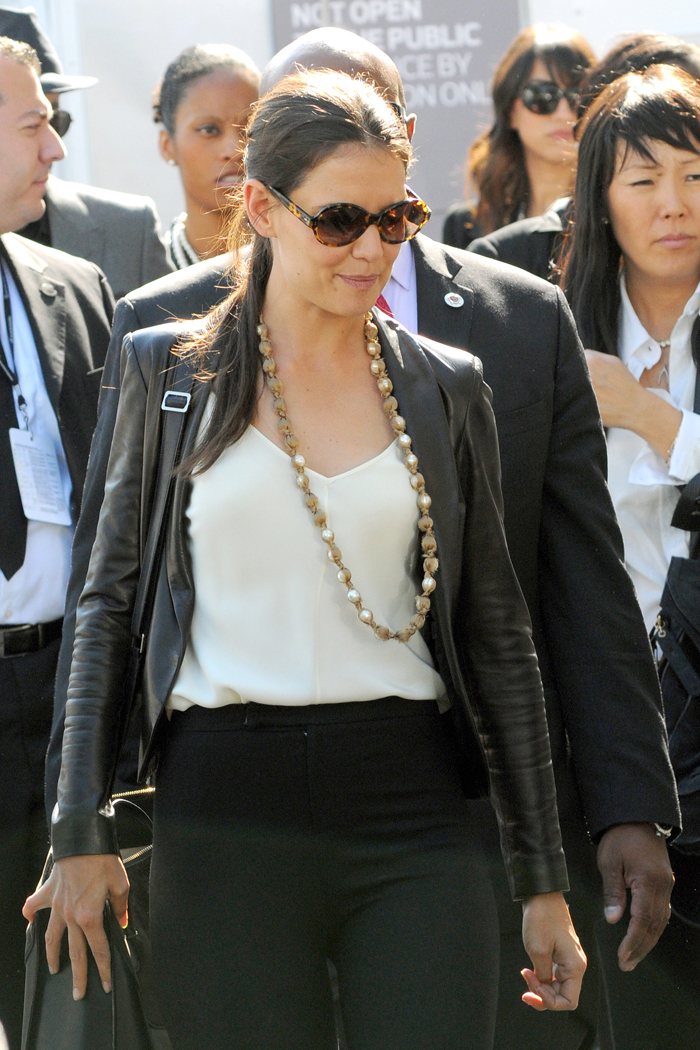 Now onto the true subject matter of this story, which is the Holmes & Yang New York Fashion Week debut. In these photos, Katie is seen arriving with her partner and stylist, Jeanne Yang, at the show, which has seen a lot of promotion with a WWD interview and because the line was showing in a fairly large tent show at Lincoln Center. Like Victoria Beckham, Katie's line has made a newfound voyage into separates. There were — I repeat — there were no fug booties to be found on the premises. All and all, the bystander accounts from Twitter have been positive, although Eric Wilson of the New York Times declared "At Holmes & Yang, it all looks very much like Katie" to which the rather hilarious "Suri's Burn Book" account replied, "Burn."

Yet by all critical accounts (thus far), the Holmes & Yang line is a "fantastic first presentation" featuring "great separates" that has miraculously succeeded because of (or perhaps in spite of) the fact that it reminds people of Katie's street style. Odd, right? Susan Kaufman of People StyleWatch even stated, "It was very clean but with a cool factor. I can easily see her (Holmes) wearing it." Here's the lowdown from the LA Times:
The inspiration: Elevating casual dress. Mixing masculine and feminine style.

The look: Relaxed elegance. A black off-the-shoulder dress with hand-painted red spider mums. A louche black beaded strapless jumpsuit worn with a navy cardigan. A buttery suede cape worn with a celadon-colored camisole and red shorts. A leather camisole worn with a maxi skirt. A black leather bra top and men's pleated trousers under a glazed khaki leather trench coat.

The scene: Controlled and polite.

The verdict: The line may be made in New York, but it has that relaxed L.A. sensibility that really reflects what people wear every day. There's no reason to think that the line won't continue to gain momentum now that Holmes has garnered so much goodwill with the public since her split with Cruise. Could Holmes and Yang be the next Row, the line designed by Mary Kate and Ashley Olsen? Or the next Victoria Beckham? We'll see. First, Holmes and Yang have to show us more about what their particular brand of fashion is all about.
[From LA Times]
First off, I think that the LA Times has given away a bit of its trickery here by describing the Holmes & Yang line as possibly "the next Victoria Beckham" because, seriously, Posh's line is just beginning to arrive in its own way. But yes, this line is very different than what we've already seen from Holmes & Yang, which is that the usual designs belong mostly on a paper-mache doll. This time, Katie and Jeanne Yang have truly gone a bit more rock 'n' roll with their line, and I kind of like this black and white dress and the suede capelet. Not that I'd wear either of these pieces, mind you, but they do look quite lovely on the models. Here are some Twitpics of the fashion show. Thoughts?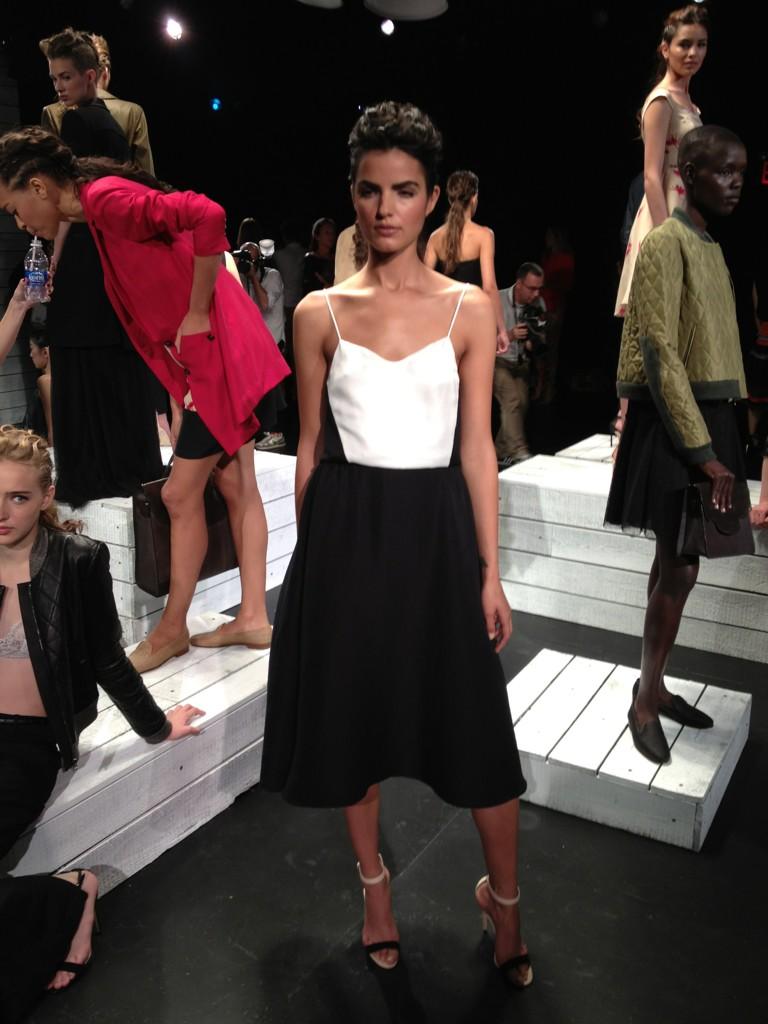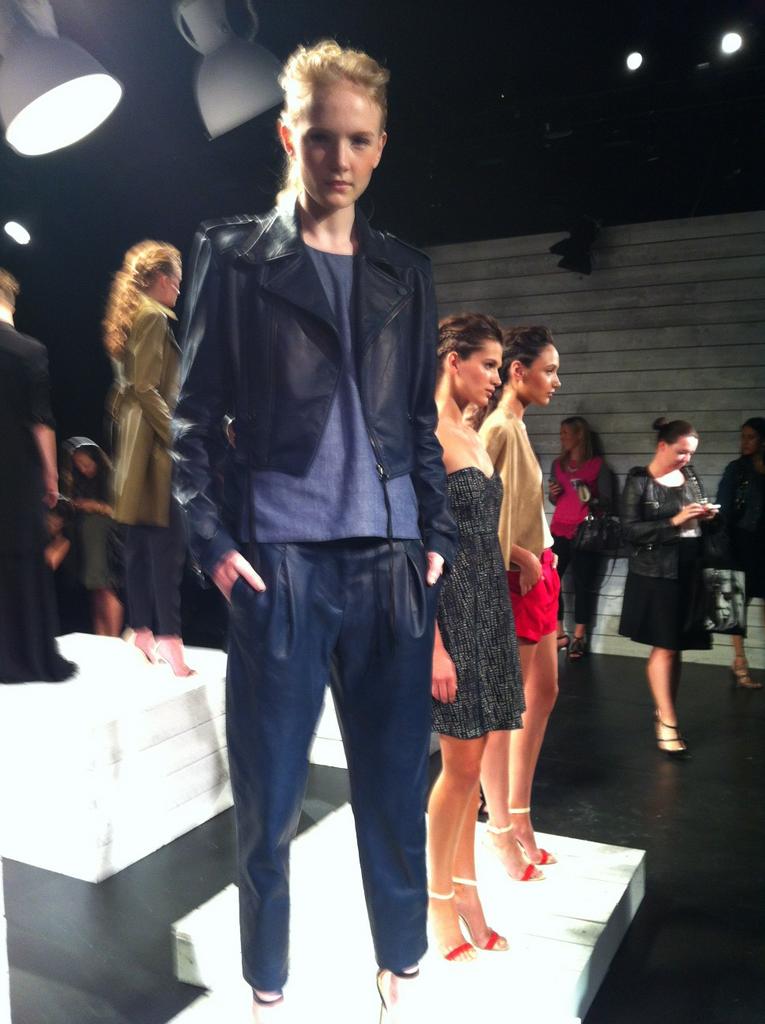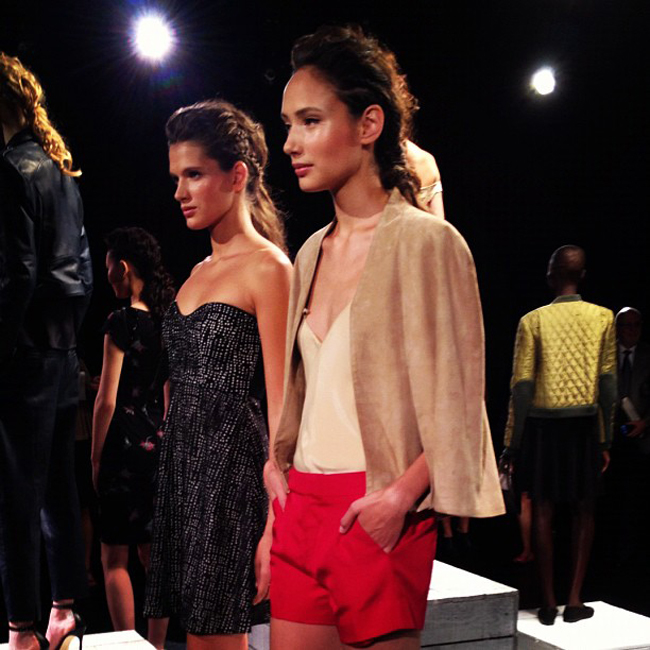 Photos courtesy of WENN and Twitter