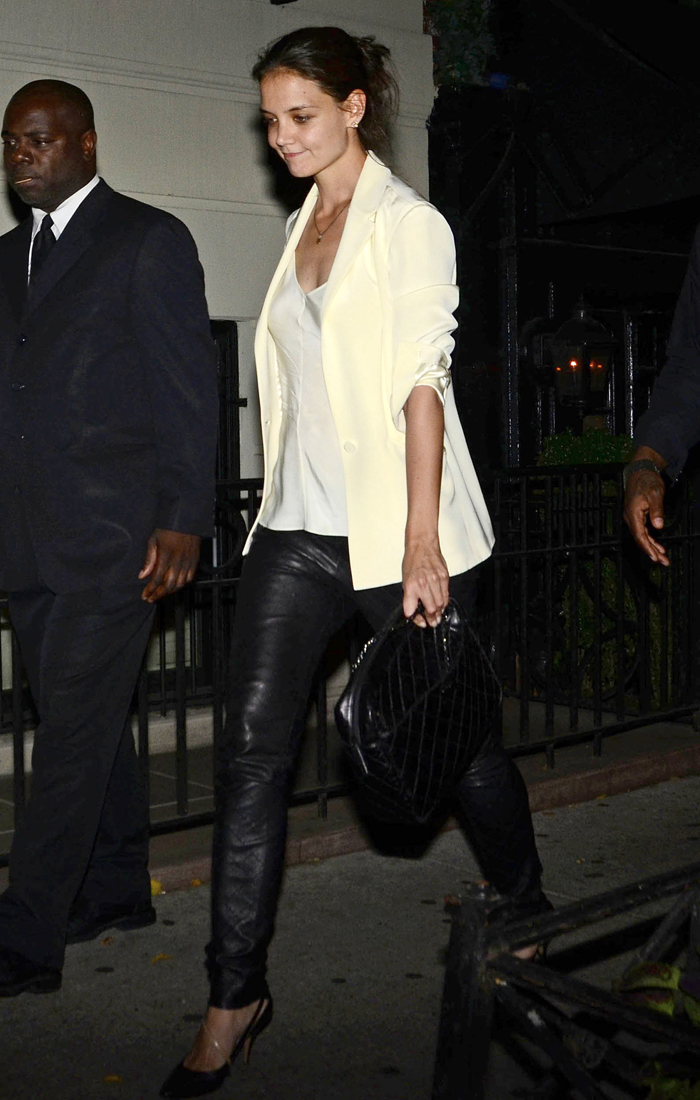 Now we continue the tale of Tom Cruise spoiling daughter Suri to death by taking her to Disney World instead of those boring old museums that Katie Holmes has been frequenting. The tale has grown into a much darker one than Tom merely strolling through the Magical Kingdom wearing his lifts, and if you so dare, you can see photos of a shirtless Tom (happy trail and all) high-fiving fellow swimmers while frolicking with Suri at the Blizzard Beach water park. So transparent, that Tom.
Meanwhile, it looks like Katie is ready to get down to business since Suri will be beginning the school year in just a few weeks. While it was reported that Katie had enrolled Suri in a very prestigious Catholic school in NYC, that's apparently not the case. Instead, Suri will attend "The World School," which boasts worldwide campuses and allows its students to continue their studies around the globe:
Katie Holmes has enrolled her daughter Suri at an exclusive "world" school with campuses dotted around the globe. The brand new $40,000 a year Avenues is to open 20 campuses on five continents, enabling students to switch between schools without disrupting their education.

Aimed at the children of the jetsetting elite "The World School" enables pupils to follow their parents around the globe without being tied to school vacation schedules. The six-year-old will be based at the school's flagship New York campus, just a few blocks from the luxury apartment she shares with Katie.

A source told Life & Style magazine: "Katie has eagerly been telling Suri all about the lunchrooms, basketball courts and different activities Avenues offers. Suri's really excited about it." The imposing school building will have a rooftop playground, along with a main gym that includes full-size basketball and volleyball courts.

Suri had been expected to attend an exclusive Catholic school but her mother's choice has certain advantages. The website boasts that it is a step better than "national" schools such as Britain's Eton. With campuses planned for China, India, Africa, Europe, the Americas and Australia Suri will certainly be able to study around the globe.

Along with high academic standards the school claims it will also teach pupils life skills, an advantage to children as sheltered as Suri. "Avenues will embrace practical matters so often ignored by academic institutions," it says. "Students will become comfortable with a variety of life skills, including practical matters such as time management and technological competency."
[From Daily Mail
This seems like an odd choice for Katie since she's seemingly intent on providing Suri with a Catholic upbringing. Perhaps Katie thinks that the next Holmes & Yang line will really take off, and she'll have a big reason to travel. Who knows.
Meanwhile, the tabloids have cooled their heels on the TomKat divorce this week with the lone holdout being Star, which talks about how Katie is looking oh-so-sexy lately as revenge against Tom's controlling ways. Yes, I can imagine how losing the midget would perk one up on all sorts of levels, and now that she's enjoying her newfound freedom, Katie's even been wearing leather pants, which lends credence to the March report that she was looking frumpy on purpose to spite Tom, or maybe she was just so depressed that she couldn't muster up the strength to care about her appearance during her last months of marriage.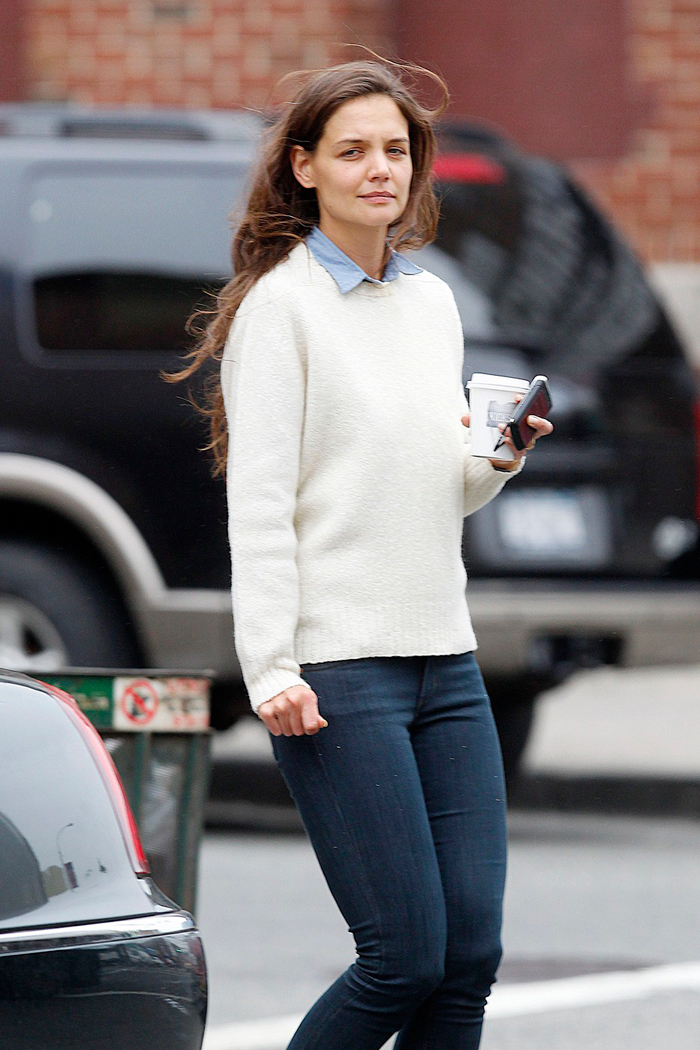 Strolling through Midtown Manhattan on a recent Saturday afternoon, Katie Holmes turned heads for all the right reasons. Clad in a short, formfitting dress and flirty flats, the smiling, newly confident star was a far cry from the sad, mousy-looking creature she became during her marriage to Tom Cruise, 50. "She definitely looks different -- and better," an eyewitness says of 33-year-old Katie. "She seems more alive and vibrant, and healthier."

Though Katie lost a significant amount of weight from stress in the days surrounding her June 29 divorce filing, she treated herself to a full makeover after the July 9 settlement -- and celebrated her freedom by reclaiming her sexy, single style. And for katie, getting her true self back is the sweetest form of revenge. "Tom always insisted she dress and appear demure and not play up her sexuality too much," explains a friend. "Now, she's ready to break free and show the world what she's all about."

"She's going to do whateer it takes to look her best," the friend says of the actress, who went from hot girl next door to carefully done-up trophy wife to neglected, dowdy mom during five years of marriage. "This makeover was just the start."

And already, it's done wonders for her mood. "Katie's so much happier now," a pal adds. "Every day, she's getting more and more of her old self back."
[From In Touch, print edition, August 13, 2012]
The tabloid also theorizes that Tom has been strategically appearing more rumpled and ragged than usual (instead of his normal "clean-shaven and impeccably dressed" self) in "a calculated attempt to reform his robotic image — and let the world know he's human." Good luck with that, Tom. I wouldn't doubt that Tom's "people" (i.e., the CO$) would want Tom to project the image of a sympathetic, downtrodden single father (with some newly hatched grey stubble) who wants nothing more than to be with his daughter during expensive, highly-publicized vacations, but the best thing that Tom could do is keep his head down at this point. But of course, he won't do that.
As for Katie, I'm not convinced that her fashion sense has truly improved since leaving Tom. However, she's often wearing the best accessory of all these days: A smile.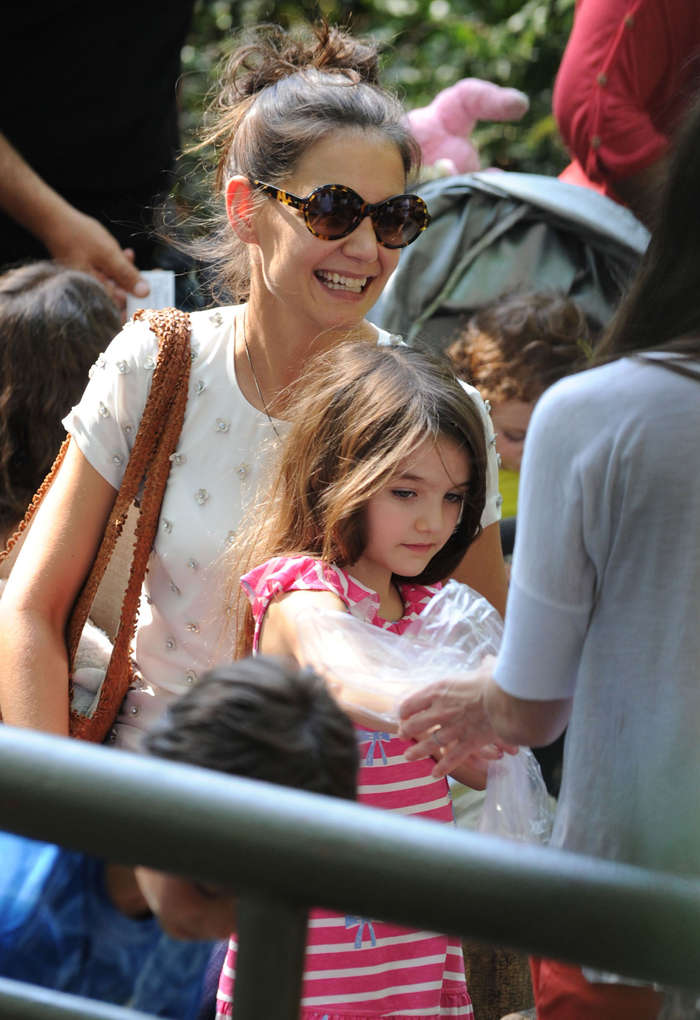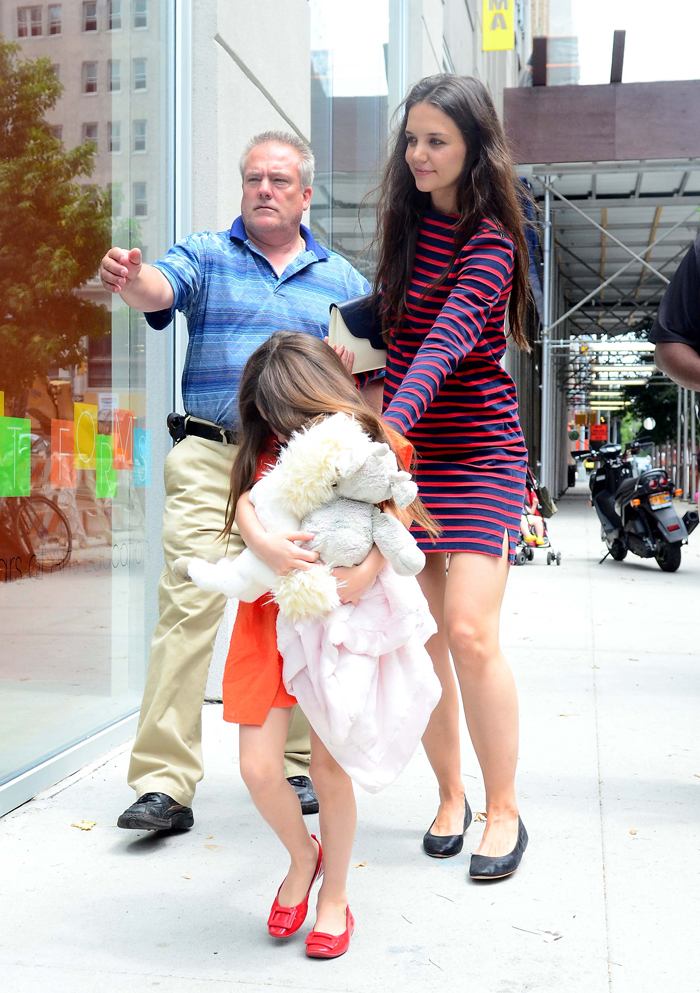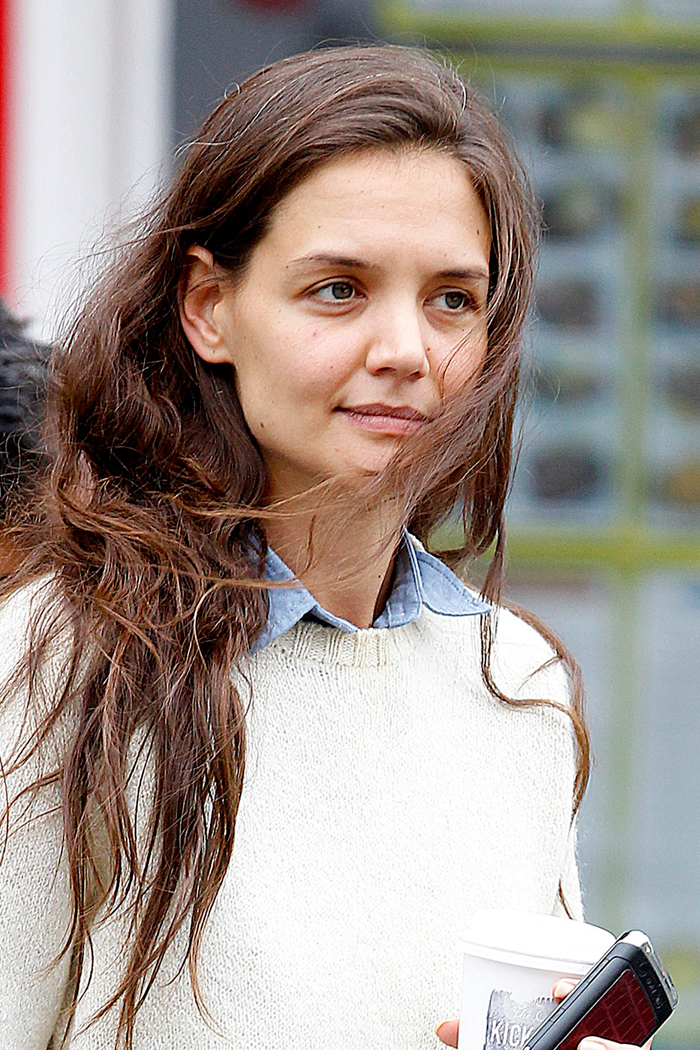 Photos courtesy of Fame/Flynet and Pacific Coast News