Victoria Beckham "feels like an old bag" at NY Fashion Week: clever & funny?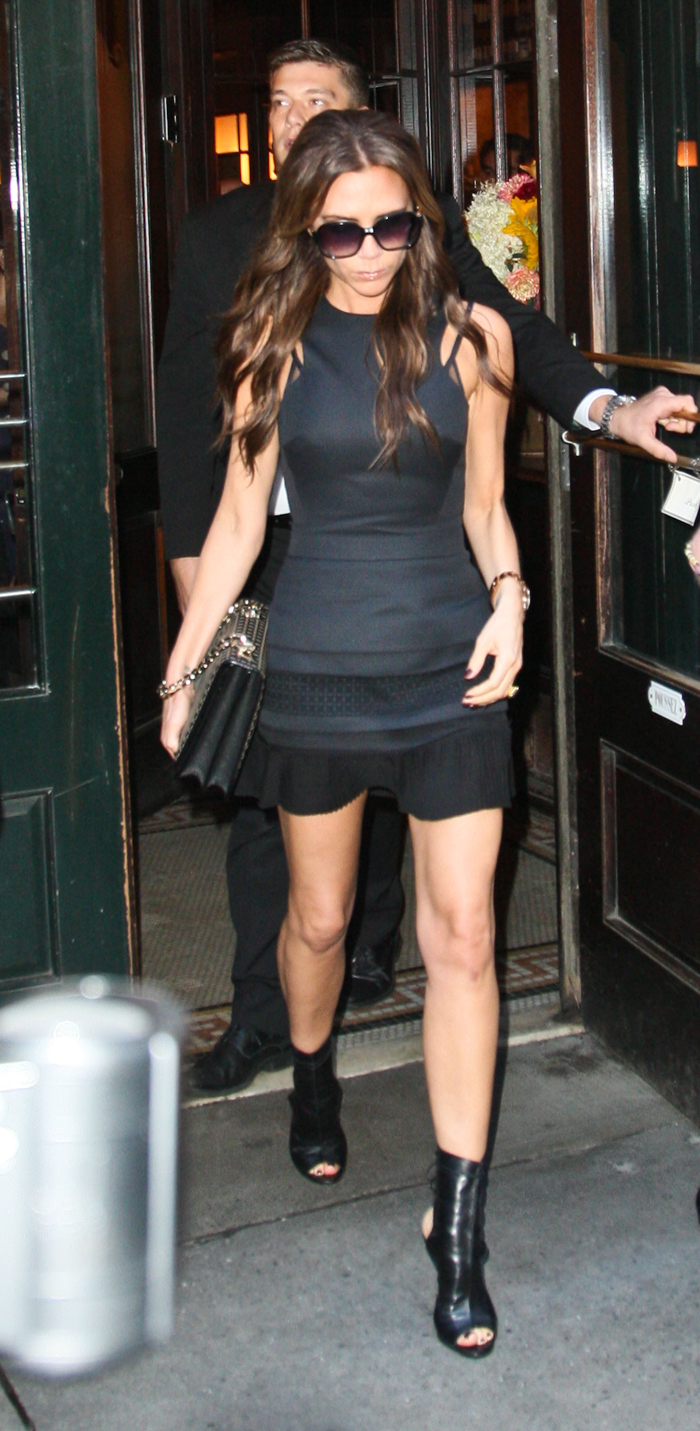 Here are a few photos of Victoria and David Beckham leaving a Soho restaurant after Victoria's Sunday show at New York Fashion Week. David was spotted carrying Harper into the show earlier, and she's really starting to look like Daddy. This would be the second time that David has attended one of Victoria's shows, and she recently revealed that having a cuddle before a show really helps her focus and lose the nerves a bit.
Of course, this particular week is also big news because it will see the NYFW debut of Holmes & Yang, and Page Six previously reported that Victoria and Katie's shows would happen at the same time in some strategic showdown of the former (forced) BFFs. However and upon a quick review of the schedule, it turns out that Holmes & Yang won't be showing until Wednesday morning in the tents at Lincoln Center. As for Victoria, she still refuses to crack a real smile in public. When her runway received a standing ovation (you can see a lot of the clothes here), she couldn't suppress her joy but made sure to cover her mouth. Oh Posh: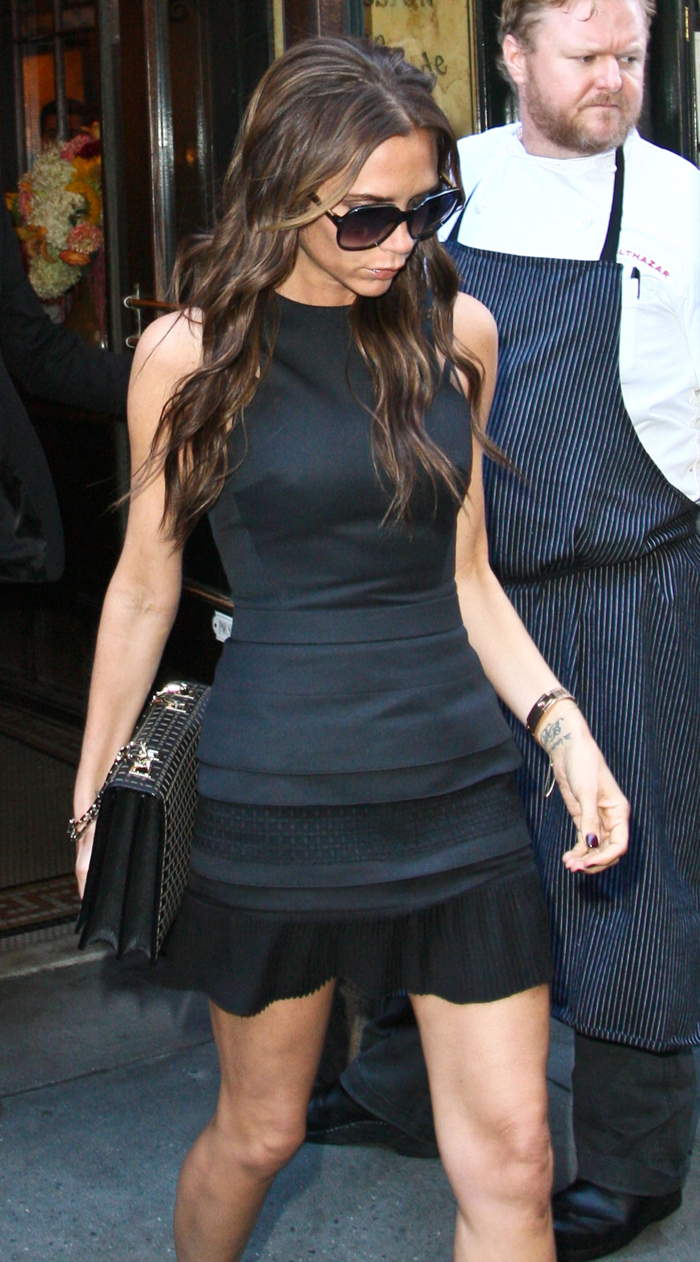 Victoria Beckham has been careful to set herself apart from the typical celebrity designer, and this morning it seemed that her efforts had paid off.

A front row that included Anna Wintour, Maria Sharapova, Anna Dello Russo, as well as proud husband, David, broke out into rapturous applause as she took her bow at the end. Clearly delighted by the reaction, Mrs Beckham is seen holding her hands to her face in surprise, before returning backstage.

The latest in a string of critically-acclaimed collections, Mrs Beckham continued the sharp schoolgirl theme that has been filtering into her collections lately. Sharp pointed collars and cropped jackets were new for the label, and a welcome addition to her repertoire of fitted dresses.

Pleated white tennis skirts and racer-back tanks had a sporty feel, heightened by the styling which teamed them with flat brogues and boots. A delicate lattice pattern was a key detail; it appeared on dresses and tops on cutaway sections, as well as handbags and clutches.

Commenting on the line, Lauren Stevenson, PR Director at My-wardrobe.com said: "It was good I see her move to separates – there was almost a Carven feel to some of the pieces such as the box skirts and cropped jackets. But there was a relaxed feel to the collection. I liked it, it's good to see her confidence growing with each collection."
[From Daily Mail]
I really do think Victoria's line is getting better by the season, and while I still wouldn't wear any of these clothes (and maintain that Posh designs only for her particular body type), she is showing some growth as a designer. And it's obvious that she puts the work in at fashion shows rather than let someone else do it all while she takes all of the credit. Is her line completely original? Obviously not, but at least she's moved away from putting zippers down the backs of every outfit.
Also, I do appreciate the Posh sense of humor, and I love that she actually put a bag over head while stating, "I feel like an old bag" after getting three hours of sleep ahead of her NYFW show. She's kind of hilarious like that.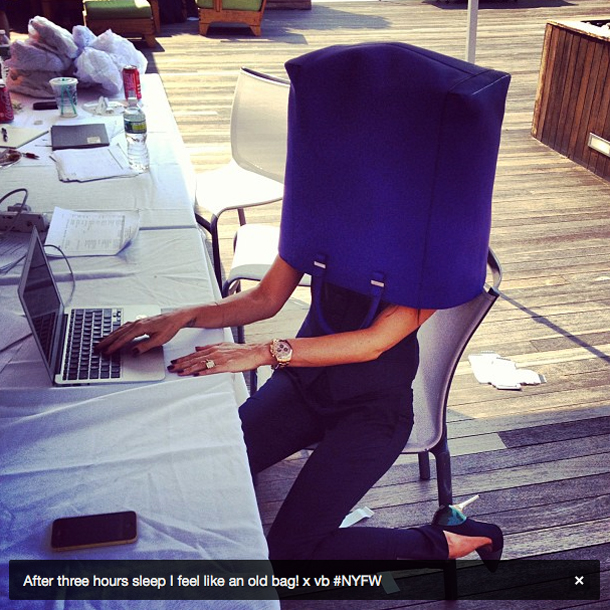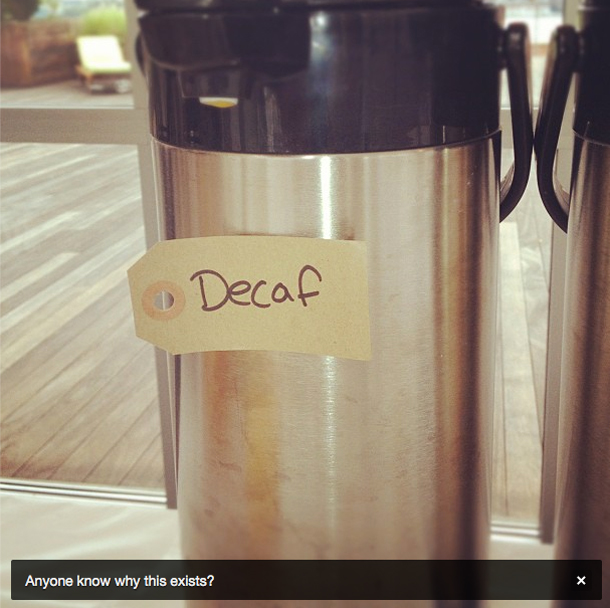 I love that David cames out to support Victoria during her fashion shows. She's been attending his soccer/footie games for years, so it's great to see two spouses that truly care about each other's successes.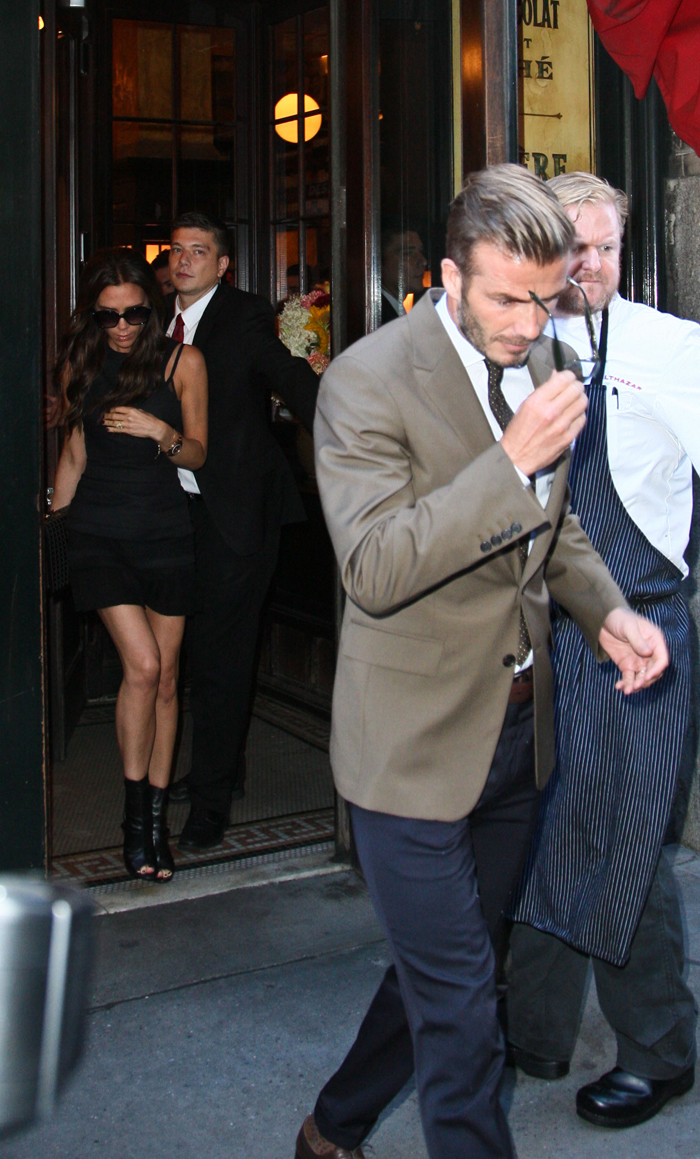 Photos courtesy of WENN and Twitter
Written by Bedhead

Posted in David Beckham, Katie Holmes, Victoria Beckham

- Zach Galifianakis is awesome [Buzzfeed]
- Prince at the Billboard Music Awards [D-Listed]
- Bieber's Billboard look [Go Fug Yourself]
- Married to Medicine recap [Reality Tea]
- Celebrity first marriages [Pajiba]
- The last Mad Men baffled a lot of people [Lainey]
- Karolina Kurkova's crazy hot dress [Moe Jackson]
- Jennifer Garner on set [Popsugar]
- Kitten vs. Lizard [CDAN]
- Doetzen Kroes' great butt [Celebslam]
- Shameless star Jeremy Allen White [OMG Blog]
- RIP Ray Manzarek [Bossip]
23 Responses to "Victoria Beckham "feels like an old bag" at NY Fashion Week: clever & funny?"