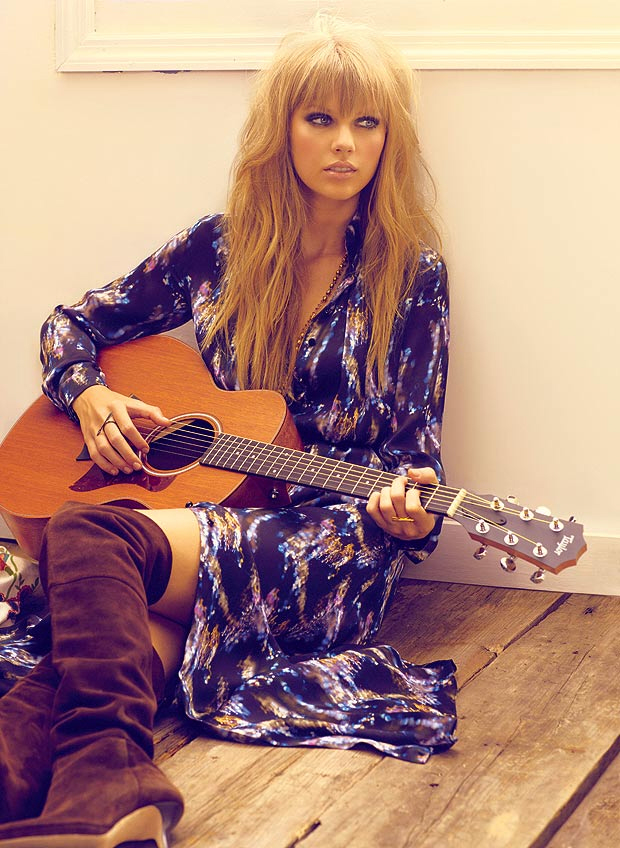 Taylor Swift covers the November issue of Marie Claire UK, and these are some bangsy shots from the cover shoot. It's not horrible, really. The styling reminds me of Swifty's Vogue pictorial earlier this year, which is to say "boho, 1970s, singer-songwriter, Joni Mitchell-wannabe". What's weird is that this is maybe the best styling for Swift, don't you think? It works on her.
When it comes to sharing her heartbreak with the world, Taylor Swift has been anything but shy.

But despite writing songs about failed relationships, Swift, 22, who has enjoyed a summer of love with Conor Kennedy, 18, keeps smiling and remains positive about dating.

The songstress believes in love "even after it explodes into a million pieces and burns down and you're standing in a pile of the ash of what it once was thinking, 'Why did I have to meet this person, why did this have to happen?' " she tells November's U.K. edition of Marie Claire.

"But then, when you make eye contact with someone across the room and it clicks and, bam, you're there. In love again," she says.

Asked if she falls for people she likes "easily," Swift replies, "Not if it's the wrong person, yes if it's the right person."

Sometimes that "wrong person" can end up being the subject of a tune – and she makes no apology for continuing to write about her boyfriends, adding that she doesn't warn them that they may end up immortalized in song.

"Well, it's not like it's in fine print," she tells the magazine. "But music is absolutely everything that I am and everything that I stand for. It's not my fault if someone gets into a relationship with me and then cheats and I write a song about it."
Ugh. "Not if it's the wrong person, yes if it's the right person." Girl… why are you lying to us? Or are you lying to yourself? Swifty loves love. She falls for a dude within two seconds, and within the first half-hour, she's already picturing a wedding and a baby and how she could easily sign him out of prep school to have sex with him in a New England bed & breakfast. As for "It's not my fault if someone gets into a relationship with me and then cheats and I write a song about it." That's a decent blind item. Who cheated on her? John Mayer (probably)? Jake Gyllenhaal? Probably. Who else?
Swifty also covers the new issue of Glamour Magazine, and you can read some excerpts from that piece here. Here are some highlights:
On her song "Dear John": I think that song really hit home with a lot of girls who had been through toxic relationships and had found their way to the other side of it. I've never looked out while singing a song during a concert to see so many girls crying.

On how John Mayer says the song is about him: "How presumptuous! I never disclose who my songs are about. No! I don't want to know, I don't want to know [what Mayer said about it]. I know it wasn't good, so I don't want to know. I put a high priority on staying happy, and I know what I can't handle. It's not that I'm this egomaniac and I don't want to hear anything negative, because I do keep myself in check. But I've never developed that thick a skin. So I just kind of live a life, and I let all the gossip live somewhere else. If you go too far down the rabbit hole of what people think about you, it can change everything about who you are."

Ponies and rainbows: I think some people think it's just apple pie and sunshine and sprinkles and ponies. Which is just funny. But I never feel the need to go out and make some grand statement that I'm dark and twisty and complicated, because I'm not that either. It's just not as simple as ponies and rainbows, though I do love ponies and rainbows.

What if someone uses her for fame? I think you can tell who's a good person to be around, who makes you laugh, who's fun, whom you can trust. And, yes, you're going to get burned a few times, but I'd really rather get burned a few times than sit alone in that house with the curtains drawn. So God forbid this person you're hanging out with gets a bit of validation out of the fact you're famous. Is that the worst-case scenario? You know, it doesn't seem that bad.
In the Glamour piece, she's also asked directly about her relationship to the Kennedy family, and Swifty says, "I don't talk about my personal life in great detail. I write about it in my songs, and I feel like you can share enough about your life in your music to let people know what you're going through." Girl… enough! She doesn't talk about her personal life? Except all the times that she does. I hate the faux-coy act. As for the Mayer stuff… well, it's not surprise. She can dish it out but she can't take it. I know John Mayer is a d-bag and everything, and if given a choice, I will always choose Swifty over Mayer. But it seems like we're giving Swifty special treatment if she can say whatever she wants about her ex-boyfriends and they get labeled a "douche" if they defend themselves.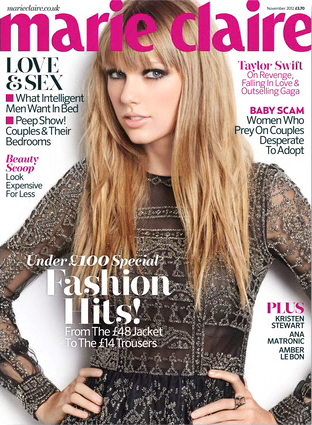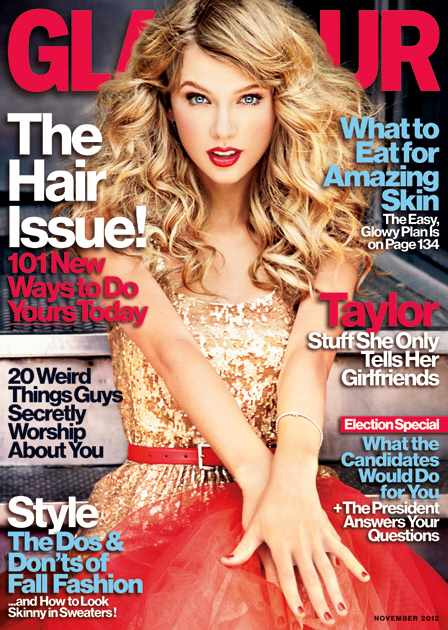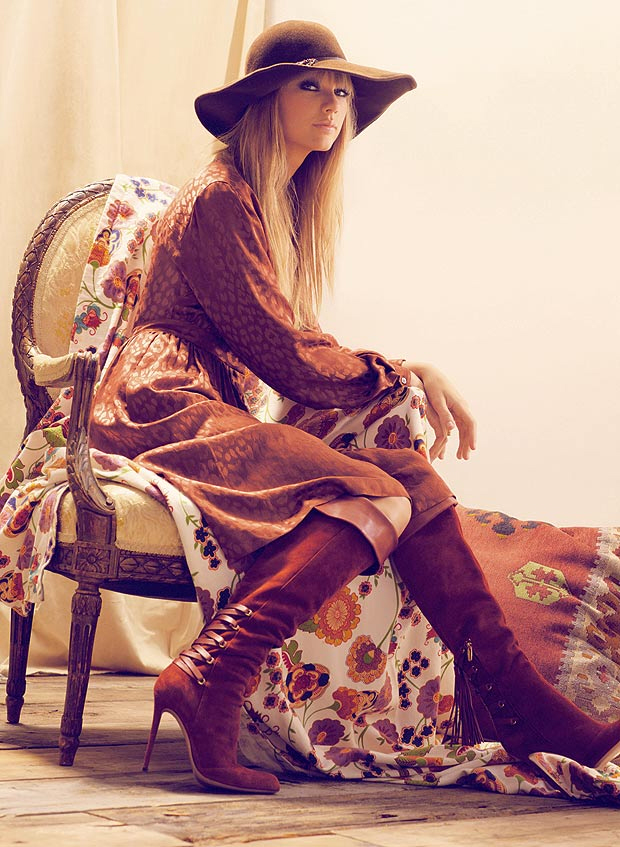 Photos courtesy of Marie Claire UK, Glamour.