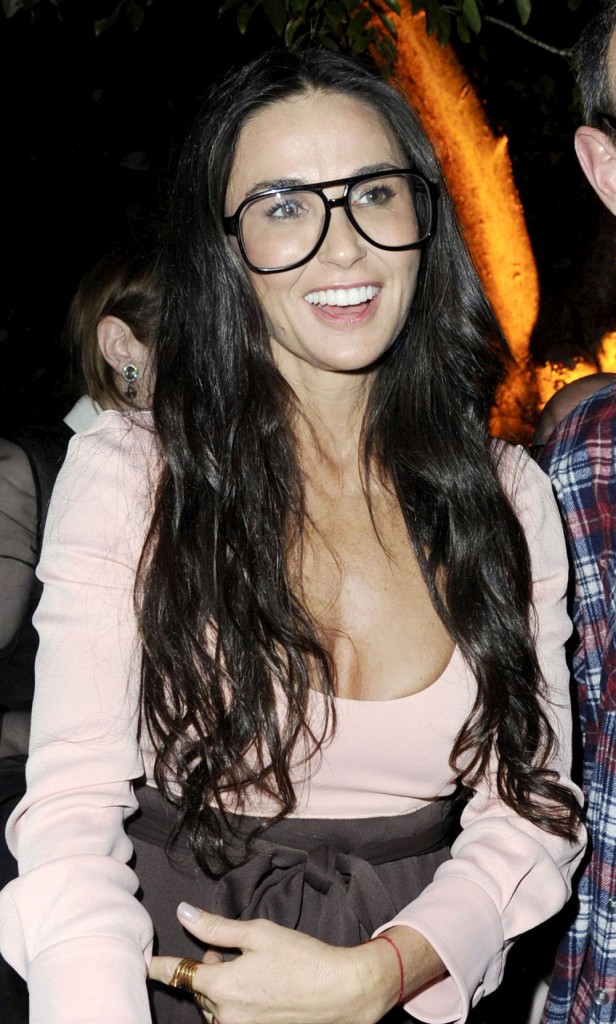 Demi Moore was widely criticized for acting the fool at parties for Art Basel in Miami about a month ago. She was photographed dancing like a chicken, and she was acting so goofy that her new much-younger boyfriend, 26 year-old art dealer Vito Schnabel, dumped her for potentially damaging his business reputation. After that we didn't hear much about Demi except when Ashton Kutcher filed for divorce at Christmas finally, after they were separated for over a year. So what did Demi do to get over her heartbreak? She headed to a fitness resort and boned a bunch of random young guys. That's one way to handle it:
Just after Ashton Kutcher filed for divorce from her, Demi Moore spent Christmas week shaping up at a bikini boot camp, engaging in yoga, Zumba dancing, circuit training, meditation — and hot hook-ups with younger men – according to a new report from Star.

A source described the bootcamp at Tulum, Mexico's Amansala resort as a "weight-loss vacation" where "guests tend to be accomplished women in their 30s and 40s," and word has it that 50-year-old Demi burned up more than a few calories between the sheets!

Eyewitnesses added that the soon-to-be ex-wife of Kutcher was seen retreating to her room with younger men more than once; and that the resort fielded a call from a guest grousing that Demi's "very, very loud sex" had been keeping them awake.

"Demi was clearly after younger men on this trip; they were all about 28 to 33," a guest told Star. "There were three or four older guys staying at the resort, fifty-plus, and I don't think she talked to them at all."

Another source said that in an odd twist, Demi wanted to be addressed by the name "Topper," an esoteric reference to a 1937 Cary Grant film in which a man lives his life to the fullest.

"Demi almost came across as, I wouldn't go as far as to say bipolar, but up and down," one source said, while another said that Demi's "back-and-forth behavior just kind of killed the mood."
I believe this happened, but I really want to at least see an instagram of Demi on the dancefloor at this resort. It seems like someone would have tweeted a photo of her or something. Also, what the hell is this "Topper" business? So Demi is going through a midlife crisis (a little late, no offense but it is) and she's embracing it? You know, it was actually really clever of her, in her ADHD drugged-out state, to use a guy's moniker. She's reminding us that if a man were cruising for young chicks on holiday no one would think twice about it. Or maybe she stupidly thought she had a genius pseudonym. I shouldn't give her too much credit. It's not like was trying to find herself on a spiritual retreat to a remote location. She was partying and bedding guys.
Update: Yes, there are pictures! Both Star and The National Enquirer have them this week, including Demi talking to some young guy and looking flirty, and evidence that she was signing up for activities as "Topper." Ridiculous.
Demi Moore is shown at a party in Miami for creeper photographer Terry Richardson on 12-7-12. Credit: WENN.com