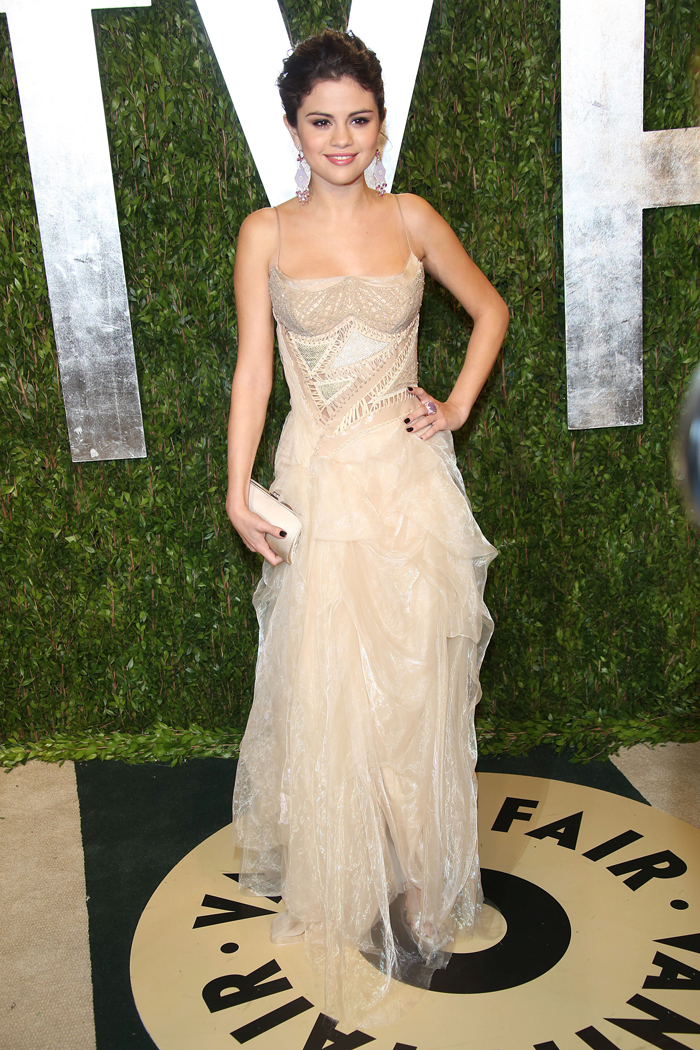 Selena Gomez worked it at the Vanity Fair Oscar party in a very adventurous nude Atelier Versace gown with bustier detail. She's been attempting to grow up right before our very eyes for a couple of years now, and even though Selena is 20 years old, that baby face will probably haunt her for the rest of her life. When she's 50, she'll be able to laugh at all of us with our adult-looking visages, but for now, Selena will suffer the wrath of her own beautiful cherub likeness. Certainly, there are worse things to endure, but I can understand why it must be frustrating to not be able to push past her teenage image.
In very recent days, Selena's mixed up some grown-up looks with a cute Gucci dress and a sexy Atelier Versace suit, but she doesn't have as much luck with this dress. For one thing, her rack looks conspiciously larger than usual in those bustier cups. Can I start a rumor about a possible Selena boob job here? Done. Seriously though (and to borrow a term from Kaiser), has Selena invested in some bolt-ons to make herself appear more mature? I couldn't say for sure, but her girls are suspiciously out there in a big way. Similarly, I also feel like those Lorraine Schwartz earrings are completely out of place, and some silver dangles would have been more appropriate. Her makeup looks good though — she's so pretty. Obviously, I'm quite distracted by the boob mystery at hand. Witness: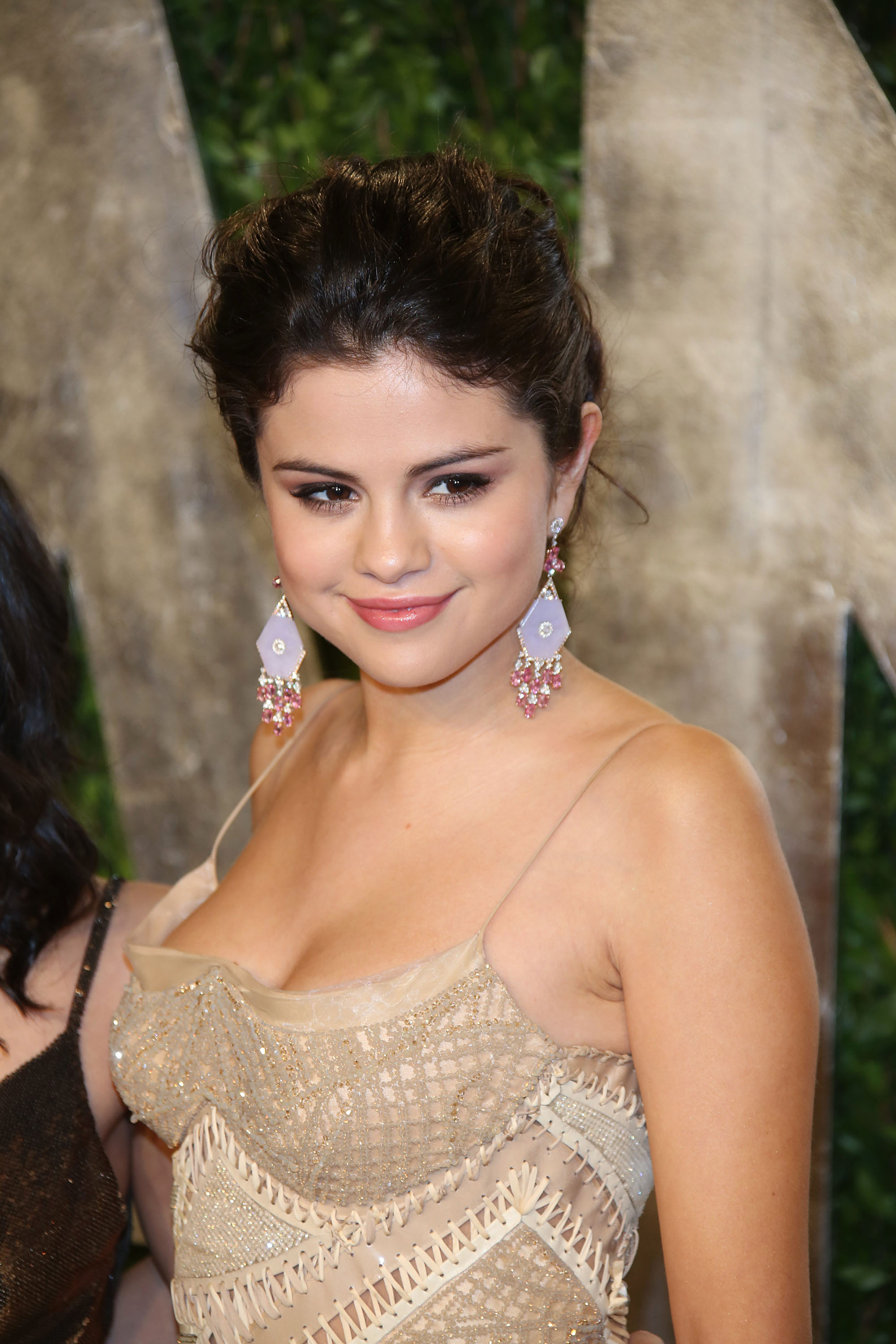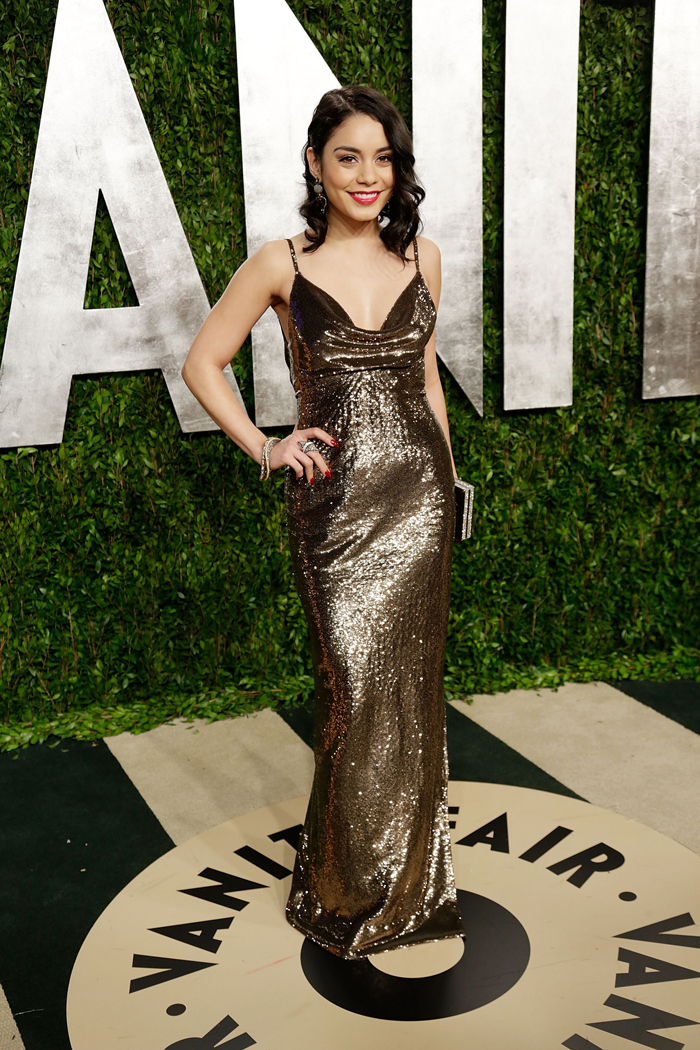 Vanessa Hudgens tried her very hardest to bring it in this shimmering, bronze Moschino gown with Jacob & Co. jewels. I think she succeeds here, don't you? She's a very cute girl, and this dress looks great on her figure. Her hair and makeup are both youthful and slightly glamourous, and I think Vanessa is one of the rare people who can get alway with a bold, red lip color. Yes, this is a win for Vanessa! If I were to hit a red carpet, I'd probably wear a dress just like this. Then I'd trip and fall just like JLaw.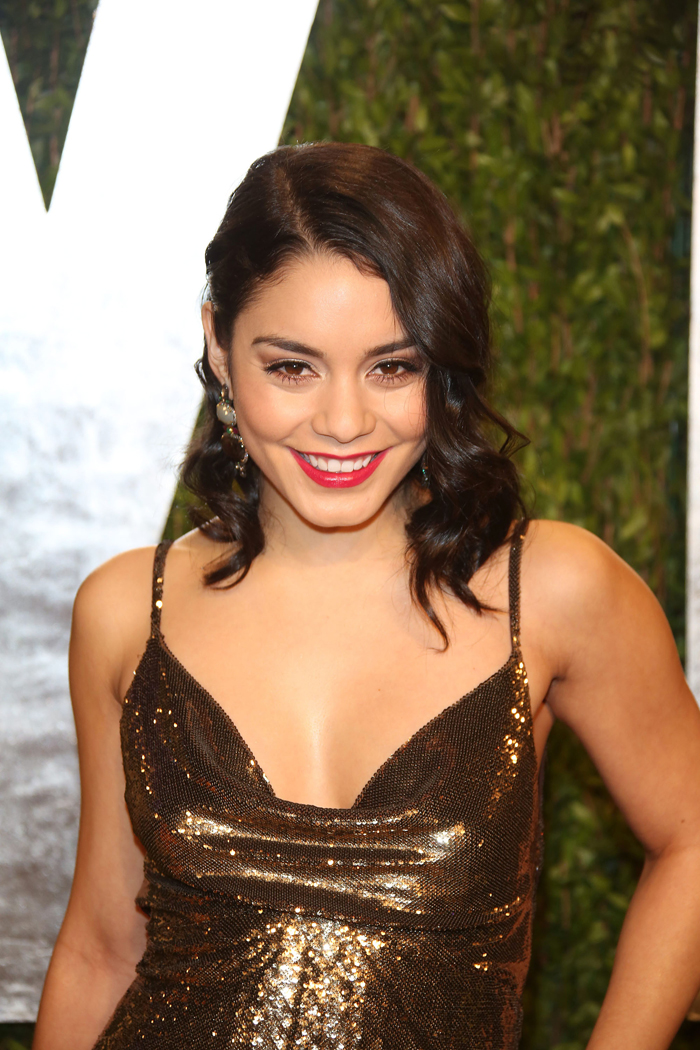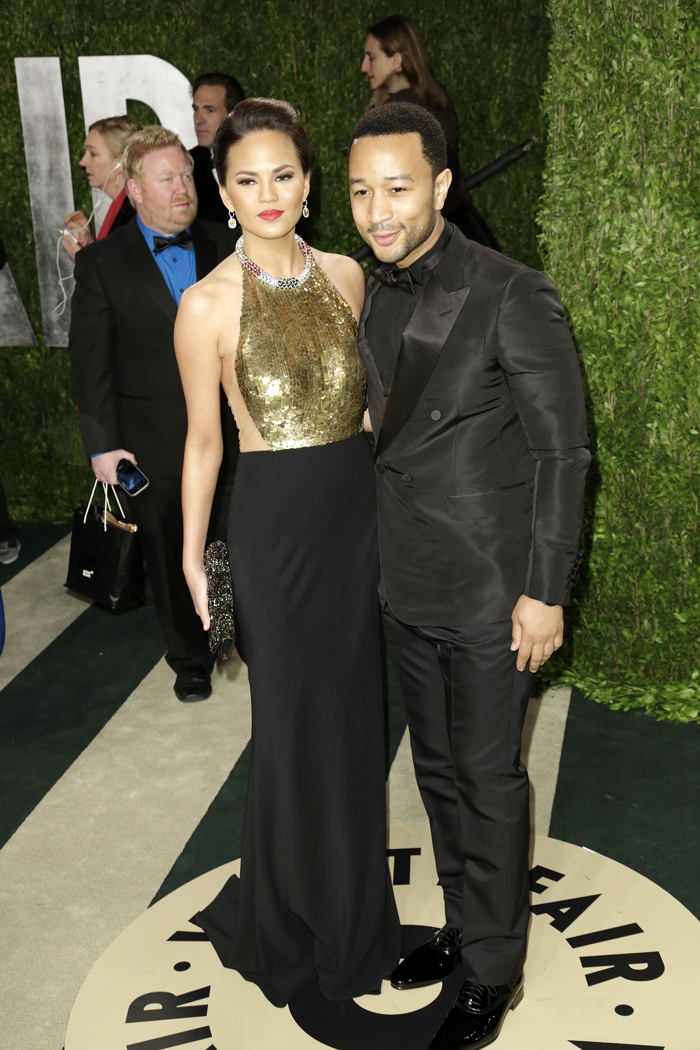 Chrissy Teigen and John Legend looked adorable together as always. I can't find a designer ID on this gown anywhere and even trolled through her Twitter page only to find a photo of Sally Field standing on the dress. I tweeted Chrissy for the designer ID; she didn't tweet me back, but she did follow me. Sadly, she might unfollow me if she ever learns that I don't understand this gown at all. The black column skirt is sophisticated, but the gold top half is quite perplexing. Clearly, there's a mesh overlay involved with the illusion effect, but it makes me cross my eyes trying to figure it out. Can I call this a statement dress? Is that allowed? So be it. I love Chrissy, but I'll freely admit that she has much better taste in food than VF party dresses.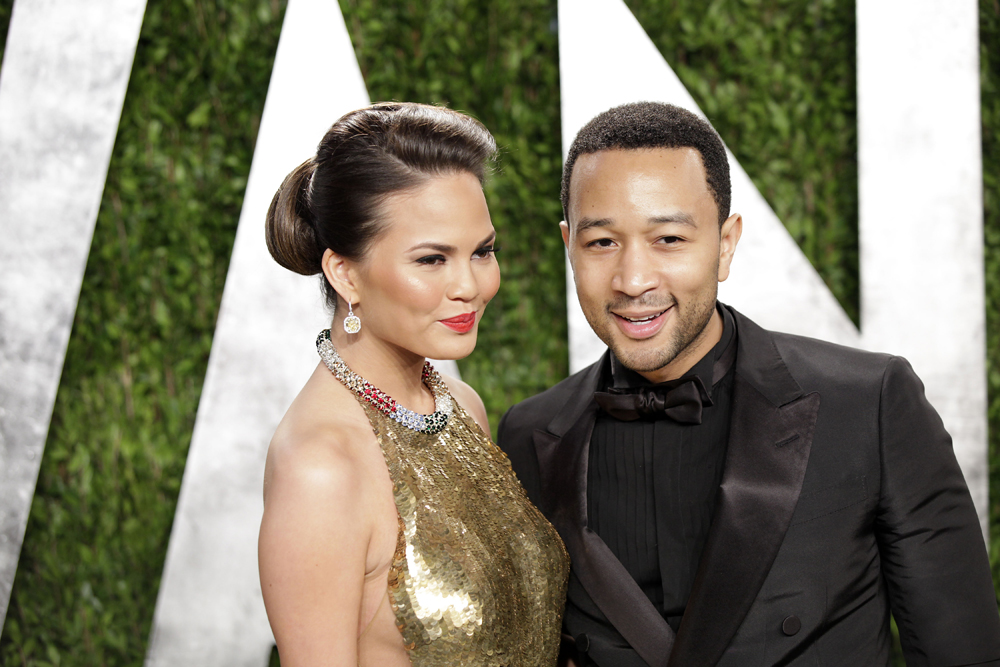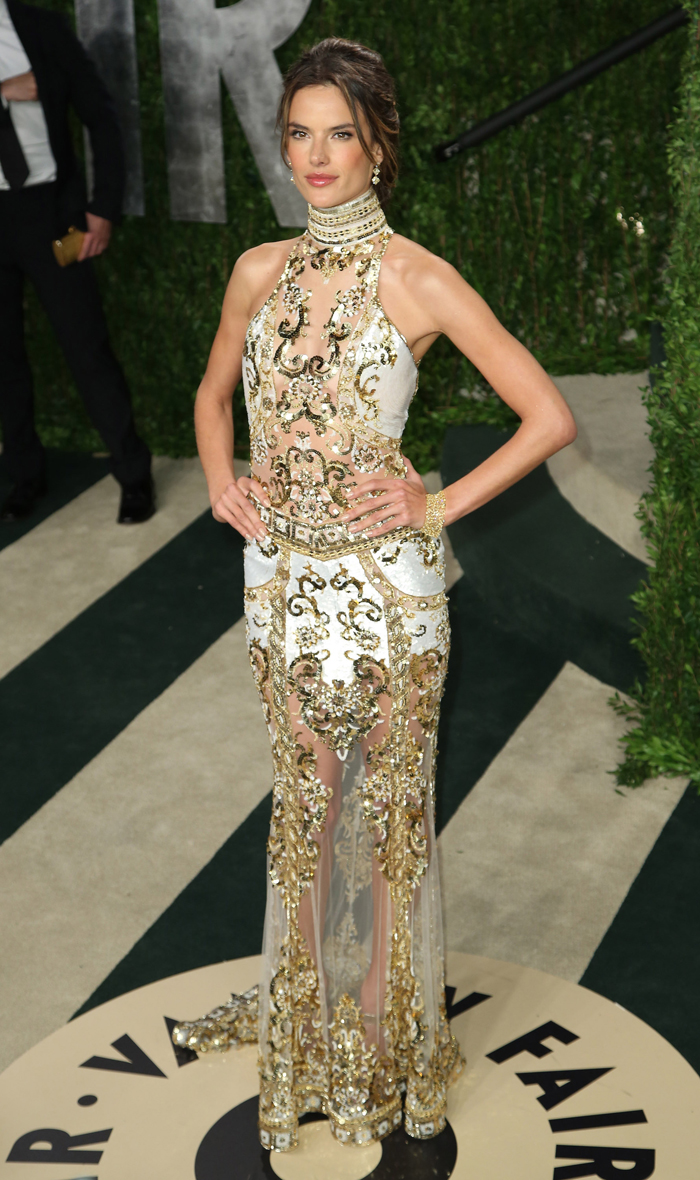 Alessandra Ambrosio wore a really awful gold, sheer gown by Zuhair Murad. There is so much going on here that I don't see how anyone could point out a good aspect to this dress. It looks like a kaleidoscope threw up all over toilet paper. It's completely awful, and not even a Victoria's Secret model can get away with this mess.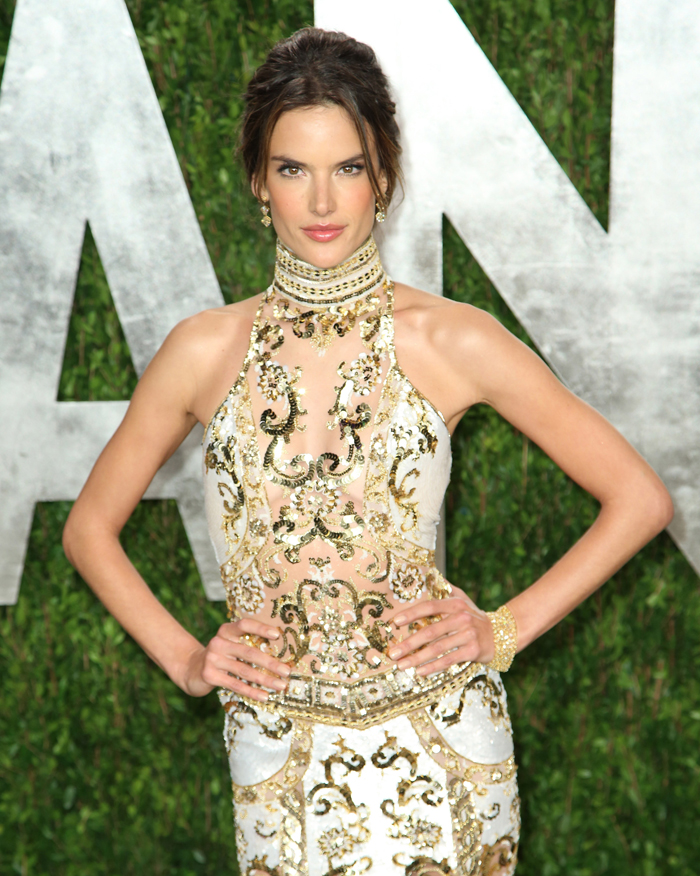 Photos courtesy of WENN