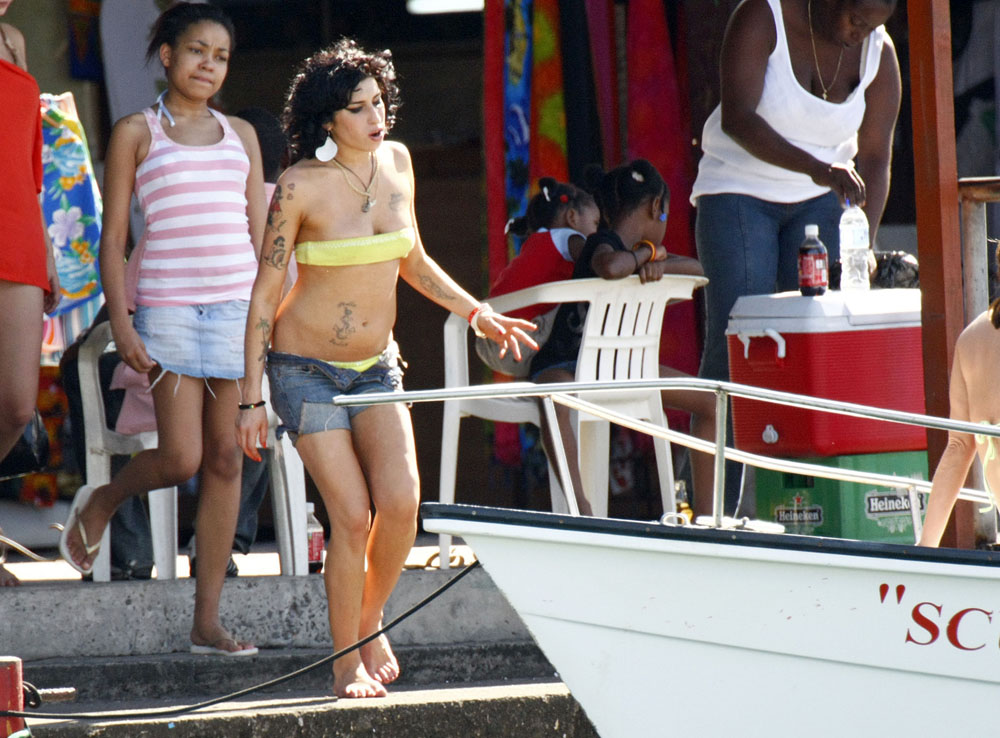 While on vacation in St. Lucia in the Caribbean, Amy Winehouse has found love.  This time, it's a resort employee named Matt who plays Santa Claus for the hotel.  Witnesses say the two have really hit it off:
"He seems to be really easy going and funny, which Amy loves.  She seems smitten.  She slopes off with him whenever she can and they have been inseparable since meeting.  They are about the same age and from what everyone has seen there is no doubt they have hit it off. Amy follows him around like an elf."
[from The Sun]
"Like an elf"?  It seems to me that Amy just needs someone to hang on to.  People have said that she and possibly soon-to-be-ex Blake Civil Felder fed off each other's addictions, and falling for someone new so quickly would fit this pattern.  But maybe I'm being too cynical.  While on vacation, she's been photographed dancing around topless and seems to be healthier than her usual coked-out self.  Despite the rumors, I don't think she's pregnant – her body's just adjusting to a new lifestyle with real food and fewer drugs (I hope).
This may also mean that Amy's treating herself better in the relationship department.  She's been in St. Lucia for quite a while, and this "Matt" fellow may even be the guy caught in these photos, but there's no way to really know. 
The article quoted above says that when confronted, Matt called Amy "lovely" and said that the two are hard to spot together because they always sneak off to somewhere quiet.  This is either a really good sign because she's trying to keep her private life private, or a bad sign because they're hiding and doing drugs.  I really hope it's the former.  I also hope that Matt doesn't turn out to be as big of a skeeze as Alex Haines, Amy's most recent boyfriend, who sold his story to News of the World.
Picture note by JayBird: Here's Amy in the Caribbean on December 22nd. Images thanks to Bauer-Griffin.