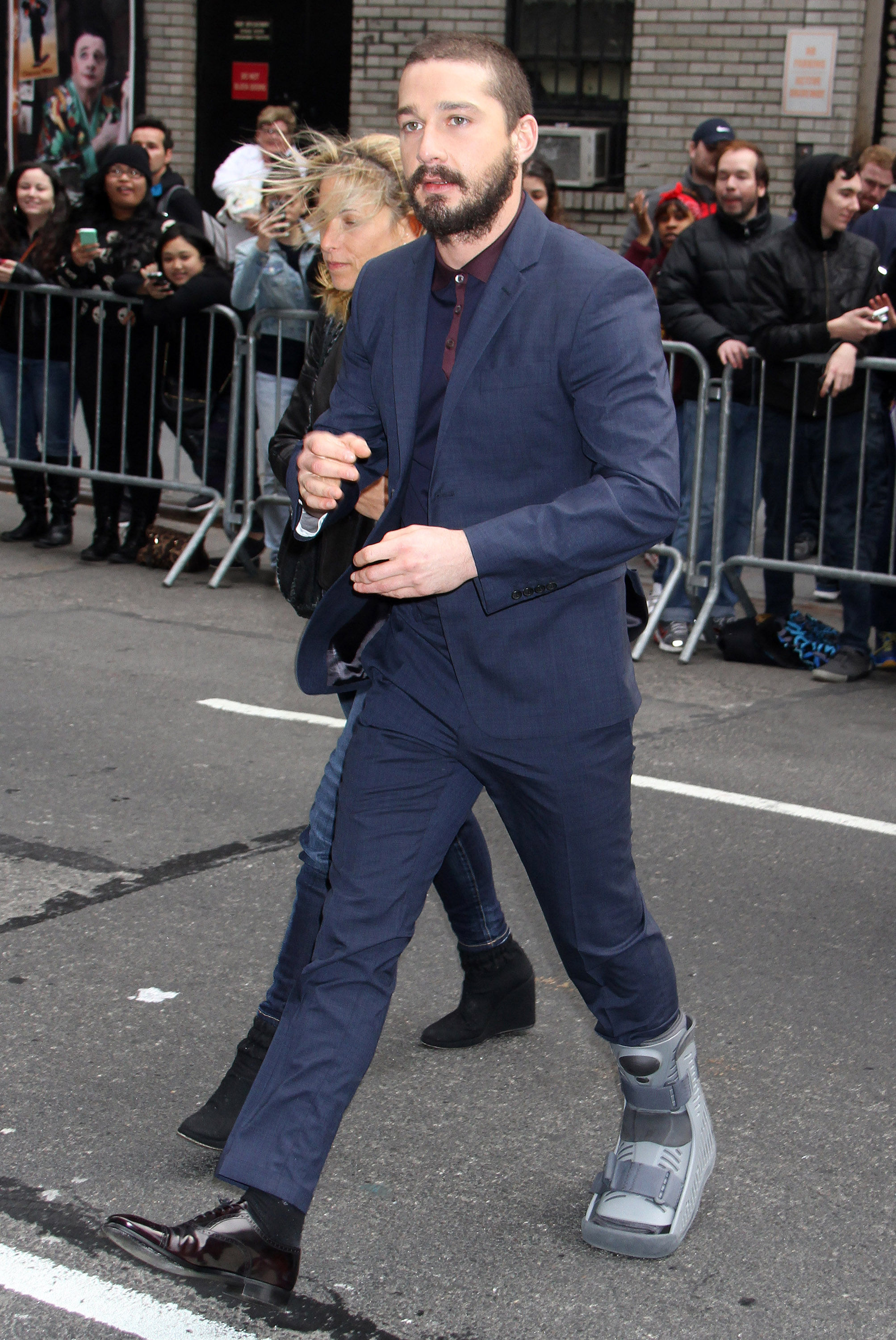 For absolutely no reason at all, Shia LaBeouf appeared on the "Late Show with David Letterman" on Monday evening. Actually, there is a reason it happened — officially, to promote The Company You Keep (the movie where he looks like a hipster Unabomber) in limited release — but it really seems like Shia merely stopped by to talk with Dave about his ongoing feud with Alec Baldwin. I'll let that settle in for just a moment.
To recap, Shia is still trying to recover from his failure to execute a Broadway debut alongside Alec and Tom Sturridge in Orphans. Shia left the play after he and Alec clashed, and Shia ended up being the first one to punch a hole in a door backstage. Shia was quickly replaced by Ben Foster, and Shia didn't know how to handle his first professional failure. To be certain, Shia's been acting like an immature dweeb and biting the proverbial hand for the past few years with no repercussions. He even gets into bar fights and then Bob Redford merely slaps him on the back on set the next day. Now Shia has actually failed at a job that has quickly moved on without him, and the dude just can't handle it.
Hence Shia's need to post a plagiarized apology letter to Alec online, and his inability to stop publishing private email conversations between himself and co-workers just to make himself (in his eyes) look good. Then he started posting not-so-cryptic summary dismissals of theater as an art form, and Alec once again managed to look like the good guy in this fight by refusing to engage Shia other than to say Shia has no experience to judge in this matter. That had to kill Shia, so he tried to make himself look like a big man last week by purchasing a $127 orchestra ticket to a preview performance (and posting photo proof) of Orphans, and now he's visited Letterman to make his case.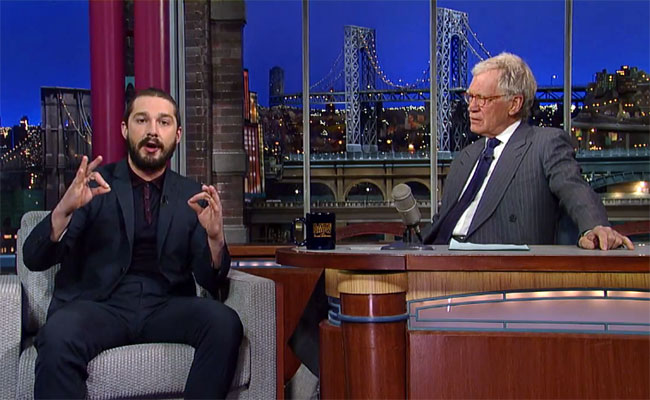 Naturally, Letterman gave a wonderfully stitled lead in to this interview and basically let Shia destroy himself in front of the audience. Letterman provided some leading questions to get Shia to admit that he was fired (and didn't quit, which was the assumption that Shia let ride until now). Quite amusingly, Dave also suggested that it could have been Alec (who is Dave's real-life friend) who told the producers to fire Shia, and Shia just let that one slide too ("I think that might've been what happened) either because he was too dumbfounded to deny it or because it really happened. Who knows?
Shia went on to describe why he and Alec clashed during production of the play — because they're both so "passionate and impulsive." He further dug that hole by adding, "Me and Alec had tension as men, not as artists," which was met with awkward giggles from the audience. LOL. Then Shia delivered a weak attempt at reconciliation: "Alec, I think you're awesome, man. That's it." Here's a video clip if you want to witness this tragic douchery for yourself:
For what it's worth, Shia also talked about why he's walking around in a boot after hurting his foot. That part isn't so interesting, but here's a clip anyway:
After Shia bid farewell to Dave Letterman, he headed towards the The Company You Keep NYC premiere. Ireland Baldwin was at the premiere too! Alec needn't worry about Shia putting his moves on Ireland, since he's already taken, and I'm sure Ireland will manage just fine without breaking off a piece of that hipster douche.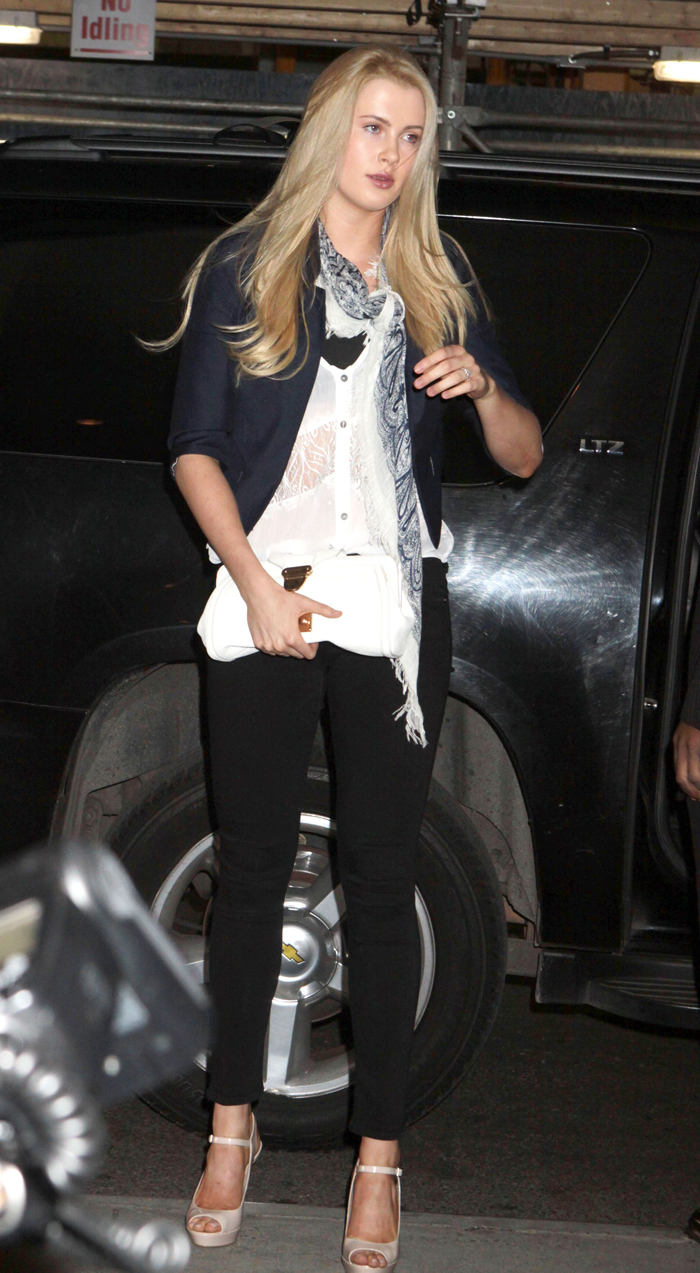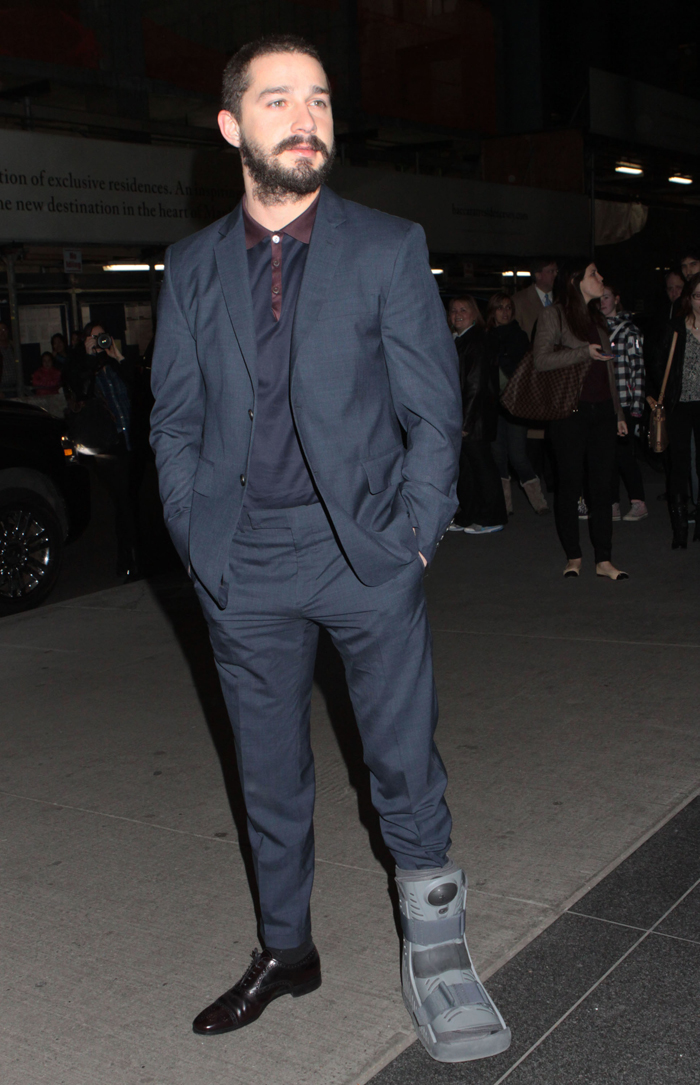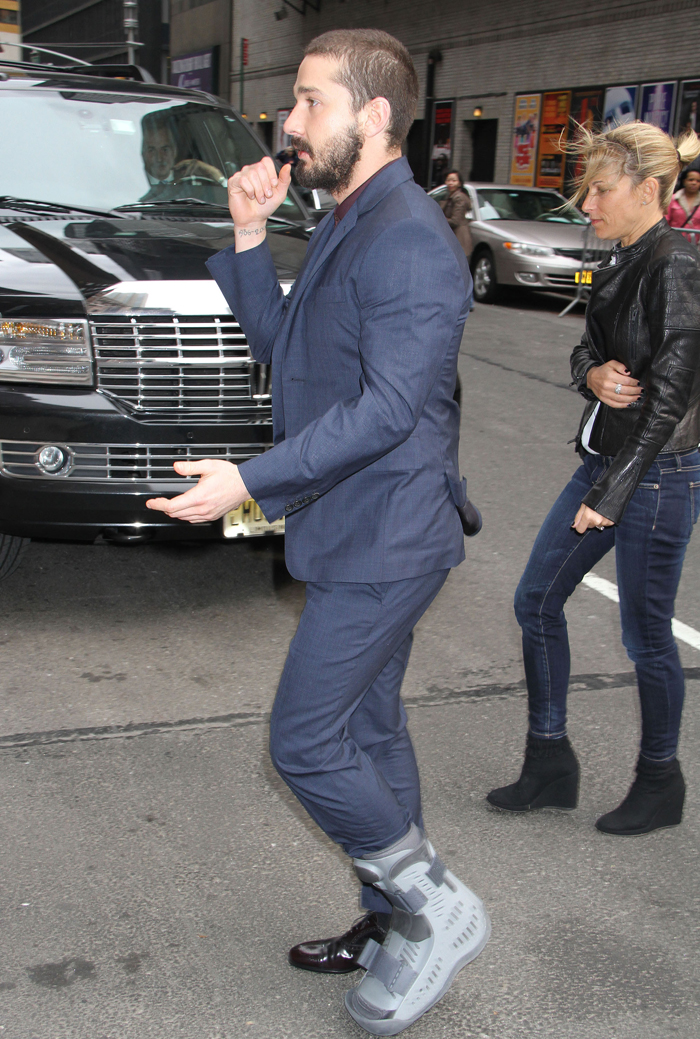 Photos courtesy of Fame/Flynet