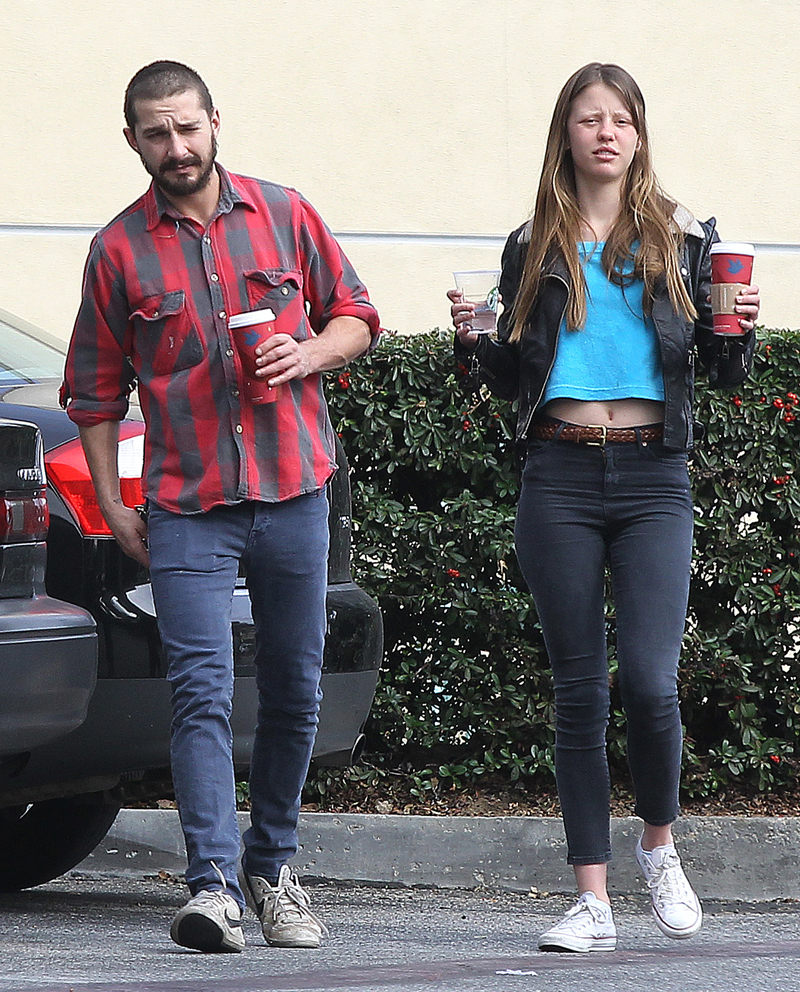 Here are some photos of Shia LaBeouf and his semi-new girlfriend, Mia Goth, way back in December. We never got around to publishing these pictures because, well, it's Shia LaBeouf. He's not exactly of the "would you hit it?" variety. Anyway, Mia is also Shia's co-star in Lars Von Trier's upcoming film, N-mphomaniac, which is the movie where Shia says that he does actual sex onscreen. You know I'll just have to gross myself out by watching that movie.
At the moment, however, Shia's career has hit reverse. You know how he was supposed to be abandoning mainstream movies in favor of being an indie king? Well, a Broadway debut was also part of that plan because Shia wanted to build up some serious acting cred. It was a decent plan, and he managed to land a respectable play, Orphans, which will also star Alec Baldwin and Tom Sturridge. Sadly, Shia's plans for onstage glory have been cut short due to what Playbill calls "creative differences." As in, Shia got angry, punched a backstage door, and quit that bitch. Playbill doesn't mention the true reason for Shia's departure, but Shia admits as much via his Twitter account, in which he posts an "I'm sorry" email that reads, "I'm a child / don't mind me" to one of the producers of the play. Here's the sugarcoated Playbill postmortem: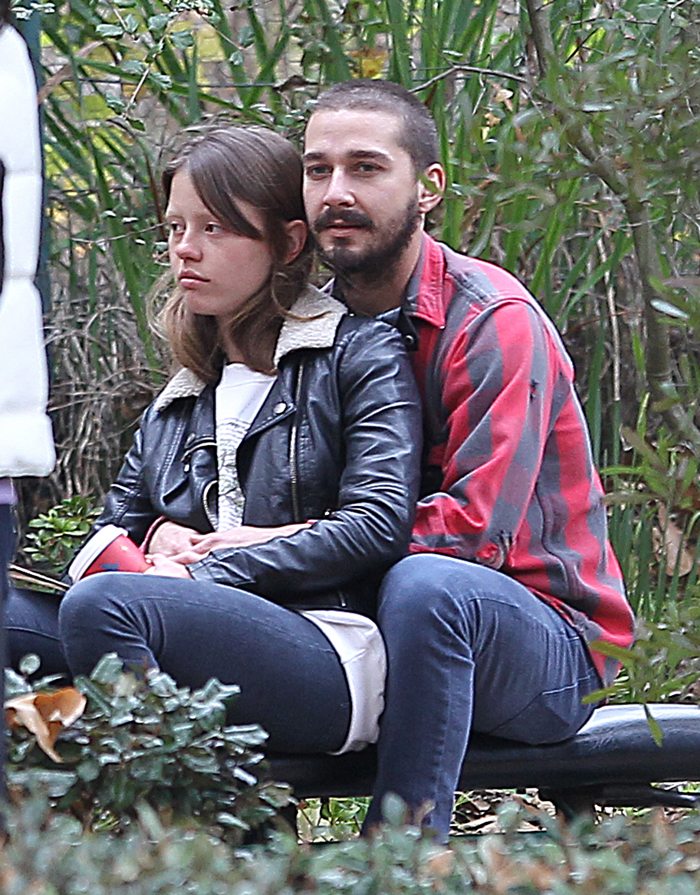 The producers of the Broadway debut of Lyle Kessler's Orphans announced Feb. 20 that film star Shia LaBeouf has departed the upcoming production "due to creative differences." The play would have marked the actor's Broadway bow.

An announcement on the replacement for the role of Treat will be made shortly.

The three-person drama, starring Alec Baldwin and Tom Sturridge, will begin previews March 19 at the Gerald Schoenfeld Theatre, with an official opening scheduled for April 7. Daniel Sullivan directs.

In the play, according to press notes, "two orphaned brothers are living in a decrepit North Philadelphia row house. Treat, the eldest, supports his damaged younger sibling Phillip (Sturridge) by petty thievery, and makes the house a virtual prison for the seemingly simple-minded Phillip. One night he kidnaps a rich older man, Harold (Baldwin), who turns out to have his own motives and becomes the father figure the boys have always yearned for."

Orphans premiered in 1983 at The Matrix Theatre in Los Angeles where it won the Drama-Logue Award. Following its 1985 engagement at Chicago's Steppenwolf Theatre, the play had a successful run at New York's Westside Arts Theatre and was subsequently produced in London. A film version was also produced.
[From Playbill]
Is anyone else surprised that Shia is the one who "quit" this play after resorting to violent measures to express his frustration? I mean, this could have easily been Alec Baldwin, whose well-documented rage monster incidents persist to this day. Maybe Shia and Alec aren't so different from each other — after all, Shia has his fair share of bar fights. The difference? At least Alec knows how to suck it up and be a professional while he's getting paid.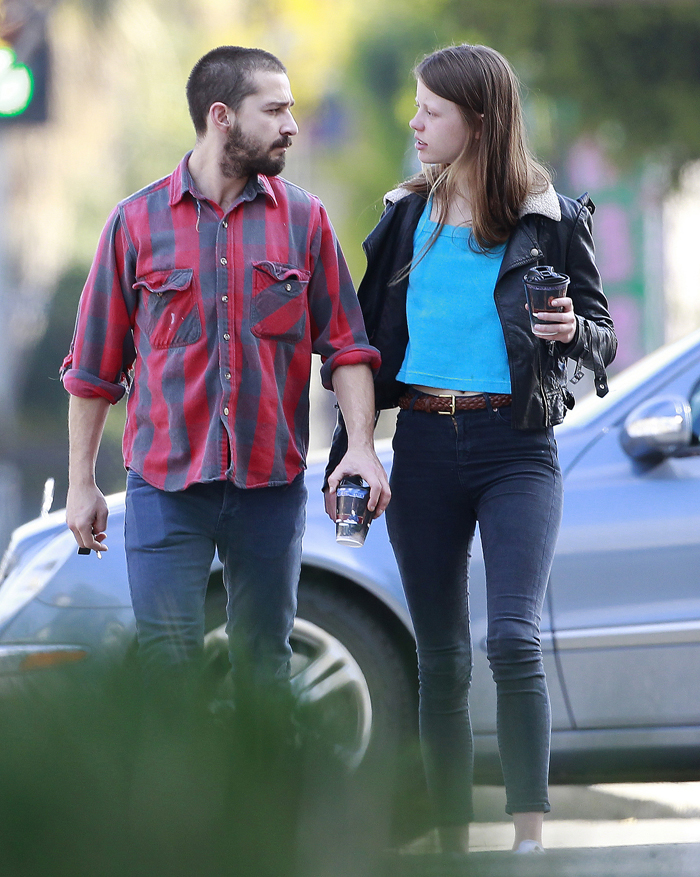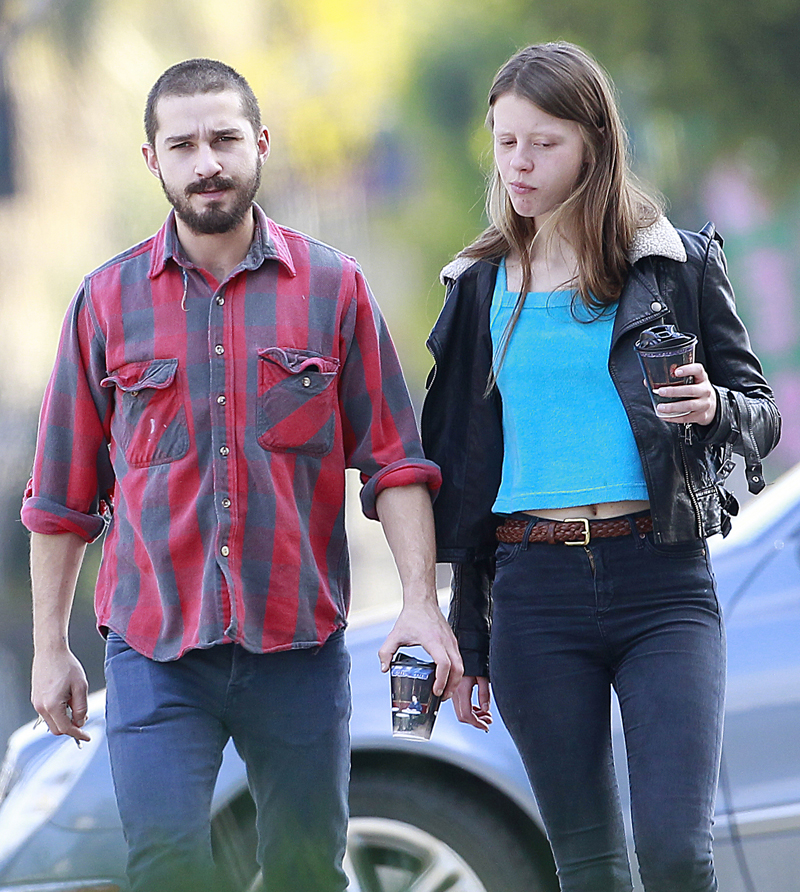 Photos courtesy of Fame/Flynet