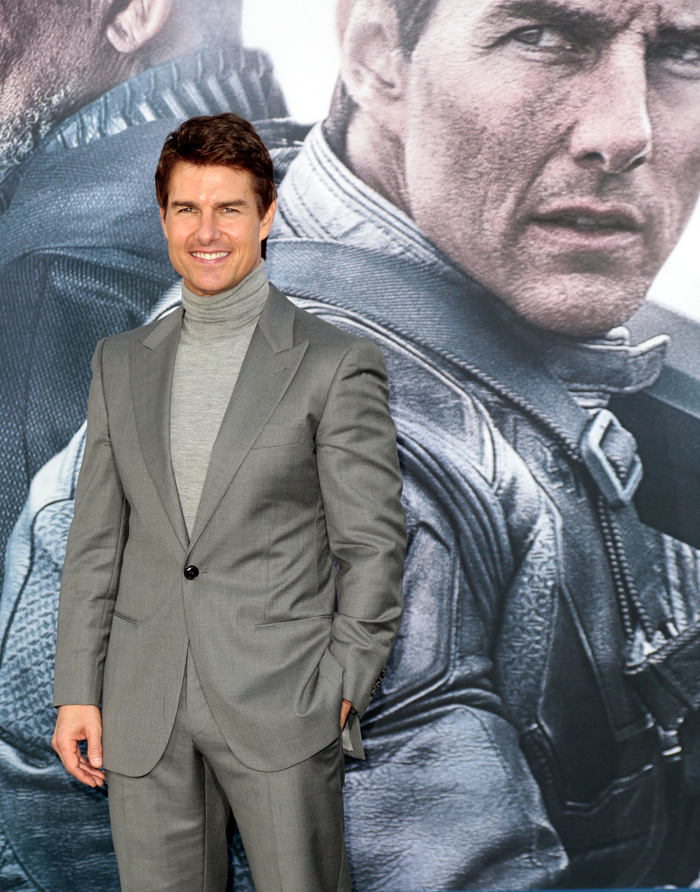 Yesterday, Kaiser linked up Tom Cruise's rather uneventful turn at the Los Angeles premiere of Oblivion, and (to a few of you) yes, I saw those hush-hush comments after this post which alluded to Tom's amazing physical state as a 50-year-old man. I read everything that has to do with Tom Cruise, so don't even try to pull a fast one on old Bedhead. With that said, I agree that Tom looks good, and I think he might have had something done to his face recently. As in, he had plenty of time between "generously" wrapping All You Need Is Kill and these promotional rounds to visit his favorite Brazilian plastic surgeon for a refresher. That could be the reason for that silly turtleneck too — all the better to hide new scars! Anyway, Tom showed up five hours early to work the crowd.
FIVE hours.
That's not what a "nice guy" does … that's what a "creepy guy" does.
One or two hours would be "nice," but five is "creepy." See the difference, Tom?
Now onto the subject of this story, which has to do with Isabella Cruise's boyfriend, Eddie Frencher (you can see a photo of him here, she is shown with her brother below), who signed the Sea Org's infamous billion-year contract last summer and shipped off to Gold base. There was much speculation that Isabella wanted to follow her boyfriend, but Tom's rep shut that rumor down because (let's face it) there's no way in hell that Tom Cruise would let his little girl commit herself to a life of slave labor and eating rice and beans for her next several lives. When the initial story of Eddie's fate broke, some of you speculated that Tom might have actually organized the entire affair so that Isabella wouldn't be able to see Eddie. That makes sense, but now Eddie has quit the Sea Org and, as such, he is now a disgraced member of Scientology. Note: Star makes an error in this story by claiming that the Sea Org members work eight hours a day for very little pay. Actually, it's more like fourteen hours a day for about $50 per week. Here are the details from Star, which cites Tony Ortega's blog as a source and claims that Tom will not be happy to see the return of Eddie Frencher:
When Katie Holmes blindsided Tom Cruise by filing for divorce last year, the actor leaned on the two people who have remained a constant in his life all these years: his kids Connor, 18, and Isabella, 20, whom he adopted with his ex-wife Nicole Kidman.

But now one of those relationships may be hitting some turbulence. One of Scientology's most vocal critics, Tony Ortega, alleges that Isabella's longtime boyfriend, Eddie Frencher, has abruptly left Scientology's elite clerical order, the "Sea Organization," after just five months — and says that decision could have repercussions for Tom and his beloved daughter Bella.

"Leaving Sea Org isn't looked upon favorably by Scientologists, so Eddie leaving could cause a rift between Tom and Isabella," says Marc Headly, a former Scientologist and Sea Org staffer and author of Blown for Good: Behind the Iron Curtain of Scientology." "Isabella is still in Scientology, andt ehre is pressure on her to shine because Tom is one of the church's main figureheads."

The Sea Org — in which officers work eight-hour days for almost no pay and sign a billion-year contract to symbolize their eternal devotion to the religion — is considered the ultimate committment by followers. If Eddie told Isabella "what a horrifying experience it was," Headly says, "that would definitely turn anyone off. It wouldn't surprise me if she pulls away from Scientology."

Bella is fiercely devoted to Eddie (and planning to marry him, according to Ortega, whose website, The Underground Bunker, puts Scientology under a microscope), leaving church watchers whether she could find herself caught between the two men she adores most.

"I'm lucky — my kids are really loving," the Mission: Impossible star has said, adding that his daughter is "a good girl" — and one who has a mind of her own: "Bella has a very strong sense of herself."
[From In Touch, print edition, April 22, 2013]
This could get tricky because Isabella is utterly financially dependent upon Tom, and I don't necessarily fault her for this because she was educated only in Scientology schools, so she didn't really learn any life skills, and I imagine poor Eddie Frencher is in the same boat. As such, it would be hard for her to pull away from the CO$. I absolutely believe that Tom would completely cut Isabella out of his life if she left the cult, and I think he'd do anything to make sure she didn't keep dating someone who was such a "disgrace" that he left the Sea Org. I guess we'll have to wait and see how this shakes out, but I feel for these kids.
In other Tom-related news, the dude is still insisting that he never said those things about feeling surprised at Katie's divorce filing last year. Now he is refusing to answer questions about his love life except to say that he is focused only upon his work. So he's still single? Go get him, Julianne!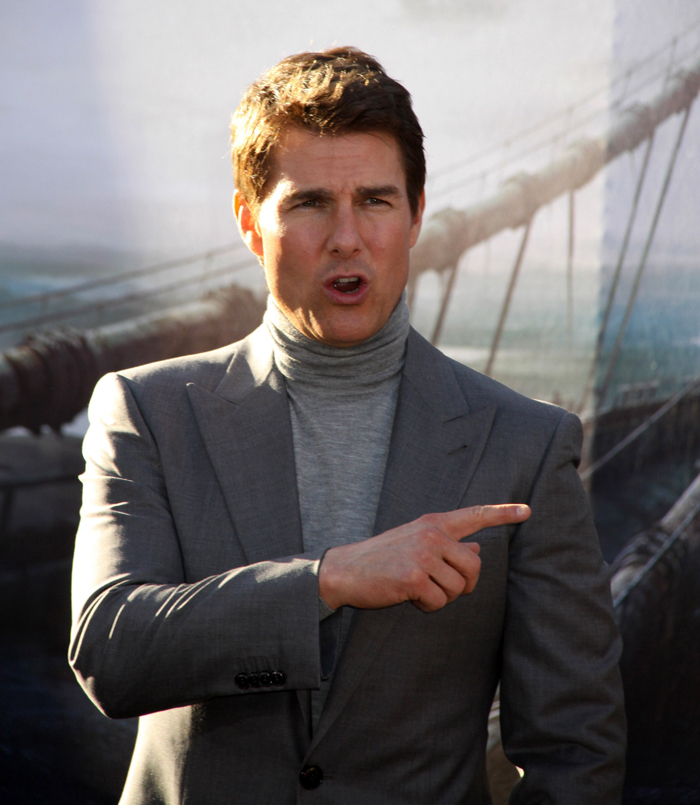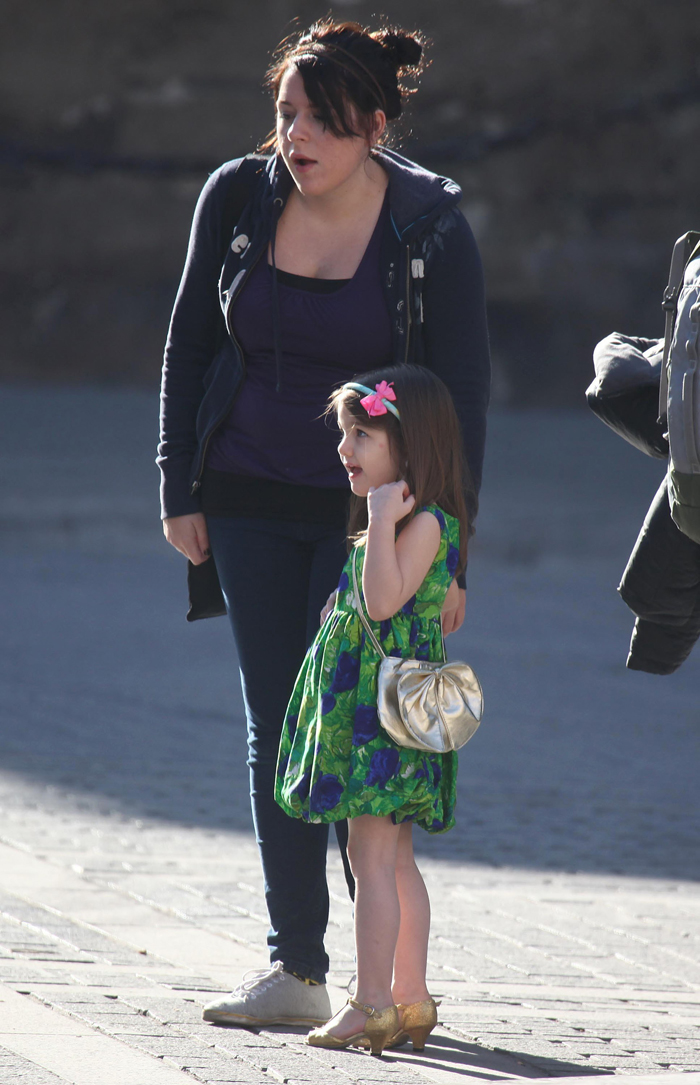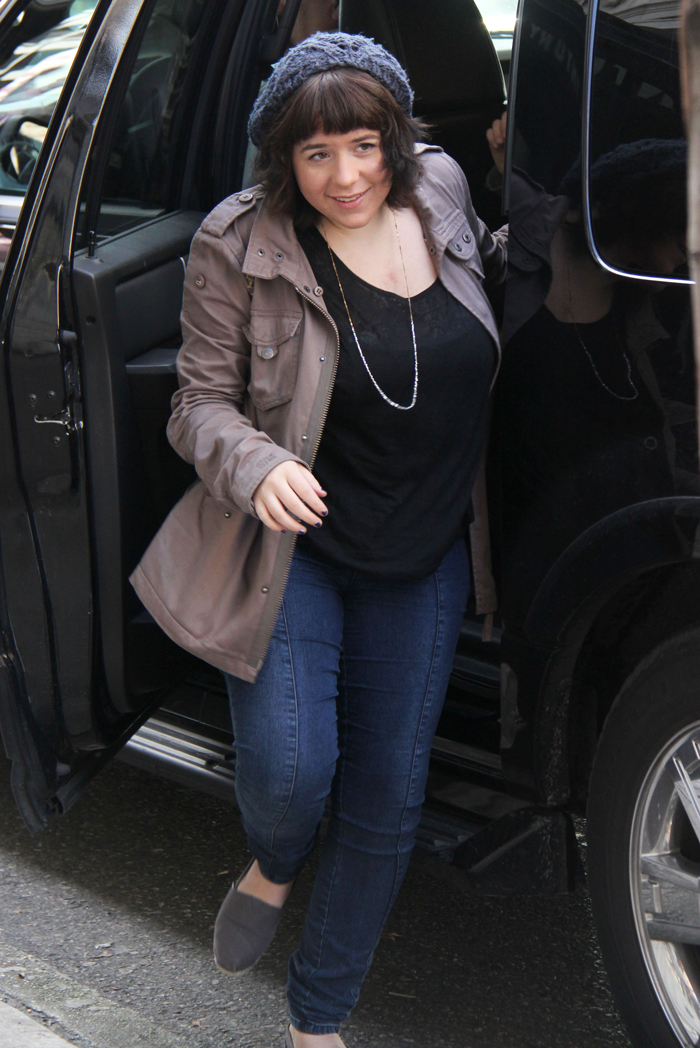 Photos courtesy of Instagram, Fame/Flynet, and WENN