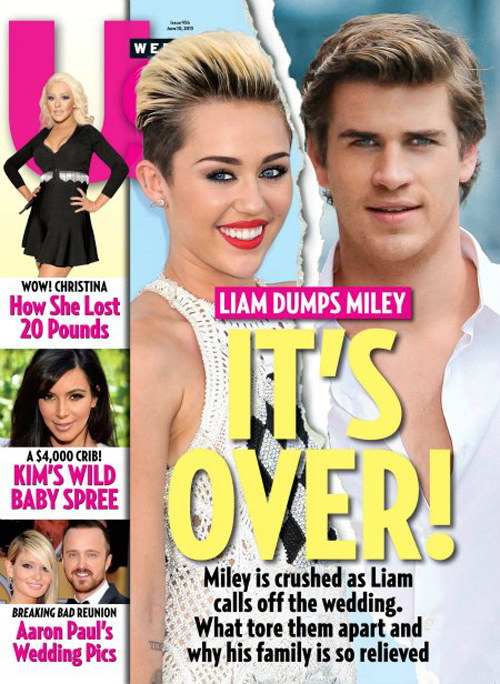 Before jumping into this story, I'd like to remind everyone that this relationship drama between Miley Cyrus and Liam Hemsworth has been going on since late February when Liam allegedly made it with January Jones in the back of a car after a pre-Oscar party. That equates to over three months of either needlessly drawn out or purely fabricated drama, and I tend to think that it's a hefty combination of the two. My take? Liam has wanted out for several months, and he didn't have the guts to pull the trigger, and Miley has been waiting around (in denial) and hoping that Liam would change his mind. Surely, the process has been quite torturous for Miley because there are few (first-world) things worse than being in a relationship and wanting to stay there while the other party is hedging and dragging his feet as to what he or she desires.
(Miley, I've been there. The good news? Eventually, it gets easier.)
This week's cover of Us Weekly is taking a pretty straightforward stance by claiming that "It's Over!" between these two young lovers. The report follows months after endless back-and-forth between the two parties' different publicity camps that has wavered between a Hemsworth brothers-styled intervention and allegations that Liam demanded an open relationship while Miley allegedly begged for couple's therapy. To be certain, this is an utter mess, but Us is standing firm with its latest story. As always, Hollywood Life has received some advance quotes that claim, "They are definitely over" because Liam was "miserable." Here are some more details:
Liam dumped Miley because he was 'miserable,' says a shocking new report. Here is the new insight as to why Liam ended their engagement, and what pushed him to do it.

Liam Hemsworth and Miley Cyrus are over once and for all, and a report reveals the several reasons why Liam decided to dump Miley. From her rebellious ways to their lack of passion, Liam and Miley became "more and more out of sync."

Miley, 20, and Liam, 23, met on the set of The Last Song in 2009, but their four year romance is now over for good, a new report claims.

"It's strange," a Miley source told Us Weekly about the end of her relationship with Liam. "He's like a roomie who she can have fun with and be silly with — but there's no passion."

To make matters worse, Liam thought Miley was "immature." "She was acting out," says the source about Miley's dramatic blonde makeover. "She felt somewhat neglected by Liam and wanted her presence known."

"Liam always admired Miley's independence, but this was more like a rebellion, and it freaked him out. She has undergone a complete personality change. She's basically thugged out," continued the source.

Liam originally loved Miley's wild side, but it began to grate on him. "He used to be obsessed with the way she would go wild. But it got more childish to him. He's growing up — and fast. At first they were yin and yang, balancing each other out. But they got more and more out of sync."
[From Hollywood Life]
Meanwhile, Hollywood Life also heard from a source that claims Miley is still in denial: "She still thinks that Liam is going to marry her, even though things have been SO up and down. She really doesn't want this to be over. He gives her totally mixed signals! He's putting her through hell." Further, Miley has yet to return her ring, which doesn't seem like a huge deal to me. Why does Liam really need the ring back?
Who knows if this Us Weekly story is really true or is simply a retread of stuff we've heard already. Seriously, I can't believe that this inevitable breakup has been dragging out for over three months in the tabloids … with no concrete affirmations or photo ops taking place. Just put out a joint, publicist-dictated statement and be done with it, kids.
Here's photos of Liam leaving the gym yesterday; meanwhile, Miley was on a photoshoot of some sort. Separate lives, man. Separate lives.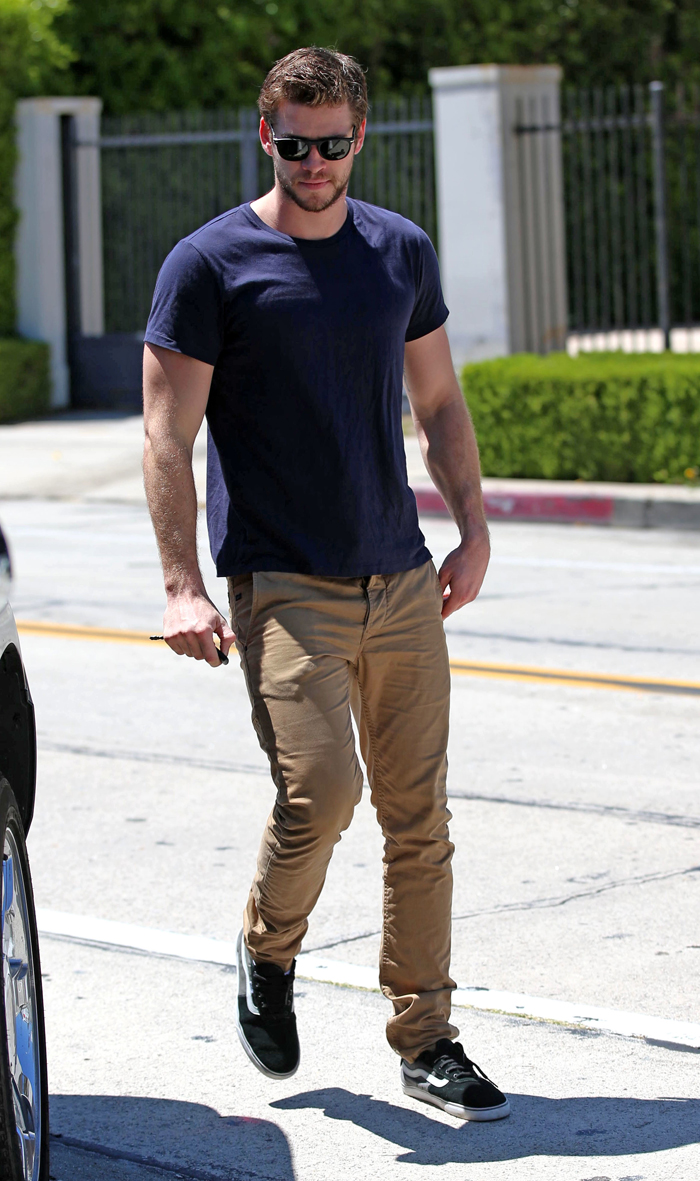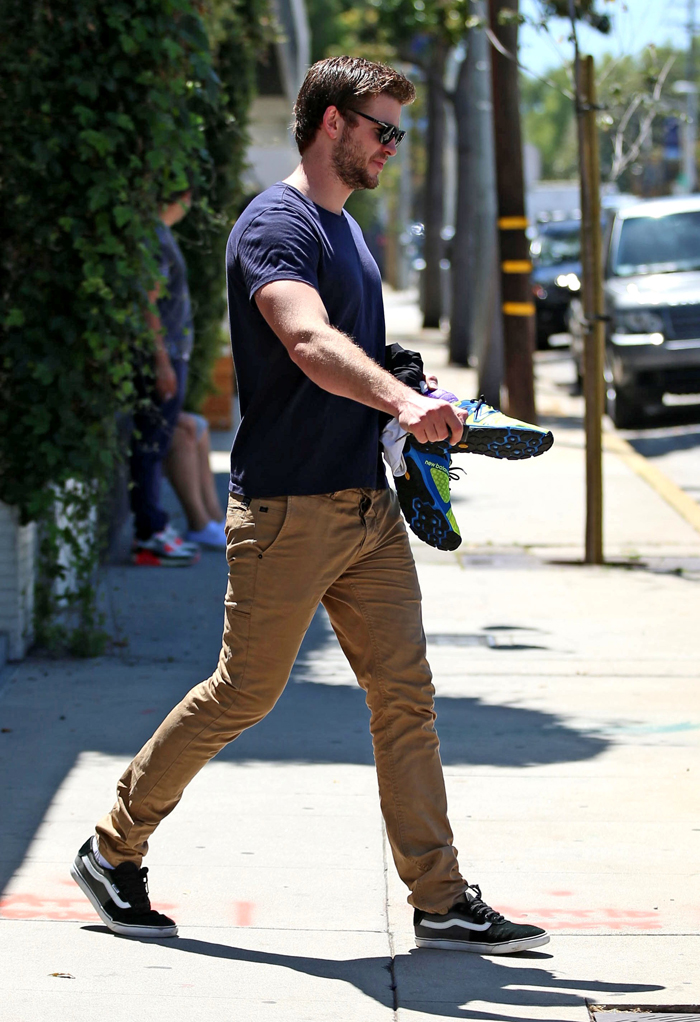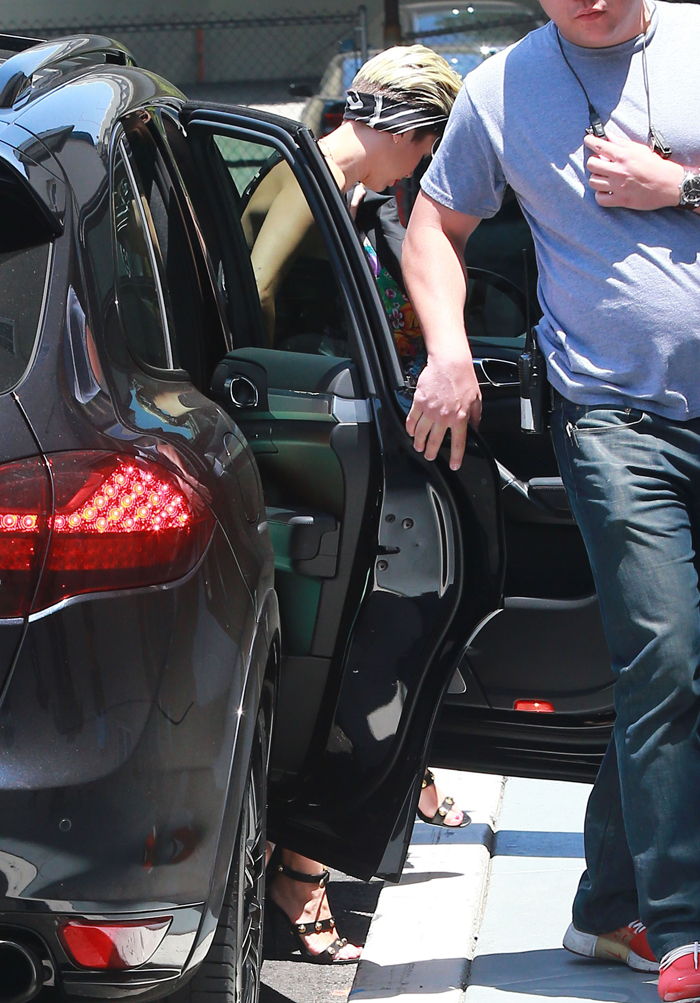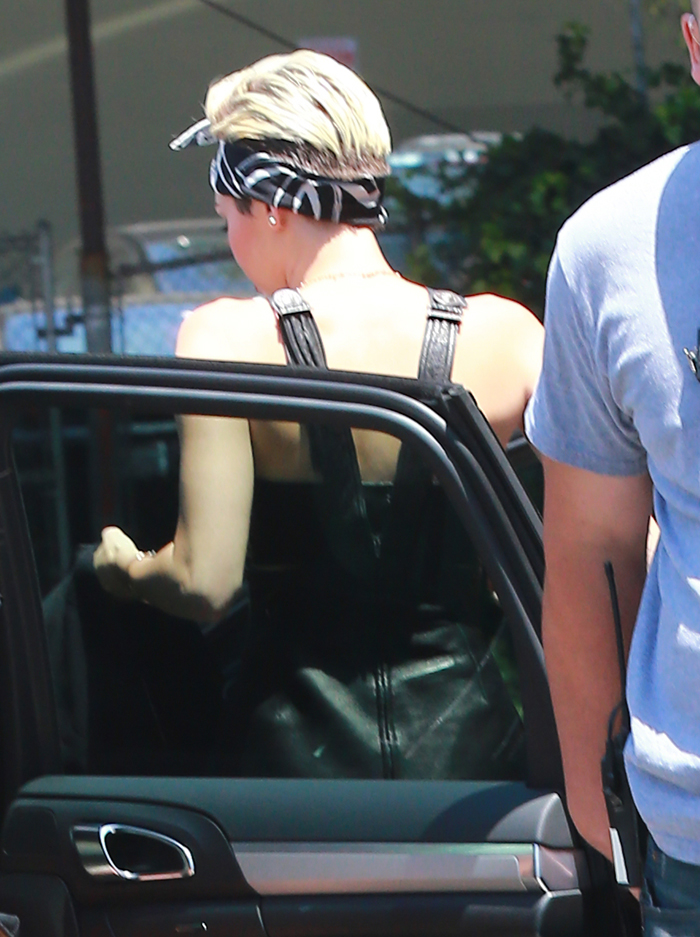 Photos courtesy of Us Weekly, Fame/Flynet, and WENN