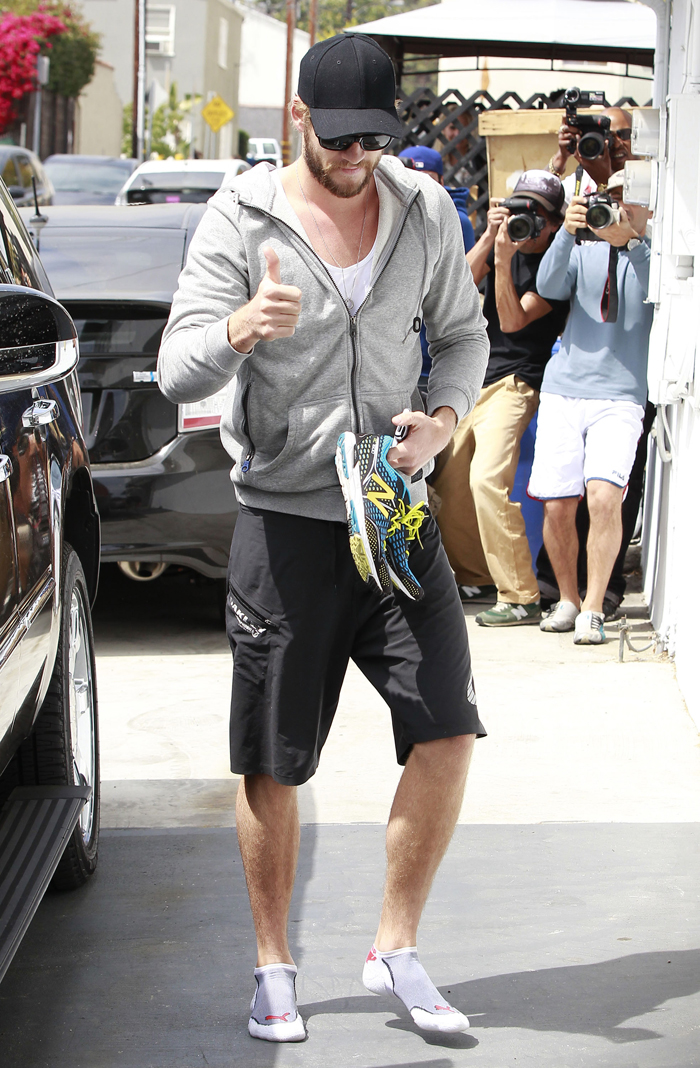 Here are some photos of Liam Hemsworth looking moderately hunky while entering and a West Hollywood gym while wearing only his socks (gross). It's worth mentioning that the paps were lying in wait for Liam, whose career is on a huge upswing although it remains to be seen whether or not his current projects will justify all of the excitement. Until now, we've really only seen him alongside Miley Cyrus in The Last Song and during a handful of moments in The Hunger Games where he looked very wistful while watching Katniss kiss Peeta. The dude might be quite handsome, but I'm not convinced of his talent just yet — although he did just score a coveted role in The Raven, which is a sci-fi conspiracy thriller based upon a viral short film that will be produced by Mark Wahlberg.
As for Miley, she's still all about the music and was photographed yesterday while flashing some sideboob and entering a music studio. Her new album will feature Snoop Dogg, so I guess she's serious about changing her image. We'll see how it goes.
In the meantime, a new story in this week's issue of Star says that Liam has asked Miley for an open relationship. Little does he realize that such a thing would make him no longer attractive in January Jones' eyes, right? Oddly enough, Star says this story isn't even based upon Liam's own side piece(s). Instead, he's simply upset that Miley had lunch with her ex, Nick Jonas, who she dated in 2008 (at the height of purity rings). For what it's worth, Miley has already denied seeing Nick at all. Here's the story: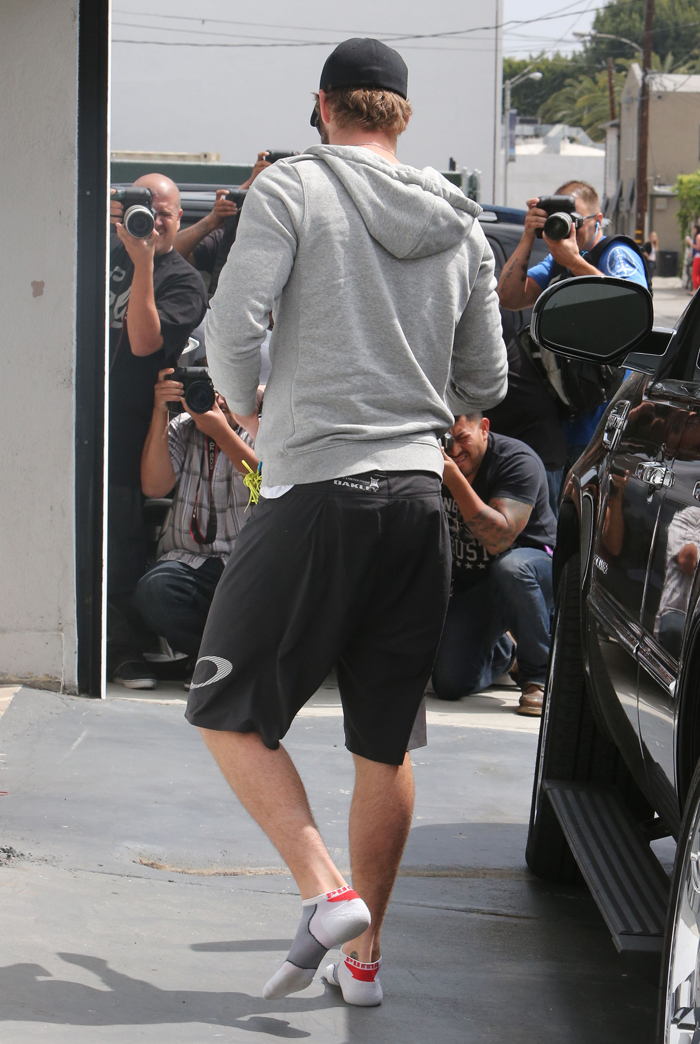 Shortly after reporting he had reunited with Miley Cyrus, Star can reveal that Liam Hemsworth is not looking to get back together — and, in fact, he suggested to Miley that they "see other people." According to pals close to the couple, Liam's new demand is the result of Miley's supposed lunch date with ex-boyfriend Nick Jonas.

After the 23-year-old actor called off his engagement to Miley, 20, and flew home to Australian when Star reported on his hookup with Janurary Jones, the couple decided to work things out upon his return to the U.S. But after a fan reportedly spotted Miley having lunch with Nick at Paty's restaurant in L.A. on March 25, the hunk actor had had enough. "Liam said he would only conitnue to be with her if they could have an open relationship," says an insider. "He needs to figure out if they are truly meant to be together."

Miley then took to Twitter to vent her frustrations over the latest rumor. "I literally haven't seen Nick Jonas in years. Don't believe everything you read folks," tweeted the singer on March 27. But after quickly deleting the message and replacing it with, "FOCUSED ON MUSIC & MUSIC ALONE," speculation grew as to whether the LOL actress was trying to cover her tracks. But despite the constant drama, sources say Liam has "agreed to work on the relationship."
[From Star, print edition, April 15, 2013]
A Miley source has contacted Hollywood Life to say there's no truth to the "arrangement": "No way in hell are they having an open relationship! That's not the way Miley was raised, she has morals. Miley is going through a wild phase, but she's still the same girl underneath and she really believes in true love and soul mates and it's just ridiculous to think she'd agree to that kind of arrangement!" I fully believe that Miley would never say yes to seeing other people while she and Liam are still together, and I don't think Liam would be dumb enough to suggest such a thing when the cheating rumors are still so fresh. This sounds like a totally make-up story — except for Miley tweeting about being "all about the music." She needs to stop doing that.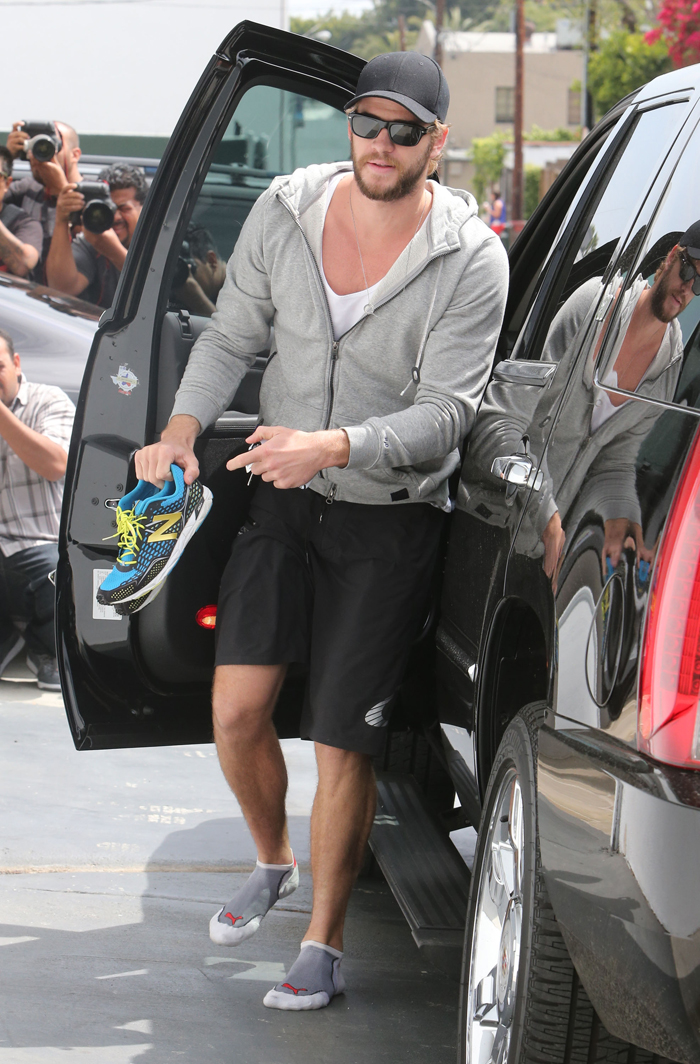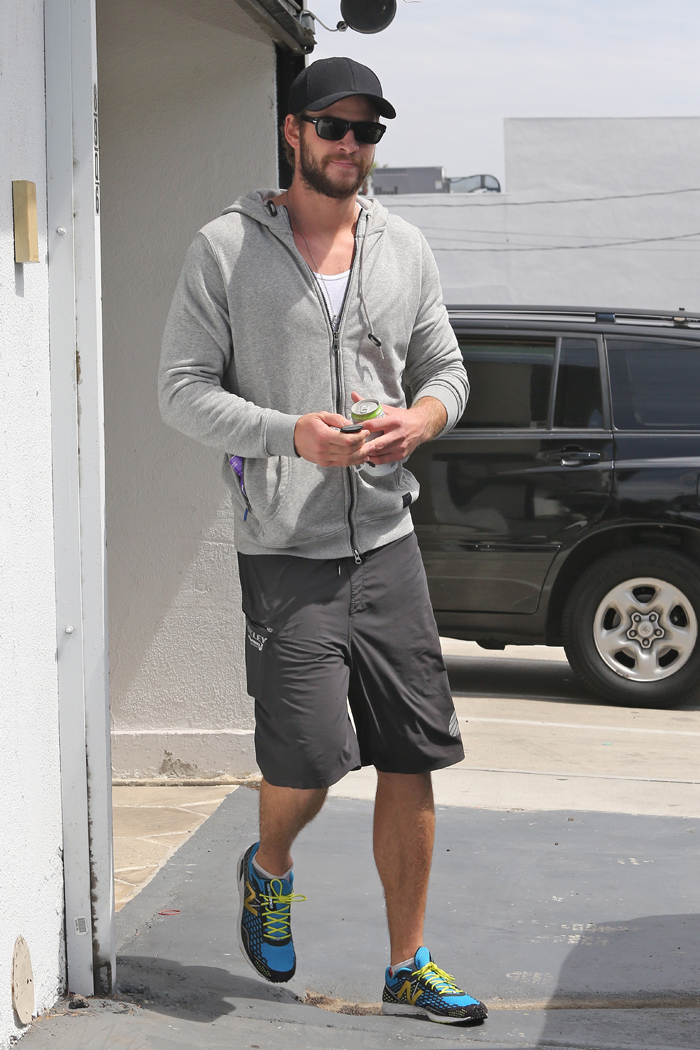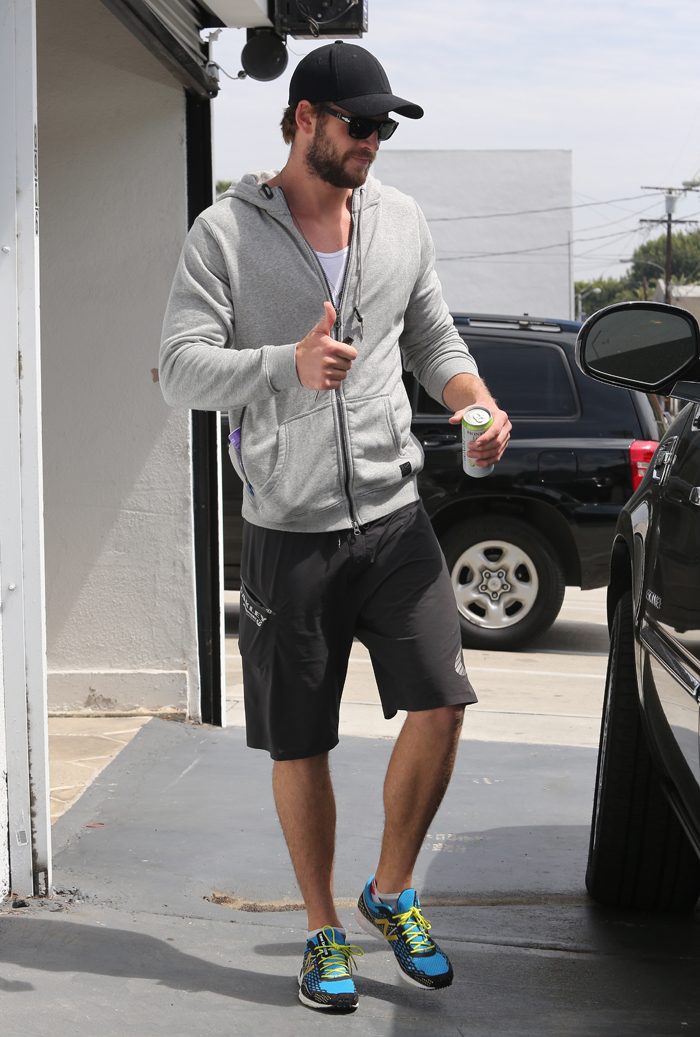 Photos courtesy of Fame/Flynet and WENN