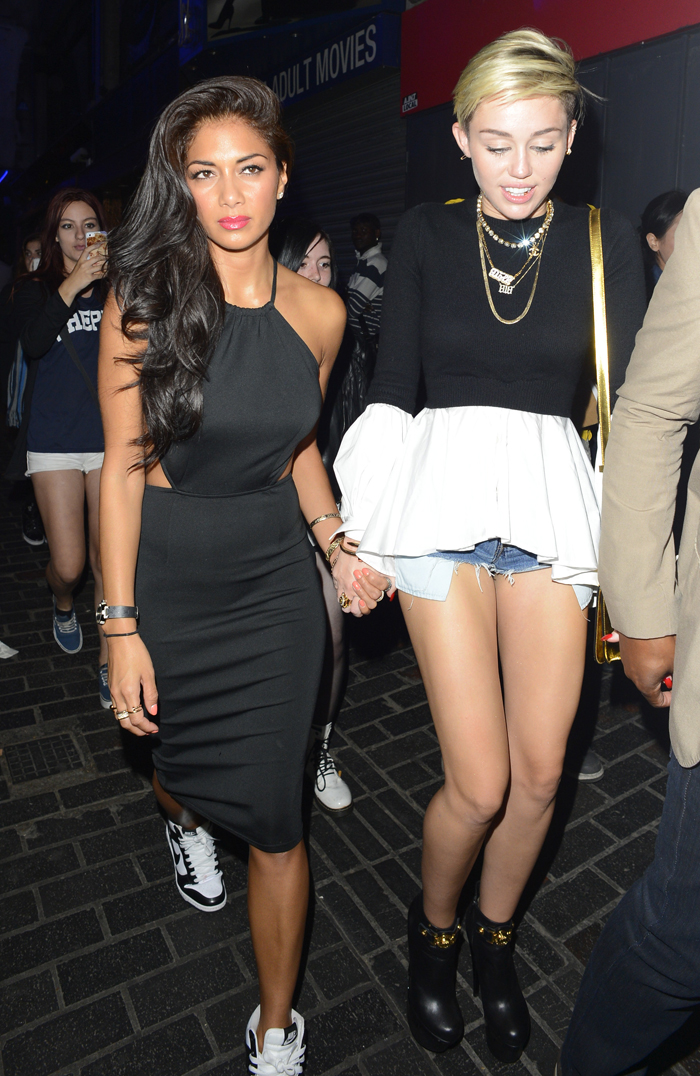 While Liam Hemsworth's in San Diego for Comic-Con, Miley Cyrus has flown across the pond to London. I've noticed lately that Miley is very affectionate and is often photographed holding hands and getting touchy-feely with her friends. The only one that she's not holding hands with is Liam Hemsworth, which yeah, let's not go there today. Miley is shown here on a night out with Nicole Scherzinger (a judge on UK's "X Factor") at a venue known (quite appropriately) as The Box. While Miley's own "box" might not be showing in these photos, it's a close call for sure. Our photo agencies got some shots that reveal a massive, unflattering wedgie, and these shorts can't possibly allow for comfortable sitting.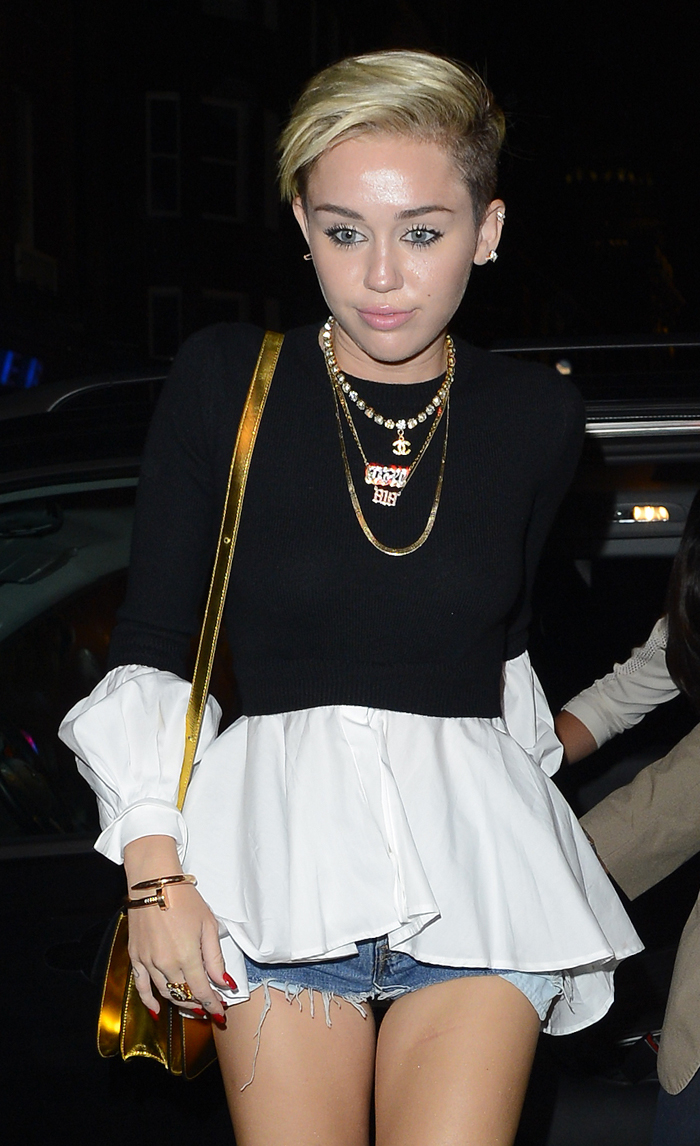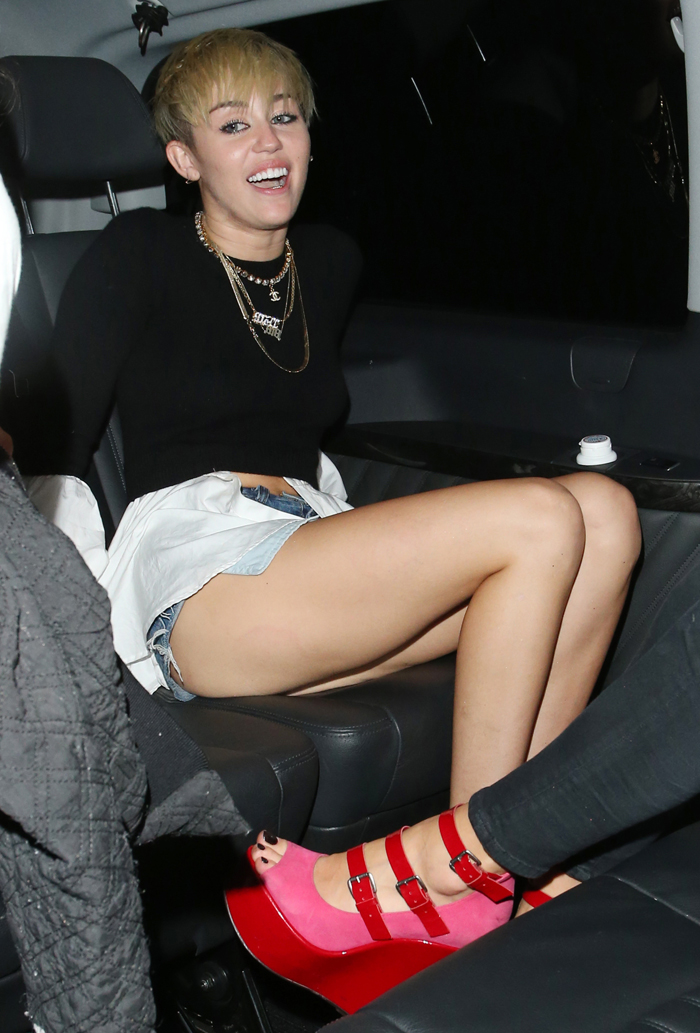 Although I have to admit to having a bit of crush on Miley's assistant, Cheyne Thomas. Is he gay? Who knows, but the guy is seriously cute.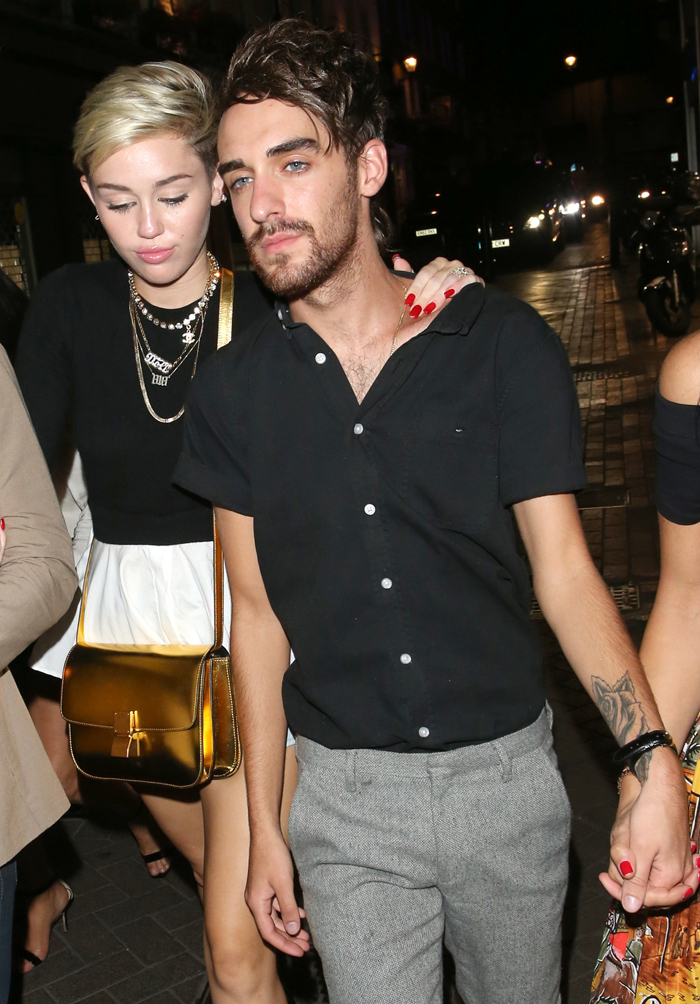 Meanwhile, Miley would like us all to know (via a crotch-grabbing, underboob-heavy Twitpic) that she "Ain't worrrrrriieddd bout nothin but my my #bizzzznassss." In addition, Miley has given an interview to the Daily Mail, and she reveals that — surprise! — she really was "dancing with Molly" in her "We Can't Stop" song. This is a mildly interesting admission after Miley's producer insisted she'd never sing about MDMA. Miley also says the video was even more explicit before censors had their way:
Her video was even more explicit: "No gyrating, no ———-, there was a lot less. They took out literally everything. I thought the video wasn''t bad, then MTV in the UK sent, like, 18 notes asking for changes."

Being a Disney star was so awful: "I wasn't really worried about it because I feel that time was something that I had to do what everyone has to do — work at something that you don't necessarily love to get to be able to do what you do love. I would say everyone has to start from the bottom, to get where they want to go and work on things they don't really care about doing. So I had to do that for five years. I had to work on something that wasn't really a passion for me just because I wanted to be able to get here, so when I was older I'd be able to just do what I want and not have to work for money.'"

On the censors: "Then I'll give you an edit. I just think the world is so lame because you can shoot people in a movie and you can let people like Zimmerman off on trial but you can't have someone going like this (she stimulates oral sex gesture), that is so dumb to me."

She's not worried about alienating her fans: "People need to also remember that Britney when she did Slave or anything it was just a different time so it was less real because Can't Stop I wanted it to be kind of gritty, like everything is about Instagram, about things going viral and I wanted to celebrate that. But Britney or Madonna never played it safe, none of the best pop artists ever did. I feel like I live in a different world, I live in LA, I see everything."

About that "Molly" reference: "It depends who's doing what. If you're aged ten it's 'Miley,' if you know what I'm talking about then you know. I just wanted it to be played on the radio and they've already had to edit it so much."

Her version of growing up: "I don't think people have a hard time understanding that I've grown up. You can Google me and you know what I'm up to – you know what that lyric is saying."
[From Daily Mail]
The main problem I have with Miley's words is that her version of "grown up" means partying and taking drugs. Not necessarily pot but Molly (which she is now essentially admitting to doing) and coke (which is still alleged, but I believe it). To most people, growing up means holding down full-time work and possibly raising children as well. Yet Miley aims to glorify the 24/7, club-going lifestyle where she "don't need nothing from nobody." Also, I wish Miley had some awareness that not everyone's idea of "start[ing] at the bottom" includes making millions of dollars on a Disney Channel show.
Here's a few more outfits of Miley in London while looking slightly classier.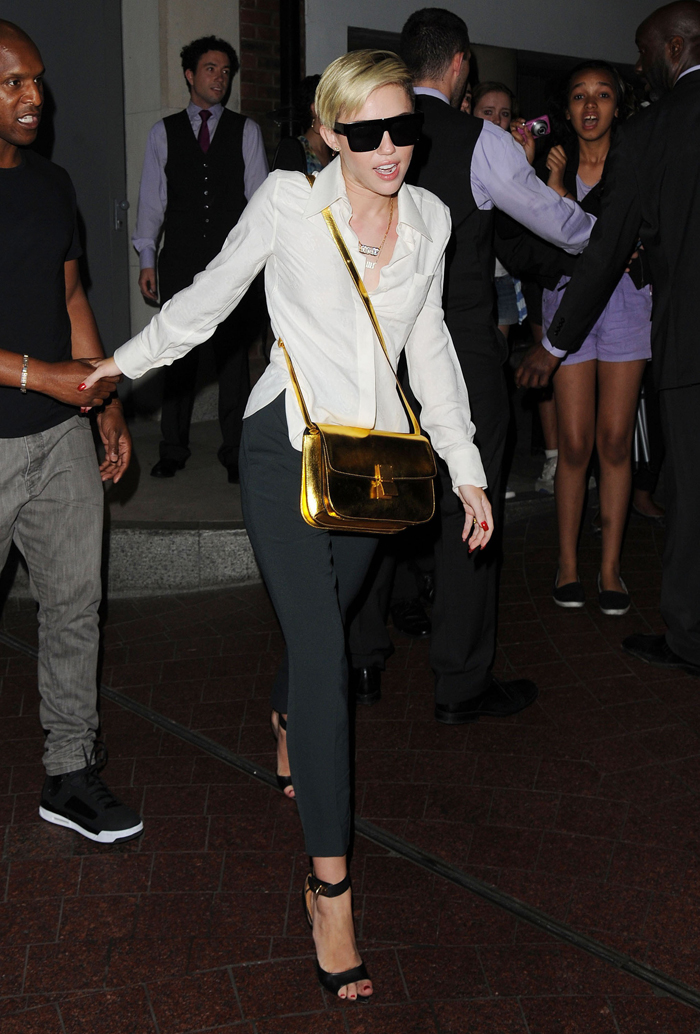 Photos courtesy of Fame/Flynet and WENN