Back in March, In Touch ran a cover story claiming that one of Kourtney Kardashian's old lovers was questioning the paternity of her three year-old son, Mason. That wasn't the first time we heard about that, though, Kourtney's ex lover, Michael Girgenti aka "Premo Stallone," demanded a paternity test for Mason back in January, 2010, when the boy was just a month old. Premo maintained that he'd slept with Kourtney when she was on a break from her boyfriend, Scott Disick, and that he could potentially be Mason's father, not Scott. So Premo has consistently gone public with claims that he could be Mason's father, and he's now filed a paternity suit demanding a DNA test. He's seeking joint custody if Mason is his son:
A male model who claims he had unprotected sex with Kourtney Kardashian in 2009 claims 3-year-old Mason is HIS son and he's now filed a paternity lawsuit asking for joint custody … TMZ has learned.

Michael Girgenti claims in legal docs — filed Thursday and obtained by TMZ — he met Kourtney during a photo shoot in August, 2008 (above). Girgenti says they connected and began a texting relationship for 3 months.

Girgenti says in legal doc things heated up by March, 2009, when Kourtney allegedly told him she and then BF Scott Disick were "on the outs" and "she wanted to hang."

Girgenti's suit then describes an alleged sexual encounter in Glendale, where he says they had "unprotected vaginal sex." He adds, "I ejaculated inside [Kourtney's] vagina."

Girgenti says 9 months later Kourtney gave birth to Mason. He says he immediately saw a striking resemblance and tried contacting her, to no avail, so he began a media blitz to get her attention.

Girgenti's docs, filed in L.A. County Superior Court, request joint custody of Mason. He also wants the judge to order DNA tests for Kourtney, Scott, Mason and him. The judge set a hearing for next month.

We also know Girgenti received a letter from Kourtney's lawyer, Shawn Holley, saying his allegations are "false and defamatory."

BTW — one of his claims in the docs is that Kourtney's second child, Penelope, doesn't look at all like Mason. You be the judge.
The fact that Kourtney ignored this guy for so long doesn't sway me either way. She's famous and she can't respond to claims like this like a regular person would. Now she may be court-ordered to submit to a DNA test for her son, though. What's going to happen if Scott isn't Mason's dad and if Scott got cuckolded? I see Scott sticking by Courtney, but if she knew that he potentially wasn't the father and she misled him that's so cold. Maybe Scott knows already, though, it's hard to tell what goes on in their relationship.
If it turns out that Premo is Mason's dad, I see him famewhoring this as much as possible. He's already gone to the tabloids several times. This could be a mess, and I just feel sorry for Mason and Penelope. The Kardashian family is having some serious problems lately.
Here's a photo of Kourtney and Scott's daughter Penelope, who turned one a month ago, next to Mason, 3 and a half. (I'm copying TMZ's idea of putting the kids side by side, I photoshopped this crude thing.) You can tell that Mason is darker than Penelope, although they have similar features.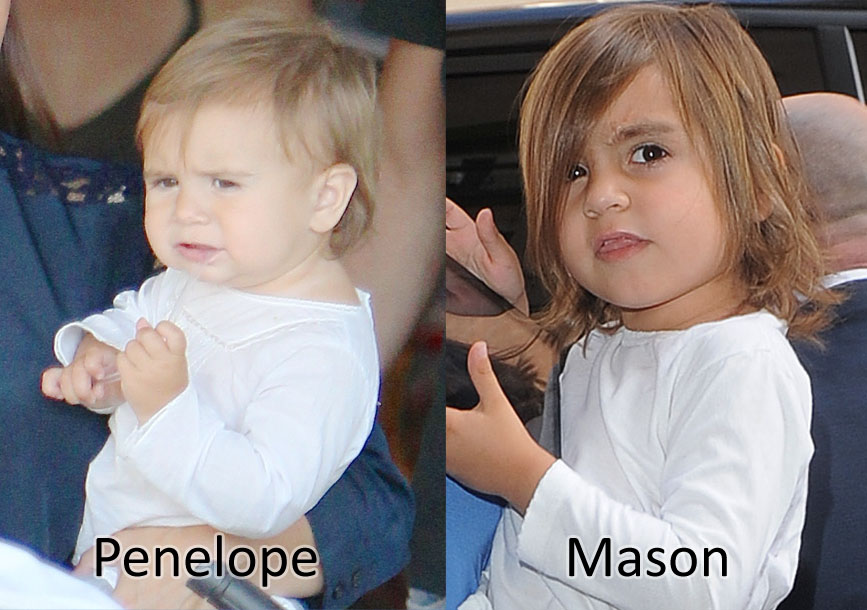 In Touch cover from March, 2013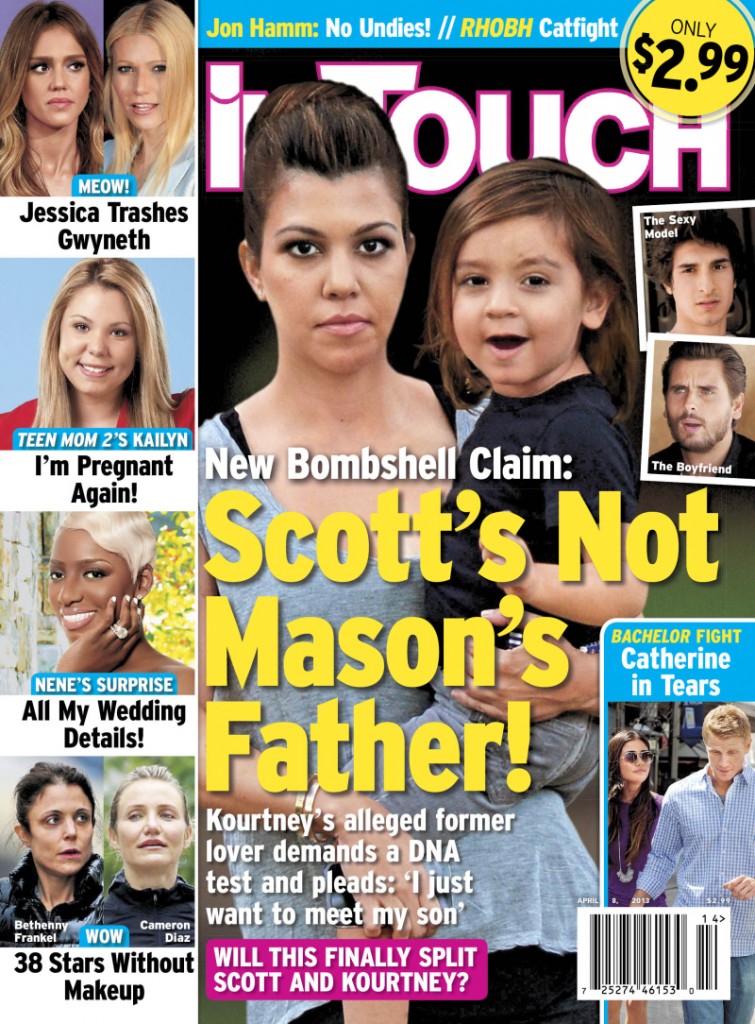 Modeling photo of Premo Stallon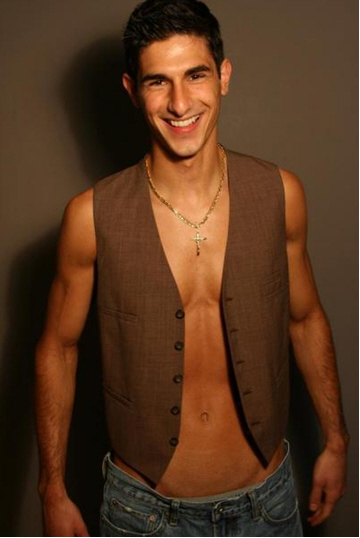 This photo is from last week. What the hell did Kourtney do to her hair?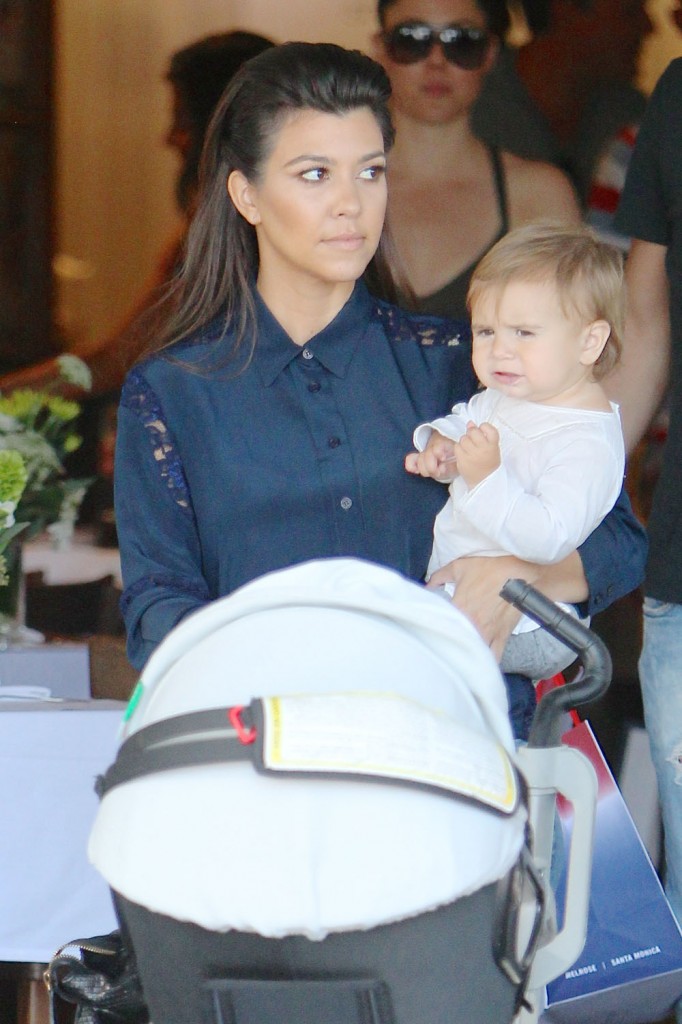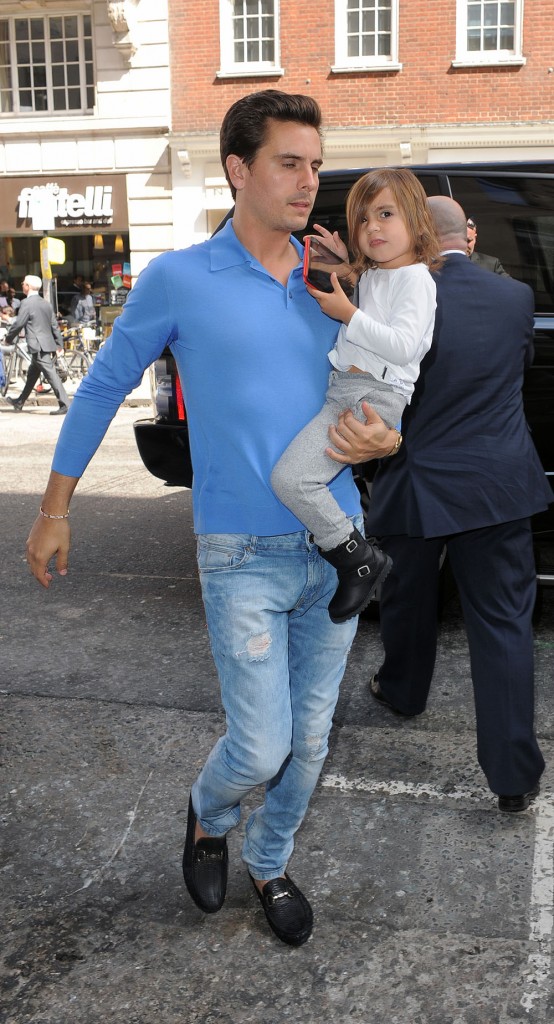 Photo credit: WENN.com and InTouch