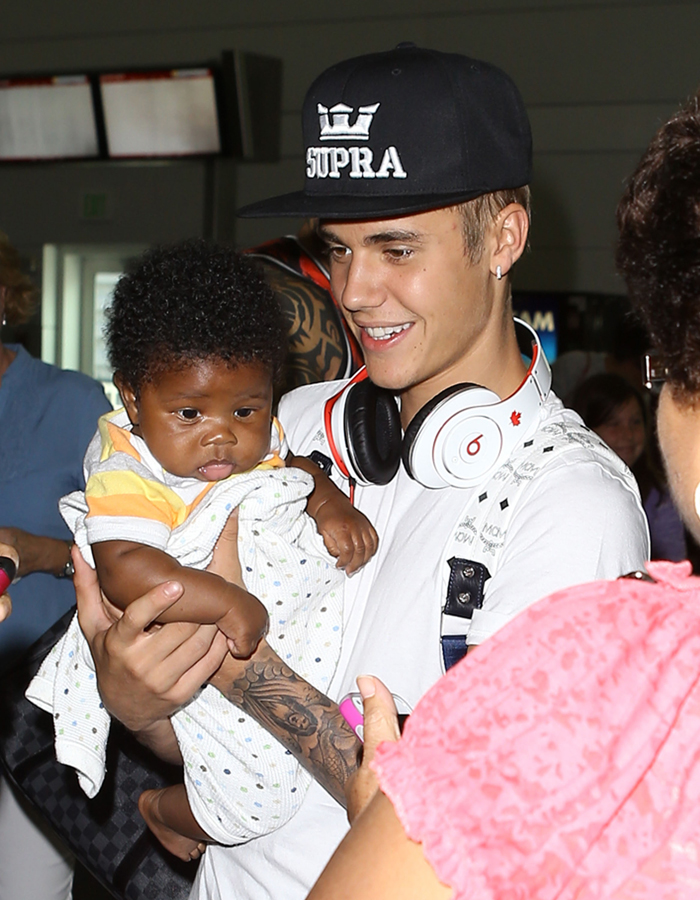 Here are some photos of Justin Bieber on 8/16 at the Fort Lauderdale airport. The Spitter was getting up close and personal with some fans while security made a point of going through all of Bieber's luggage — probably because his tour buses keep getting busted for pot. That poor baby is so not a Belieber, right? Unlike Anne Frank.
Fortunately, today's Bieber story has nothing to do with tantrums, nightclub brawls, new tattoos, or abandoned pet monkeys. Instead, we're seeing the purely delusional side of Bieber. This facet of his identity makes total sense considering that he's got a great portion of the world kissing his ass. Bieber has told InTouch that he feels like he's totally ready for marriage and children at age 19. Bitch, please: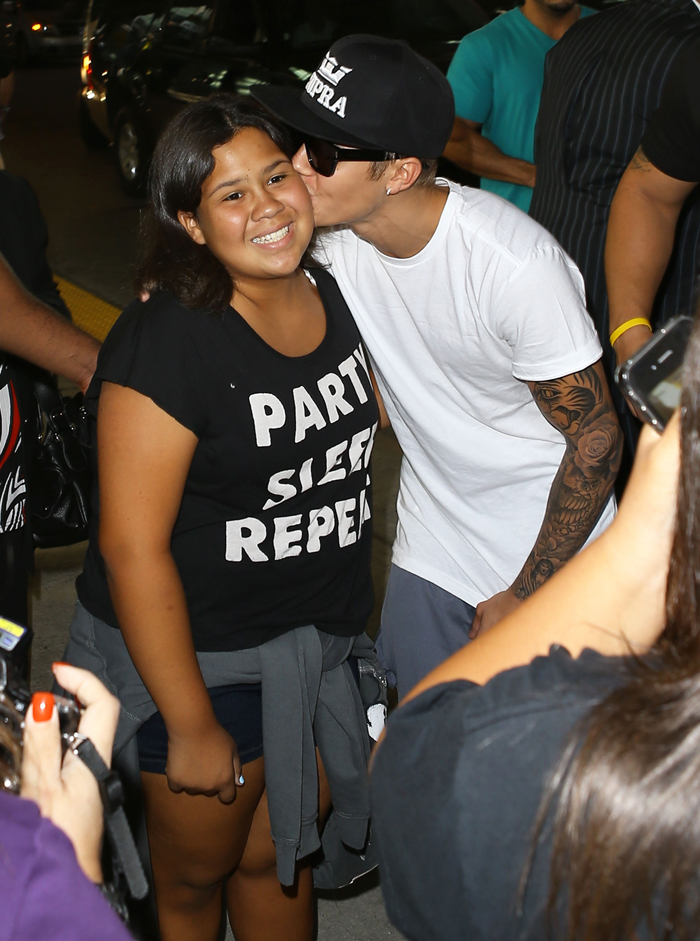 Justin Bieber may be making headlines for all the wrong reasons lately — but in an exclusive interview with In Touch, the 19-year-old singer reveals he has a soft side beneath the rowdy reputation.

"I can't wait to have a beautiful wife and little kids running around," Justin gushes in the new issue of In Touch, on stands now. And though he dreams of settling down and being a dad, he can't be sure as to when. "Those things are in God's hands, not mine."

Since the end of Justin's on-off relationship with Selena Gomez, his love life has been intensively scrutinized. But the teen heartthrob admits that underneath it all, he is indeed a romantic. "I'm not going to lie. It's fun to be young, fall in love and be in love," he tells In Touch. "My mom taught me how to treat a woman right, so I enjoy taking a girl out and doing nice things for her. Everyone deserves to feel like they are the most special person in the world."

And despite his recent headlines of nightclub brawls and embarrassing videos, Justin continues to release record-breaking albums. "Sometimes I think people get distracted … and forget that I'm here to create music," the singer tells In Touch. "I put everything I have into my music, and I wish people would focus more on that."
[From In Touch Weekly]
I can sort of see where Justin thinks it might be easy to raise children since he does have a few younger siblings that he can play with and send them back to Mommy. But damn, this kid can't even care for a pet monkey … how does he expect to maintain a family and a relationship? I bet he's already asked Selena Gomez to marry him, and I would hope that she'd merely laugh in his bratty little face. Yet Selena can't seem to stay away too long, so I guess until she truly moves onto another guy, there will always be that danger.
Don't do it, Selena. Never marry a dude who brings a single, gas-station bought rose to your birthday party.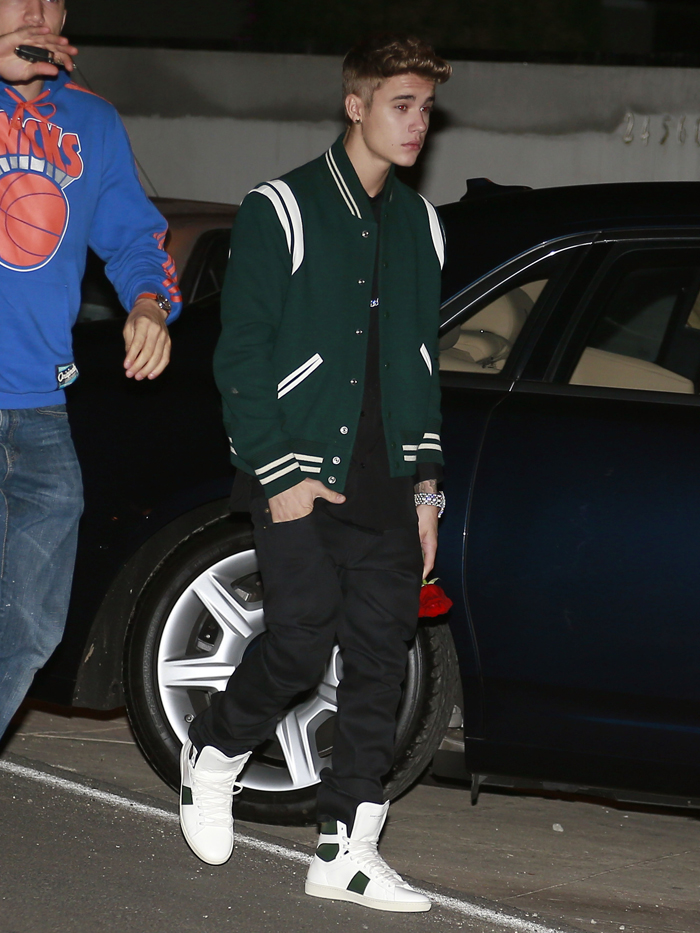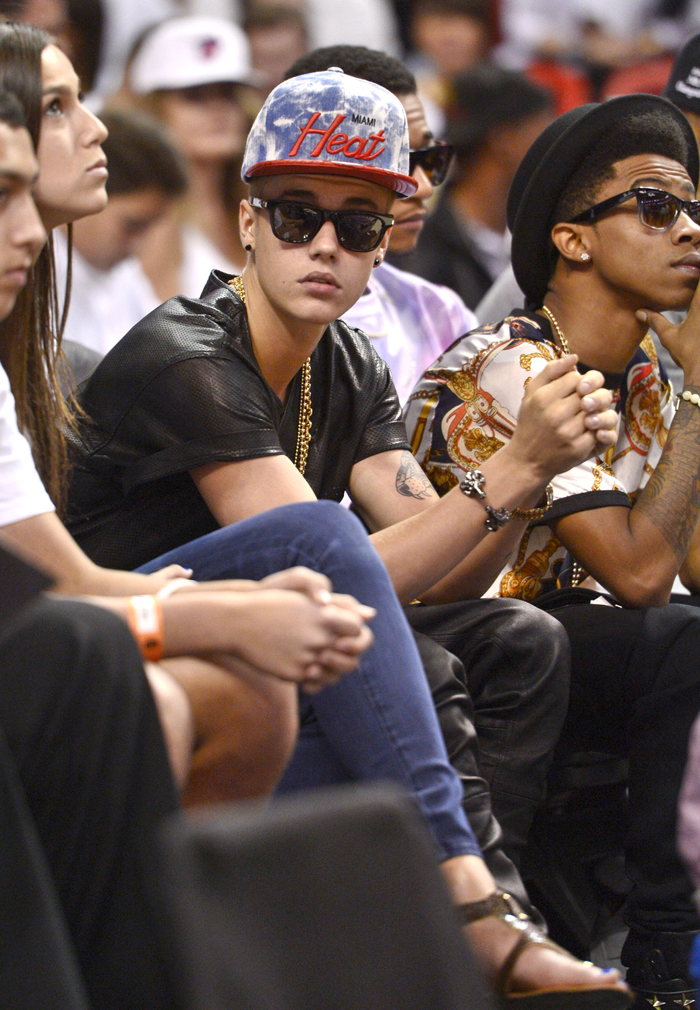 Photos courtesy of Fame/Flynet