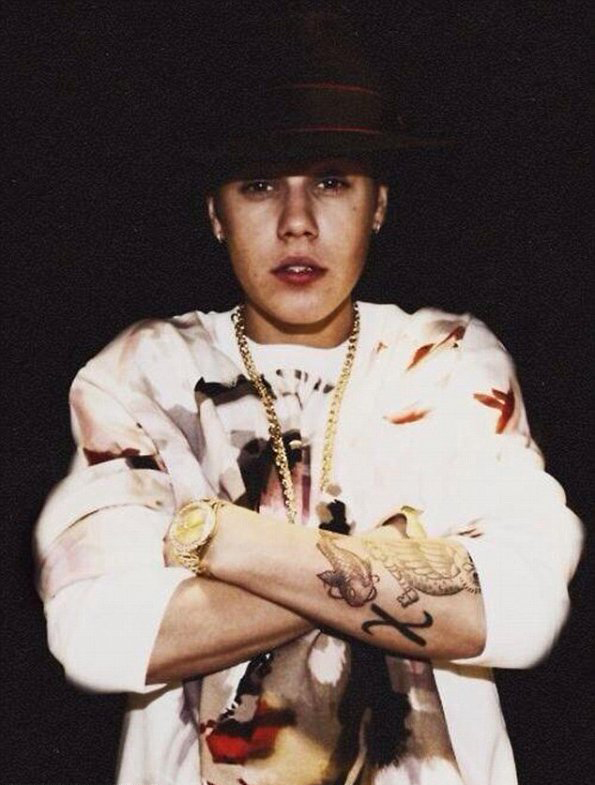 Here's a new photo of Justin Bieber's 11th tattoo, which is of a Japanese Koi fish on his left forearm. According to London tattoo artist Luca Ortis (via Ace Showbiz), the "Koi fish tattoo is a symbol of courage and determination. It's an ideal symbol for someone who wants to show that they are strong and have overcome problems." That sounds about right coming from Bieber, who probably feels like he's being persecuted after his recent public temper tantrums and after those mean old German authorities confiscated his pet monkey, Mally, on April Fool's Day.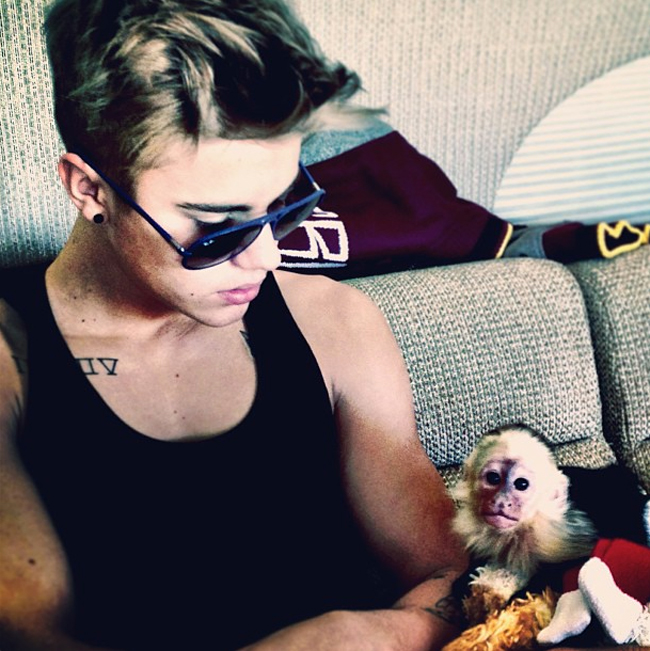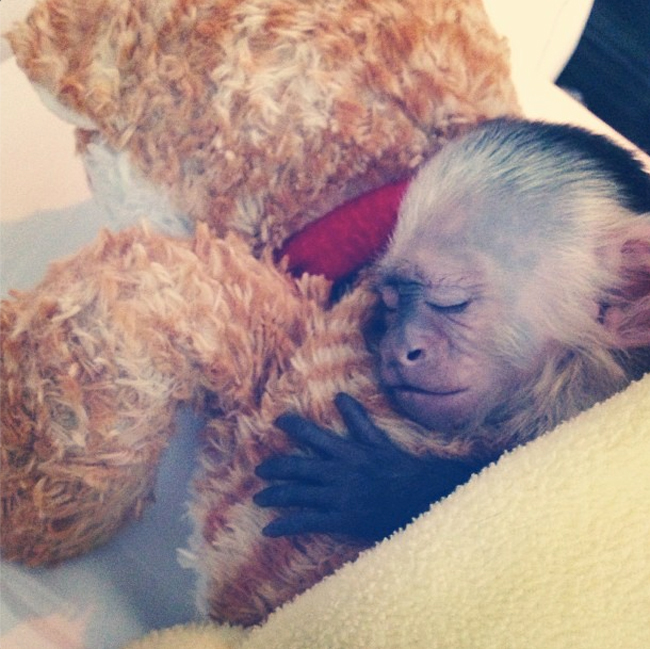 Now that Bieber has Selena Gomez back, however, he's no longer interested in the monkey. If you'll remember, Biebs didn't have the proper papers for Mally and then threw a fit and left the country after the capuchin monkey was seized while Mally was left clinging to toys in a shelter. Officials proclaimed that Bieber had a month to produce papers for this poor little guy who had been taken (as a birthday gift to Bieber) from his mother at the age of nine weeks. To this date, Mally remains alone (with handlers but away from other monkeys) in quarantine at the German shelter, but now Bieb's team has finally contacted the shelter to say he doesn't want the monkey returned to him. Really:
Justin Bieber has allegedly decided to give away his pet monkey Mally instead of rescuing it from a Munich animal clinic. German authorities say the teen star doesn't want the Capuchin back after it was seized by customs officers from a private jet on March 28 and placed in quarantine.

They say his management team in New York contacted them this week asking if they could find a 'safe and sheltered place, or a zoo' for the lonely creature. The star and his entourage had no paperwork or health certificates to bring Mally – just a few weeks old – into the country.

After a night spent at an airport quarantine centre, Mally was moved into the care of vets at a clinic in the city. "We have to discuss now the way forward with customs officials and other responsible departments," said a clinic spokesman. The statement from 19-year-old Bieber's people in New York thanked the Munich authorities for the "caring support" offered to Mally.

Franz Bohmer of the Bonn Federal Office for Nature Conservation said: 'So far no papers for the monkey of Justin Bieber have been submitted. If he submits a written disclaimer, we can accommodate Mally in a welfare family group in a zoo."

Authorities in Germany have given Bieber a deadline of May 17 to either claim Mally – and pay thousands of pounds towards his upkeep – or to send a letter saying he no longer wants him.

Karl Heinz Joachim, the boss of the animal centre where Mally is living, said; "The baby monkey needs company and to be with other monkeys at this crucial age in its life. There are a great many suitable places that have offered to take Mally and integrate him with their own capuchin monkeys where he would be much more happy with his own kind."

He added: "A baby monkey was never going to be suited to be on a world tour even if he is travelling by private jet. He should be out in the wild climbing trees and learning from other monkeys if he isn't to have serious psychological problems later in life."
[From Daily Mail]
Unfortunately, the damage has already been done to Mally's psyche because capuchins usually remain with their mothers for at least year, and the little monkey was swept away on a world tour before being left to languish by himself in a shelter. It looks like Mally will eventually go to a zoo where he can hopefully acclimate to life with other monkeys, but it's sad that Bieber just doesn't give a crap.
Here's something truly disturbing from Justin's Instagram account — a drawing of Bieber cuddling up to a topless Belieber. No doubt, this is a great girl … just like Anne Frank. How revolting.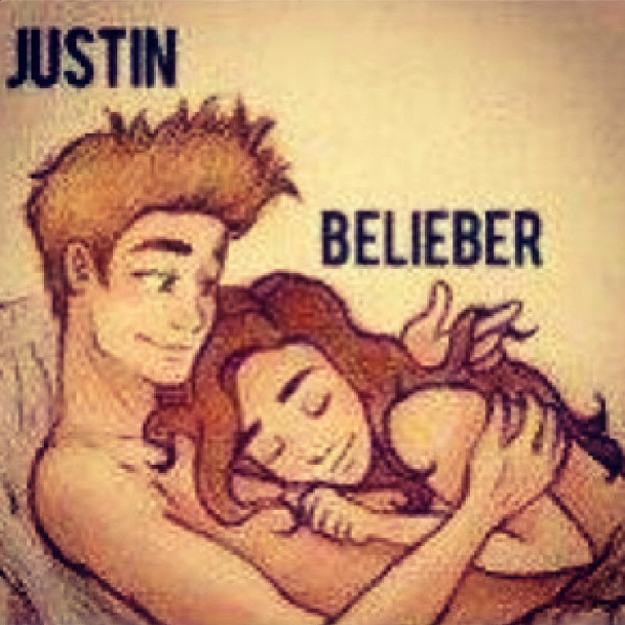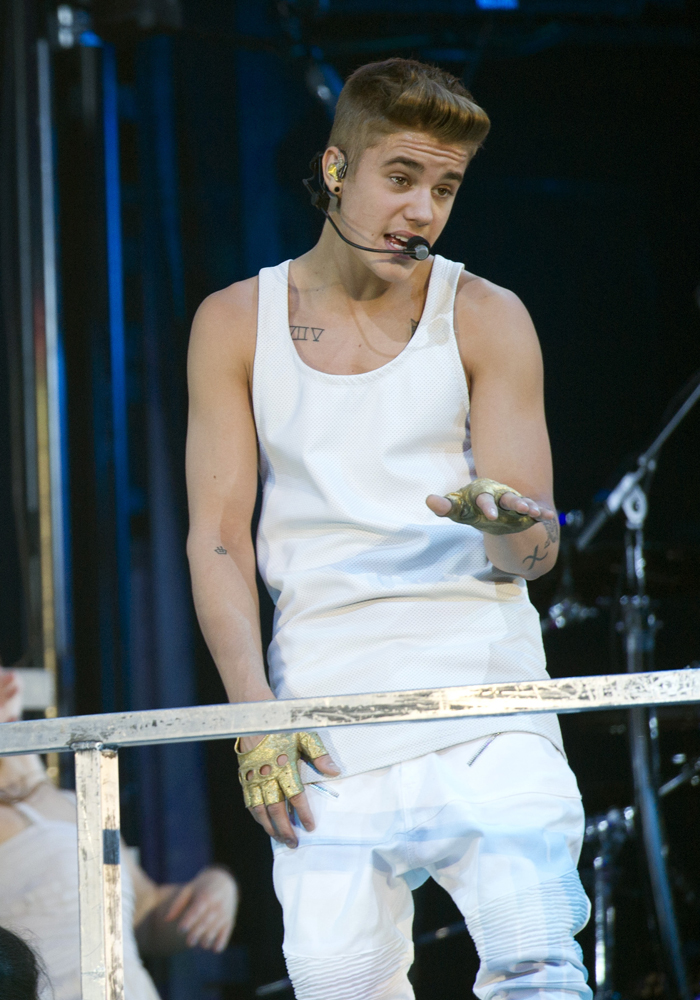 Photos courtesy of Instagram and WENN