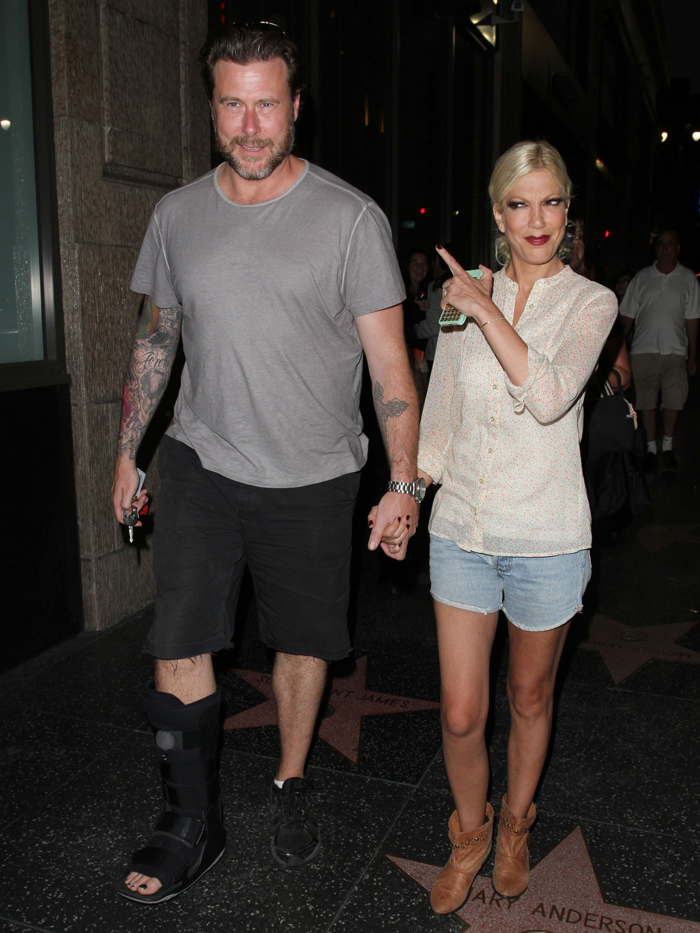 Star magazine truly has a bone to pick with Tori Spelling. She's shown herself as willing to engage them in battle, and I guess they're desperate enough to pick another fight with her. In February, the tabloid published a huge cover tale about Tori and Dean's $300 million divorce, which Tori immediately denied. Then Tori wrote a letter on her own website about how her kids cried in the supermarket checkout line after seeing the "divorce" announcement in a screaming headline. Two weeks later, Star doubled down with yet another split story, which Tori chose to ignore.
Now Star is messing with Tori again. They've based their newest story on the fact that she and Dean took a roadtrip with their kids to Canada instead of flying. The family was set to film a new HGTV cabin-renovation show there for three months, so it makes some sense that they'd drive up. Then they could have their own car and take more stuff than a suitcase apiece. Plus, I can see why it would be a pain to fly with four kids in tow. Maybe the car odyssey was part of the show. Maybe they just wanted to drive, you know?
For Star, Tori and Dean driving in their car to Canada means major trouble is on the financial horizon. I've omitted some of this three-page story, but the gist is that Tori and Dean are completely flat broke and (of course) totally on the rocks: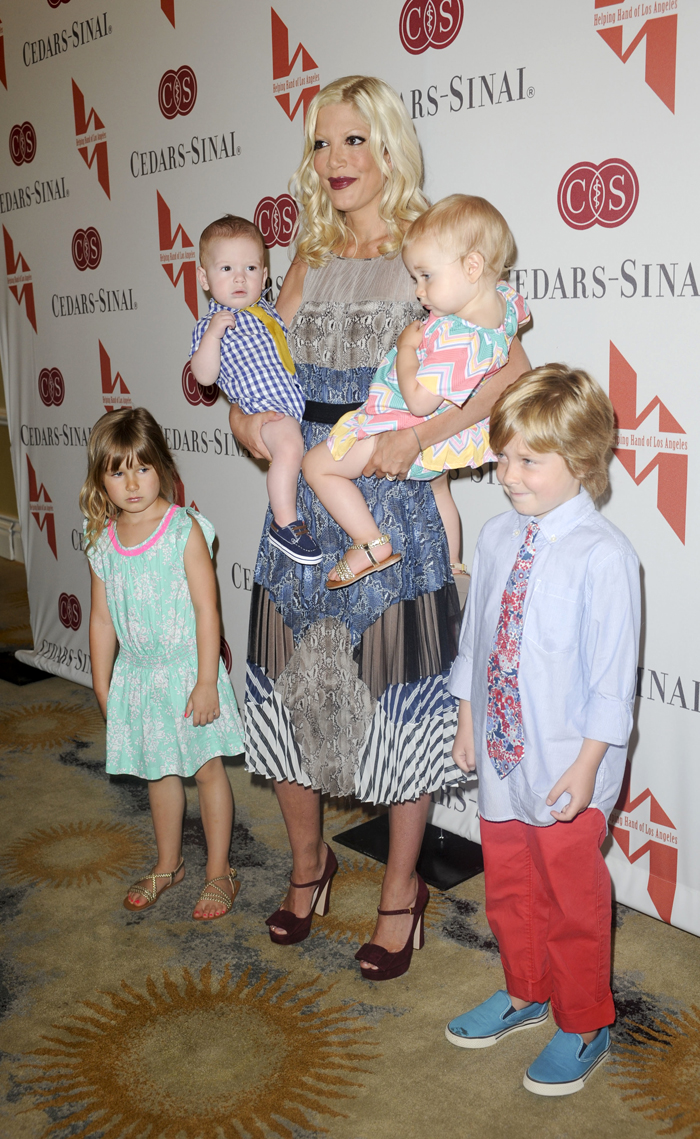 "Tori and Dean are going broke," a close family insider tells Star. "They can't keep up with the cost of living their famous Hollywood life, and it's taking a huge emotional toll on them."

While publicly, the couple grin and bear the homespun nature of their family life, behind closed doors, Tori, 40, and Dean, 46, agonize over how they're going to raise their four kids. Uprooting their busy lives for the upcoming reality show, Tori & Dean: Cabin Fever, for example, was huge strain on the family. "And the sad thing is, they barely got any money for doing that show," the insider explains, "But they have to take any opportunity that comes their way, because they are so desperate for money."

"Tori didn't get her fair share of her father's wealth," the insider says. "She struggled a lot financially but did manage to make ends meet from doing reality shows with Dean." But as their family size increased [they have four children], so did their expenses, and Tori was forced to come up with creative ways to bring in more money: She wrote six books, launched a jewelry line with HSN, opened a furniture store and, most recently, started a children's clothing line. "The money from Tori's random business vantures helped to keep them afloat," the source says. "But it wasn't enough to maintain their lifestyle."

Dean, meanwhile, has happily remained a stay-at-home dad throughout most of their marriage. But in recent years, the couple's financial situation has become so dire, Dean is trying to contribute more. "He's now trying to build a new career as a chef to provide for their family," the friend say. "But he hasn't come far enough to achieve any stability."

As for Tori, "She is desperate and at a loss as to what to do," the pal adds. "It's not like she can just get a normal job, because she's a celebrity." She recently signed on to star in (and produce) a sitcom pilot for ABC Family. If the show gets picked up, it would represent the only steady income she's seen in years. But the odds are stacked against her. According to The Hollywood Reporter, "In TV, something like 92 percent of all shows fail."
[From Star, print edition, October 14, 2013]
The article goes on to say that Tori and Dean lost $800,000 on real estate sales over the past five years. Their kids are approaching school age and will need (?) private schooling, and Dean pays child support to his ex. The family is living modestly now but still barely scraping by, and Candy Spelling refuses to extend them a loan: "Candy doesn't want to hear about her children's money issues. It embarrasses her." It's true that Tori only received $800,000 of her father's fortune, but she's been making money all along. She's a pretty shrewd businesswoman. I think Star just hates her.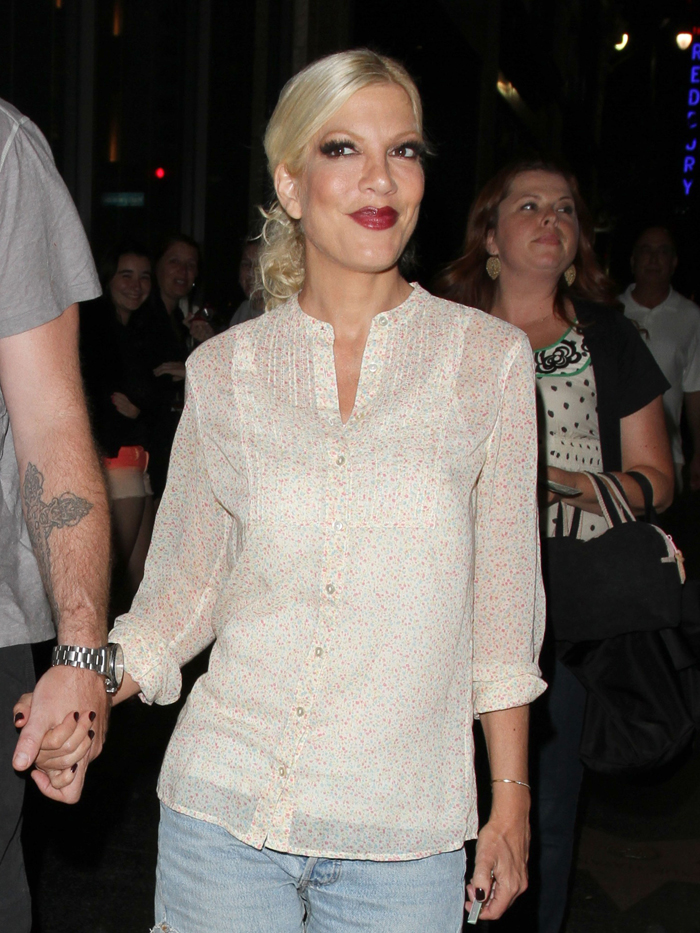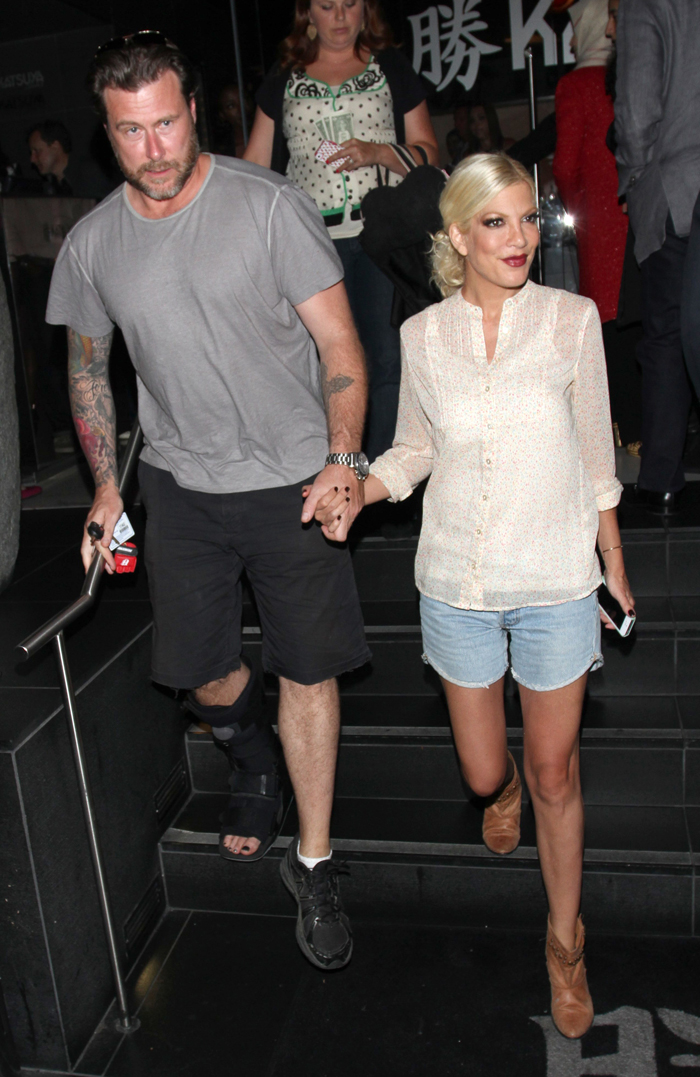 Photo courtesy of Fame/Flynet & WENN