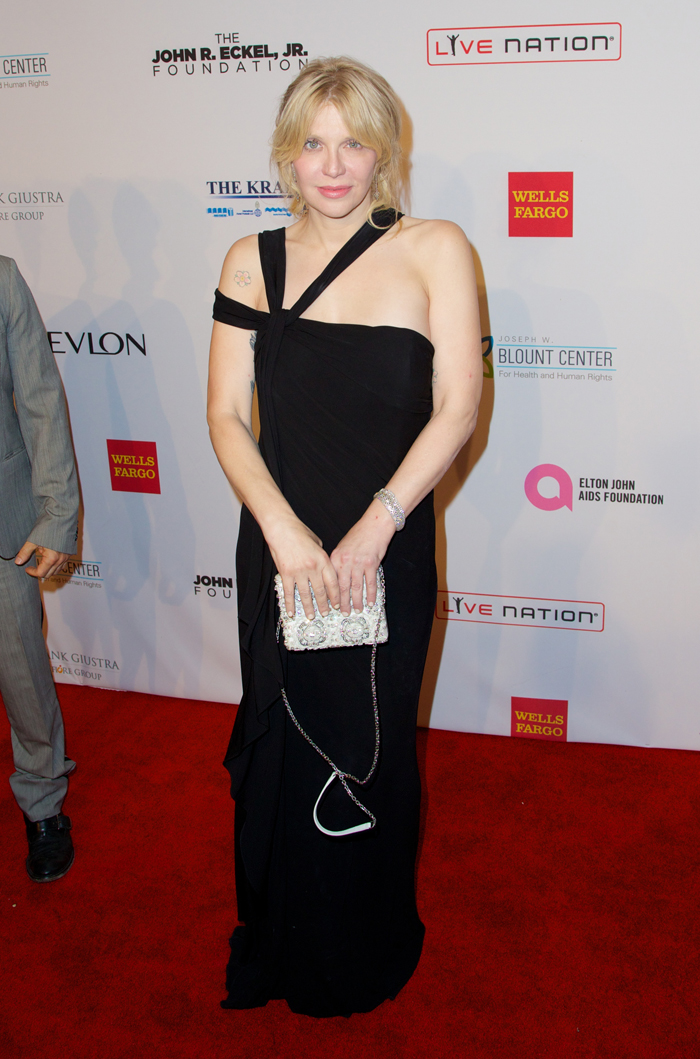 Here's a photo of Courtney Love at an NYC event for Elton John's AIDS foundation last week. As you can see, she looks like a perfectly unkempt mess. That's how she almost always looks. I can literally count on one hand how many times I've seen Courtney knock it out of the park, style wise. Of course that doesn't stop her from smack talking other people's style. It also didn't stop Saint Laurent from hiring her as one of their new "faces" in a huge "wtf" move.
Courtney is currently promoting her new memoir that is due out early next year. Rolling Stone says Courtney will trash everyone, including ex-lovers Kurt Cobain, Ed Norton, and Billy Corgan, in this book. There will probably be a bunch of made-up stuff about Gavin Rossdale too. I can't find a link on Amazon for the book yet, but I'm sure it will be a righteous disaster. I wonder if her ghostwriter added a bunch of typos to make the story seem more authentic. Gahh, memories of Courtney on Twitter. At the moment, Courtney has chosen to trash both Miley Cyrus and Katy Perry. Buckle up:
On her own style: "I look at simple chic as what works best for my age, but I also want the prettiest gown, not the most boring, and the sharpest. I love Marchesa for this and I love Calvin Klein classics and [Michael] Kors, and Chanel gowns. The latter mixes my love of Edwardian and Victorian and flapper with chic. I'm not Daphne Guinness and I don't have much to prove in rock and roll=that I have down pat. But for my newly committed career, acting again, I'm going to have to really pull off a chic and great look and never get it wrong with too many youthful details such as the ones that inspire me for my line. I love boho, but there's an appropriate way to wear it. I like Jason Wu, Altuzarra, Valentino and Westwood, as well as Saint Laurent."

On her fashion regrets: "Obviously Lycra and Spandex and rubber were all bad ideas, but I'm very open; I always try. It doesn't mean I'm Kate Moss and always nail it. Kate and I went to a store in Notting Hill and purchased the same exact almost Victorian capelet; I wore mine first and got slammed for it and she wore hers the following week in an identical boho outfit and it was heralded; it's all about context. Weight plays heavily into it, too, and facial beauty. No one could have worn that Givenchy couture gown that I tried on a few times three years ago except Ciara to the VMAs–a black girl with curves in the right places. On me, it looked like a belly dancer."

On Miley Cyrus' style: "She has a crap stylist; at least Katy Perry lives out her insane fantasies and kids love it. I liked Katy when she was in a black shag and the shy girl on Glen Ballard's arm at events. She was damaged goods by the time she got to Capitol [Records]. She really worked for it: 'It' being a career I find so boring it's sort of sad, but what she wears is cute and in her own universe. Miley provided me with endless laughs at the VMAs. The Harajuku Japansese girl little bear suit was cute."
[From Fashionista]
This certainly isn't the first time Courtney has trashed Katy Perry. I agree that Miley's style is a lost cause in the style department. Oh well — one can always count on Courtney to speak her mind and tell the truth about how she feels, but I seriously doubt she remembers what her "truth" is from day to day. She's so cray.
Lest we forget that Courtney herself is a sartorial disaster, here's a sampling of her looks over the past five years. These aren't even "street clothes." This is the stuff she wears to fashion shows and red-carpet events.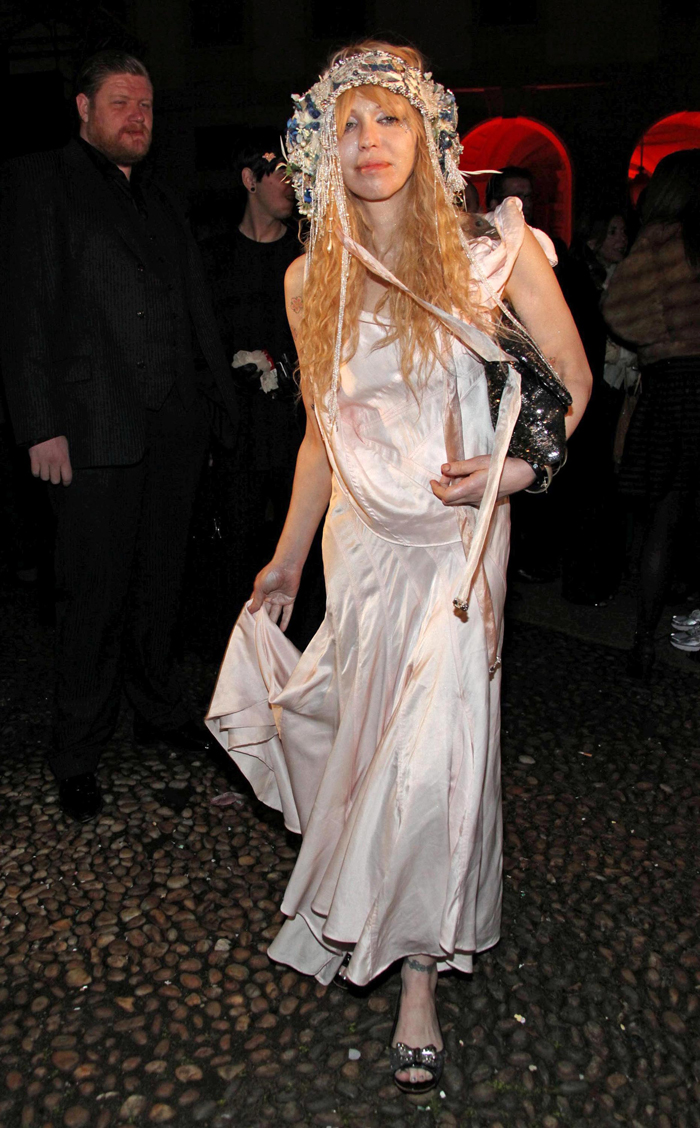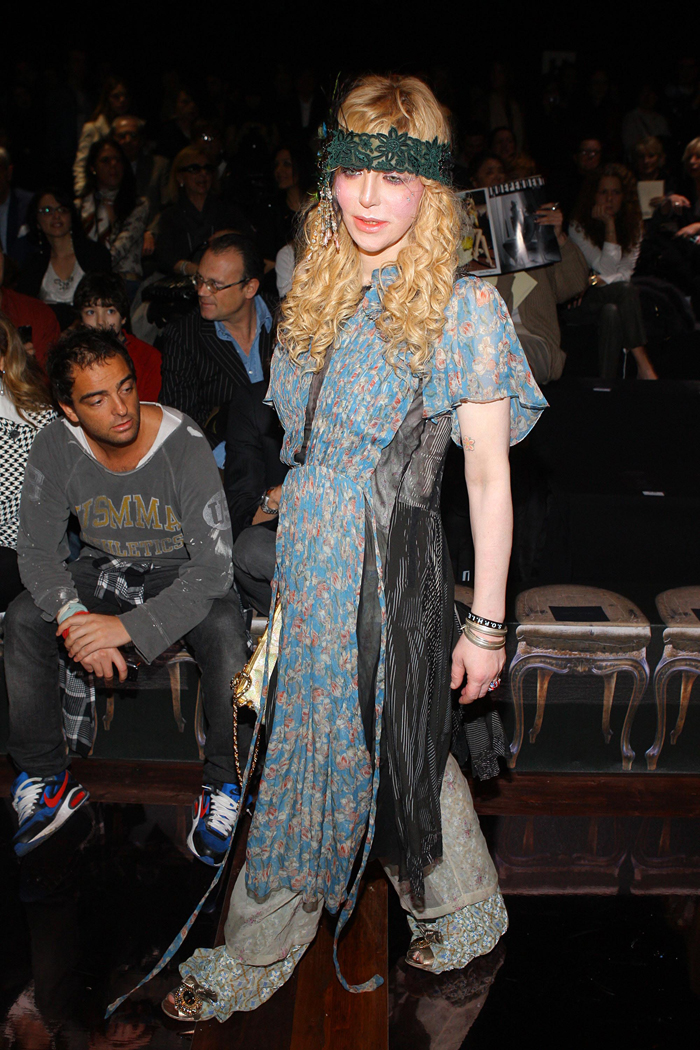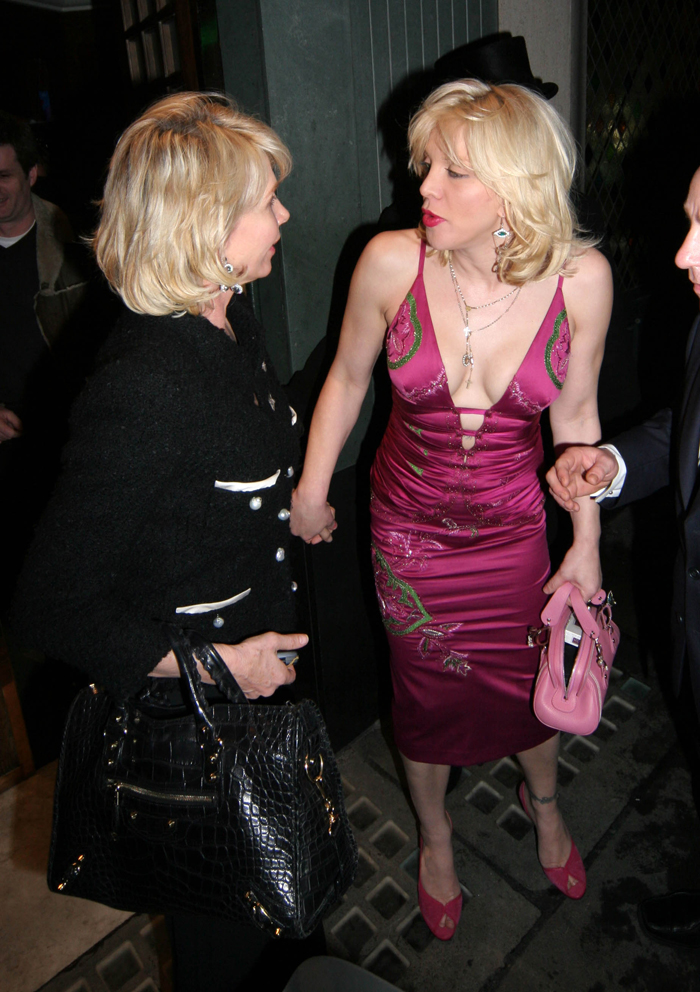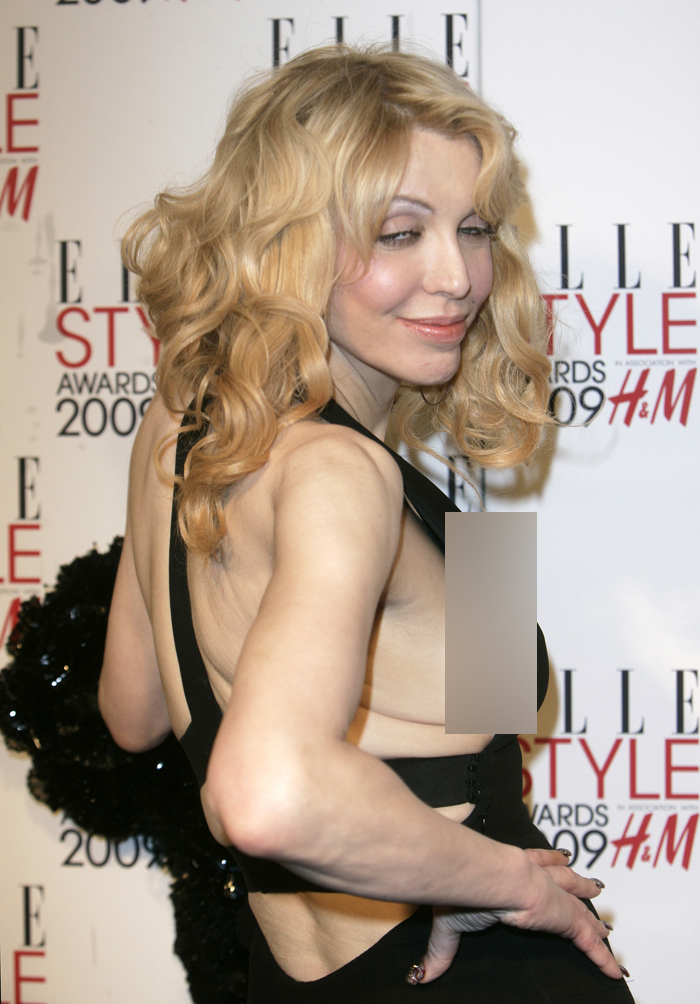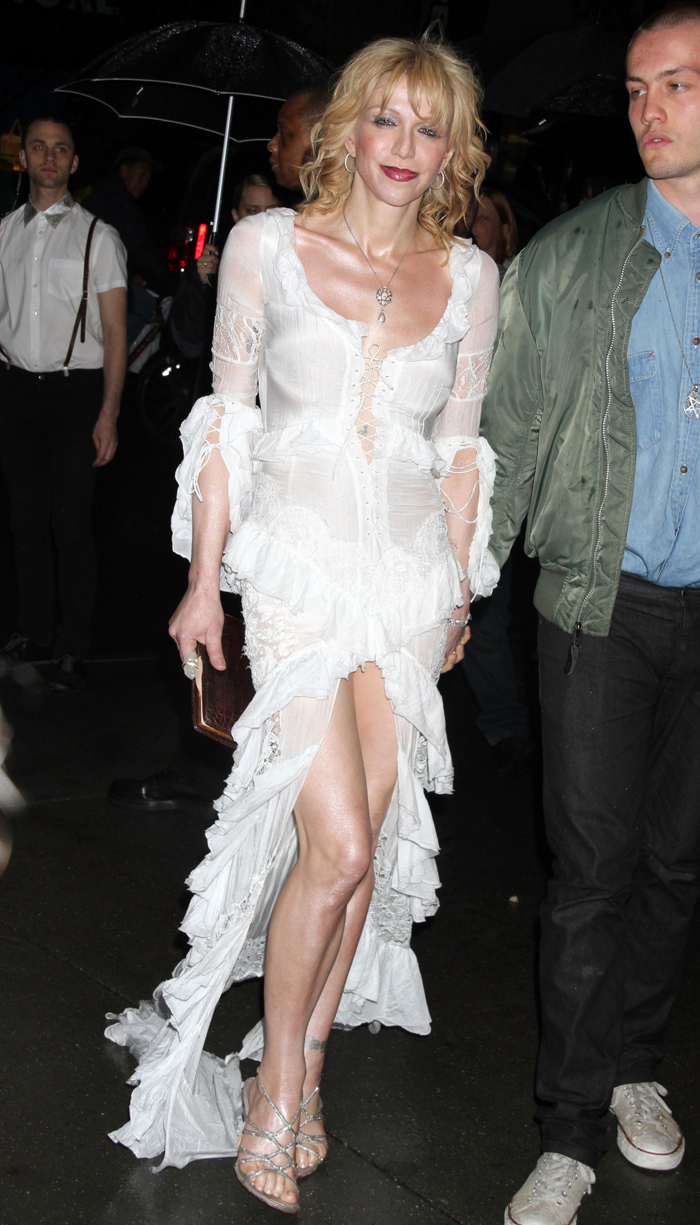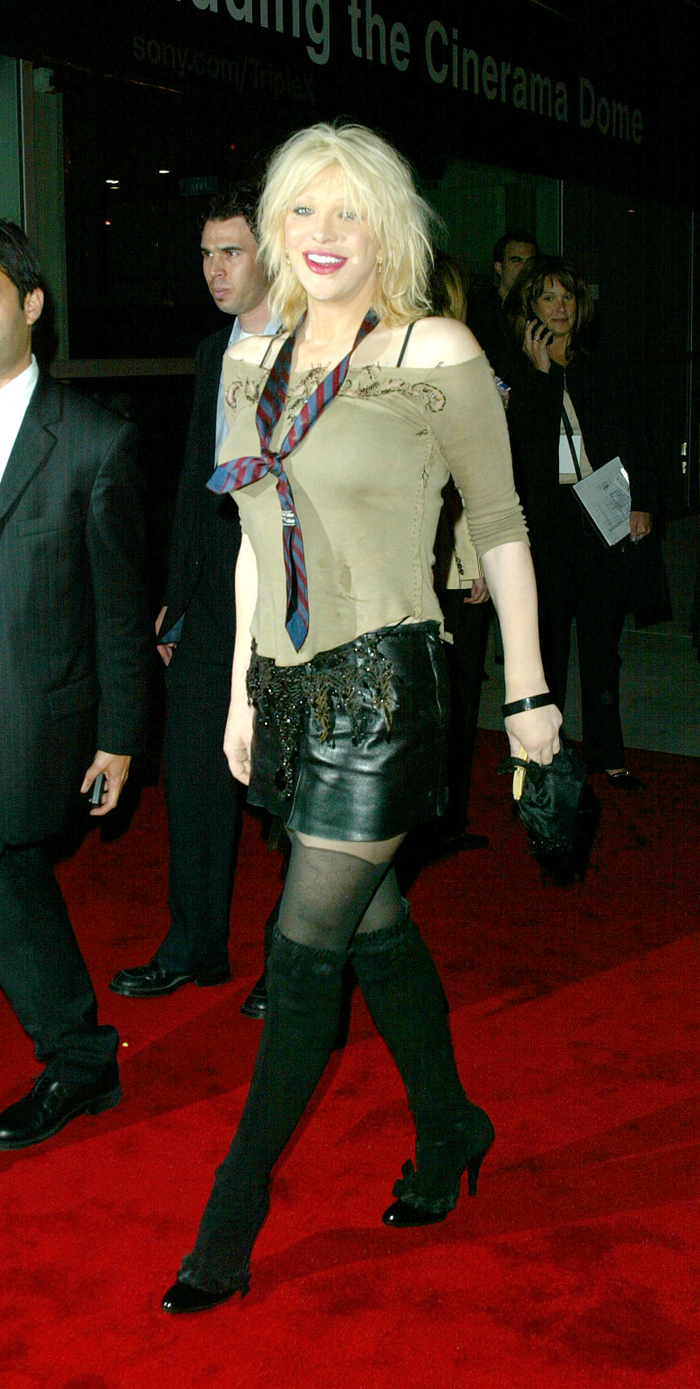 Photos courtesy of Fame/Flynet & WENN