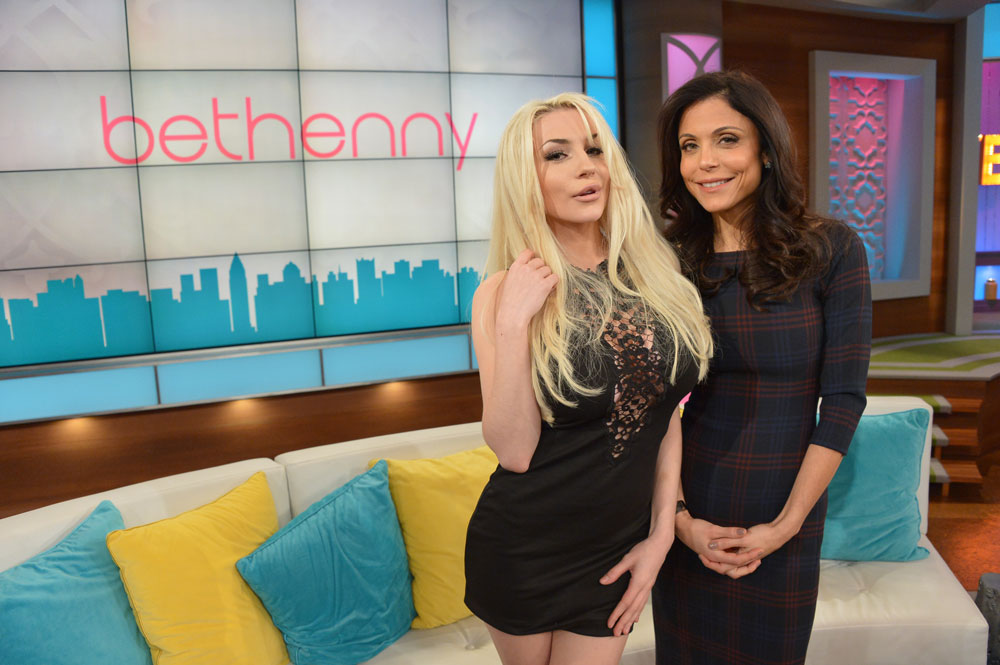 Bethenny Frankel is having all the tabloid personalities on her show in a vain attempt to boost ratings. It's getting us to talk about her, but I doubt more people are watching. Bethenny's interview with 19 year-old Courtney Stodden will air today, and they sent us some advance quotes and videos, which you can see below.
Courtney recently announced her separation from her 53 year-old husband, character actor Doug Hutchison. It's unclear if Courtney and Doug's separation is as much of a stunt as their creepy marriage, and if they're still together behind the scenes. They are still living together in the same house, Doug is still Courtney's manager, and they were seen out at a restaurant last week grossing out patrons with their PDA. So it's possible the whole separation is just a media angle they're taking to put Courtney out there on her own. And Courtney is certainly earning headlines again, if only for the continually dumb stuff she says.
On Bethenny's show, Courtney shared her deep thoughts on feminism, and explained that it's not true that she's working on a book since she doesn't "read or write." She was joking sort-of, but it sounded like it could be true.
In if she's going into porn
No that's the not direction I'm taking. Trust me the second I turned 18 the entire porn industry turned upside down, Vivid, all of them, I turned down a $5 million porn offer about three months ago. Link to video.

Her thoughts on feminism. She was asked "how are you going to take back your youth?"
I think that whether a woman or anybody quite frankly wants to wear combat boots or eight inch heels, I think that's their prerogative. I think if somebody feels comfortable a certain way with their life choices, how they look, regardless of what it is, if they are not hurting themselves or other people I think it's fine, it's fair game. Have at it, enjoy your life, look the way you want to look. I happen to feel comfortable like this, I like the way I look, I love the way I look. I think that's all that matters. I think that can empower other people too from hearing that. I know people might think this is funny but I actually feel that I am a true feminist because I believe in women looking the way they want to look, I think real women support women.

On if she has a book coming out
I don't have a book coming out that's a rumor. I don't read or write.

On her plans for the future
Yes, I'm not sitting here saying what reality show can I do next, right now I want to focus on kind of starting over again.
[From The Bethenny Frankel show, received via email]
Why is it that when a young woman is criticized for showing T&A they bring up "feminism" as if everyone telling them to put it away is anti-woman? Feminism does not mean supporting other women regardless of whether you agree with their choices, it's an entirely different concept. I guess I wouldn't expect Courtney to grasp that, because she states that she doesn't read or write. She's "joking," but I get the impression that reading and writing are not her priorities. It's not like she finished high school, right? Wiki says she completed high school through an online Christian academy. Whatever is going on, it's sad on some level and I do hope that she's finally breaking free from Doug, and her family. She seems really confused.
Here's Courtney talking about "feminism." Notice that Bethenny asks her a completely different question, and that Courtney feels the need to declare that she's a feminist.

And here's Courtney saying that she doesn't read or write. She's "joking," and she laughs about it. O-kay.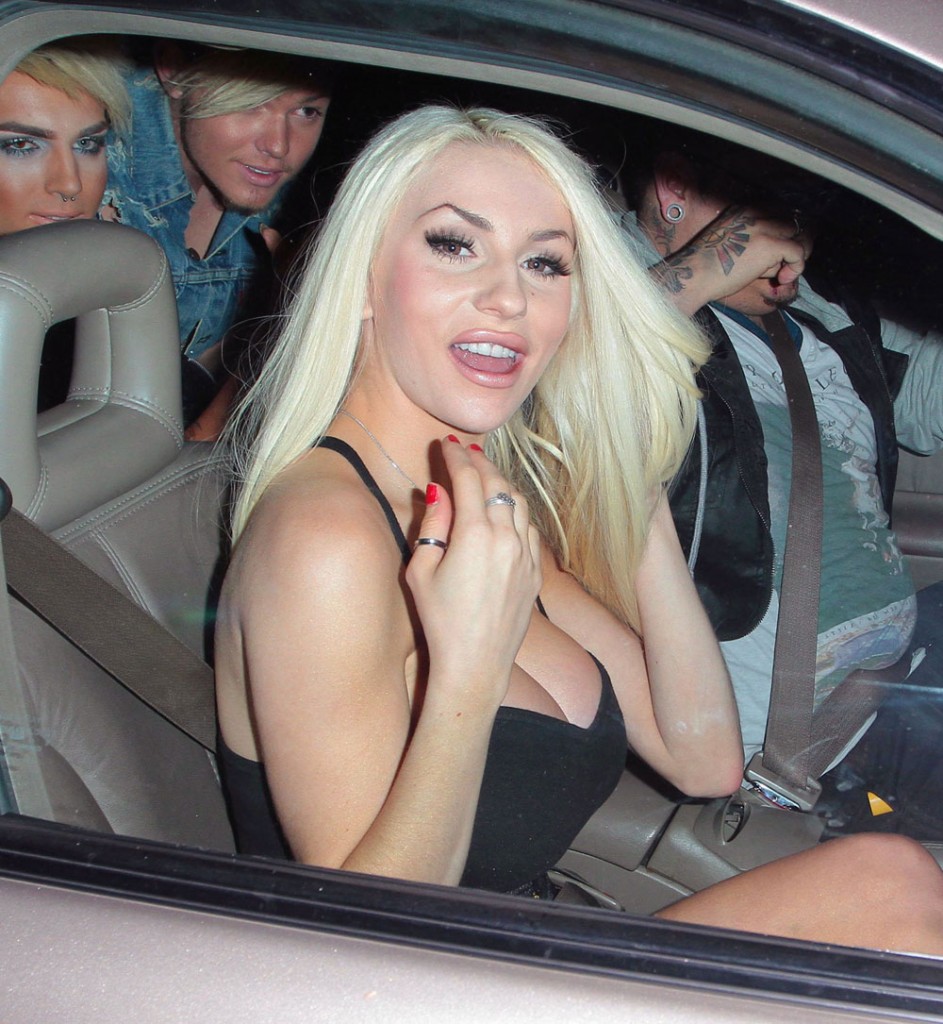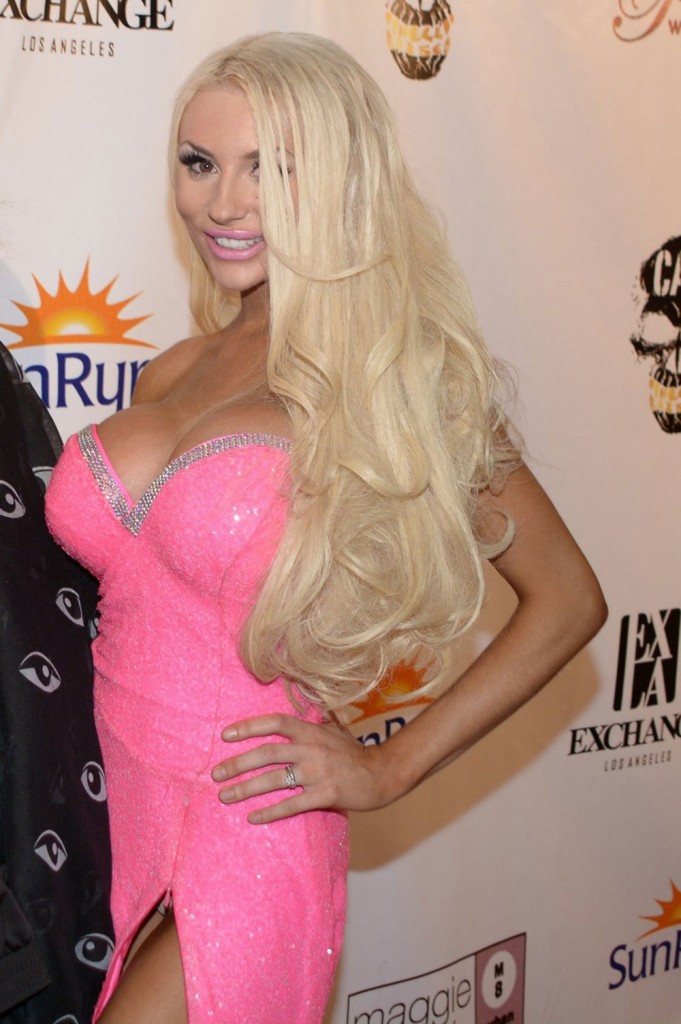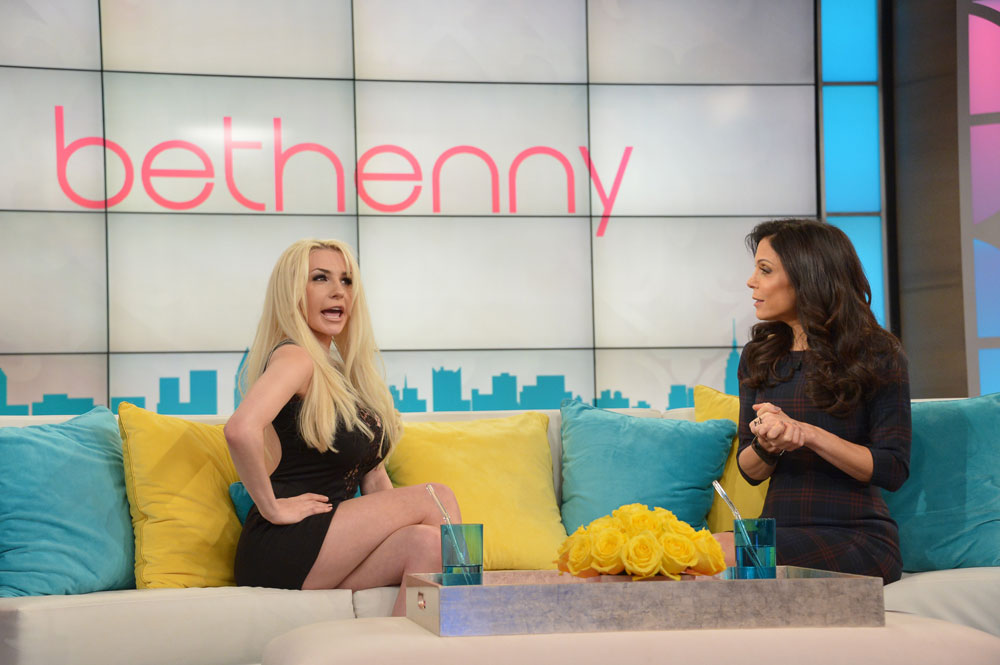 These photos are of Courtney out with Bobby Trendy and friends earlier this month. She's also shown at a "fashion show" in late October and on Bethenny's show this week. Credit: FameFlynet, Pacific Coast News, and The Bethenny Frankel Show