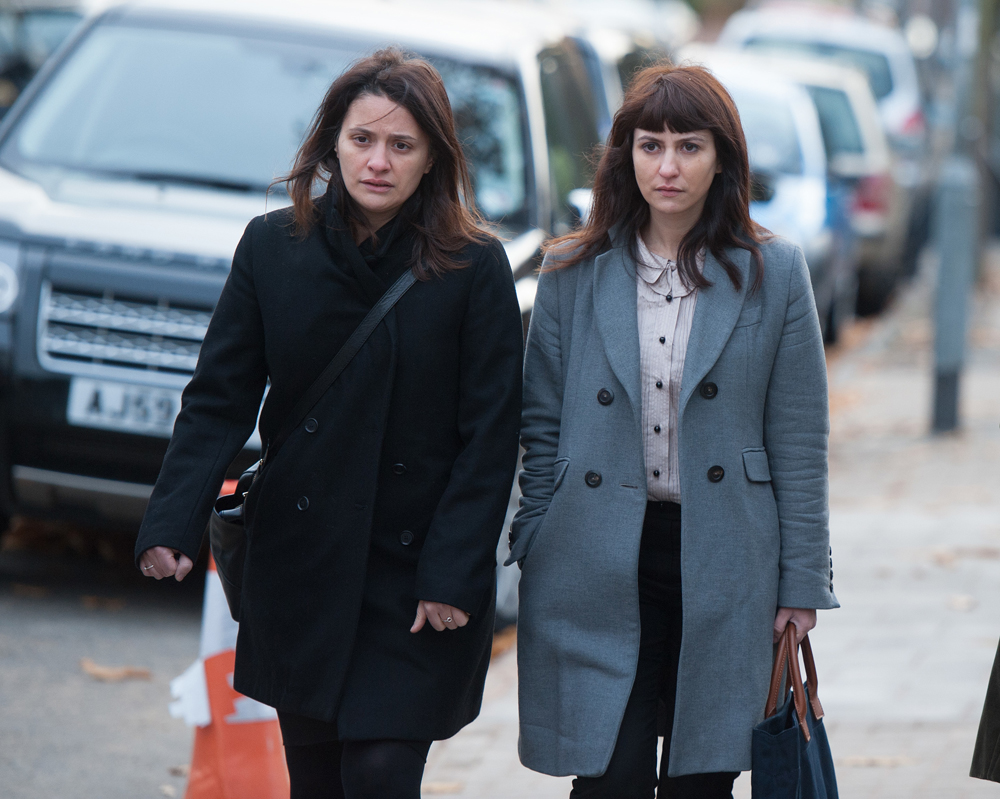 Way back in May, we all received quite a shock when Charles Saatchi choked Nigella Lawson in public. The immediate aftermath was very sudden. Nigella moved out of the family home. Saatchi threw some big baby fits. He tried to win her back by threatening suicide. When that didn't work, Saatchi announced he was divorcing Nigella because she didn't defend him. To her credit, Nigella kept her silence and ignored the whiny toddler in the room.
Then came the fraud suit (for $1.02 million) against Elisabetta and Francesca Grillo, the two former assistants of Nigella and Saatchi. The trial quickly turned into a major smear campaign against Nigella. The sisters painted her as a raging cokehead who handed over Saatchi's personal credit card in exchange for the sisters' silence. Nigella admitted coke use on a few occasions but insisted she was not an addict. She also gave details of Saatchi's "intimate terrorism" that were scary and wholly believable. The trial dragged on for weeks. Now the dodgy Grillo sisters have been declared not guilty of fraud:
Two sisters who worked as aides for Nigella Lawson and Charles Saatchi have been found not guilty of fraud.

Francesca Grillo, 35, and her sister Elisabetta, 41, were alleged to have used company credit cards to spend £685,000 on items for themselves including designer shoes and clothes.

The Italian sisters were employed as PAs by the TV cook and her multimillionaire art dealer ex-husband Charles Saatchi, who were divorced earlier this year. A jury at Isleworth Crown Court took eight hours and 52 minutes to clear the pair of the charges against them.

After hearing the verdicts, Francesca could be seen smiling and talking excitedly in Italian on her phone as she was being hugged by a supporter.

She told Sky News she was "extremely excited and pleased" to have been found innocent. Anthony Metzer QC, representing Elisabetta, said his client was "relieved" and "crying her eyes out". Mr Metzer said he was "incredibly thrilled and delighted for both of them" and wanted to thank the jury for their attention during the trial.

Scotland Yard has confirmed that it will not investigate claims made in court that Ms Lawson took cocaine, but will review the decision if new evidence comes to light.

Sky News can now report that defence lawyers applied to have the case thrown out after arguing that comments made by public figures, including Prime Minister David Cameron, meant they could not receive a fair trial.

Asked by Spectator editor Fraser Nelson if he was on "Team Nigella", Mr Cameron replied he was a "massive fan" and described the cook as a "very funny and warm person".

Judge Robin Johnson told the jury to ignore the Prime Minister's "regrettable" comments after defence lawyers claimed he had "tied himself to the vast majority of the prosecution witnesses."

Mr Saatchi had been accused of using the trial against the Grillo sisters to "attack" his former wife. The high-profile marriage suddenly and publicly fell apart after he was photographed clasping Ms Lawson's throat at Scott's restaurant in Mayfair earlier this year. Mr Metzer, defence counsel for Elisabetta Grillo, said she was caught in the "crossfire" between the former couple.
[From Sky News]
This was never really a trial about the Grillo sisters. Instead it was all about Saatchi dragging Nigella through the mud and trashing her public reputation. Does Saatchi really think that people finding out about Nigella's occasional drug use will make him look like a stellar husband or something? Ha. We all know what a d-bag this guy is. Saatchi may have secured a new trophy girlfriend, but sooner or later he'll show his colors again.
On a related note, the Guardian printed an excellent column a few weeks ago. Author Victoria Cohen Mitchell spoke very eloquently about Nigella's 1st husband, John Diamond. Mitchell says that during Diamond's dying days, he also tried to talk her into indulging in a bit of cocaine to escape his terminal diagnosis. Mitchell also says, "I've never seen Nigella take drugs. In 15 years, I've only once seen her slightly drunk. It's hard to think of anyone I know for whom the expression 'off her head' is less appropriate." The column is amazing, and Nigella fans will find it a great read.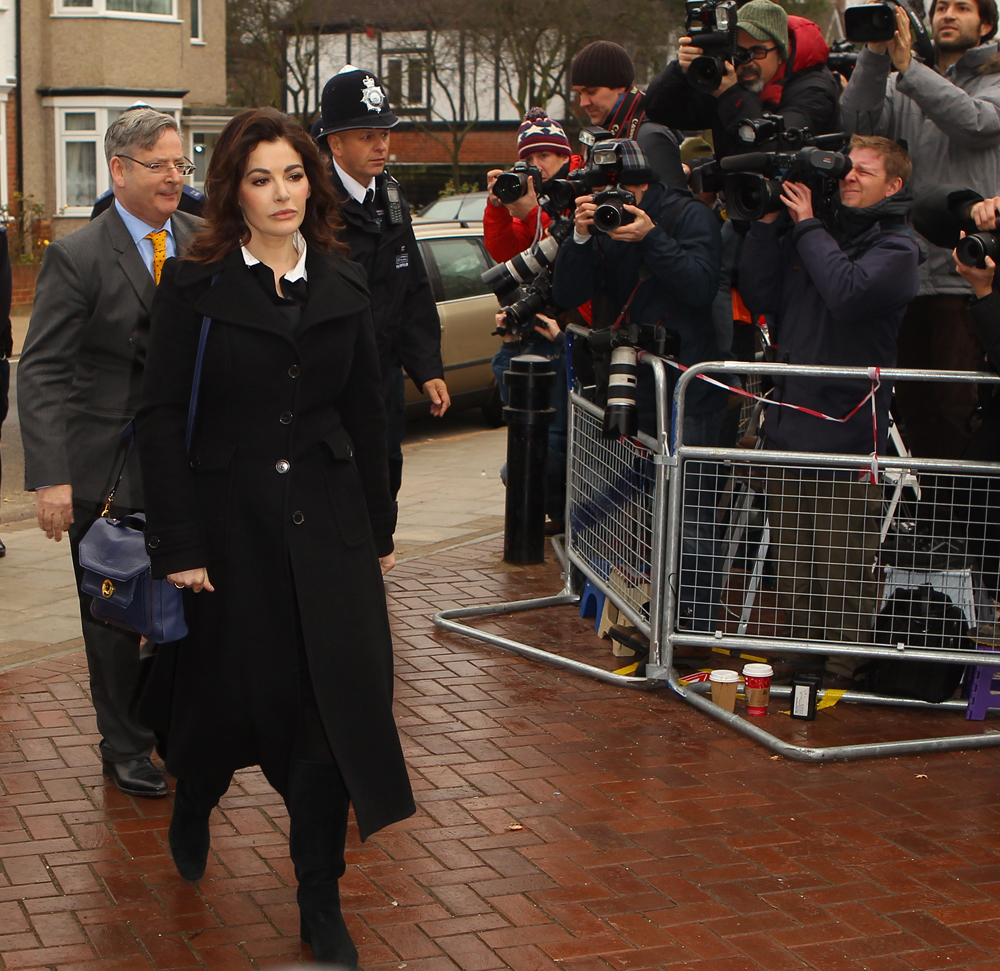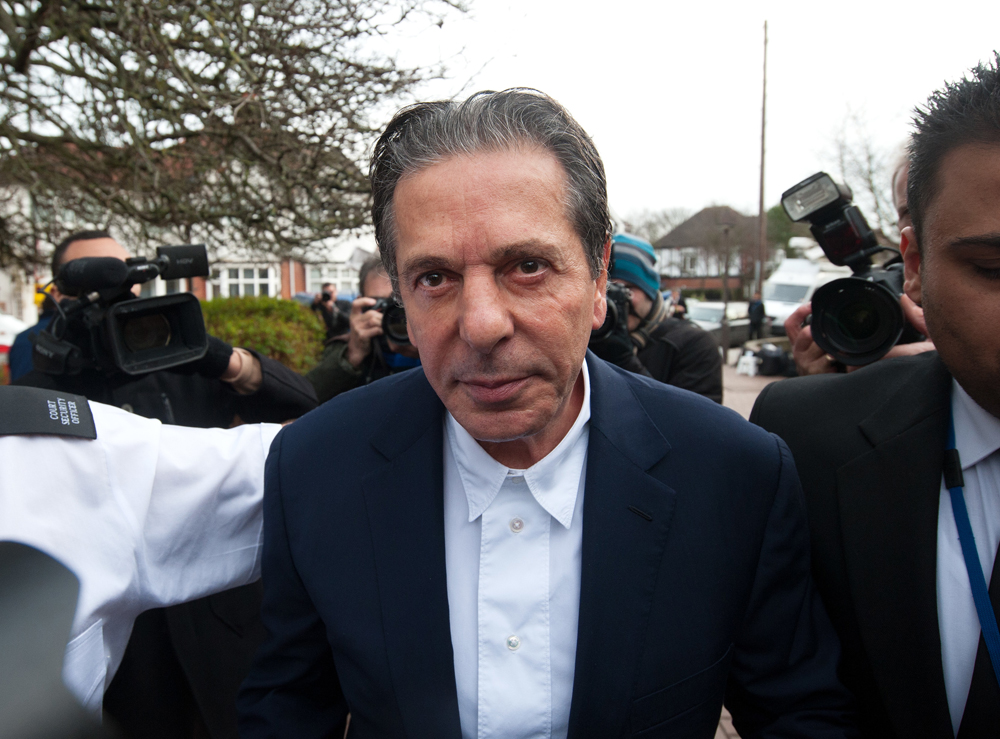 Photos courtesy of WENN