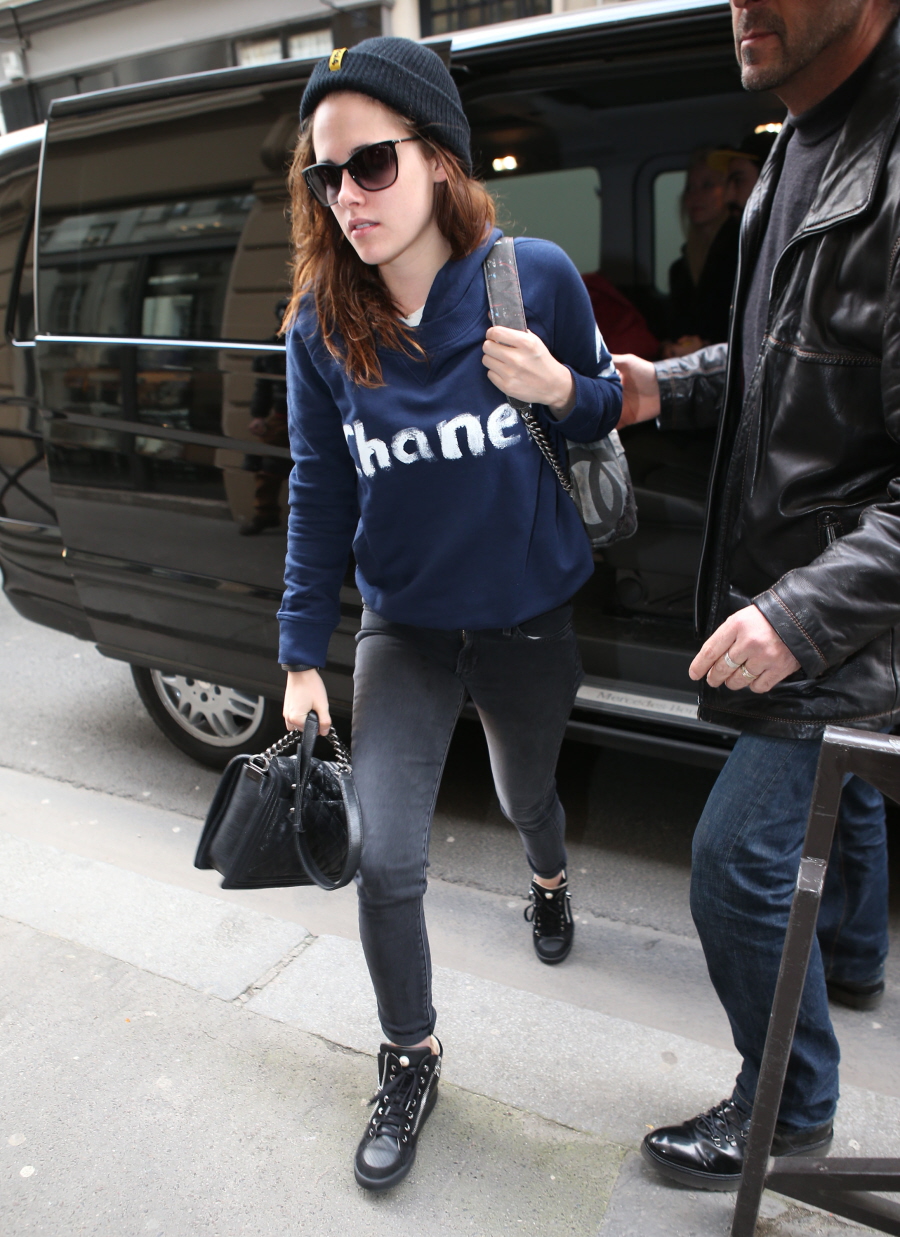 Judging by your lack of interest in yesterday's Kristen Stewart story, I'm doubting many people will care about this, but I'm still covering it because I think it's interesting. Kristen Stewart is changing! She really is. She's trying out a slightly different public persona – less grumpy, more talkative and sharing, and now she's the kind of girl who jets off to Paris with some girlfriends just to go shopping at Chanel (and to do a photoshoot, of course). So, these are new photos of Kristen running around Paris in her new Chanel ensemble. Of course she got a Chanel sweatshirt, plus a Chanel backpack AND a Chanel purse. She is, after all, the newest face of Chanel. So, here's the question: was this all some carefully planned promotional trip so Kristen could get pap'd and hawk some Chanel stuff? Probably. Us Weekly even ran a story about her Chanel backpack:
A JanSport backpack, this is not. Kristen Stewart was spotted heading into Karl Lagerfeld's 7L Bookshop in Paris on Feb. 4, wearing a custom Chanel sweatshirt and double-fisting Chanel bags. In one hand, she carried the fashion house's Boy bag, and over her other shoulder she slung a Chanel backpack that costs $3400 — equivalent to more than 113 JanSport bags.

The black distressed bag from the spring 2014 collection is spray-painted and adorned with knotted strings and a carabiner clip. Lagerfeld's inspiration for the Pop Art collection of real-life wear was young artists. "Life is not a red carpet," the designer and Chanel creative director told Vogue. "This is for daily life. I wanted color, and a fraicheur. It's a very happy mood."

Stewart, the latest face of Chanel, arrived in Paris on Feb. 3 and headed to the Chanel store for a photo shoot. Before her campaign with Chanel for the Metiers d'Art Paris-Dallas collection debuts in the spring, Stewart went topless for her ad for Balenciaga Rosabotanica, for which she's also a spokeswoman.
$3400 for a BACKPACK?! That's Olsen-esque. And to quote my favorite line from Working Girl: "IT'S NOT EVEN LEATHA!" Would you pay $3400 for a non-leather (it looks like run-of-the-mill plastic to me) Chanel bag? No. But would you carry it if you got it for free, and Chanel was paying you to carry it around to promote the label? Yeah, probably. And I do like her Chanel sweatshirt. It's cute. Not for me, though. But for an 18-year-old heiress? Sure.
PS… I really can't wait for Karl Lagerfeld's inevitably bitchy interview about Kristen Stewart. It should be gold. I'm imagining a diatribe about her greasy hair.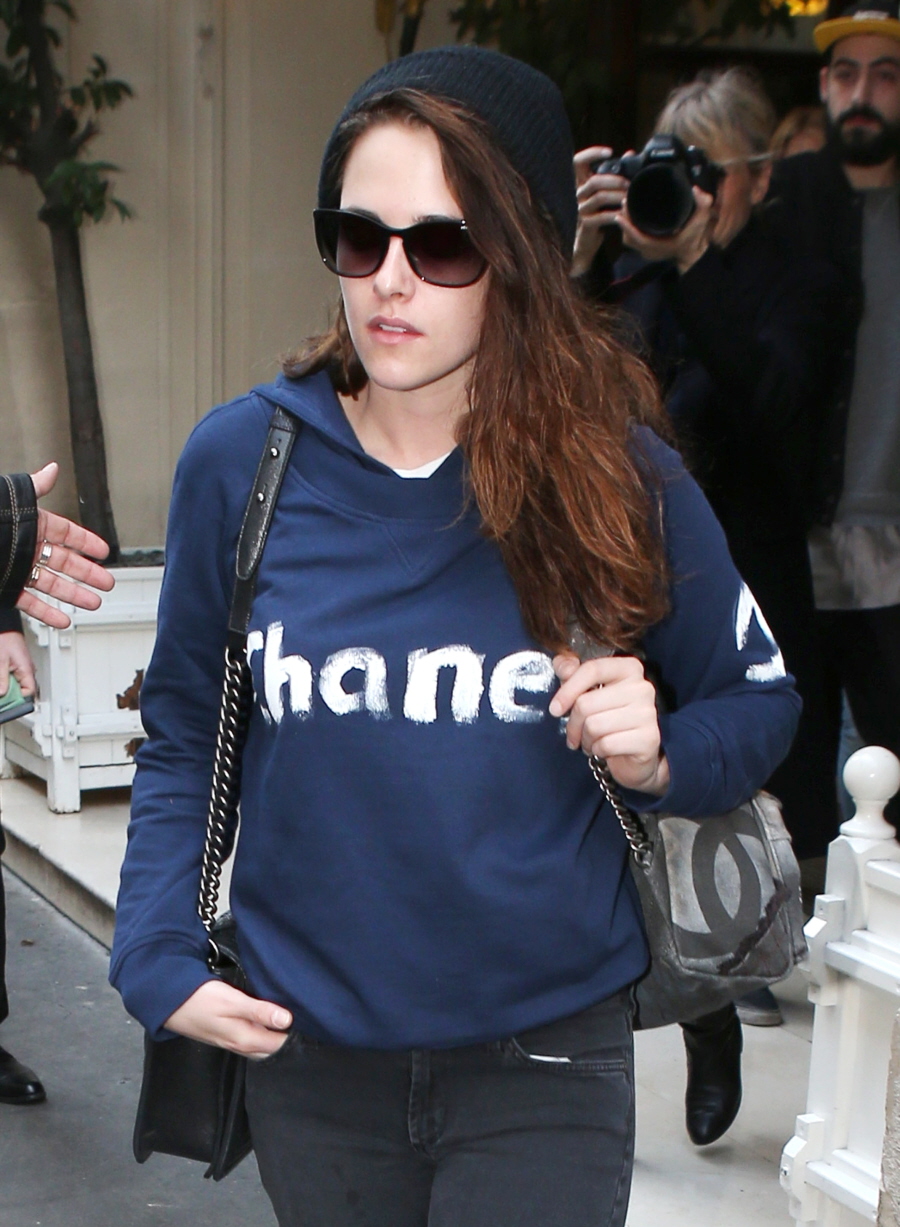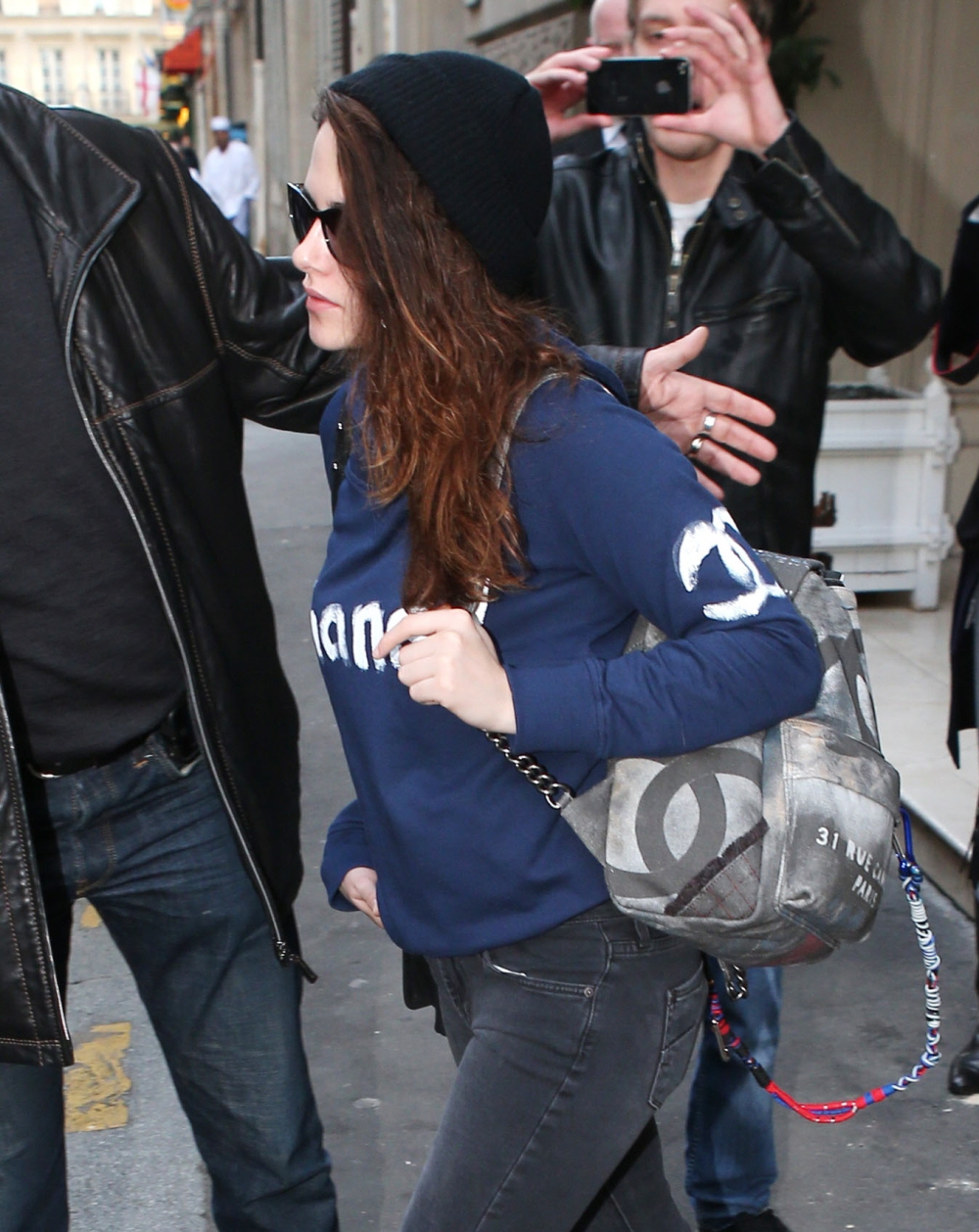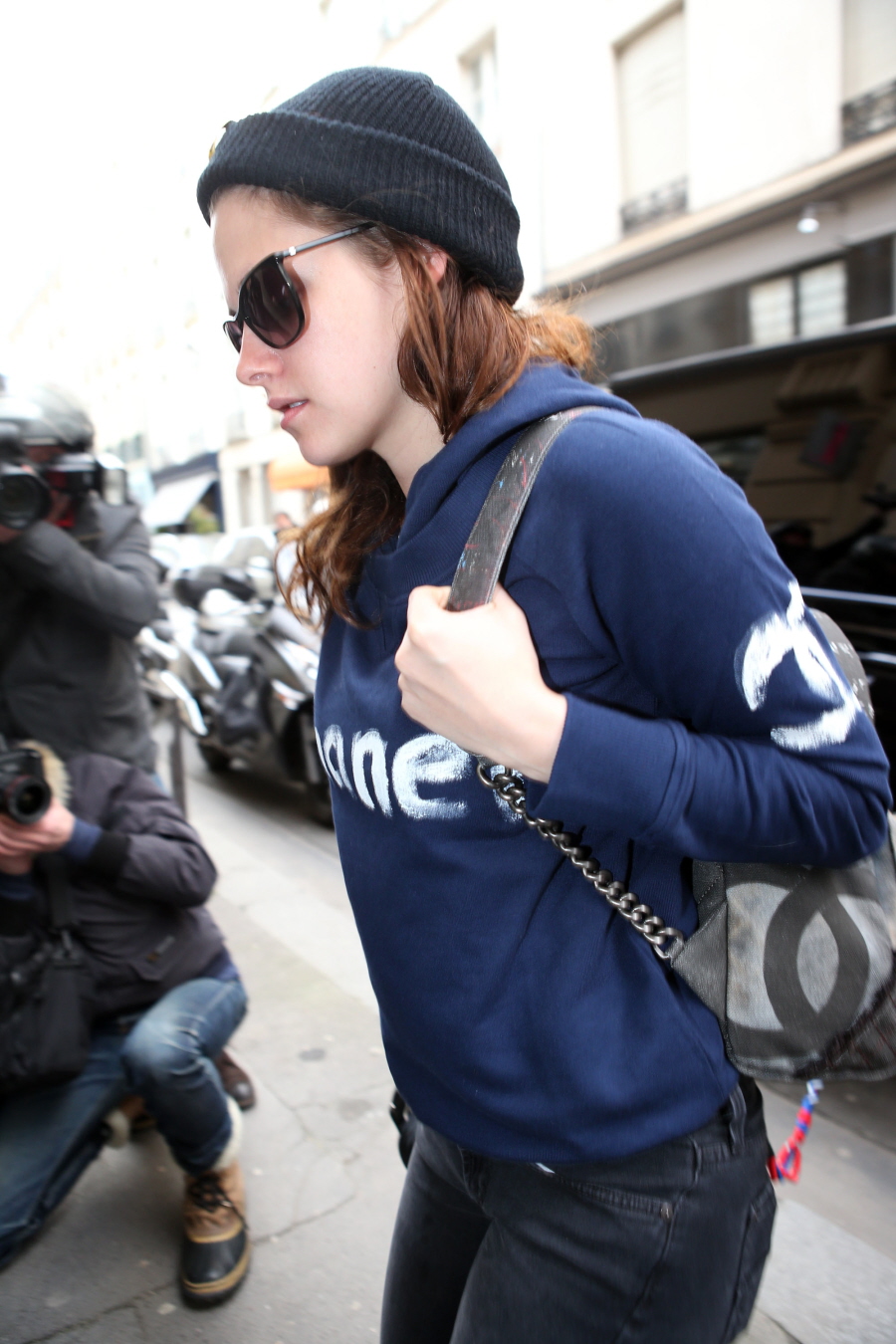 Photos courtesy of Fame/Flynet.