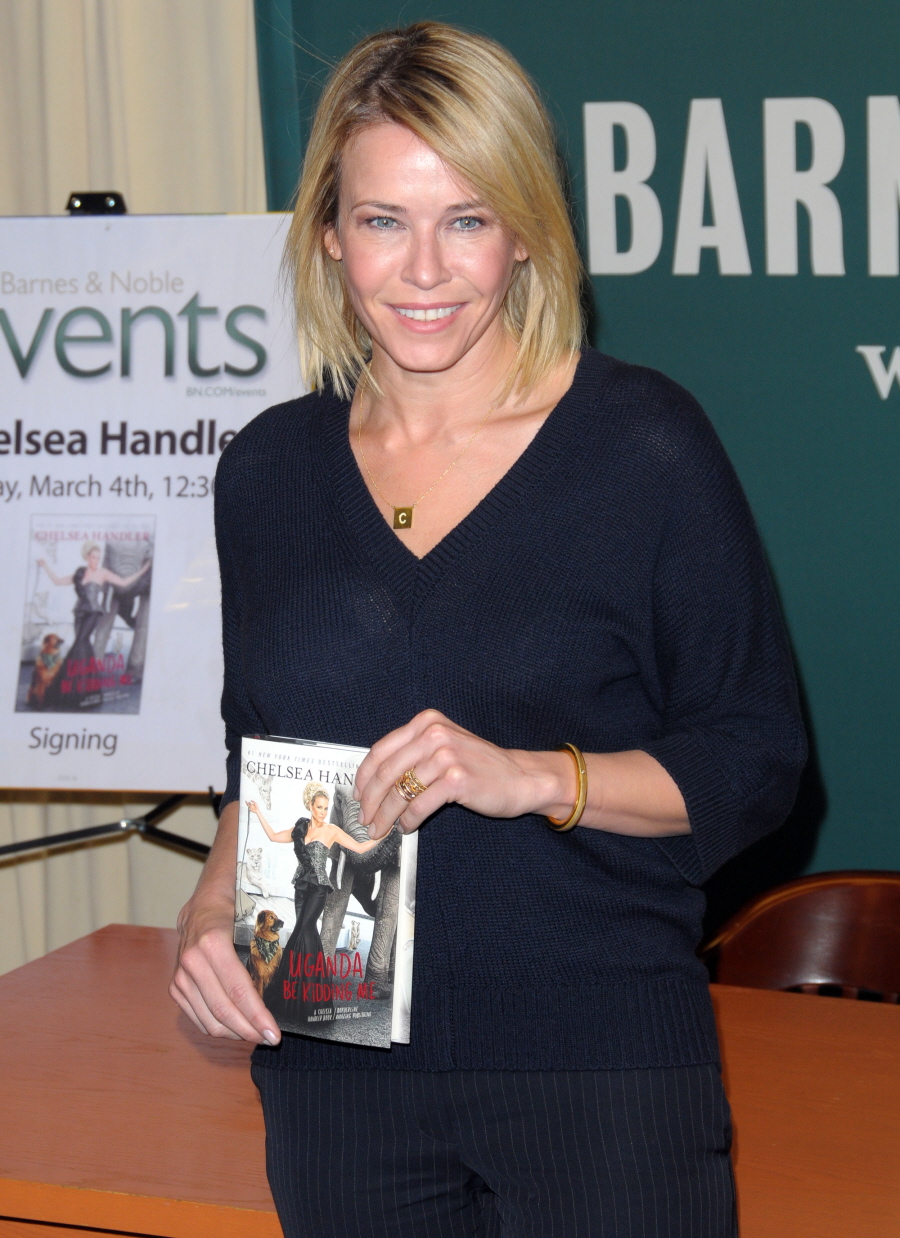 I'm getting a funny feeling about this story. And when I say "funny" I mean "delightful schadenfreude." According to an exclusive with The Hollywood Reporter, Chelsea Handler is going to finish up her contract with E! (she has nine months left) and then she's going to leave the network to pursue other opportunities. Is this Chelsea's choice? Or was she pushed? That's the question. Over the past few months, there were a handful of stories about E! finally going hard on Chelsea and telling her to STFU about Angelina Jolie and to stop with all of the racist crap. Of course, there she was on Oscar night, tweeting racist crap for HuffPo. So, are the powers that be at E! finally sick of her vodka-soaked shenanigans or does Chelsea think she's outgrown E!?
Chelsea Handler plans to leave the E! channel when her contract expires at the end of the year, bringing a close to her Chelsea Lately talk show after eight years, according to her manager, Irving Azoff. Handler has long been vocal about her dissatisfaction with the network though such complaints could be perceived as part of a negotiation. In this case, Azoff tells The Hollywood Reporter, "Chelsea intends to leave when her contract expires. She hired me to figure out her life after E! We have at least seven suitors and many ideas." He adds that plans for Handler could include a radio presence and a possible nightly or weekly late-night show on another network or digital service.

An E! spokesperson stated to THR: "Chelsea has nine months left on her contract and E! will not comment on the future of Chelsea Lately at this time."

Handler is said to feel that she is at the top of her game with a new book, Uganda be Kidding Me — her first to sit at No. 1 on the New York Times best-seller list for more than a week. She is in the midst of a tour of more than 30 markets, "a massive piece of business" that also will include dates overseas, according to Geof Wills, president of Live Nation Comedy. She will shoot her first stand-up special at the Harris Theatre in Chicago in June to air on cable in October.

Handler's reps at CAA have been setting meetings with companies including Sony Television and Lionsgate as well as FX to discuss her future. The extent of interest in her in those quarters is not clear. "I don't know if anybody's going to pay her as much as E!," says a source at one company that has been contacted.

Handler is said to be making about $9 million a year while delivering average viewership of 572,000 a night — a decline from 839,000 in 2010. Ad revenue also has dipped more than 15 percent in recent years to $134.5 million, according to Kantar Media.

Handler has been open about her frustration with programming at E! In a March 5 appearance on Howard Stern's radio show, she described E! as "a sad, sad place to live," adding, "They don't know what they're doing. They have no ideas. It's a failure."

While comics such as Jay Leno long have slung mud at their television homes, it's hard to imagine that NBCUniversal cable entertainment chairman Bonnie Hammer was amused by Handler's appraisal of her strategy to rebrand E! over the past few years as a more "aspirational" network. A source at one company on the list to meet with Handler says those public remarks might make potential suitors think twice.

"When you see talent go after a network like that, you think one day it could be me," this person says. Handler said on Stern's show that she'd like a forum like Netflix. Broadcast networks probably are out, given Handler's raunchy brand of humor.
I laughed at the viewership and advertising data – it doesn't seem like Chelsea's popularity is on the upswing at all, does it? Her manager tried to spin the data and make it sound like Chelsea is still "winning" even though her viewership has taken a major hit over the past few years (mostly as people have wised up to her nasty, racist shtick), and I guess it's worth noting that Chelsea is still selling books and she's still an in-demand stand-up comedienne.
All that being said, do you think Chelsea will be able to relaunch herself on another cable platform or even – gasp! – network TV? I have my doubts. In addition to bad-mouthing E!, Chelsea has also bad-mouthed her own limited abilities to, you know, gossip about celebrities. Cheslea sees herself as the second coming of Jon Stewart and Stephen Colbert. That's what she really wants to do – gossip about the news. And please, remember how she got the job at E! in the first place: she was banging her married boss. Will she be able to pull that same move somewhere else?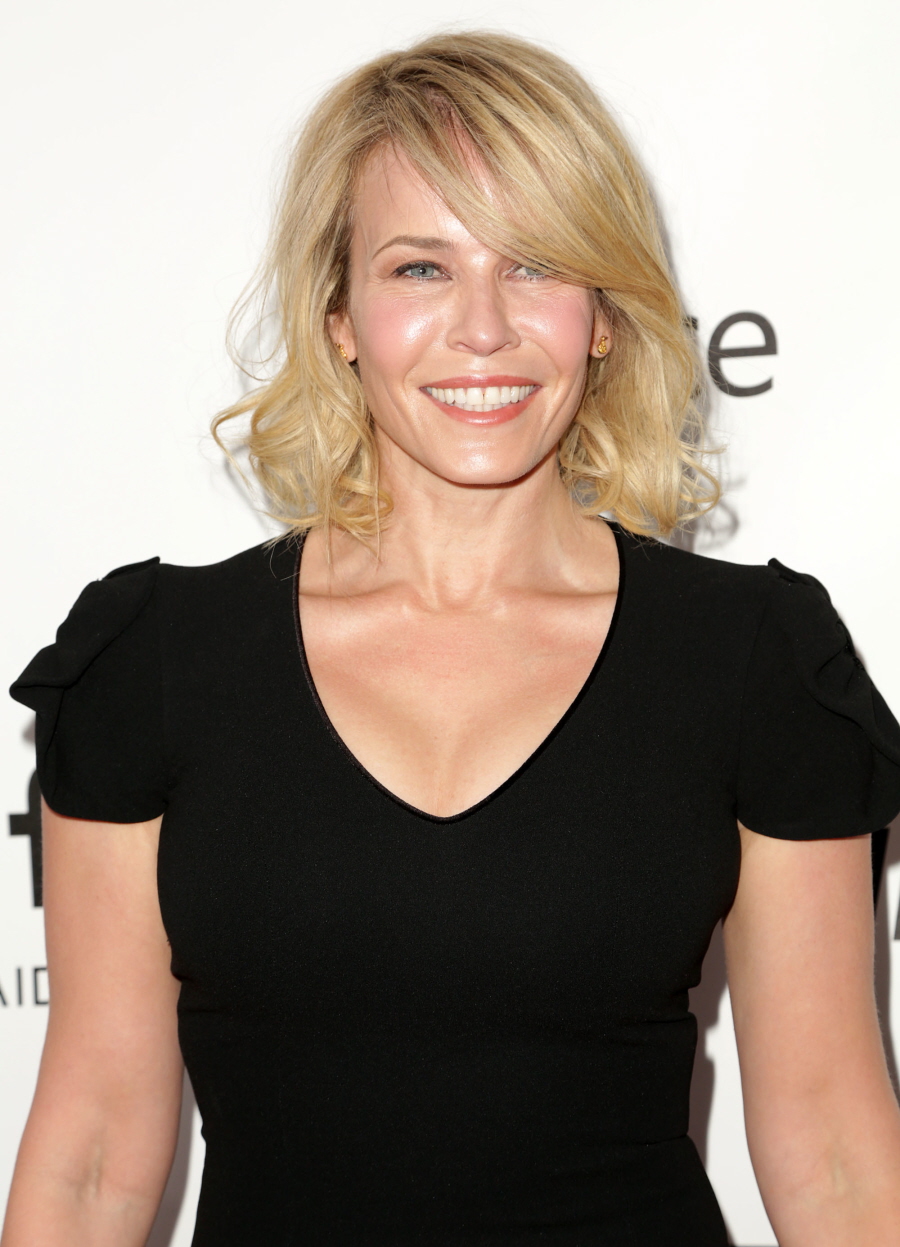 Photos courtesy of WENN.