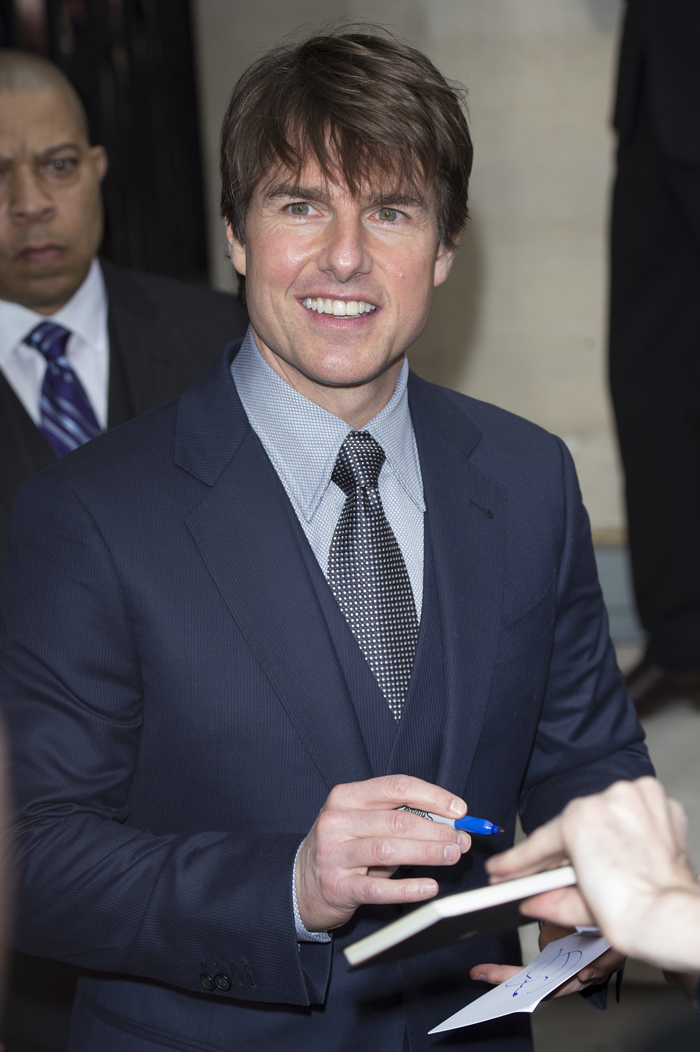 Katie Holmes famously divorced Tom Cruise in July 2012. If you would have told me then that Tom Cruise would still be single, I'd have never believed it. For sure I thought he'd have ripped through another marriage (and divorce) by now. Tom's already been through three divorces, so what's another?
To Tom's credit, he's kept things fast and loose for the past few years. Not for lack of trying. Remember how Tom was being gross in nightclubs — flirting with son Connor's Playboy model friends in London and dirty dancing with a 26-year-old in NYC? I was sure Tom would call Julianne Hough, but she must not have been interested. Then SI model Jessica White pursued Tom, but he wasn't having it. There were rumors that Tom had a hot date with Laura Prepon. I guess that didn't work out either.
Enter Elisabeth Moss. She and Tom aren't dating yet. Elisabeth is a 2nd-generation CO$ member. She's been giving lip service to her "traumatic" marriage experience that ended a few years ago. Tom was certainly traumatized at being dumped by Holmes. This could be the beginning of a beautiful … something. Star says the CO$ would loooove it if Tom and Elisabeth got together:
Tom Cruise is a three-time loser in marriage, but insiders say Mad Men star Elisabeth Moss is a perfect match!

A union between the Mission: Impossible hunk, 51, and 31-year-old Moss, who's also a Scientologist, would likely please Church of Scientology officials. "Friends think it would be great for both of them — and Scientology," said an insider.

According to the source, church leaders would probably "be delighted to have their leading member become involved with another celebrity Scientologist." By all indications, Tom and Elisabeth — called Lizzie by friends — would make an ideal high-profile couple.

"Lizzie is beautiful, smart, and a little quirky," said the insider. "She can hold her own in the spotlight, and marrying Tom would be good for both their careers. She has no children of her own and would be an ideal candidate to have one with Tom."

The popular actress — who plays Peggy Olson on AMC's 1960s hit advertising drama — was briefly married to former SNL star Fred Armisen. But the couple split after just eight months in 2010, with Armisen admitting he was a terrible husband.

Meanwhile, Cruise has endured three failed marriages — to Mimi Rogers, Nicole Kidman, and Katie Holmes. Sources say he's been lonely and is now ready for a self-assured, younger woman like Moss, who's been described as "very mature."

"Lizzie is on the verge of breaking out in Hollywood," said a close source. "She would be a perfect compliment to a superstar like Tom."

And Tom is overdue for a new romance. She hasn't had much luck since Katie Holmes shocked him with court papers in 2012 and asked for sole custody of their now-7-year-old daughter Suri. "Tom misses the companionship of a woman."

As the Enquirer reported, the aging actor is sensitive about appearing over the hill and feels a younger woman would help him with younger audiences. Sources also told us that Tom even resported to accompanying his 19-year-old deejay son Connor to clubs in a mostly futile effort to meet women.

But pals are optimistic that things could work out with Moss — especially since she shares his beliefs. Cruise admitted in court papers that ex-wife Katie filed for divorce at least in part so that Katie and Suri could leave Scientology, "But since Lizzie is a Scientologist, there would be no issues about raising a child in the church," noted the insider.

Insiders say the Scientologists would ebe happy if Moss can finally change Cruise's run of bad luck.
[From Enquirer, print edition, April 14, 2014]
This actually makes sense. Can I approve of this match? Elisabeth is already a Scientologist and has never given any indication that she wants to change that fact. Tom's had a very difficult time trying to convert Catholic girls into obedient CO$ wives. He might as well date one of his own, right? I guess. Good luck, Lizzie.
Tom still has a terrible image problem that must be fixed. He's making the same movie over and over again (here's the new trailer for Edge of Tomorrow, if you haven't seen it already). He's getting booed at baseball games. Last year's deposition debacle lost him many more fans. Elisabeth would be a great asset.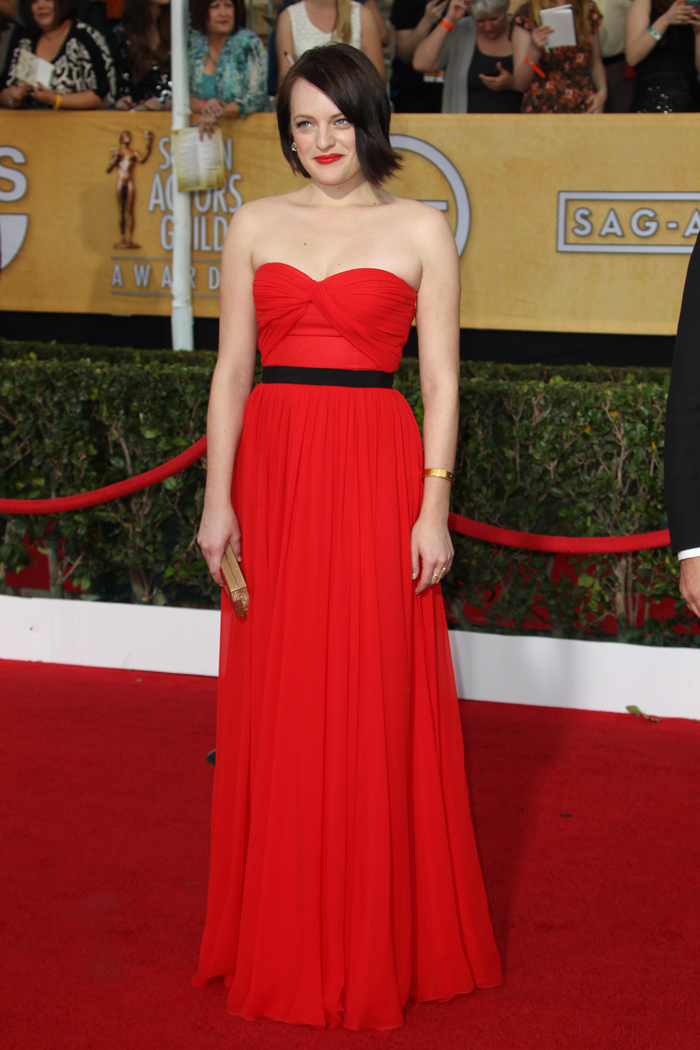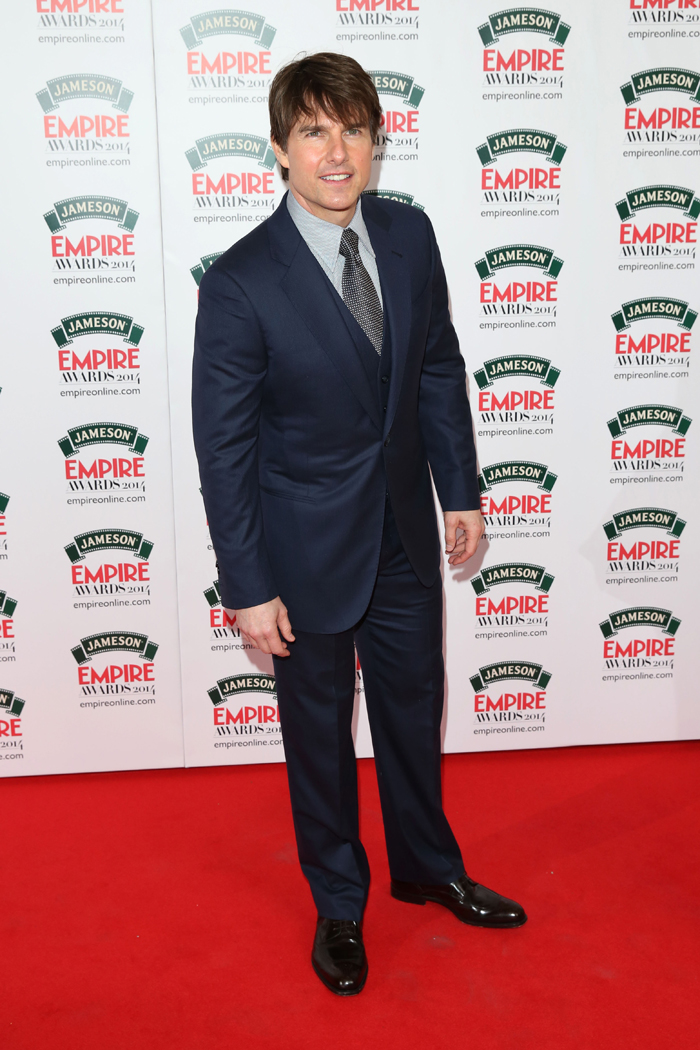 Photos courtesy of WENN