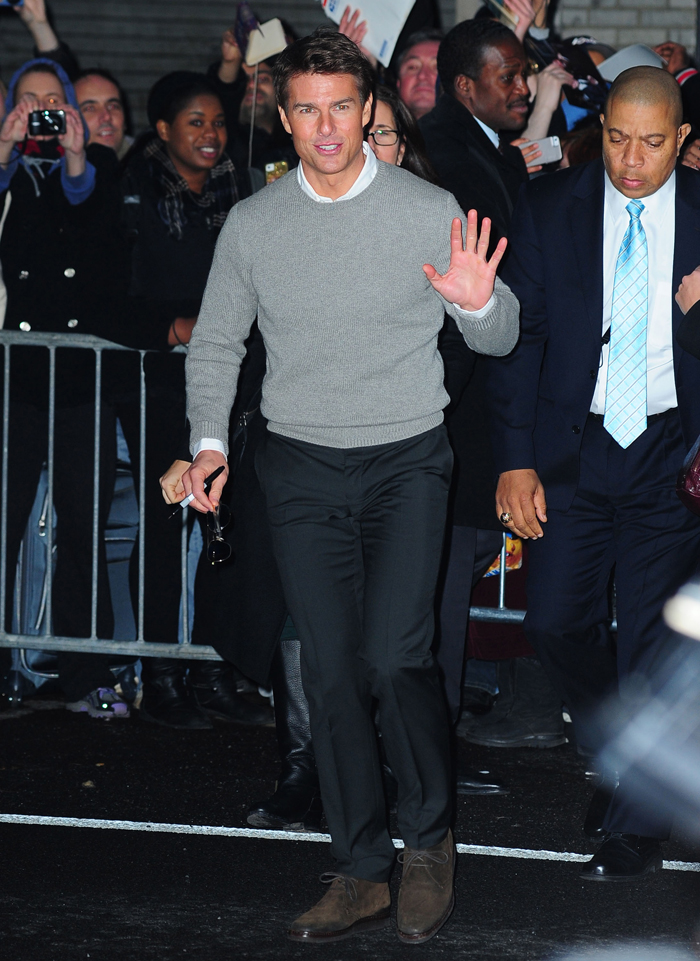 I really thought we'd have at least another six months or so before reporting upon this type of story; that is, Tom Cruise supposedly has a new (and improved!) love interest after the ceremonious collapse of his ill-fated marriage to Katie Holmes. Speaking of which, Tom's team was really pushing hard for us to believe that he and "Kate" were totally sleeping together while he was in NYC a few weeks ago to promote Jack Reacher, right? As for Katie's side of the story, her team wisely ignored such tactics. However (and I admit this next development caused much amusement on my behalf over the weekend), Katie was photographed a few days ago wearing a puffy, blue jacket that strongly resembled Tom's puffy, blue jacket, which has made several appearances of its own on the red carpet. Coincidence, or just a mutual case of bad fashion? I'm inclined to vote for the latter possibility.
Now for the real meat of this story, which is that Tom Cruise has "officially" moved on from the ashes of his third marriage with a new romance. Part of me wonders whether this mysterious new woman is really the same chick who served as his "escort" at a recent Scientology gala, and I also wonder if the CO$ has reframed her history as an ordinary restaurant manager, which is entirely plausible. After all, Tom's next wife must not be traceable as a mail-order bride, and she definitely must not have prominent incisor teeth. Here's the InTouch story with the proverbial money shot cover that shows Tom's new "love interest," and … doesn't this woman look an awful lot like Nazanin Boniadi after the aforementioned teeth filing? Just saying.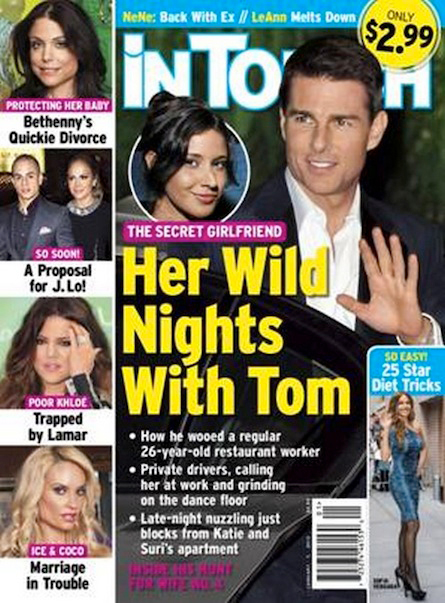 In Touch can exclusively reveal that only six months after his divorce from Katie Holmes, Tom Cruise has a new woman in his life — brunette beauty Cynthia Jorge, a 26-year-old Queens, N.Y., native and NYC restaurant manager.

The 50-year old Mission: Impossible star was spotted "sweeping her around the dance floor," of NYC's Le Baron nightclub in the early morning hours of Dec. 18, an eyewitness details in the new issue of In Touch, on newsstands now.

"He was mesmerized by Cynthia," the eyewitness dishes to In Touch. "She had her hair in a bun, wore tight black pants and looked gorgeous."

The pair first met Dec. 16 at the Lower East Side hot spot Beauty & Essex, where Cynthia works as a manager. As Tom left the restaurant after a meal of sashimi and empanadas with business associates, Cynthia handed the superstar her card, a restaurant insider tells In Touch.

The bold gesture paid off: The next day, Tom called Beauty & Essex at least twice trying to track down Cynthia — and was "put on hold for a very long time!" according to the insider, who adds that when he couldn't get her on the phone, the insistent actor got a message to her.

Less than 24 hours later, the duo — along with some friends — met up at Le Baron, where Cynthia huddled with Tom in a booth when he wasn't pulling her out on the dance floor. "They did the salsa. He took her in his arms and spun her around the dance floor," a witness gushes. "Tom looked like a pro."

And things weren't totally G-rated. "At one point, they began grinding together," the witness tells In Touch. "It was straight out of Dirty Dancing. Tom seemed to be in his own world, completely smitten."

At the end of their night together, Cynthia was treated to one of the action star's signature grand romantic gestures: Tom had made sure a private car was waiting outside the club to get her home safely. "It was obvious," says the source. "He's enamored with this woman."
[From In Touch Weekly]
This is really gross, people. From what I can tell from my limited vantage point, this woman is either the next Mrs. Tom Cruise (after a top-secret ceremony at Gold Base) or she's just a disposable red herring who serves as a masquerade for Tom's next round of currently-ongoing, super-secret, Hollywood-starlet auditions.
Aside from the obvious disgusting factor here, does anything about this scenario remind anyone else of, say, Demi Moore's recent behavior? After all, Demi has also been "grinding" on a 27-year-old dude and then dated a different 26-year-old guy. Both Tom and Demi are chasing a past that never existed, and they're both doing so in a very embarrassing way. Of course, the obvious question here is this: Why don't Tom Cruise and Demi Moore date each other? The answer, of course, is that they belong to different cults, and the CO$ doesn't swing with the Kabbalah crowd. Otherwise, this could have possibly been a match made in Xenu heaven.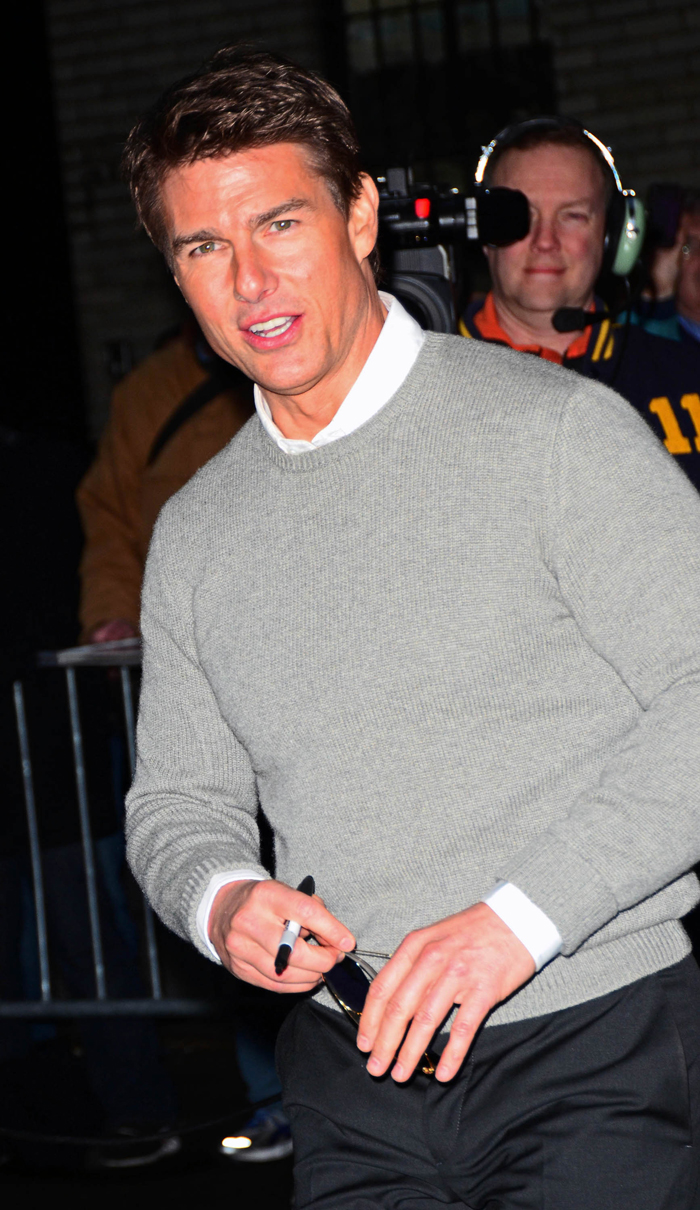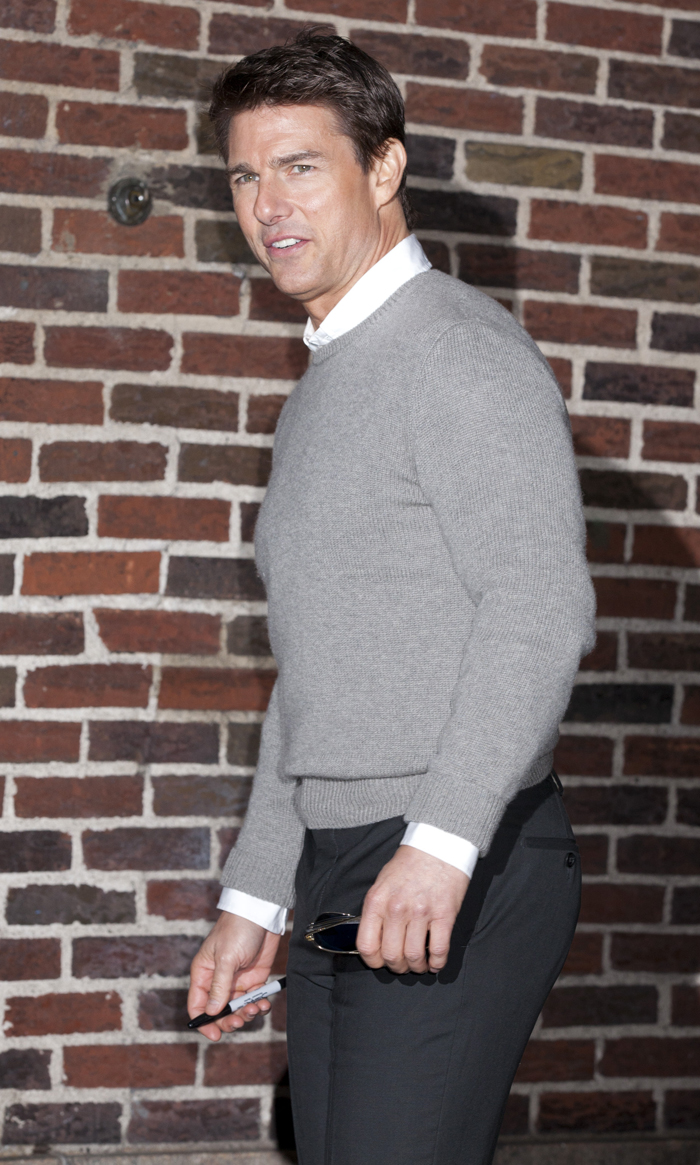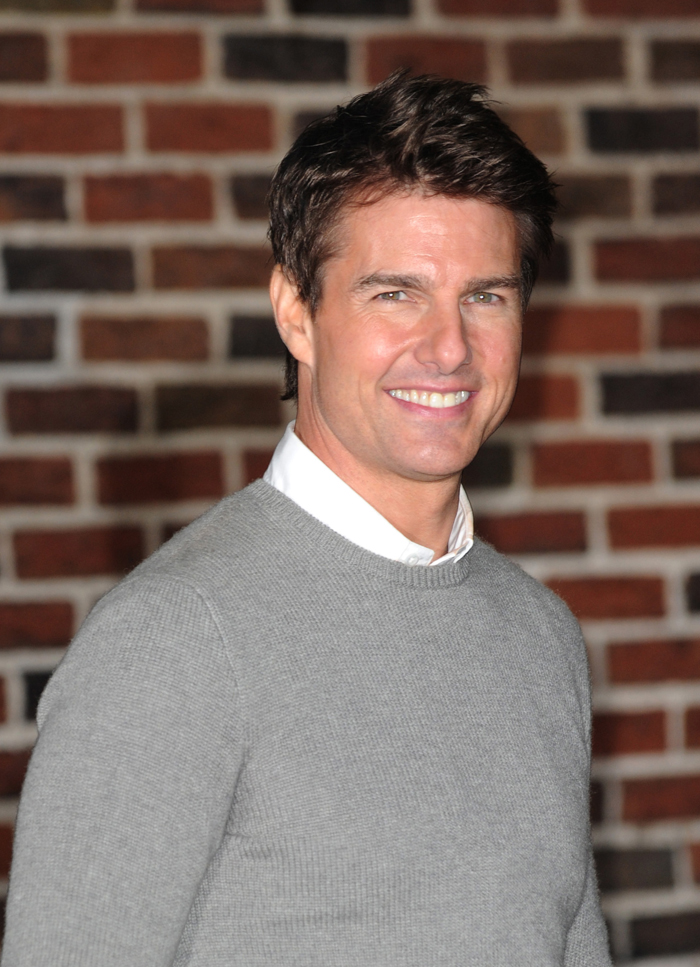 Photos courtesy of In Touch, Fame/Flynet, and WENN