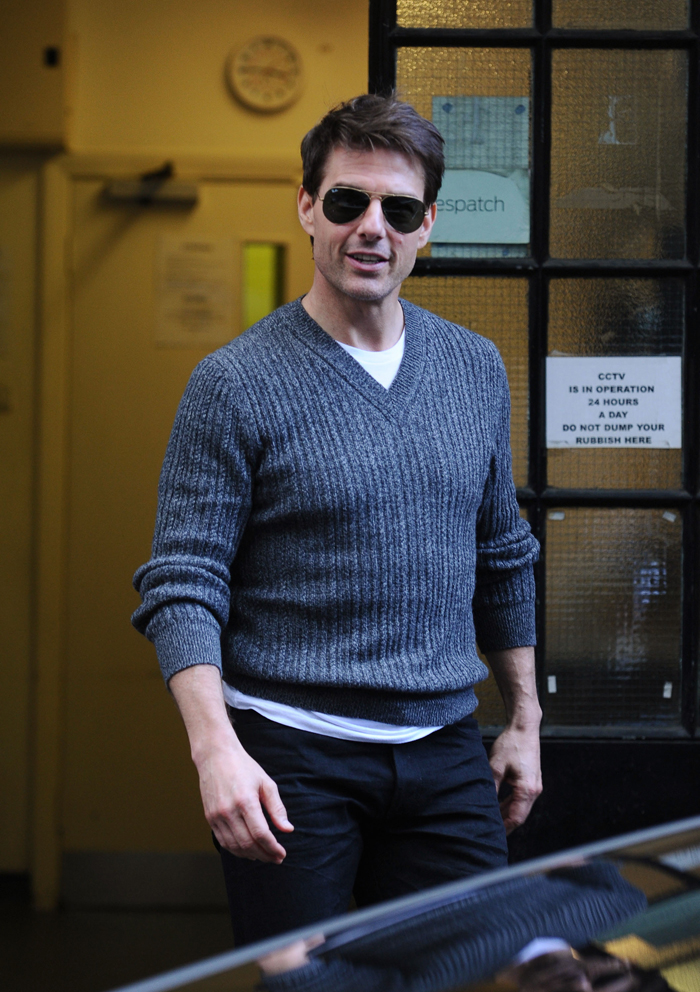 Just when he thought he was out, they pulled him back in. Just kidding! Tom Cruise was never in danger of leaving Scientology, but he has been skipping CO$ fundraisers to go icky-nightclubbing with his son Connor, who is probably mortified that his dad has been flirting with Playboy models under the guise of watching his son's DJ gigs. Oh, and while Tom's been in London, a neighbor was just tasered for entering Tom's Beverly Hills property. The dude was so drunk he allegedly didn't even know it was Tom's house, not his.
Now David Miscavige has pulled his best man back towards the light, which must have been an urgent cause indeed, what with all the silly crisis of faith rumors that have been swirling ever since Katie Holmes filed for divorce in late June. So Tom has made things right with the CO$ by serving as the guest of honor at a huge shindig where guests had the honor of meeting him if they paid the asking price of approximiately $3200 per head. For the event, Tom wore his special Medal of Valor, which had probably been freshly spit-shined by the tears of Sea Org members. If you've never seen the video where Tom received this medal from Miscavage (and it is hilarious), go here to watch it. Here are the details on the event, which included a new lady for Tom: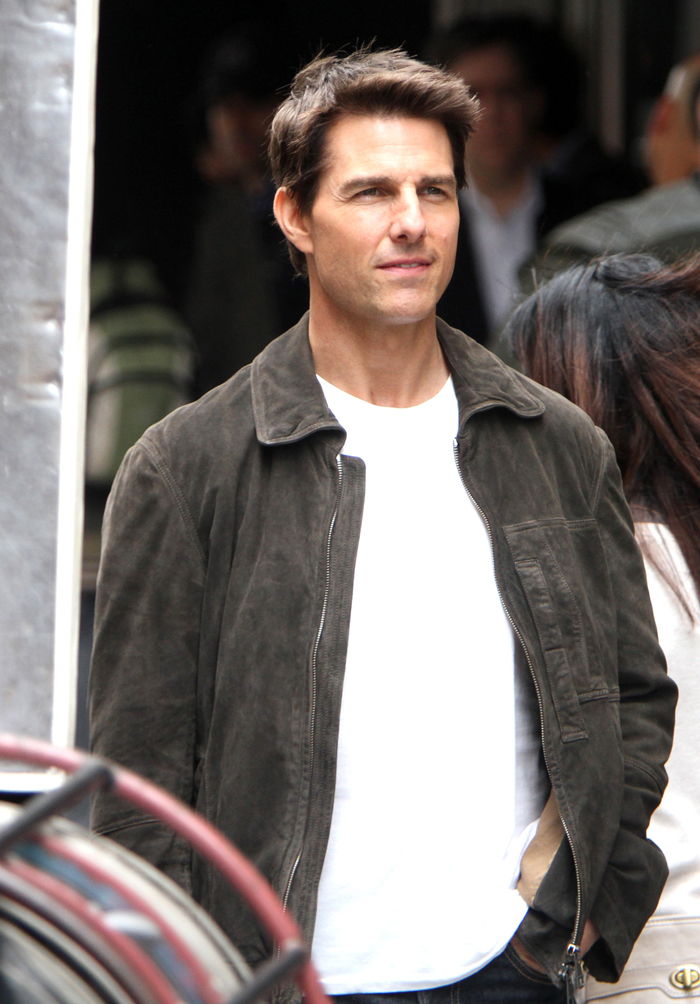 Tom Cruise was guest of honour at a lavish Scientology event in West Sussex — quashing rumours that he had left the controversial sect.

About 2,500 guests paid up to &pounds;2,000 each to be in the company of the Hollywood star who had reportedly been distancing himself from Scientology since his shock divorce in June from actress wife Katie Holmes, 33.

Cruise, 50, broke off from shooting his new movie, All You Need Is Kill, to attend the 28th Anniversary Patrons Ball for the International Association of Scientologists on October 20 at the church's UK headquarters at Saint Hill Manor near Gatwick.

A guest said: "Tom was with a girl with cropped black hair who was wearing a red velvet dress. He was seated at a table of 12 in a special VIP area. Many guests approached him to shake his hand at the end of the meal.

"He looked at home and stood up to sing along to the Scientology anthem at the end before leaving a little earlier than everyone else."

At the event Tom was proudly wearing his hefty Freedom Medal of Valor — a sizeable Scientology gong, about 4in across, created for him.

The medal was given to him by Church leader David Miscavige, who has called the actor "the most dedicated Scientologist I know." There have been reports that Cruise was suffering from a "crisis of faith" since his divorce.

Holmes has left the faith and won custody of their six-year-old daughter, Suri.

Followers are encouraged to "cut off" family members who are no longer involved, although Cruise has fiercely denied reports that he has chosen Scientology over seeing Suri since the divorce.

But the actor has now publicly reaffirmed his commitment to the church by appearing at the secretive convention, chaired by Mr Miscavige.

The insider added: "Tom seemed delighted that there were so many well-wishers. It was his first major public appearance at a church event since his divorce and it seemed pretty clear that he hasn't left the religion."
[From Daily Mail]
Hmm, I wonder if we'll ever find out who Tom's female escort to this event happened to be. Undoubtedly, she's a Scientologist who was carefully chosen through a rigorous audition process and who may very well have an incisor-filing session in her future. She was probably just chosen for the evening as a stand-in robot because, honestly, I think even Tom's team has realized that they can't just order in a Katie-bot replacement this soon in the game. So Tom showed up and made good on his "religion" for an evening. Now what's the over-under on him showing up for a visit with Suri before 2014? In closing, here's a creepy tidbit from Page Six — some newly posted CO$ posters have appeared at the subway station that Katie Holmes takes from her Chelsea apartment to Broadway rehearsals. They're so taunting her.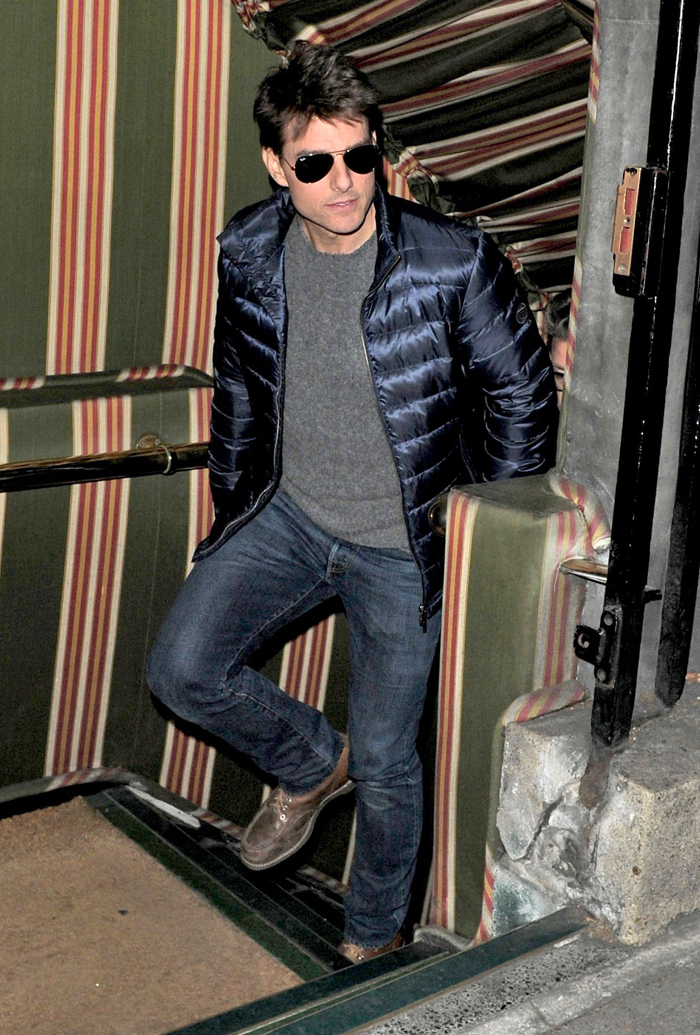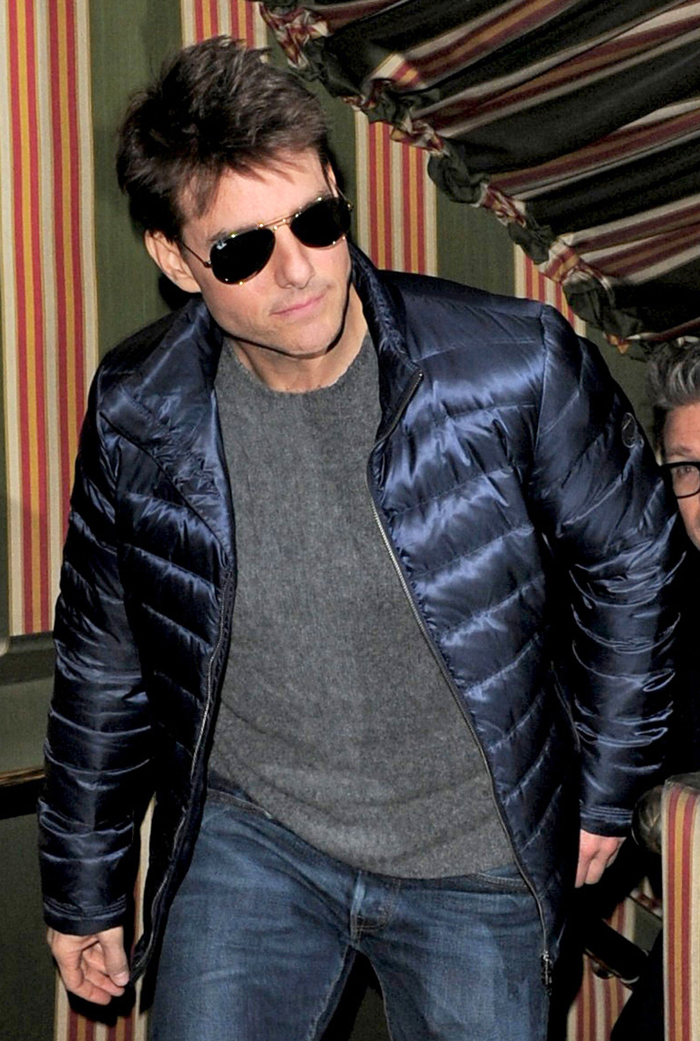 Photos courtesy of Fame/Flynet and WENN