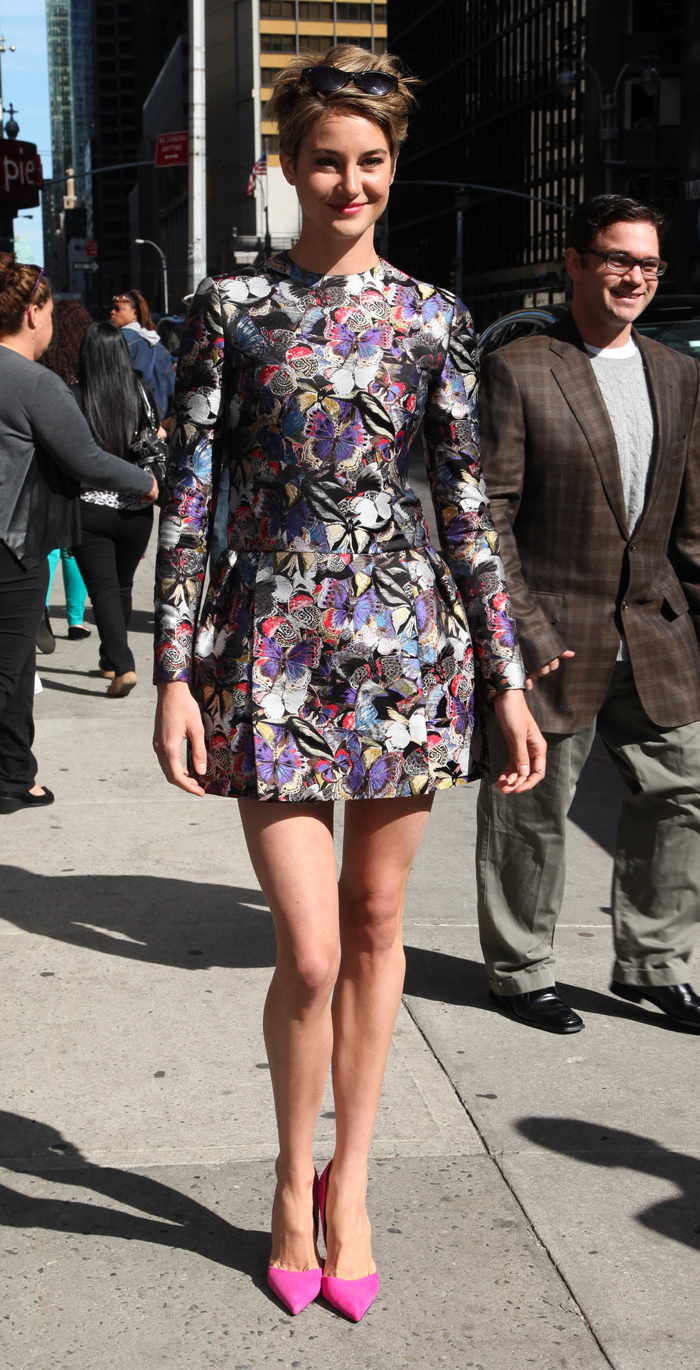 Here's some photos of Shailene Woodley visiting David Letterman last night. She's wearing a Valentino dress, and her legs look a thousand miles long. Shailene didn't say anything super wacky to Letterman, but they did talk about clay eating. I've included a clip.
We have other pressing Shailene matters to discuss. We know she thinks of herself as an enlightened soul in tune with the indigenous people. She forages for leeks and dances with hairy pits. She crafts her own weapons from nature. She gives her vadge doses of sunshine. Yet Shailene has no bloody idea how to define the word "feminism."
Shailene is not alone. Many other starlets don't know what feminism means. Miley Cyrus thinks that she's "part of the evolution of feminism" because she flashes her hoo-ha. Selena Gomez thinks feminism means all women should support everything that other women do no matter what. Katy Perry says that feminism "just means that I love myself as a female & I also love men." Courtney Stodden feels that she is "a true feminist" even though she doesn't read or write. Cameron Diaz is not big on labels but is "not looking to have all the things that men have." Let's turn it over to Shailene:
Is she a feminist? "No because I love men, and I think the idea of 'raise women to power, take the men away from the power' is never going to work out because you need balance. With myself, I'm very in touch with my masculine side. And I'm 50 percent feminine and 50 percent masculine, same as I think a lot of us are. And I think that is important to note. And also I think that if men went down and women rose to power, that wouldn't work either. We have to have a fine balance."

If not feminism, then what? "My biggest thing is really sisterhood more than feminism. I don't know how we as women expect men to respect us because we don't even seem to respect each other. There's so much jealousy, so much comparison and envy. And 'This girl did this to me and that girl did that to me.' And it's just so silly and heartbreaking in a way. It's really neat to see: there's that new Judd Apatow movie, The Other Woman, and that looks really good because I think it's really neat that it shows women coming together and supporting each other and creating a sisterhood of support for one another versus hating each other for something that somebody else created. They create a sisterhood. And he did something wrong, and they're, you know. They're going to go after him for it. I think it's great.
[From Time]
Shailene doesn't dig feminism, but she blindly endorses The Other Woman. I haven't watched the film because Cameron Diaz's press tour of antiperspirant doom took its toll. Thank goodness. I wouldn't have enjoyed watching "sisterhood" culminate in making a man sh-t his pants after he ingests a bunch of laxatives. I guess we've got a new definition of feminism now. Making cheating men poop their brains out. Go team.
What's the saddest thing about all of these female role models not knowing the definition of feminism? It's so easy to check a dictionary or Google the word. If I was a celebrity publicist, all young actresses would know the definition before their first interview. It's not that difficult.
Here's that Letterman clip. Dave's head can't take the clay eating.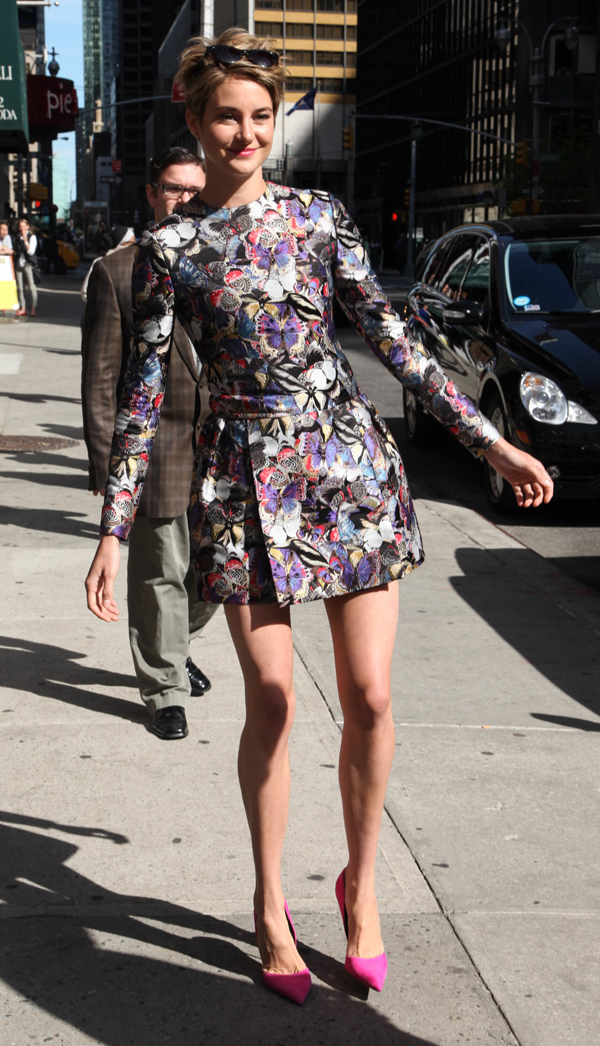 Photos courtesy of WENN