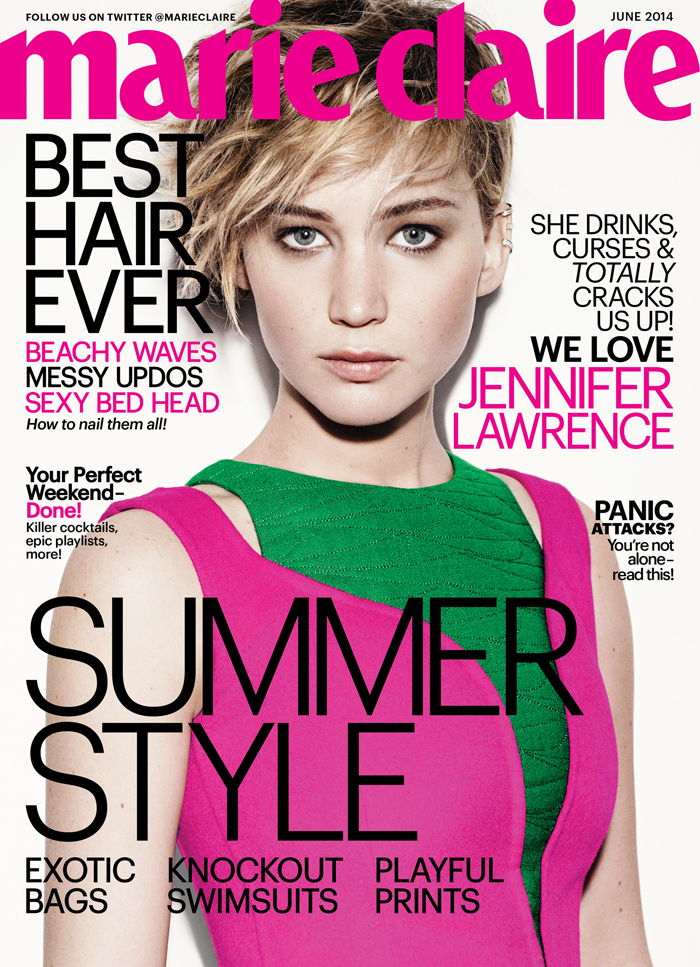 Jennifer Lawrence covers the June issue of Marie Claire. Did you notice that JLaw was missing from this year's Met Gala festivities? She was on the list to attend and wear Dior couture. Then I saw a series of tweet-rumors that said JLaw was running late. Those rumors turned into a filming schedule that prevented her from attending. She's currently finishing Mockingjay in Paris, and I've included set photos from yesterday.
My guess? Filming really did run long, and JLaw had a legitimate excuse to not cross the Atlantic Ocean for one event. I also suspect that she didn't mind skipping the event just like Oscar season. Dior couldn't have been happy since they recently renewed her contract for $15-20 million. She'll make up for it with the upcoming X-Men premieres.
Jennifer covers a lot of ground with this interview. She's not just talking about food! The topic comes up only once in these excerpts. Subjects of discussion include her struggles with fame, her latest Oscar fall, panic attacks, and friendship:
On her long-distance relationship with Nick Hoult: "When we're busy, we agree to mutually ignore each other. Not completely, but neither of us gets mad when the other doesn't text back or call. Life's super-busy. Obviously you know what they're doing, and you trust them. We're so young that it would almost be like if we lived in the same city, what would happen? We'd be living together. At least this way he's in the same boat as I am: We can go out and have our own lives and know that we have each other."

On that conspiracy theory about tripping at the Oscars to appear authentic: "I'm trying to do the right thing, waving to fans, trying to be nice, and there's a traffic cone. The second I hit it, I was laughing, but on the inside I was like, 'You're f—ed. They're totally going to think this is an act…' But trust me if I was going to plan it, I would have done it at the Golden Globes or the SAGs. I would have never done it at two Oscars in a row. I watch Homeland — I'm craftier than that!"

She's changed by fame "I'm a lot more closed off and frankly probably rude. I mean, I'm from Kentucky. I used to be very personable and make eye contact and smile at people, and now all I do is look down. When I'm at dinner and one person after another keeps interrupting to take pictures, it's like, 'I can't live like this.'"

On suffering from abdominal pains and panic attacks during the press tour for Catching Fire: "I was so freaked out, I called my publicist crying. I had to cancel Chelsea Handler. I was terrified to get on a plane to New York because I was convinced I had an ulcer that was bleeding. I went to the hospital. There was a bit of blood in my stomach, but they said it was nothing to worry about. I was like, 'Really? Because I'm pretty worried!'"

On her candor: "I'm not like, 'I'm a rebel; I'm out of control.' I just don't think about things before I say or do them."

On friendship: "I don't trust a girl who doesn't have any girlfriends. I have really close girlfriends, but they are guys like me — girls who eat and don't know anything about fashion."

On rumors that she's jealous of Kristen Stewart, Nick's Equals co-star: "There was something in a magazine, and I was like, 'Oh, my God, that's hilarious,' because Kristen and I are friends. I actually texted her a picture of it and was like, 'Just so you know, this is absolutely true.'"

On being up against Lupita Nyong'o for Supporting Actress: "I was very happy. I voted for Lupita. It's beautiful when you watch something good happen to somebody when it's well deserved."
[From Marie Claire]
I love what she says about the importance of girlfriends. JLaw grew up with brothers and gets along very well with her male co-stars, but you can't beat a good cry on the shoulder of your best female friends. I also have no problem believing that Jennifer doesn't feel threatened at all about Nick co-starring with Kristen Stewart. There were trampire stories in the tabloids, but that was creative fanfiction.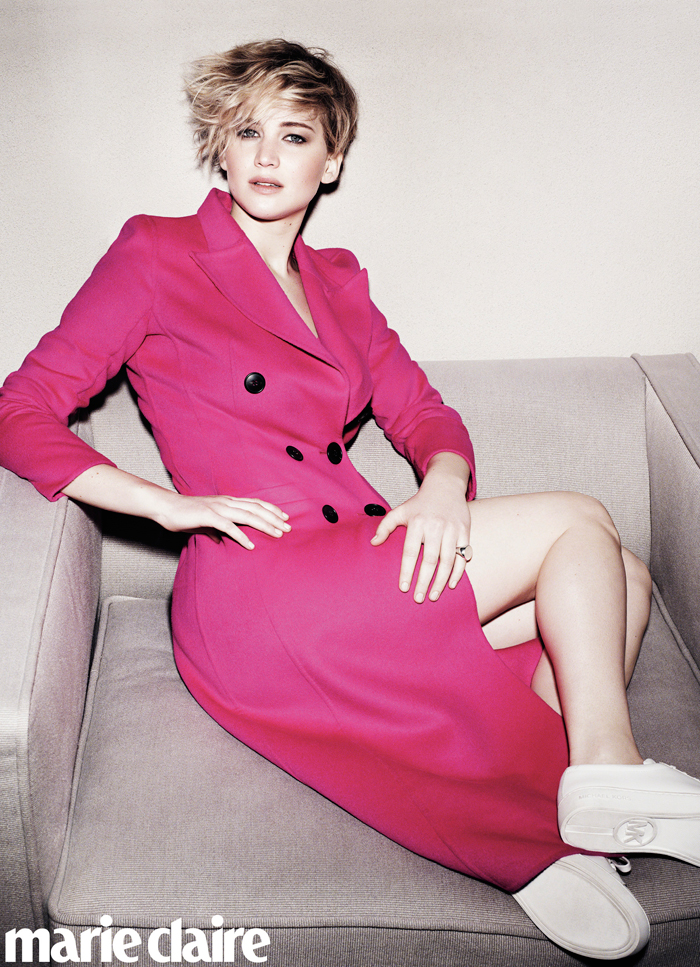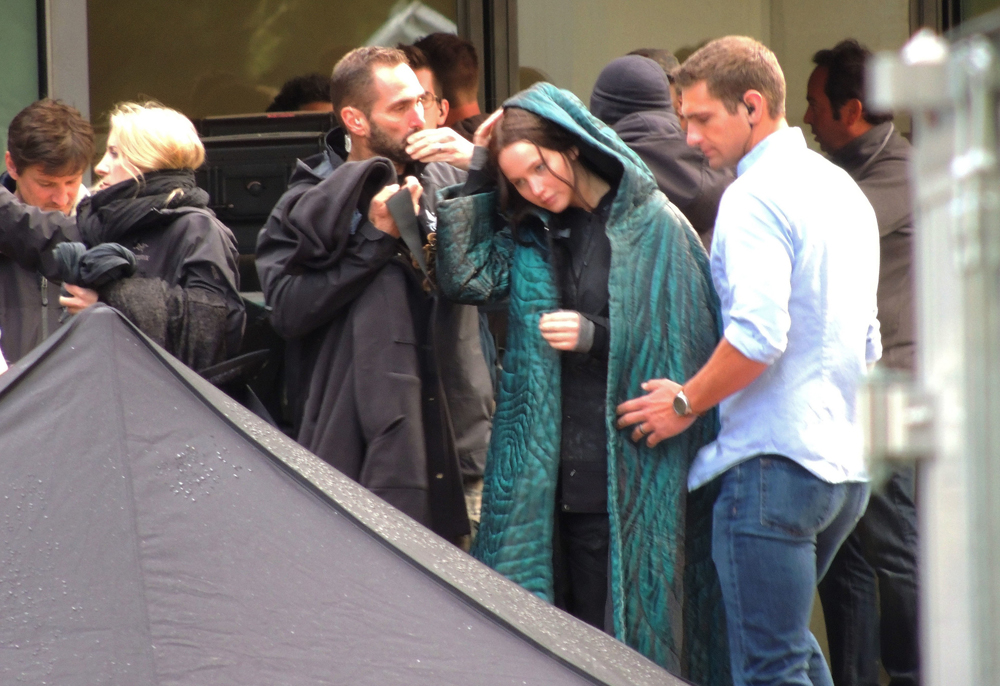 Photos courtesy of Marie Claire & WENN