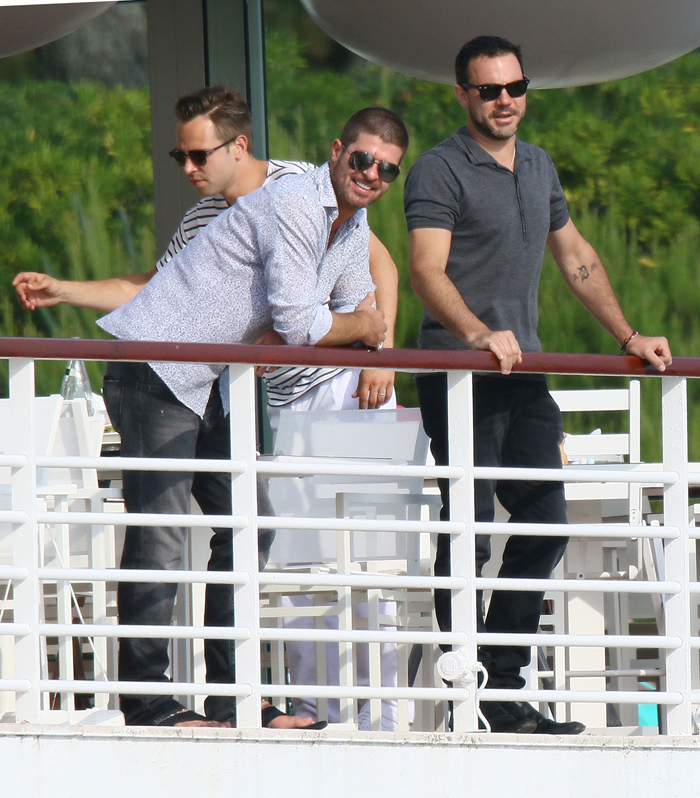 Here's a photo of Robin Thicke hanging with his bros in France last week. He has a new buzzcut that makes him look a little less douchey, but the smarmy smile and glasses still bring it. Four months have passed since Robin and Paula Patton formally separated after nine years of marriage. We quickly heard that Paula was "open to reconciling" with Robin, but that could have been smoke from his camp. What's amusing is that we haven't heard anything from Paula. She and Robin have not been seen together in months.
Robin's been working hard to win back his woman (despite the rumored no-pants parties). He's been dedicating songs to her at all his shows and acting so sad. He decided to name his upcoming album after her. The record comes out on July 1, btw. That's a pretty quick turnaround, right? I don't know how it's possible to get separated, whine a lot onstage, and still have time to write and cut an entire record about a lost love in four months. The process seems sketchy is all I'm saying. But Robin is convinced that this record will win Paula back. You can see the album's tracklist here. What a trainwreck.
Speaking of disasters … Robin has released a video for the record's first single, "Get Her Back." He shows himself as a bruised and bloodied man, and he sings and mimics a finger-gun pointed at his head. Text messages play onscreen: "You drink too much," "You embarrassed me," "I can't make love to you anymore" and "How could you do that to me? Robin texts, "I wrote a whole album for you," and "Paula" responds, "I don't care." Jesus, this is awkward:
Awww, poor widdle Robin. Here he is pouring out his heart to his lady love, and she doesn't care! I wonder what Paula is thinking right now. Is she somewhere flipping off her laptop, laughing, or simply biding her time? I hope she's ruefully shaking her head and drafting divorce papers, but who knows.
This album cover is so cheeseball.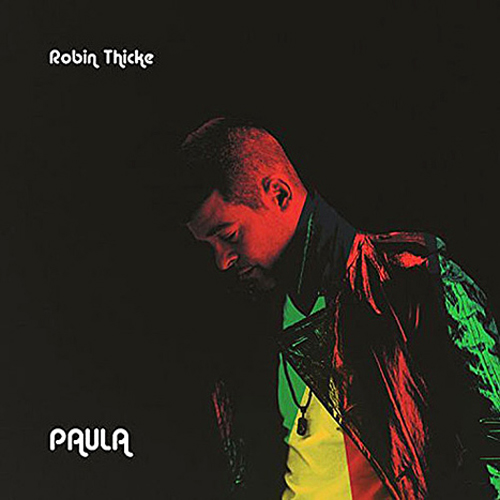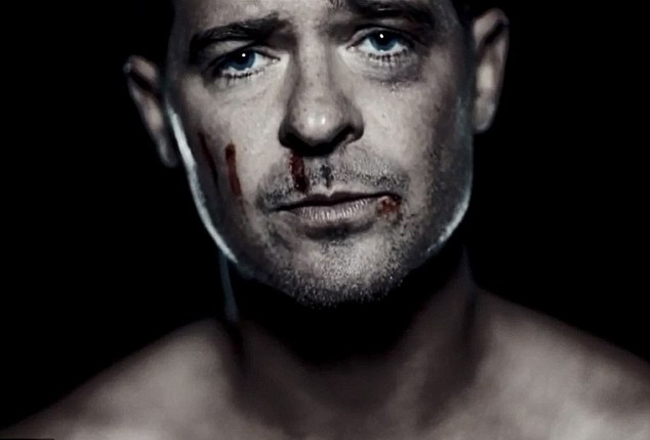 Screencap courtesy of YouTube, photos courtesy of Fame/Flynet, WENN & Robin Thicke on Twitter