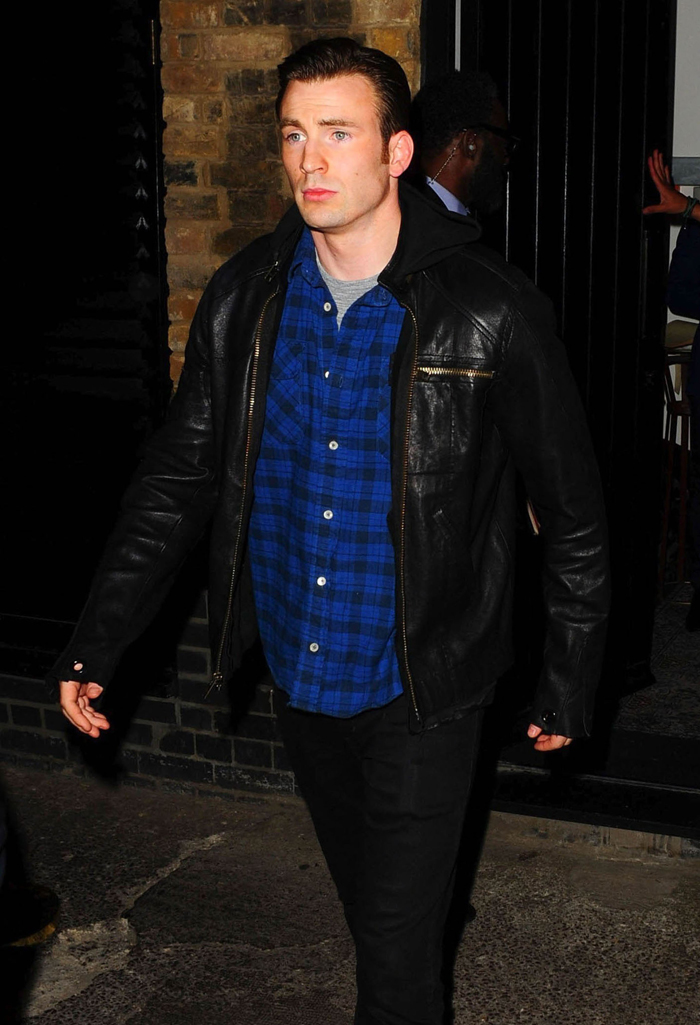 It's been awhile since we've seen a neurotic interview from Chris Evans. This post won't deliver by 2012 Evans standards, but I'm determined to try. Chris promoted Avengers: Age of Ultron at Comic Con last week. A strange thing happened. Robert Downey Jr. embraced Evans and called him "Dorito." Then he did it again. Chris thought it was funny, but I needed to Google the origin of the joke. It's actually a very silly explanation. Io9 has details of how Evans' Captain America costume makes him look like a Dorito. Once you see it, you can't unsee it.
Chris has done a few new interviews. He spoke with Collider about Snowpiercer and gushes about Tilda Swinton's magnificence. He also did an interview about Ultron for Comicbook.com. Chris has decided that he loves Marvel again. That's what he thinks this week anyway. Dude is gushing like he's worried about his job:
On Age of Ultron & character bonding: "We start out as a team. The first movie, you have to establish the kid of team dynamic but with this movie we get to hit the ground running. We're already a group, we're already a team dynamic and [Ultron] throws a bit of a wrench in the works."

How he wants to go incognito at SDCC: "I would go with whatever covered my face. Maybe a nice Darth Vader mask or a Storm Trooper."

How much does he appreciate his Cap role? "Oh, how long's the interview, man? In every way possible. It's personal, emotional … I was apprehensive jumping on board but in retrospect it was the best decision of my life. It's afforded me a lot of creative opportunities outside of the Marvel franchise and it's afforded me a lot of opportunities to learn and grow as an actor and as a person and it's endless, really."

What makes it worth returning? "Knowing that it's going to be a good movie. Honestly, if you were a part of a franchise and you weren't proud of the initial product and you realized early on that these would be continuous products, nothing more, which I think we've all seen in terms of franchises, it would lose its luster and you'd have a hard time as an actor gearing up again. But working for Marvel, you feel supremely confident that you're making something fantastic that people are going to love. And it just, as an actor, it makes you excited and it makes you eager to jump back in and do the best work you can do because you know they're going to do the best work they can do."

Give us Ultron Cap details already: "That's going to be a tougher one to answer without giving stuff away. He is a soldier, so he does look for a higher structure, you know? A chain of command. And now that S.H.I.E.L.D. is disbanded, The Avengers are leaning on one another without a boss to report to. So he is looking for a sense of home in a way … I can't give anymore. If I give anymore, I'm going to get in trouble!"
[From Comicbook.com]
What do you think of this change in attitude? Chris is giving me whiplash. He's gone back and forth about how his heart isn't in superhero films before backtracking. He announced his retirement from acting before taking that back too. Chris makes an amazing Captain America. He's terribly talented, and his own conflicted psyche makes him perfect for the role. Just make up your mind, dude.
I couldn't resist popping a few Sebastian Stan photos into this post. Us Weekly just reported that Stan has a new actress girlfriend. The fangirls won't like that one bit.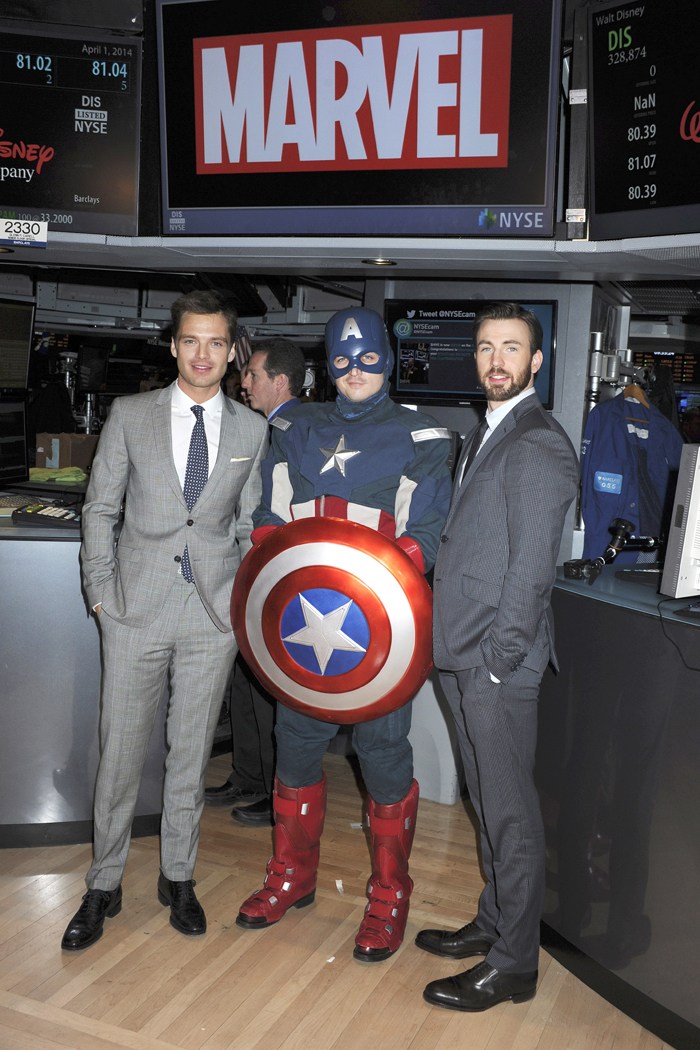 Photos courtesy of Fame/Flynet & WENN