Chris Evans: "I'm fine! I'm fine! I'm fine. You know, I didn't have a meltdown"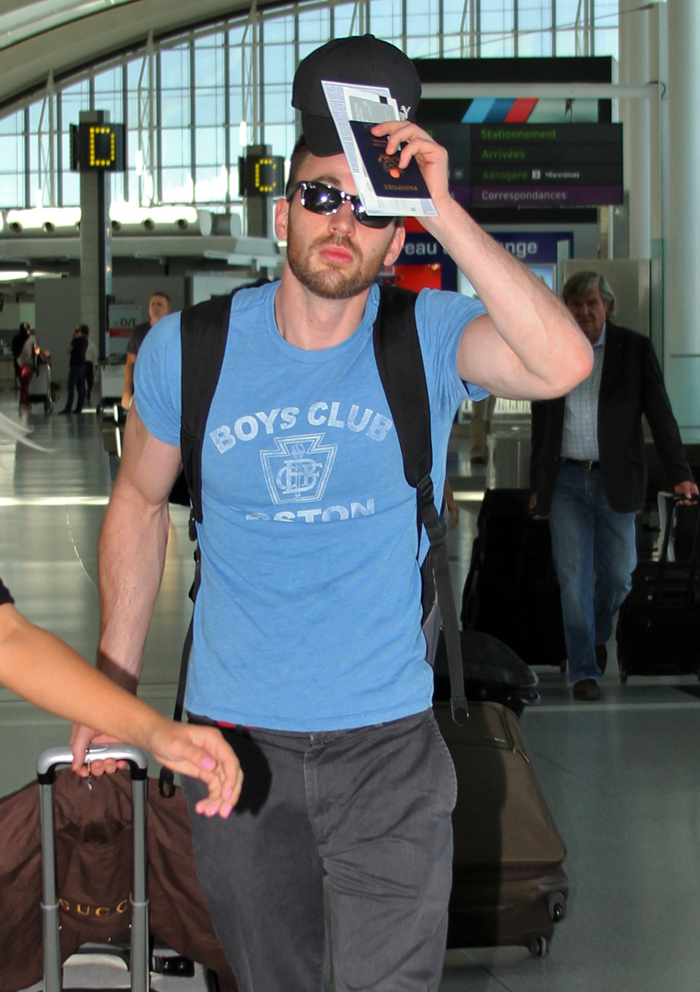 Chris Evans is such a freak. Really. At the same time, I'm relieved to finally observe a decent interview from him because it seems like he hasn't gotten enough publicity during the TIFF promotion of The Iceman. The movie is based on the book by Richard Kuklinski that details life as a mafia hitman. During the movie, Evans plays a character called Mr. Freeze (originally Mr. Softee in the book, but they changed it for licensing purposes), and he's only onscreen for about 20 minutes, so I guess maybe that's why we're not hearing so much about him in this film. How unfortunate.
Seriously, I've really missed the near-constant reminders that the guy is a neurotic bastard who overthinks everything and is merely a waxed nip away from a nervous breakdown at any given moment. I mean, he went into therapy after taking the Captain America lead because he was so freaked out about "signing away a decade of his life." He was also terrified of letting a $140 million movie rest upon his shoulders and of doing the obligatory publicity rounds, and for good reason — he notoriously freaked out and fled during a junket for Fantastic Four. He even described his reaction at the time as a "full meltdown," but now Chris is doing much better with this sort of thing. Or so he says. You be the judge: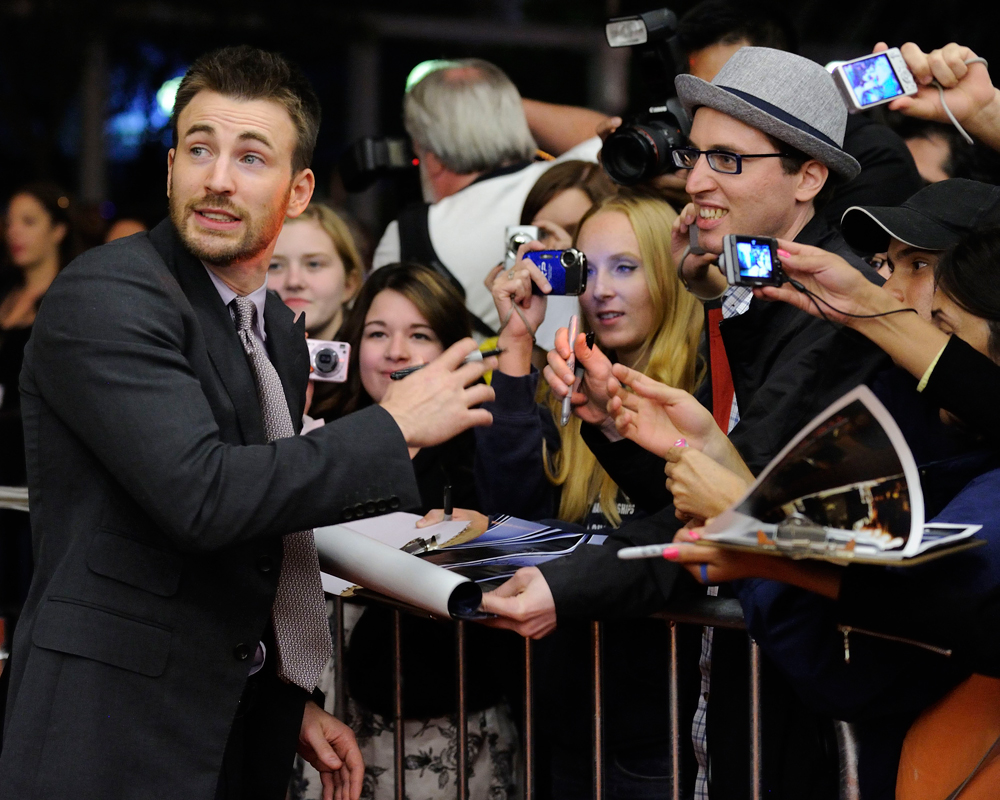 He's knows he's not saving the world (unlike other actors): "Is any of this fun? Not to knock you, but you do these [interviews] and you tell yourself, 'Well, it's for this, it's for that.' Even right now, I'm like, 'What am I doing here? What am I talking about? I'm not curing cancer. What the f–k am I doing?' [Sarcastically:] 'Well, this is how I prepared for this movie.' You can't help but feel — I don't know. It's like, who cares? It's a f–king movie. You don't need to give a sh-t, you know what I mean?"

His character dances to Blondie's "Heart of Glass" "You can't not dance to it. I was, like, f–king jamming. That's the great thing about the character. I think he just has no sense of social awareness — I guess this is what people do. I think this is how people are supposed to look, you know? And there's actually a great thing that they say Kuklinski said in one of the books, talking about a club — you know, he'd kill people in bars and in clubs. He said the best way to go unnoticed was to act gay. The gayer you act, the more people kind of ignore you."

He claims to have no filter: "[I]f you think you're a good person, then you have nothing to hide. It's such a freeing thing. I tell you what: I used to have a lot of stress and anxiety doing these interviews. And, for me, I'm much more stressful when I feel like I'm trying to be something or just putting on a … anything. Like, if you go into it just being like, 'Ask me anything,' I'll give you the honest answer. [I]f you have an agenda — believe me, I know plenty of actors who do — then you have to tailor your answers and you're concerned how you appear. And I don't give a sh-t how I come across, because I don't think I'm a bad guy. And, you know, I'm just gonna tell you what I think."

He can't wait for the Captain America & Avengers sequels: "I'm looking forward to it because the movies were so good. Well, I wasn't happy in the first Cap because — well, not that I wasn't happy. I was just nervous, you know what I mean? I had taken a role that I was just nervous about. And it was a lifestyle change, and there were a lot of factors on the first Cap. I was just nervous, man. It was a big lifestyle, whatever. And now it's like, 'I got it.' I got it. It's OK. No one's f–king kicking down my f–king door. I can still walk around. I can still go to a movie. I think I was just so scared that, like, 'This is it. I just signed my death warrant; my life's over. I can't believe I did this. This isn't the career I wanted.' That didn't happen. None of that sh-t happened. I'm fine, fine."

He's okay now, really: "I'm fine! I'm fine! I'm fine. You know, I didn't have a meltdown and I didn't lose my f–king mind. And the movies were good. And the biggest thing I worried about was making sh-tty f–king movies. I don't want to make sh-tty movies and be contractually obligated to make garbage. And then be like, 'This is why you should see a piece of sh-t!' And they were great. And so now, it's kind of like, 'All right, well, let's go try and make this one even better.' I feel comfortable in the role. I love Marvel and I'm actually, dare I say … excited."
[From HuffPo]
So … the therapy worked? Also, I'm glad that Chris doesn't regret what he's said in interviews thus far because — let's face it — it's always great to hear from a guy that admits to liking a big ass. I hope he continues to let his weirdness come out and play at times, but I get the feeling that people have been giving him some crap about his neuroses. Like, it's a bit of a joke in the industry now (and this journo brings it up initially even while doing so respectfully), and maybe that's encouraged Chris to loosen up just a bit, which is a good thing. Or maybe he's just been having a lot of really good, Boston-based sex with Minka Kelly, and that's put a spring in his step too.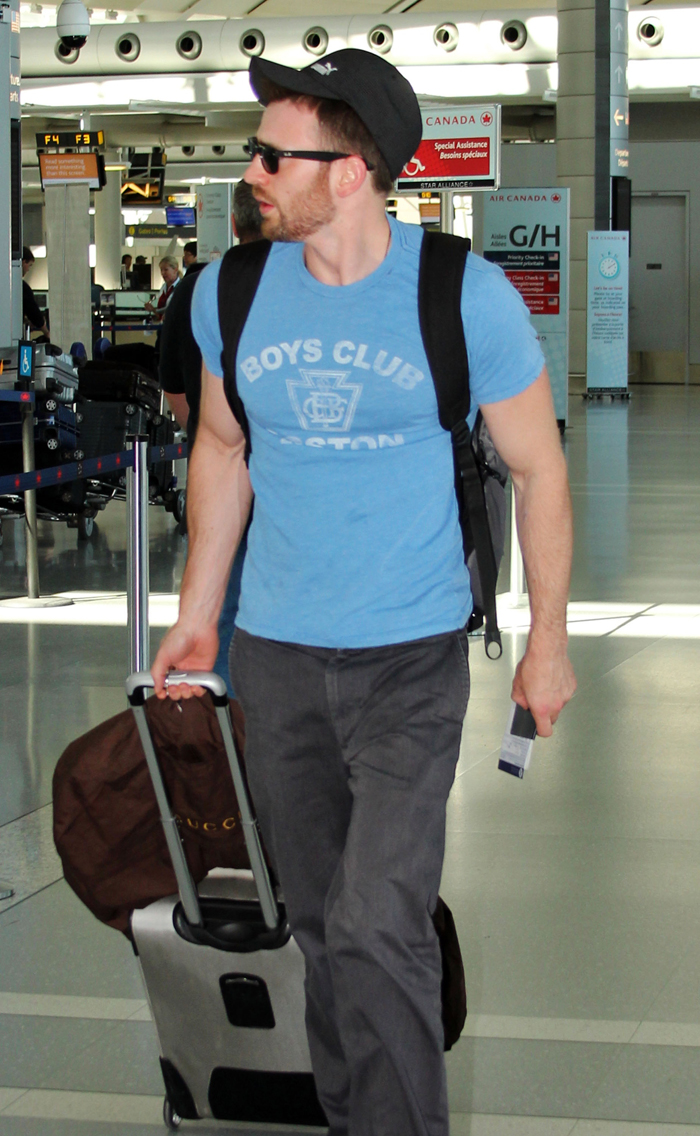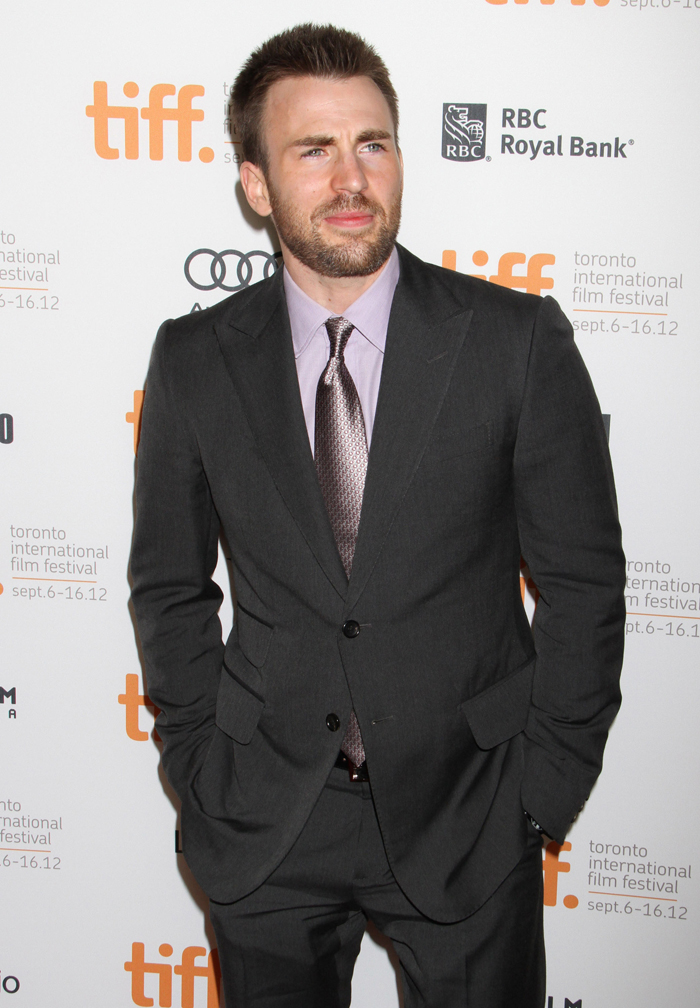 Photos courtesy of Fame/Flynet and WENN
Written by Bedhead

Posted in Chris Evans

- Mariah Carey lip synced on American Idol [CDAN]
- Colin Firth is looking good [Lainey Gossip]
- Internet celebrity charged with murder! [D-Listed]
- What is Paz Vega wearing? [Go Fug Yourself]
- New bachelors on The Bachelorette [Reality Tea]
- Goodbye to The Office [Pajiba]
- Bachelor Sean's fiance cheats on him [Evil Beet]
- Britney Spears out with her man [Popsugar]
- Nina Dobrev works it [Popoholic]
- Cindy Crawford needs to lay off the 'tox [Celebslam]
- Who said it: Carrie Bradshaw or The Dalai Lama? [Buzzfeed]
79 Responses to "Chris Evans: "I'm fine! I'm fine! I'm fine. You know, I didn't have a meltdown""